California Man Wins Lottery Twice, NetEnt Shatters Mobile Slots Jackpot Record
Posted on: December 3, 2015, 09:01h.
Last updated on: December 3, 2015, 09:01h.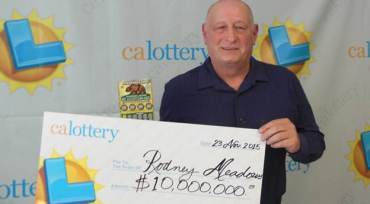 A California man was especially thankful over the Thanksgiving holiday after he won the California scratcher lottery not once but twice in a single day, albeit at very different valuations.
On Monday, November 23, just three days before Americans gathered around tables to count their blessings, Rodney Meadows walked into a Modesto, California, convenience store and purchased several $30 scratcher tickets.
After won hit for $1,000, he let it ride by purchasing three more tickets.
One of those three paid off to the tune of $10,000,000.
One in Three Million Chance
"I could not believe it," Meadows told local KCRA news. "I had to ask the clerk at the store and he said, 'You better check it again.'"
Though it's rather common for scratch-off gamblers to purchase additional tickets after winning a nominal value, it's incredibly rare for someone to strike twice with prizes over $1,000.
In fact, it's been 13 years since anyone has one two jackpots in a 24-hour timespan worth more than Meadows' take.
The manager of the convenience store said it "couldn't have happened to a nicer guy," and that he felt Meadows was eventually going to win. "He plays compulsively everyday," Fast Mart Manager Lakhvir Singh said.
According to lottery spokesman Greg Parashak, Meadows had a one in three million chance of winning the $10 million scratcher jackpot. The Fast Mart location will receive $50,000 for the good fortune of selling the winning ticket.
NetEnt Strikes Too
Fortunes are apparently abound this holiday season, as NetEnt awarded its largest mobile slot jackpot in company history this week to a Swedish player gambling on the ComeOn Casino.
Alexander, a 30-year-old from Stockholm who is withholding his last name, became a multi-millionaire instantly when a €1.50 ($1.63) bet turned into €8.6 million ($9.3 million).
"I was totally speechless and couldn't believe what was happening," Alexander said after the win. "I'll make sure my mortgage is paid and treat myself to some exciting holidays… It will probably be difficult to avoid buying a new car!"
NetEnt Chief of Product Officer Simon Hammon said of the news, "It's fantastic to break another record with this jackpot won via mobile. Our games have paid out over €13 million in jackpots in just over a week, the perfect early Christmas present."
Caesars Welcomes NetEnt
For those reading in the Garden State and looking to try their luck like Alexander, Caesars Interactive Entertainment (CIE) will soon offer NetEnt products through the CaesarsCasino.com website.
After obtaining a transactional waiver from the state's Division of Gaming Enforcement, NetEnt signed a content distribution agreement with Caesars to bring its software platform to New Jersey.
"We are very excited and proud to … launch our first portfolio offering with Caesars Interactive Entertainment," NetEnt Managing Director Bjorn Krantz said in a press release. "I look forward to this partnership and am confident that our innovative and thrilling portfolio of best-in-class games will be well received by CIE and its players."
A little extra holiday spending money would certainly be welcomed by most, even if it isn't multimillions as experienced by the world's recent lucky winners.