California Couple Strikes Gold with $10 Million in Rare Coins
Posted on: March 3, 2014, 05:30h.
Last updated on: March 3, 2014, 05:22h.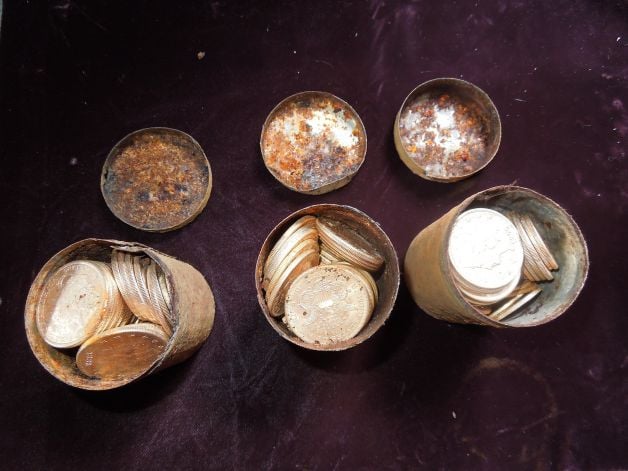 There's more than one way to win the lottery, as a couple from Northern California found out recently when they stumbled onto a haul of buried treasure: a stash of $10 million in gold coins buried by a tree on their estate. The rare coins – 1,427 in all – date from 1847 to 1894 and are in mint condition, according to co-founder of Professional Coin Grading Service of Santa Ana David Hall – and he should know, he's an expert numismatist (look it up…we had to!) Some of the coins are so rare, said Hall, that they could fetch almost $1 million apiece. And yes, in a case like this, it's "finders-keepers."
Once In a Lifetime Treasure
"I don't like to say once-in-a-lifetime for anything, but you don't get an opportunity to handle this kind of material, a treasure like this, ever," said a breathless Don Kagin, also a numismatist, who is representing the lucky couple. "It's like they found the pot of gold at the end of the rainbow." Well, look at that! You go your whole life without meeting a numismatist and then two turn up in one day!
The coins had been buried by a path the couple said they had walked their dog on for years. On this fateful occasion, however, the woman bent over to examine an old rusty can that was sticking slightly out of the ground.
"Don't be above bending over to check on a rusty can," Kagin said she told him.
Kagin was reluctant to offer any details about the couple, who wish to remain anonymous, in part to avoid having their property invaded by busloads of bearded men with metal detectors. However, he did reveal that they live on a rural property in California's Gold Country, a picturesque stretch of land on the western slope of the Sierra Nevada, and that they intend to put the coins up for sale, only keeping a few for themselves as mementos. They plan to use the money to pay off debts, and donate the rest to local charities.
"They also don't want to be treated any differently," said David McCarthy, another numismatist."Their concern was this would change the way everyone else would look at them, and they're pretty happy with the lifestyle they have today," McCarthy said.
Mystery Source
There's much speculation about who buried the coins, which were found more or less in chronological order, in $5, $10 and $20 denominations, in six partially eroded cans. Although most of the coins were minted in San Francisco, one $5 gold piece came from as far away as Georgia. The meticulous nature of the coins' storage suggests that this was not the booty of some notorious outlaw; it's more likely that whoever owned the property during the Gold Rush buried them for safekeeping. However, nobody really knows – not even the numismatists.
It's thought that this is the most expensive haul of treasure found in U.S. history, and by some margin to boot. In 1985, construction workers in Jackson, Tennessee uncovered $1 million worth of gold coins, and in 1974, more than 400,000 silver dollars were found at the home of a recently deceased man in Reno, Nev, and were later sold for $7.3 million.
Numismatists everywhere had a chance to see some of the bounty in Atlanta at the American Numismatic Association's National Money Show in Atlanta last week.