Park MGM Takes Over for Monte Carlo Casino in Las Vegas
Posted on: May 9, 2018, 07:25h.
Last updated on: May 9, 2018, 11:20h.
The Monte Carlo Resort and Casino on the Las Vegas Strip officially rebranded as Park MGM today, Wednesday, May 9.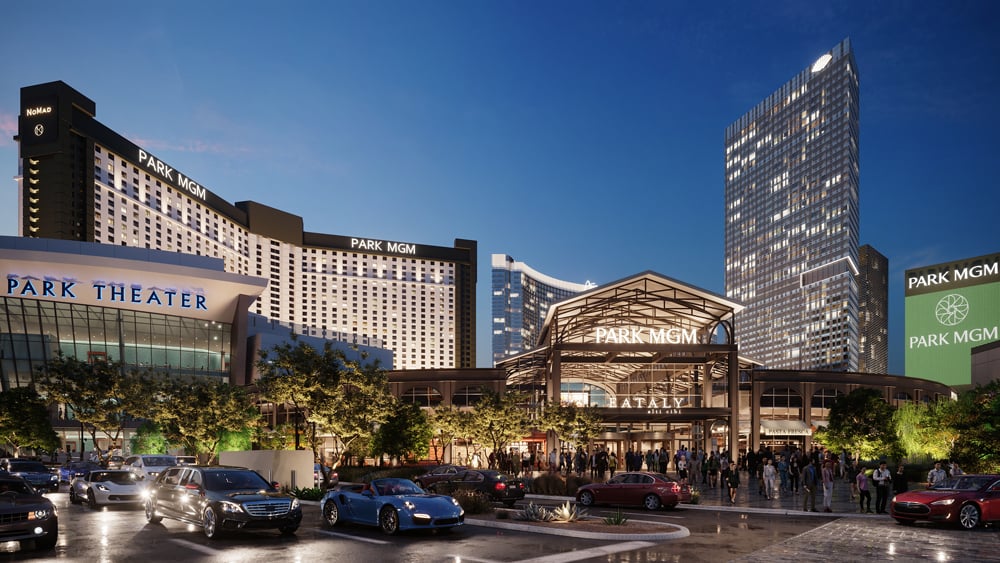 The building's $550 million revamp is far from complete, but on Wednesday, its website was displaying "introductory rates" on some of its rooms, offering guests a sneak peek at the Strip's newest property at a fraction of the price rates will be on its full opening later this year.
Park MGM will be very much a new property on completion, and only the shell of the Monte Carlo will remain. At an earnings call last week, MGM Resorts CEO Jim Murren described the scale of the revamp and the disruption it has caused to business.
"We've never undertaken anything like this before, and when it's all said and done, we will have literally changed every square inch of the property, while keeping it open," he said. "And the disruption that we've seen there is fairly obvious and we completely underestimated the financial impact that that would cause," Murren noted.
Turning Up the Taste
MGM teamed up with hip boutique hotel designer the Sydell Group on the project in a bid to attract a younger demographic and more whales. It will retain the Monte Carlo's European architectural vibe, but it will be refined, offering a more tasteful, intimidate, residential feel.
I think this is kind of a hybrid between your classic Las Vegas hotel that has the energy and excitement and the scale … but we try to do it in a way that's more appealing to the boutique [hotel] customer," Andrew Zobler, CEO of the Sydell Group, told the LA Times this week.
"There are a lot of aspects of the large Las Vegas casino-hotel we try to soften to make it feel more personal, more intimate," he added – and that goes right down to the hundreds of artworks installed and even the choice of music played in restrooms, lobbies, and bars.
3,000-Room Boutique Hotel?
Ultimately, it's a tough ask to perfectly recreate the kind of intimacy you get in a boutique hotel within a 3,000-room casino resort, but at the very least, you can make it "game-changingly better than what has been done before," says Zobler.
The property will house the NomadHotel — a boutique hotel within a hotel — expected to open in the fall. Park MGM's full opening will complete the gigantic "neighborhood" redevelopment of the central Strip, which includes outdoor recreation space "The Park,"  the new Park Theater, which will also open this year, and CityCenter.
Zobler promises guests wishing to make use of the unfinished hotel's knockdown prices that continuing construction will be unobtrusive and discreet, a promise that may be hard to keep.
Similar Guides On This Topic