Blues a Win Away From Stanley Cup History; Fans a Win Away From Big Payouts
Posted on: June 9, 2019, 03:15h.
Last updated on: June 9, 2019, 04:54h.
Game 6 of the NHL's Stanley Cup Final takes place Sunday night, and oddsmakers are betting that history will be made in St. Louis.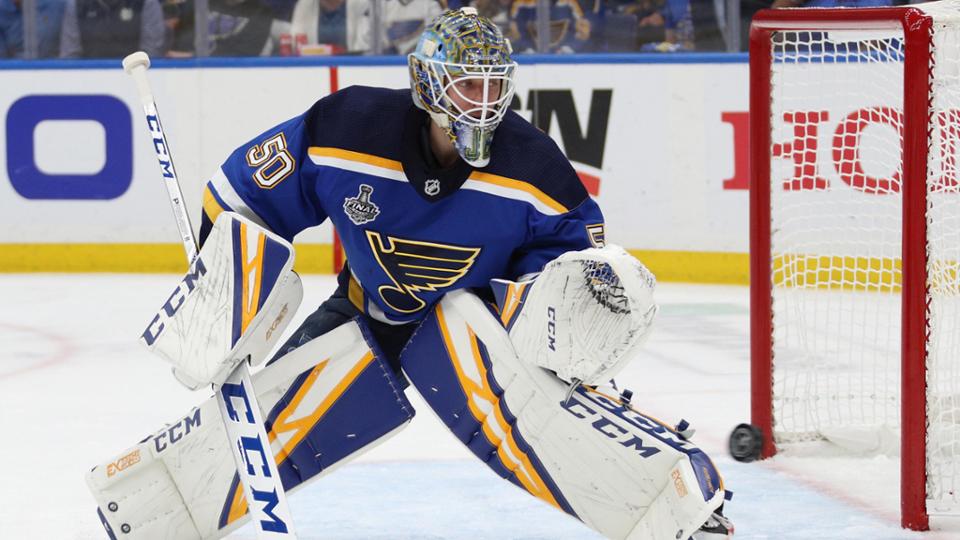 The Blues, who currently hold a 3-2 series lead, are 1.5-goal favorites over the visiting Boston Bruins. With a win, St. Louis would win the first championship in the team's 52-year history.
The Bruins, meanwhile, need a victory to extend the series. If they can do just that, they'll host the decisive Game 7 Wednesday night.
While the puck line at most sportsbooks has the Blues drawing at least +220 odds – meaning a $100 bet would net $220 – to give the 1.5 goals, the moneyline shows the Blues as slight favorites. As of late Sunday afternoon (ET) the Blues were -118 favorites at the Westgate SuperBook to -125 at CGTechnology.
Outside of Vegas, FanDuel had the Blues at -120 and PointsBet had them at -121.
Boston's moneyline odds ranged from even money at several sportsbooks to +113 at Circa Sports.
Big Bets on the Line
As had been noted throughout the playoffs, Blues fan Scott Berry made a $400 bet on the Blues back in January when they had one of the worst records in the league. At that time, Caesars offered 250-1 odds on the Blues to win the Stanley Cup.
A win Sunday or, if necessary Wednesday, would make Berry $100,000 richer. According to PropSwap, an online bet trading company, he's had offers of as much as $75,000 to sell the ticket.
On Friday, the site announced another Blues bettor, who wagered $200 at 250-1 had received an offer of more than $35,000 on his bet, which would pay $50,000 if the Blues win one more game.
Bruins Still Believe
This is not the first time the Bruins have found themselves in this dilemma in this year's Stanley Cup playoffs. In the first round, the Toronto Maple Leafs took a 3-2 lead, only to see the Bruins win Game 6 on the road and take Game 7 convincingly to advance.
However, these Bs are less than 100 percent. They will continue to play without defenseman Matt Grzelcyk, who remains in the concussion protocol after sustaining a hard hit earlier in the series.
And captain Zdeno Chara will try to play through a broken jaw he sustained after taking a puck to the face in Game 4. He came back to play more than 16 minutes in Game 5 on Thursday.
Up until Saturday, Chara had not been able to speak with the media. Instead, he had to write answers to questions from reporters. The 42-year-old said in Saturday's press conference, he felt fine and had no limitations.
Bruins goalie Tuukka Rask said the entire team looks to their captain's play for inspiration.
He doesn't take any games off unless it's impossible to play," Rask said. "It's an emotional lift for all of us. He's the backbone of the defense, it's a great help for us to have him back."
One thing going in Boston's favor tonight is that the Bruins are on the road. The Original Six franchise has won seven times on the road in 10 playoff games this year. That includes a 7-2 throttling the Bruins gave St. Louis in Game 3.
Latest Casino Stocks:
Retrieving stocks data...
Retrieving stocks data...
Retrieving stocks data...
Retrieving stocks data...
Retrieving stocks data...