BC Regulator Probe Launched After Hundreds of Intact Grand Villa Casino Playing Cards Found in Dumpster
Posted on: March 8, 2019, 09:13h.
Last updated on: March 8, 2019, 09:14h.
The British Columbia Lottery Corp (BCLC) is looking into a dumpster — specifically, a dumpster that was found full almost to the brim of intact, unpunched playing cards belonging to the Grand Villa Casino in Burnaby. The cache would have proved a treasure trove to a passing casino cheat.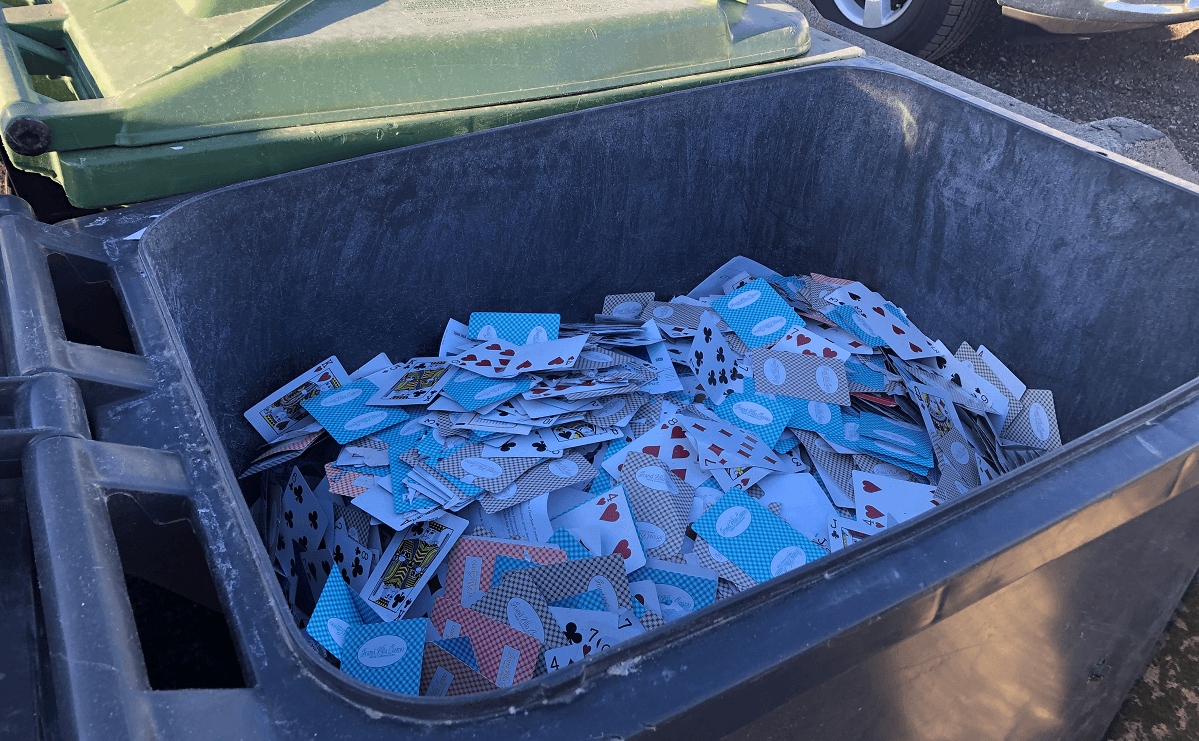 Casinos are usually very careful about "cancelling" playing cards once they have served their purpose. The life of a deck of cards is short — many casinos change the deck every few hours and will never use it again. Most are shredded. The lucky ones are clipped at the corners and sold in the casino's gift shop as memorabilia.
That's because, should they fall into the wrong hands intact, unscrupulous players would be able to change the odds of the games by introducing rogue cards to the deck.
Trash Cards
It's not illegal for a casino to fail to destroy playing cards in BC, although it does violate BCLC standards and therefore a casino could face a fine for non-compliance. It also indirectly facilitates cheating, which is illegal under the BC criminal code.
So, why did local news station NEWS 1130 discover literally hundreds of used but perfectly good playing cards sitting unguarded in the dumpster in a parking lot 40 minutes' drive from the casino?
It's not that NEWS 1130 habitually peers into dumpsters in the hope of a scoop, the station's reporters were responding to a tip from a whistleblower, who claimed that ShredWise, a third-party shredding company, was not shredding as wisely as its name would imply.
Shred of Evidence
As well as the casino's playing cards, NEWS 1130 found all kinds of private sensitive information from other ShredWise clients, including scanned copies of passports, blood tests, biopsy reports, credit card statements, uncashed checks, and insurance records, all left completely unguarded.
According to the whistleblower, ShredWise trucks have in-built shredding equipment but cannot handle the wax-based coating on playing cards, so they have to be put into the machine multiple times.
We have investigated the observations you reported to us further and have confirmed that the issue was the fault of a third-party supplier who did not comply with the terms of our agreement with them," Gateway Casino, owner of Grand Villa, told NEWS 1130.
"This is troubling to us and we have taken swift and appropriate action to ensure this does not happen again," it added.
It may not be the biggest scandal to hit the BC casino industry recently, but the BCLC called the situation "very concerning" nevertheless, adding that "service providers are responsible for ensuring cards are securely punched or destroyed at end of use."
The regulator said it conducts periodic reviews of service providers to check for compliance and confirmed would be investigating the matter.