Barcelona Comeback Sends Bookies Reeling
Posted on: March 10, 2017, 05:00h.
Last updated on: March 10, 2017, 02:42h.
Barcelona's victory against Paris St Germain in European soccer's Champions League last-16 on Wednesday night is being hailed as one of the greatest comebacks of all time, perhaps greater even than the New England Patriot's against the Atlanta Falcons in Super Bowl LI.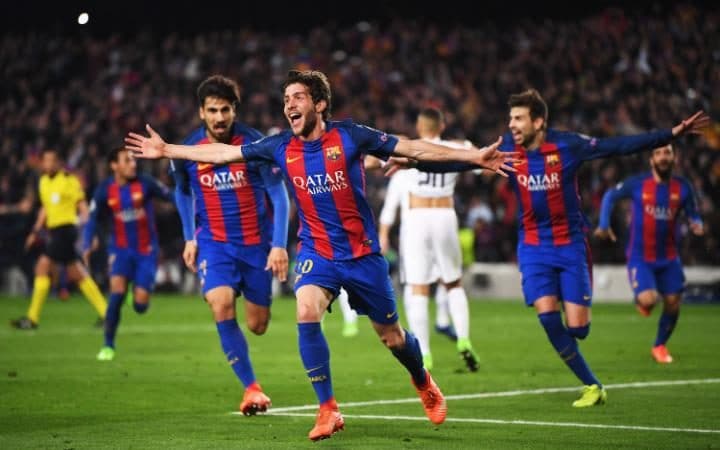 The only people who weren't cheering were the bookies who have paid out millions. Oh, and PSG. They weren't exactly thrilled about the whole thing either.
Trailing 4-0 from the first leg, Barca needed to pull off Mission Impossible, as no team had ever overturned a four-goal deficit in the history of the Champions League. Messi, Neymar et al seemed well on their way to pulling it off, though, finding themselves 3-0 up on the 50th minute and needing just one goal to force extra time and two for the win.
But Edison Cavani's strike for PSG on 63 minutes made it 3-1, and it meant, because of the away goal rule, Barcelona now needed three more to avoid elimination from the competition.
This was still the case with just three minutes of normal time remaining. But the spectacular three-goal salvo that followed, the last with just seconds left on the clock, sealed this as one of the most memorable soccer games in living memory.       
PR Ops?
Bookies tend not to like big surprises, but they're also good at offsetting their losses and turning any disaster into PR opportunity. That's why they don't mind opening up to the press after losing a lot of money after an unfavorable result.
Bet365 spokesman Steve Freeth was quick to report an "eight-figure pay-out," calling it the company's "worst result of the season, maybe ever."
Before the games started, Barcelona were between 8 and 10-1 to pull off the comeback, which triggered a lot of interest, because, after all, if any could do it it would be Luis Enrique's men, right?
In-play betting odds had climbed to 100-1 in the last ten minutes of the game. Paddy Power reported that one prescient bettor had put £2 on Barcelona to qualify at 100-1 in the 87th minute, just moments before the real comeback began.
Out-of-Play Betting
Meanwhile, BetVictor was forced into an embarrassing climb down after initially refusing to pay out one bettor who had placed a £5 bet on "Messi to score a penalty, Cavani to hit post and Barca to qualify" at odds offered at 125-1.
Despite all these eventualities occurring, BetVictor said that the ball had gone out of play after Cavani had hit the post, and under its t's and c's, the ball must rebound off the post and stay in play in order to qualify.
The bookie eventually paid out on the wager after the bettor, one David Reid, took to Twitter to complain.