David Baazov Insider Trading Case to Move Forward, Judge Denies Stay of Proceedings
Posted on: January 23, 2018, 02:00h.
Last updated on: January 23, 2018, 12:56h.
A Quebec judge has rejected a motion to stay the insider trading case against former Amaya CEO and chairman David Baazov.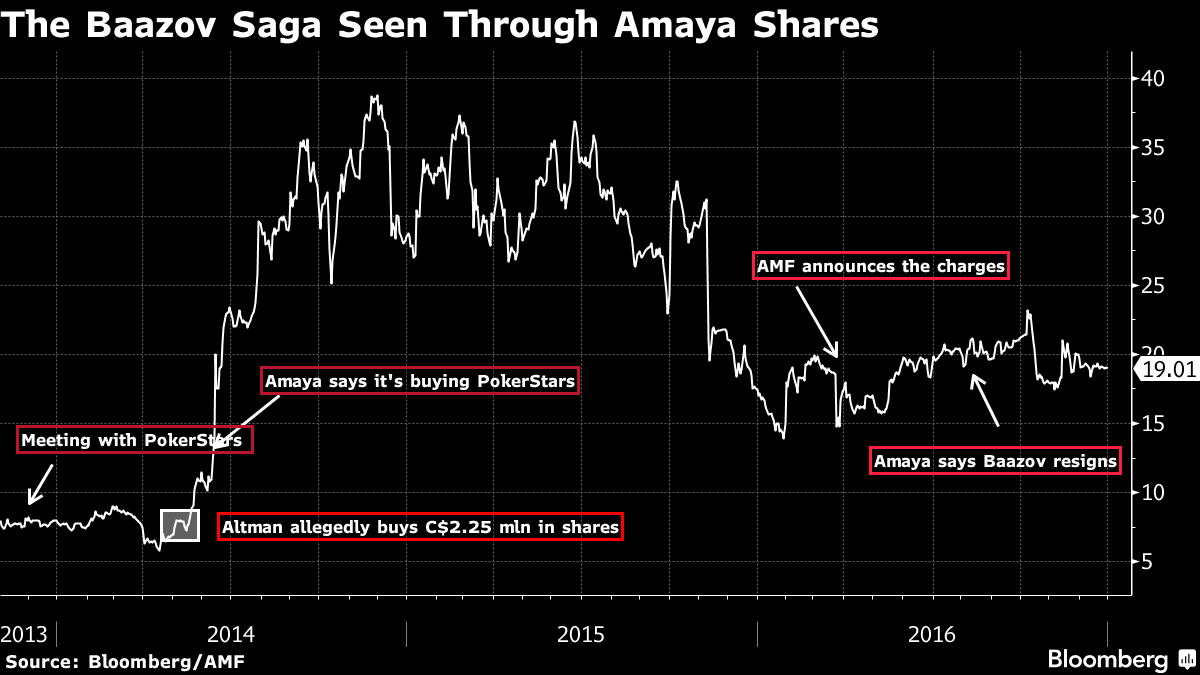 Baazov was charged in March 2016 with five counts of securities fraud, including "aiding with trades while in possession of privileged information, influencing or attempting to influence the market price of the securities of Amaya Inc, and communicating privileged information."
Also charged are Benjamin Ahdoot, a childhood friend of Baazov's, and Yoel Altman, a former financial consultant to Amaya (since renamed The Stars Group), as well as three companies owned by Ahdoot.
No Staying the Course
Lawyers for Baazov and his co-defendants had formally requested a stay of the proceedings, claiming that prosecutor AMF, the Quebec securities regulator, had pressed charges before it had done enough evidence.
This had caused unreasonable delay to the trial, argued the defense counsel, and meanwhile AMF had failed to adhere to a plan to minimize delays, they added.
A stay of proceedings puts a halt to the legal process and can often be used as means of derailing a trial indefinitely. Lawyers for Baazov had previously requested a trial dismissal, complaining that AMF had bungled document handling, which had denied it reasonable time to prepare a defense.
His counsel complained that, in September, just two months before the original trial date, AMF dumped 16 million items of data on them.
Close Call by Judge
Following the decision on Monday afternoon, both requests have now been denied, meaning that Baazov and his co-defendants will stand trial within a matter of months.
"It was very close at home plate but, in the end, I accept the arguments of the [AMF], so I reject the motion," wrote provincial court Judge Salvatore Mascia in a 22-page ruling.
"The applicants have not shown irreparable harm to their right to a fair trial and to a full defense," he said. "The court therefore comes to the conclusion that the file is particularly complex and the prosecutor has a concrete plan to minimize the delays caused by the complexity of the case."
The defense counsel would, however, be given "proper time" to prepare, following September's data dump. The judge suggested a delay of one month, although he will consult with both parties in due course before determining a trial date.
The trial will be the biggest insider trading case in Canadian history and the defendants each face large fines and up to five years in prison if convicted.
Several of the alleged illegal trades relate to Amaya's $4.9 billion takeover of PokerStars in 2014. Amaya's name change to The Stars Group, which became official last August when the company completed its HQ move from Montreal to Toronto, was in large part to distance itself from its former, and now notorious, CEO in Baazov.