Aussie Regulators to Examine Melco Boss for Business Links to 'Triad Associate' Father
Posted on: June 3, 2019, 06:44h.
Last updated on: June 3, 2019, 06:44h.
Melco's proposed acquisition of 20 percent of Crown Resorts, announced last week, will not be a speedy transaction, analysts said Monday.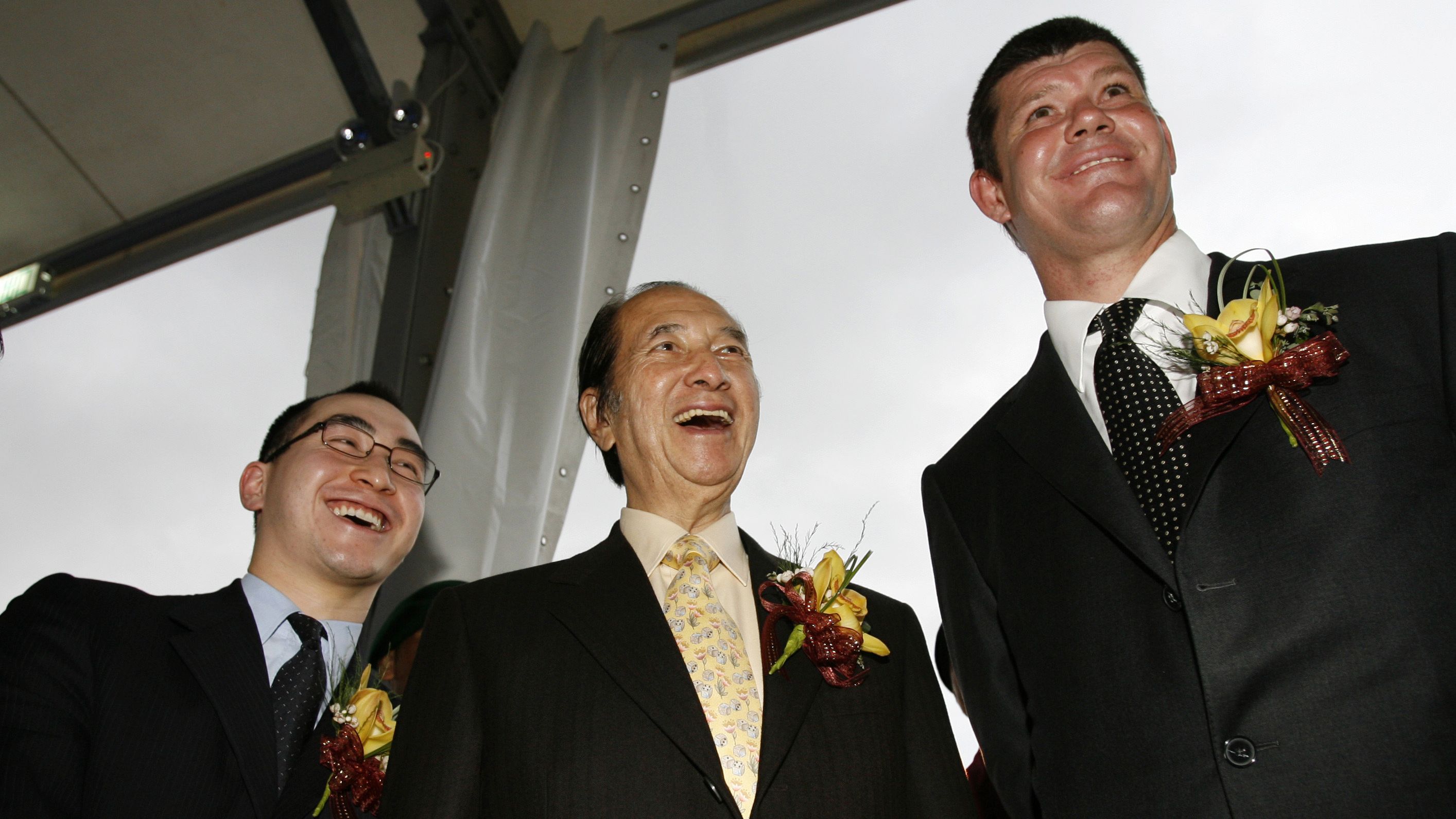 Australian gaming and financial regulators are likely to delve deeply into Melco supremo Lawrence Ho's business dealings, particularly for links to his father's business empire in Macau, which the Melco chairman has always insisted is completely separate to his own.
The investigation will likely take at least a year, analysts said.
Lawrence is the son of Stanley Ho — who for decades ran the gambling monopoly in Macau, until its dissolution in 2002, through his casino company SJM Holdings.
Ho Sr. has long been accused by regulators — including Australia's — of having links to organized crime, specifically the 14K and Sun Yee On triad societies. The Ho family has always denied these accusations.
Today, SJM operates 21 casinos in Macau and several others elsewhere in Asia, including one in North Korea. Another company, Shun Tak Holdings (STH), operates shipping and hospitality and invests in property.
The 97-year-old casino tycoon's health is said to be frail. He stepped down as chairman of SJM last year and from STH a year before that. But, in reality, for the past decade his sprawling business operations have been run by his family. He has 17 children from four concurrent wives (or "consorts"), who have at times squabbled publicly about the division of wealth.
Lawrence Ho's sisters, Pansy and Daisy Ho, currently chair SJM and STH, respectively.
Rise of Melco
Melco International Development is one of Macau's oldest companies, beginning life in 1910 as the Macao Electric Lighting Co., a technology company. By the time Ho took over the reins, as a fresh-faced 24-year-old with a BA in Commerce from the University of Toronto, the company was diversifying into hospitality, gambling, and entertainment.
Ho has helped build Melco into a global player in the development and operation of large-scale integrated resorts. He largely grew up in Canada and claims to have nothing to do with his father's business empire, despite the prominent roles played in it by his sisters.
The proposed deal would see Crown Resorts reunited with Melco, with whom it launched a joint-venture more than a decade ago. Ho and Crown's James Packer teamed up to form Melco Crown, which cooperated on the construction of ambitious resorts in Macau and the Philippines, such as the City of Dreams and Studio City.
But Packer sold his Melco Crown shares back to Ho in 2017 and has been slowly retreating from business ever since. The proposed sale of Crown Resorts shares represents around 50 percent of Packer's stake in his casino company.
Gangsters and Hos
In 2010 the New Jersey Division of Gaming Enforcement published after a four-year investigation into the suitability of MGM Resorts — then known as MGM Mirage — to operate the Borgata in Atlantic City. Regulators were concerned because MGM had collaborated on and joint-owned with Pansy Ho the MGM Macau.
The report concluded that Stanley Ho was a triads associate and that the VIP gambling rooms Stanley had introduced to his casinos in the 1980s "provided organized crime the entry into the Macau gaming market that it had previously lacked."
Speaking to the Australian Financial Review on Friday, Lawrence Ho said he did not foresee any impediment to the deal from Australian authorities who had looked into his operations in the past and found no red flags.
"Both Crown and I have always stressed that my business dealings are independent of my father's interests," he said. "We have already been in partnership with Crown for 12 years and have passed probity screens from regulators without an issue."