A's Release First Official Las Vegas Stadium Renderings
Posted on: May 26, 2023, 01:30h.
Last updated on: May 26, 2023, 02:11h.
The Oakland Athletics have released the first official images showing what their new home in Las Vegas might look like.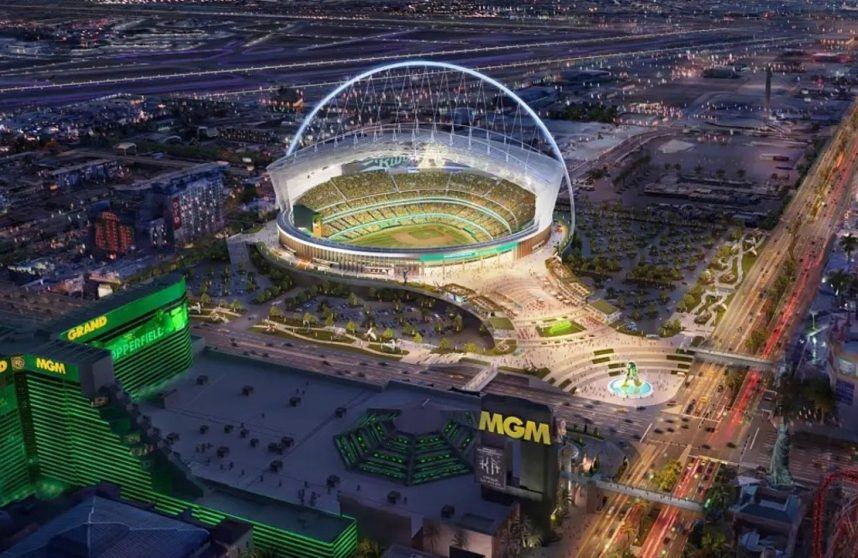 The images show the $1.5 billion ballpark constructed on the site of the Tropicana Las Vegas Resort Casino — as has been assumed since the A's reportedly broke off negotiations to build it on Red Rock Resorts' former Wild Wild West site earlier this month.
We are excited to share our vision for the A's potential new home," A's president Dave Kaval said in a news release. "As our first conceptual design, we will continue to refine the look and feel of the ballpark over the next year."
Kaval continued: "We hope our project goes beyond a traditional ballpark and serves as a catalyst for community development and engagement. It follows in the footsteps and success of the professional sports teams that come before us in creating union jobs, stimulating economic growth, and fostering investments in the community."
Union Pressure
Kaval's mention of union jobs is significant. It has been reported that the A's broke off negotiations with Red Rock Resorts partly because of pressure from the powerful Culinary Workers Union Local 226, whose relationship with Red Rock is historically bad — since not all the casino company's properties are unionized — and only worsening.
On Thursday, the union launched a website, WllWhiteAllMale.org, attacking Red Rock for having the only non-inclusive board among publicly traded Nevada gaming companies.
"From the minute we stepped onto the Tropicana site nearly two years ago, it was immediately obvious what a fantastic fit it would be for a new A's ballpark in Las Vegas," Brad Schrock, the A's director of design and owner of Schrock KC Architecture, said in the A's press release.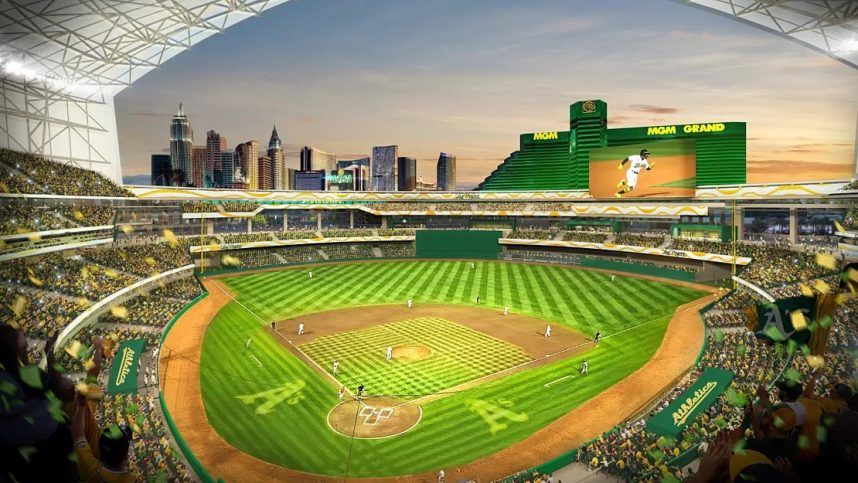 According to the release, the ballpark will "be a hub for sports, entertainment, and community engagement, hosting A's games along with a diverse range of events, concerts, and community gatherings."
The structure will feature "innovative architecture, sustainability and environmental consciousness, and modern amenities that focus on the peak of excellence in fan experience."
Waiting on the Government
On Thursday, the A's announced a tentative agreement with Nevada Governor Joe Lombardo, Nevada State Treasurer Zach Conine, and Clark County officials to introduce a bill detailing a plan for public financing to be considered by the Nevada Legislature.
According to the Las Vegas Review-Journal, up to $380 million in public financing will help pay for the stadium. This includes $180 million from the state and $145 million from Clark County. According to the newspaper, $90 million of Nevada's contribution would be paid back via tax revenues generated on the stadium site, while $120 million of the county's money would come from the tax district.
That bill is expected to be introduced on Saturday. However, the threat of a special legislative session looms if lawmakers can't agree on the stadium's public financing terms by June 5.