Alabama Still Favorite to Win National Championship, Barkley Takes Over Heisman Race
Posted on: September 25, 2017, 04:00h.
Last updated on: September 26, 2017, 12:11h.
While oddsmakers haven't changed their minds on who they believe will win college football's national championship, they do have a new darling for who they think will take home the Heisman Trophy.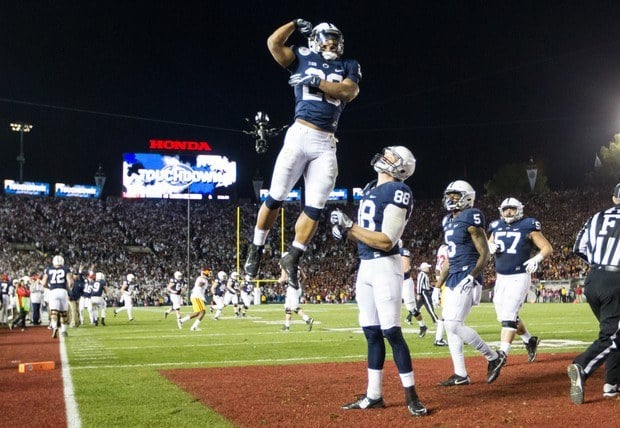 The preseason selections for teams to win the final game don't look much different after four weeks of play. Alabama remained the top pick, with Clemson close behind, but Penn State running back Saquon Barkley is now the choice to win the award as the nation's best player.
The 230-pound junior began the season at 12-1, behind seven quarterbacks and soon separated himself from the others.
After last Saturday's 21-19 road victory against Iowa, he moved into the top slot at 2-1. Oklahoma's Baker Mayfield is at 7-2, while preseason preference quarterback J.T. Barrett of Ohio State has fallen from 6-1 to 30-1.
Roll Tide Roll
Alabama kept its stranglehold as the choice to win the national championship after in its third 40-plus performance in four weeks, crushing Vanderbilt on the road, 59-0. They began the season at 5-2 and are now 7-4.
They also picked up more support in the Associated Press poll, receiving 52 of 61 first-place votes and 1,515 votes. Clemson, who defeated them in last year's title game, got eight votes and 1,458 points. Oklahoma, which is No. 3, got the other vote.
Though Alabama has outscored opponents 165-40, that hasn't necessarily translated to victories for those who have bet on them. In four games the team has covered the spread just twice, including last week.
They were one of the few top 10 teams that did. Clemson, Oklahoma, Michigan, Penn State, USC, and Oklahoma State failed to cover.
Washington and Ohio State easily covered their games and Wisconsin had a bye.
Barkley Making Case
Meanwhile Penn State's running back is making a strong case to be the first at that position to win the Heisman since Alabama's Derrick Henry in 2015. Quarterbacks have dominated the competition with signal callers taking home the hardware 14 of 16 previous years.
Barkley would like to break up that monopoly and after his performance against Iowa made a serious case for his name being called. The junior rushed for 211 yards on 28 carries including a touchdown.
He was also the team's leading receiver, finishing with 12 catches for 94 yards. His most impressive feat might have involved him not touching the ball.
The team was down 19-15 to the Hawkeyes with four seconds to go at the 7-yard line. Barkley picked up a blitzing linebacker, protecting quarterback Trace McSorley. That block allowed McSorley enough time to fire the game-winning touchdown pass.
Penn State Head Coach James Franklin made his case for his player to win the Heisman.
"This guy was unbelievable," Franklin said after the game about Barkley. "I didn't get to watch it from a fan's perspective, but from a coach's perspective, I can't imagine there is a better player in the country than this guy."