Phil Mickelson Bets $200K on Birdieing First Hole in Match Against Tiger Woods
Posted on: November 21, 2018, 10:06h.
Last updated on: November 21, 2018, 10:06h.
Phil Mickelson says he'll birdie the first hole in The Match, his one-on-one winner-takes-all $9 million golf competition against Tiger Woods being played on Black Friday in Las Vegas.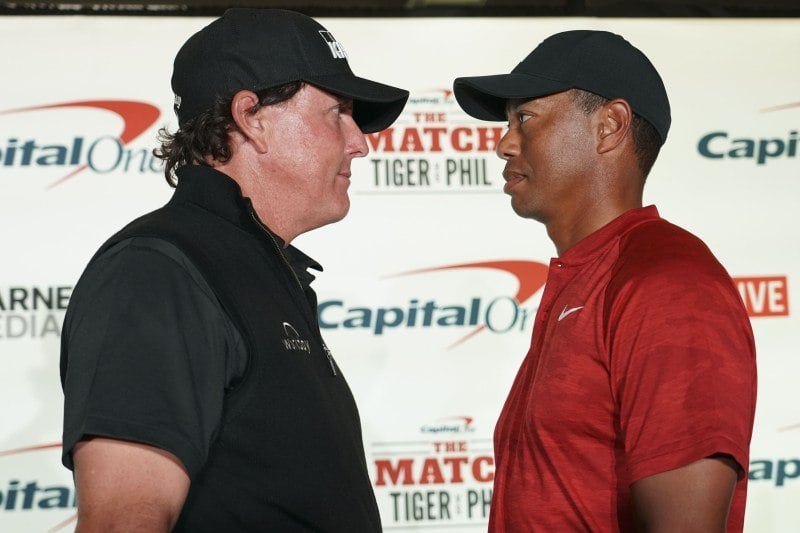 At a press conference hyping the spectacle, Lefty said he feels so confident he'll make a three on the 415-yard par 4 that he's willing to put $100,000 on the outcome. Woods responded, "double it."
Did you see how I baited him like that? Yes. $200 [thousand] says I birdie the first hole," Mickelson confirmed.
Tiger and Phil tee off at noon PT the day after Thanksgiving at MGM Resorts' Shadow Creek Golf Course in Las Vegas. The pay-per-view event is being offered for $19.99.
The Westgate SuperBook has Woods the favorite at -200 (implied odds 66.67 percent). A $100 bet and a Tiger victory nets $50. Mickelson is +170, with the same wager returning $170 should Phil be the victor.
Side Bets
While Phil and Tiger aren't putting up their own $9 million, any side wagers are coming from their pockets. And those bets, the two say, will all go to charity.
The Match has quickly become a sports betting bonanza that puts the recently liberalized gambling activity on a national stage.
The US Supreme Court struck down the longstanding federal sports wagering ban in May. Since then, six states have joined Nevada – Delaware, New Jersey, Pennsylvania, West Virginia, Mississippi, New Mexico – in authorizing full-fledged sports betting and have operations up and running.
Phil and Tiger will be mic'd up to allow viewers to hear their interactions, as well as the side bets they reach. The $200,000 first hole birdie wager will be the first of many. Nothing is off limits, but likely wagers include longest drive, closest to the pin, and whether one will get their ball up and down from a difficult spot.
Mickelson says the $9 million would be nice to win, but he's more interested in bragging rights.
"I just don't want to lose to him. The bragging rights are the thing. I want to be able to rub it in. I want to sit in the champions locker room at Augusta and talk smack," Mickelson explained.
Prop Bets
The SuperBook is also getting in on the side wagers by offering up several proposition betting opportunities.
The Las Vegas sportsbook asks which golfer will first go one up (Woods -125, Mickelson +105). Tiger is also favored to have the lead after nine holes (-170), and the odds are long that either golfer will win three consecutive holes (+700).
Odds on the final outcome of the match are also available. Woods winning 2&1 has the shortest line at 6/1. Tiger winning one up is next at 15/2, followed by Woods winning 3&2, and Mickelson winning 2&1 (both at 8/1).
As for Woods or Mickelson winning every hole to take the match 10&8, the odds are 500/1.