Does Isolation of Qatar by Neighboring Arab Nations Jeopardize 2022 World Cup?
Posted on: June 6, 2017, 07:00h.
Last updated on: June 7, 2017, 03:25h.
When seven nations in the Middle East announced this week they were severing diplomatic, economic, and travel ties with Qatar, almost immediately punters on Twitter wanted to know if any international sports books were taking action on the fate of the 2022 FIFA World Cup.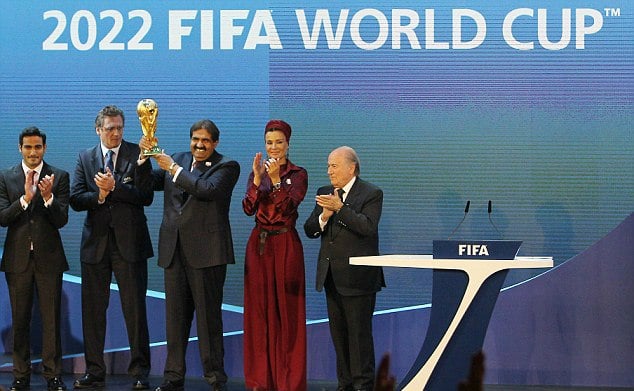 The World Cup is the most bet upon sporting event in the world. And Qatar 2022 may be the most controversial host selection in the quadrennial tournament's almost 90-year history. And that was before Saudi Arabia and Bahrain, followed by the United Arab Emirates, Yemen, Egypt, Libya, and Maldives collectively decided to ostracize their small but wealthy peninsular neighbor for its supposed support of terrorism.
Both Paddy Power and Sky Bet responded to calls on social media requesting odds that Qatar would still host the World Cup in 2022, and both said they have nothing to offer at this time.
Qatar in Trump's Crosshairs
The growing alliance of Gulf states and other nations recalling diplomats and restricting travel to and from the Qatar is being heralded by US President Donald Trump as a sign of unity in the Middle East fighting terrorism.
"During my recent trip to the Middle East, I stated that there can no longer be funding for radical ideology," President Donald Trump tweeted on Tuesday from the @realDonaldTrump account. "Leaders point to Qatar."
Qatar is also a major US military partner, and site of the al-Udeid Air Base, which houses more than 11,000 US and coalition troops operating in Iraq, Syria, and Afghanistan.
"Seems like a solid place to host the 2022 World Cup," Westgate SuperBook manager Jeff Sherman responded on Twitter.
Slave Conditions, Rampant Corruption
Qatar's selection as a World Cup host nation has been controversial since FIFA in 2010 announced the host cities for 2018 and 2022. First complaints revolved around the efficacy of choosing a location where summer temperatures reach 120 degrees Fahrenheit.
And since work has begun building new stadiums, allegations of worker abuse have persisted. An investigation by The Guardian found construction workers being worked like slaves. Immigrant workers have reported receiving little or no pay, being forced to work in extreme heat, and living in crowded concrete cells with no air conditioning. More than 1,200 workers have reportedly died since Qatar 2022 World Cup preparations began.
FIFA, meanwhile, remains engulfed in controversy of its own. In 2010, when soccer's governing agency granted Qatar the World Cup, outsiders almost immediately knew something wasn't right. A multinational investigation, led by the US and Switzerland, found that corruption in FIFA was "rampant, systemic, and deep rooted."
According to the DOJ, international football's governing body routinely participated in racketeering, money laundering, fraud, and bribery. Under ousted FIFA President Sepp Blatter, whose reign ran from 1998 to 2015, the association is thought to have taken more than $200 million in bribes in exchange for hosting privileges, as well as other marketing contracts.
People know how Qatar got the World Cup in 2022. As more details become clear, the more chatter there is by people wanting to see it moved (to either the US or Australia).
In 2014 and 2015, Paddy Power and other online sports books were offering bets on the likelihood of Cup-hosting duties being stripped from Qatar. For now though such betting lines on where the Cup will be held in 2022 are non-existent.
Regardless of corruption allegations and investigative findings, what's certain is the next World Cup will take place in 2018, hosted by Russia.