Oscar season is upon us. Even as some argue that the Academy Awards are out of touch with modern entertainment and performances, people around the world will be following along on February 24 to find out which film truly was the best of the year.
The choices are sometimes controversial, especially as some performers seem to be continually snubbed. It's hard enough to become a famous actor. In fact, you're more likely to be hit by lightning than become a famous actor, let alone an Oscar-worthy one.
So, even if someone does get to that level, what are the odds of actually winning that award?
So Close and Yet So Far
One of the most common things you'll hear from nominees on the red carpet is that "it's just such an honor to be nominated". It's become something of a cliché. In fact, this is pretty true. Just check out this list of 10 actors who have never won an Oscar.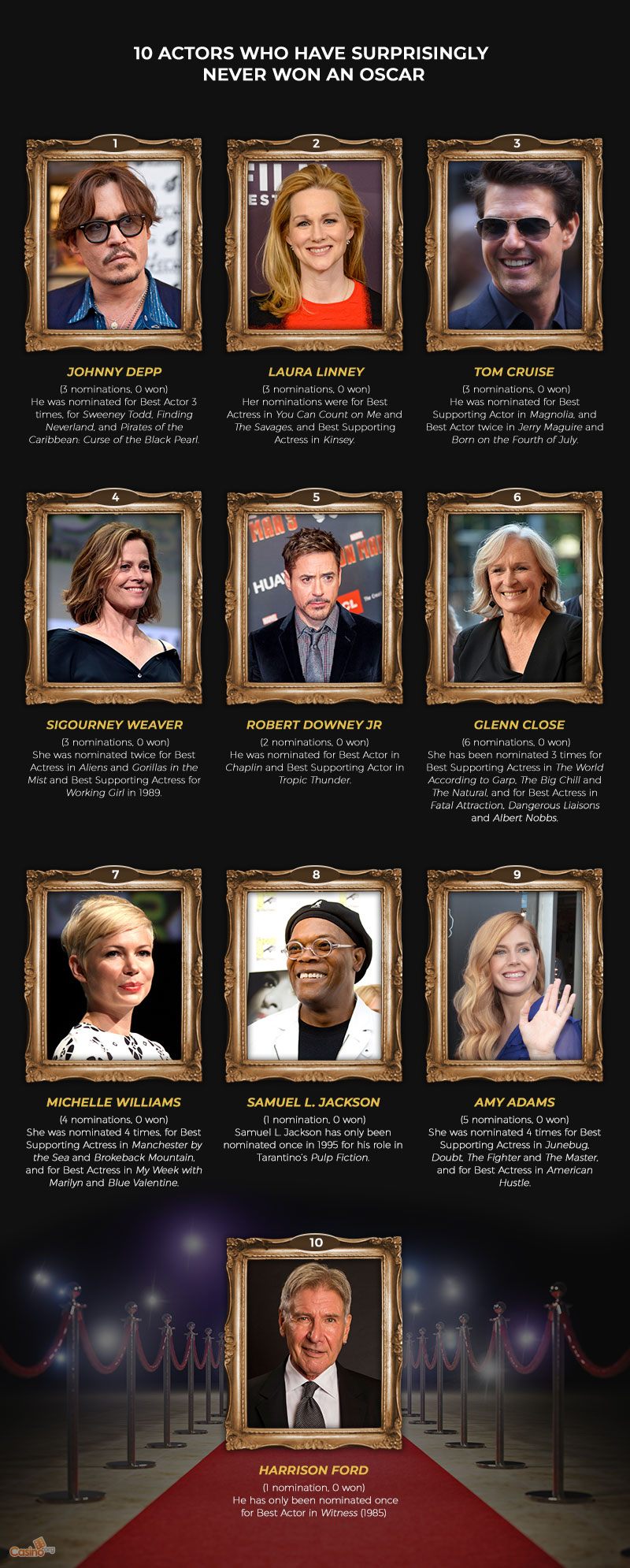 It's not to say that someone like Johnny Depp, Tom Cruise or Harrison Ford deserves an award simply because they've done so many movies or been in the industry for so long. But really, Glenn Close has never won despite six nominations. It's no wonder that she's a front runner this year to win for her role in The Wife. It's about time, and the odds appear to be in her favor.
Obviously everyone wants to win, but they know their chances might be slim, especially depending on the competition. Some actors just keep getting nominated to win, but then end up missing out on the top prize.
Just look at Amy Adams. She was nominated four times in the past 10 years but still doesn't have a gold statue. Or how about Denzel Washington, who had three nominations in the past decade without a win. At least he has his two statues for Training Day and Glory to keep him going.
Of course, getting nominated is a prerequisite for winning, so it makes sense that the more times you get nominated, the better your chances of going home a winner. Meryl Streep knows this well, getting nominated five times in the past 10 years, even if she only did win once in that period.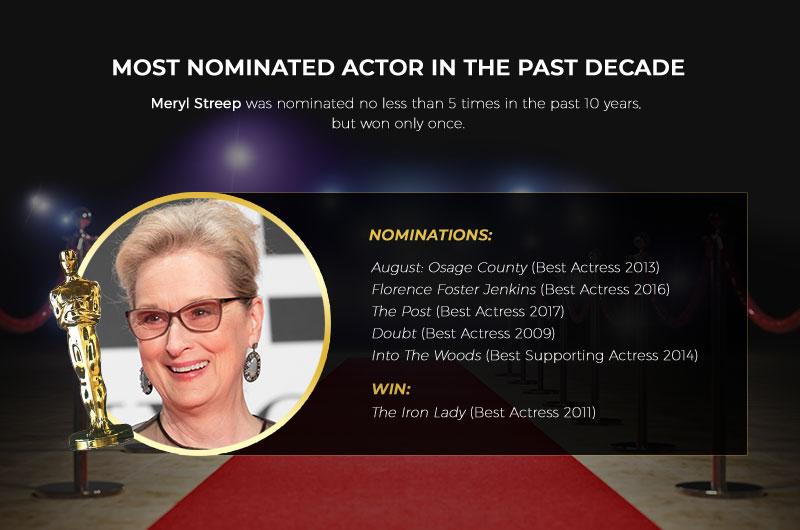 In fact, Meryl Streep has done incredibly well at the Academy Awards over the years. She's picked up 18 nominations over the course of her career. While she's "only" garnered three wins, she's really doing pretty well for herself. Then again, Katharine Hepburn managed four wins from her 12 nominations.
Laurence Olivier had an impressive 10 nominations during his career, with two wins. Meanwhile, Jack Nicholson, Bette Davis and Paul Newman all were nominated nine times. Peter O'Toole was nominated eight times and only eventually got an honorary award after all that.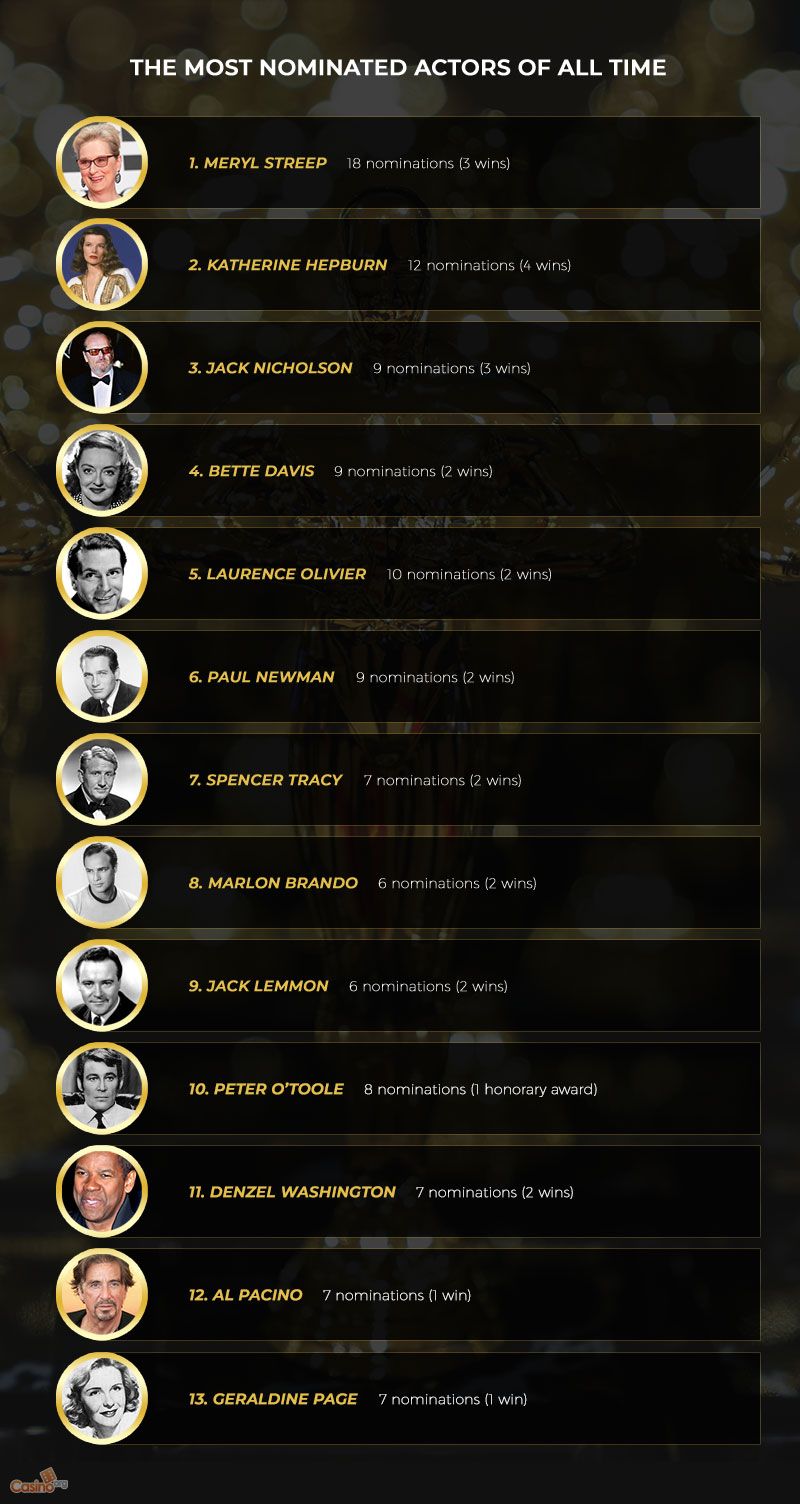 To the Winners go the Glory
It says something that so many actors have been nominated for their roles in recent years, even if they didn't go home as winners. This year, we're poised to see some relative newcomers sweep up top prizes, at least according to bookies' predictions.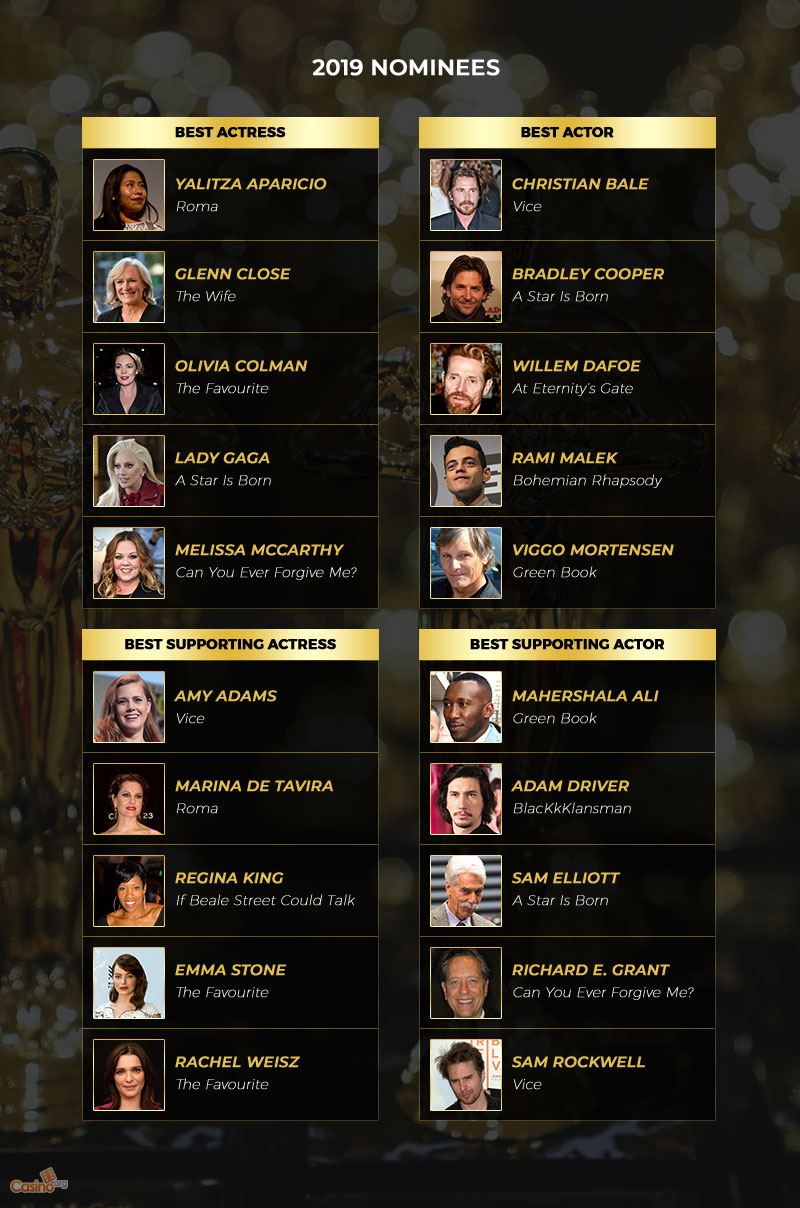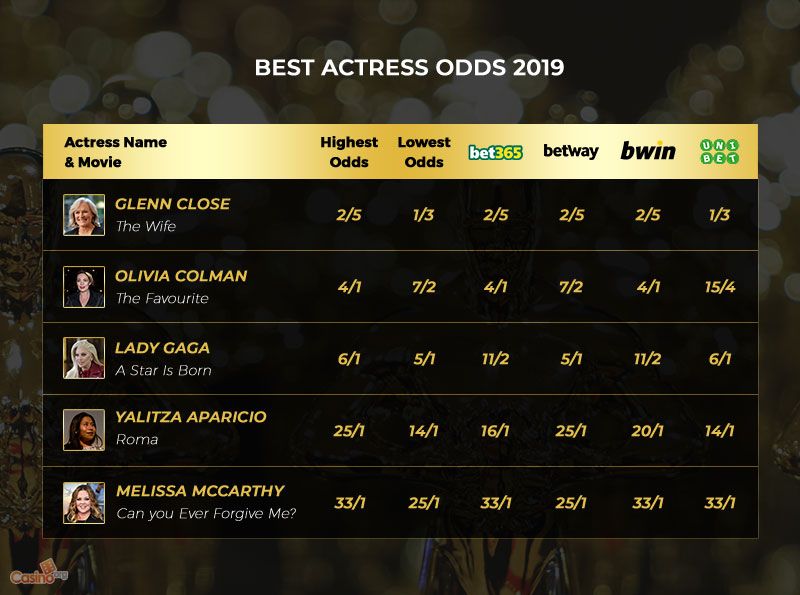 Christian Bale has been nominated four times, winning once, so as much as he might deserve the Best Actor award for his role in Vice, it's doubtful anyone will claim he was robbed if it goes to Rami Malek instead. The odds are extremely close for both of them, with Bradley Cooper, Viggo Mortensen and Willem Dafoe trailing according to the bookies.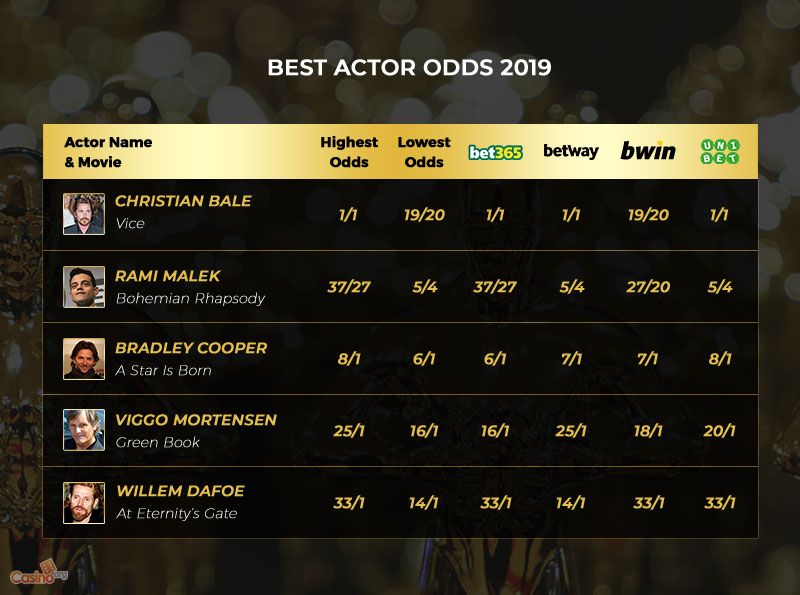 The Best Supporting Actor and Actress categories also have a couple tight races, although it appears that Mahershala Ali will pick up the award for Best Supporting Actor and Regina King will win for Best Supporting Actress. That said, you might not want to rule out Amy Adams for her remarkable performance in Vice.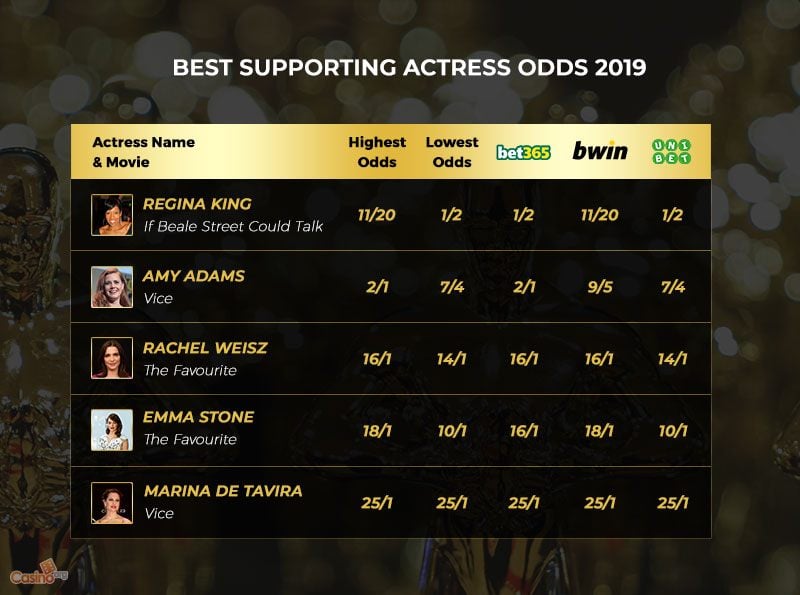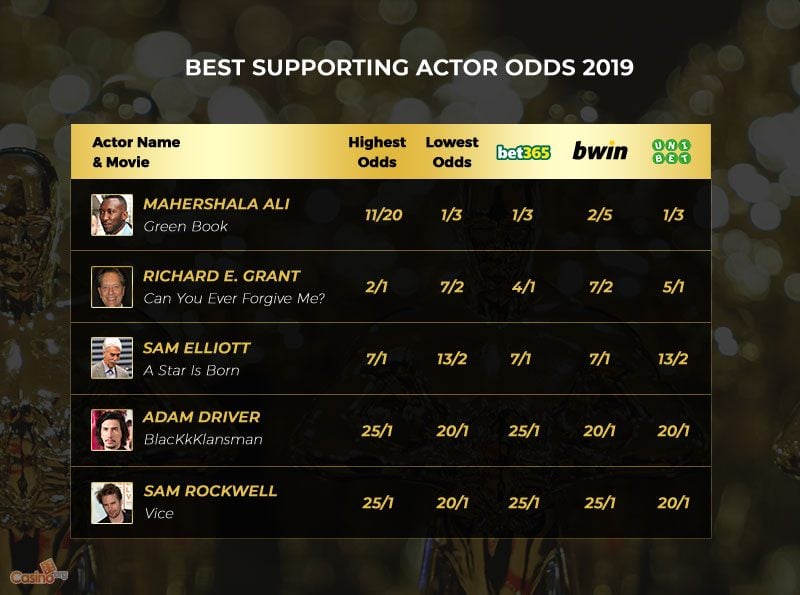 No matter how the awards go, the odds are that these performers will all get a significant pay increase on their next project. Plus, all the prestige and bragging rights of winning that coveted golden statue. Of course, if they trip on their way up to the stage, that will probably get more attention than actually winning.
Content Sources:
https://nypost.com/2009/07/25/you-are-not-going-to-be-famous/
https://www.quora.com/Are-the-Oscars-outdated-out-of-touch-and-worthless-The-fact-that-they-dislike-movies-liked-by-commoners-so-much-that-they-had-to-put-in-a-category-for-popular-movies-seems-like-the-floundering-move-of-an\
https://www.casino.org/blog/how-to-bet-and-win-on-the-oscars/
https://www.marketwatch.com/story/how-much-economic-value-do-you-gain-from-winning-an-oscar-2018-03-02
https://www.eonline.com/news/830990/biggest-oscar-moments-of-all-time-jennifer-lawrence-trips-onstage-and-into-our-hearts-while-accepting-best-actress-award 
Image Sources:
Infographic 1: Oscar's statue: https://libreshot.com/oscar-statuette/
Oscar background: https://commons.wikimedia.org/wiki/File:Kurhaus_Wiesbaden_red_carpet.jpg
Infographic 2: Johnny Depp: https://hu.wikipedia.org/wiki/F%C3%A1jl:Johnny_Depp_2,_2011.jpg
Laura Linney: https://commons.wikimedia.org/wiki/File:Laura_Linney_2016_(cropped).jpg  
Tom Cruise: https://commons.wikimedia.org/wiki/File:Tom_Cruise_(34797273596).jpg
Sigourney Weaver: https://commons.wikimedia.org/wiki/File:Sigourney_Weaver_by_Gage_Skidmore_4.jpg
Robert Downey Jr: https://commons.wikimedia.org/wiki/File:Robert_Downey_Junior.jpg
Glenn Close: https://www.flickr.com/photos/glennclose/9790551104
Michelle Williams: https://commons.wikimedia.org/wiki/File:Michelle_Williams(7587128222).jpg
Samuel L. Jackson: https://commons.wikimedia.org/wiki/File:Samuel_L_Jackson_at_San_Diego_ComicCon_2008.jpg
Amy Adams: https://www.flickr.com/photos/gdcgraphics/29708985502 
Harrison Ford: https://commons.wikimedia.org/wiki/File:Harrison_Ford_and_Calista_Flockhart_at_the_2009
Background: GETTY
Infographic 3: Amy Adams: https://commons.wikimedia.org/wiki/File:Amy_Adams_speaking_at_the_2015_San_Diego_Comic-Con_International_(cropped).jpg
Denzel Washington : https://commons.wikimedia.org/wiki/File:Denzel_Washington_2013.jpg
Saoirse Ronan: https://commons.wikimedia.org/wiki/File:Saoirse_Ronan_in_2018.png
Michelle Williams: https://commons.wikimedia.org/wiki/File:Michelle_Williams(7587128222).jpg
Mark Ruffalo- https://commons.wikimedia.org/wiki/File:Mark_Ruffalo_(36201774756)_(cropped).jpg
Background: GETTY
Infographic 4: Meryl Streep- https://commons.wikimedia.org/wiki/File:Meryl_Streep_at_the_Tokyo_International_Film_Festival_2016_(32801846044)_(cropped).jpg
Oscar statue – https://libreshot.com/oscar-statuette/
Background: GETTY
Infographic 5: Meryl Streep: https://commons.wikimedia.org/wiki/File:Meryl_Streep_at_the_Tokyo_International_Film_Festival_2016_(32801846044)_(cropped).jpg
Katherine Hepburn: https://www.maxpixel.net/Actress-Katharine-Hepburn-Classic-Movie-Star-399623
Jack Nicholson: https://commons.wikimedia.org/wiki/File:Jack_Nicholson_2002.jpg
Bette Davis: https://pixabay.com/en/bette-davis-actress-classic-movie-396221/
Laurence Olivier: https://commons.wikimedia.org/wiki/File:Laurence_Olivier_-_portrait.JPG
Paul Newman: https://commons.wikimedia.org/wiki/File:Paul_Newman_-_1958.jpg
Spencer Tracy:  https://commons.wikimedia.org/wiki/File:Spencer_tracy_state_of_the_union.jpg
Marlon Brando: https://vi.wikipedia.org/wiki/T%E1%BA%ADp_tin:Marlon_Brando_53.jpg
Jack Lemmon: https://commons.wikimedia.org/wiki/File:Jack_Lemmon_-_1968.jpg
Peter O'Toole: https://commons.wikimedia.org/wiki/File:Peter_O%27Toole_-_1968.jpg
Denzel Washington: https://commons.wikimedia.org/wiki/File:Denzel_Washington_2013.jpg
Al Pacino: https://www.flickr.com/photos/t_p_s/2177385375
Geraldine Page: https://hu.wikipedia.org/wiki/F%C3%A1jl:Geraldine_Page_1953.jpg
Background: https://www.schriever.af.mil/News/Photos/igphoto/2001878072/
Infographic 6: Daniel Day- Lewis:  https://commons.wikimedia.org/wiki/File:Daniel_Day-Lewis,_Jaguar,_Mille_Miglia_2013.jpg
Anne Hathaway: https://www.flickr.com/photos/zigzaglens/2586483680
Oscar statue: https://libreshot.com/oscar-statuette/
Infographic 7, 8, 9, 10 and 11: Yalitza Aparicio: https://en.wikipedia.org/wiki/File:Yalitza_Aparicio_(cropped).jpg
Glenn Close:  https://www.flickr.com/photos/glennclose/9790551104
Olivia Colman: https://commons.wikimedia.org/wiki/File:Olivia_Colman_at_Moet_BIFA_2014.jpg
Lady Gaga: https://commons.wikimedia.org/wiki/File:Lady_Gaga_interview_2016.jpg
Melissa McCarthy: https://cs.wikipedia.org/wiki/Soubor:Melissa_McCarthy_at_TCL_Chinese_Theatre.jpg
Christian Bale: https://commons.wikimedia.org/wiki/File:Christian_Bale_2014.jpg
Bradley Cooper: https://commons.wikimedia.org/wiki/File:Bradley_Cooper_(11242795155)_(cropped).jpg
Willem Dafoe: https://commons.wikimedia.org/wiki/File:Willem_Dafoe_at_Lisbon_Film_Festival_2017_(cropped_%26_retouched).jpg
Rami Malek: https://commons.wikimedia.org/wiki/File:SXSW_2016_-_Rami_Malek_(25138464364)_(cropped_2).jpg
Viggo Mortensen: https://et.wikipedia.org/wiki/Fail:Viggo_Mortensen_Cannes_2016.jpg
Amy Adams: https://commons.wikimedia.org/wiki/File:Amy_Adams_speaking_at_the_2015_San_Diego_Comic-Con_International_(cropped).jpg 
Marina De Tavira: https://en.m.wikipedia.org/wiki/File:Marina_de_Tavira.jpg
Regina King: https://commons.wikimedia.org/wiki/File:Regina_King_2010.jpg
Emma Stone: https://www.flickr.com/photos/marinsd/30116702121/
Rachel Weisz: https://commons.wikimedia.org/wiki/File:Rachel_Weisz_2018.jpg
Mahershala Ali: https://commons.wikimedia.org/wiki/File:Mahershala_Ali_(29953410761).jpg
Adam Driver: https://commons.wikimedia.org/wiki/File:Star_Wars-_The_Last_Jedi_Japan_Premiere_Red_Carpet-_Adam_Driver_(27163437599)_(cropped).jpg
Sam Elliott: https://commons.wikimedia.org/wiki/File:TIFF_2018_Samuel_Elliott_(44592132581)_(cropped).jpg
Richard E.Grant: https://commons.wikimedia.org/wiki/File:Richard_E._Grant_2018.jpg 
Sam Rockwell: https://commons.wikimedia.org/wiki/File:Sam_Rockwell_at_the_2009_Tribeca_Film_Festival.jpg
Background: https://www.schriever.af.mil/News/Photos/igphoto/2001878072/
Bet365
Betway
Bwin
Unibet