The Rise Of Women In Poker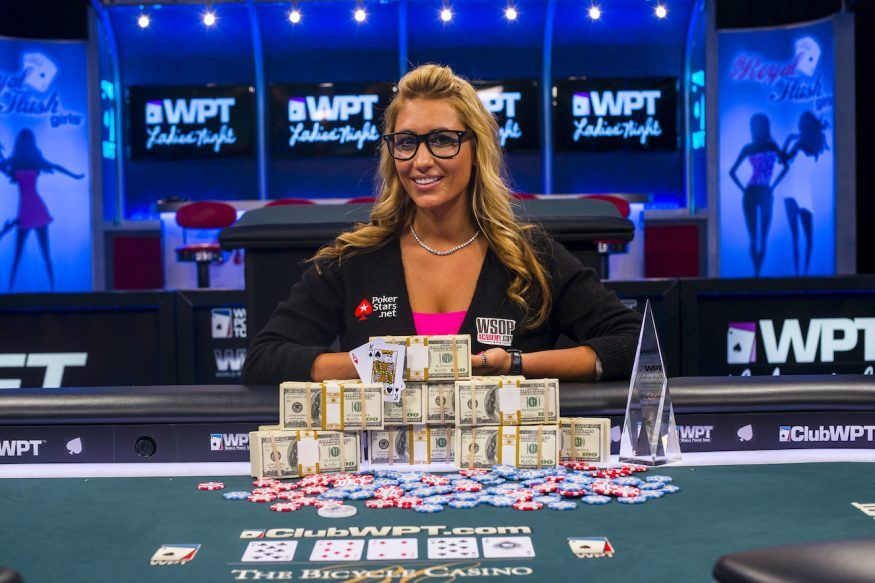 Today, poker is played by women and men alike, and there are even serious considerations to make it a sport, which would take the game to a completely different level.
But this wasn't always the case.
In the early days, poker was considered just another gambling activity that gathered primarily shady characters, most of whom were men. Women had no place at the poker table, and their peers largely scrutinized the rare ones who tried to enter this male-dominated world.
Thankfully, the situation is much different today but, like with so many things, the change didn't happen overnight.
In this article, we'll look at the rise of women in poker and how female players fought to prove they belonged at the green felt just as much as their male counterparts.
Barbara Freer – First Woman To Enter Open WSOP Event
It's hard to talk about the popularity of poker before the 1970s since it was mostly played in a private setting. However, Benny Binion established the World Series of Poker in 1970, and the rest is history in the truest sense of the word.
The first few iterations of the series didn't get much traction, but more and more people started to take an interest in the game over the years.
They were predominantly men, but quite a few women enjoyed spending their time at Las Vegas casinos and battling on the green felt.
Barbara Freer was one of the first women in poker to make history.
In 1979, she entered the $400 Ladies Limit Seven Card Stud tournament together with other 52 players. She went on to win that tournament, banking almost $13,000, which was decent money for that time.
She wasn't the first woman to win a bracelet, as ladies' events were introduced a couple of years earlier.
However, she was the first female player to enter a general WSOP tournament and mix it up with the male players. This may not seem like a big deal today, but it certainly was at the time.
Freer wasn't afraid of the competition, and she wouldn't stand stereotypes. She loved the game, she knew how to play, and she didn't want to limit herself to women-only tournaments.
Over the years to come, she entered many WSOP events, with her second-best result being 7th place in a $5,000 Seven Card Stud event in 1989, which brought her $14,200.
Her overall results may have been modest, but she set a precedent and showed the women around the globe that they too can play poker if that's what they want to do, and they shouldn't be afraid to do so.
Barbara Enright – The First And Only Woman In Poker Hall Of Fame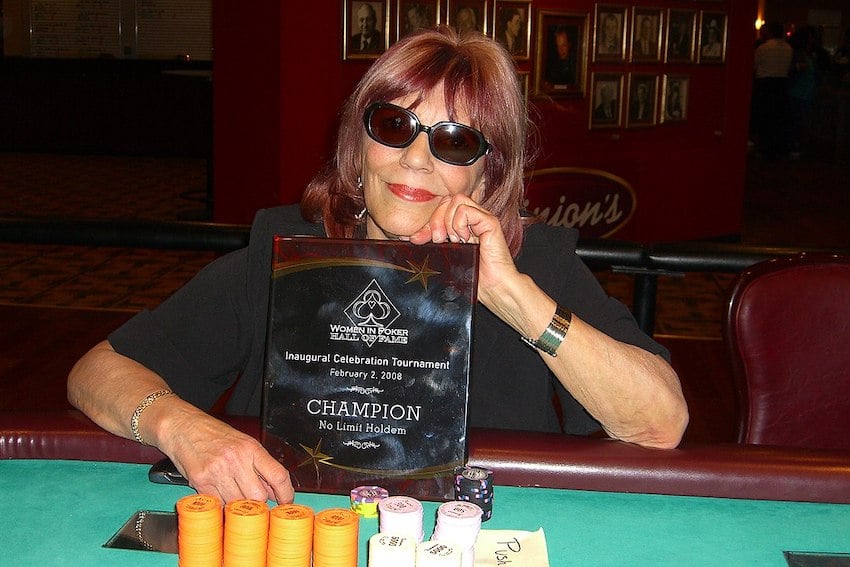 Freer may have shown by her example that women belonged at the green felt, but the number of female players, especially those willing to enter open tournaments, was still very small.
It was a mix of social norms and the stigma surrounding the game that largely kept women away from the tables.
Because of this, Barbara Enright's role in poker history simply can't be overstated.
Enright fell in love with poker at a very early age, playing Five Card Stud against her older brother. Her professional career started in 1976, and over the next couple of decades, she went on to build an impressive poker résumé.
In 1986, Barbara won her first WSOP bracelet, followed by another one in 1994. These two victories, although relevant, were in ladies' events.
But then, in 1996, Enright went on to achieve the unthinkable.
She became the first woman to win a WSOP bracelet in an open event, triumphing in a $2,500 Pot Limit Hold'em tournament over other 179 players and taking home $180,000 for this tremendous achievement.
Just a year prior, in 1995, she became the first woman to reach the final table of the WSOP Main Event.
Her claim to absolute fame was disrupted by a bad beat that saw her eliminated in the 5th spot, but it was still a monumental achievement for all aspiring female players.
Enright's long and successful career simply couldn't have been ignored, and she became the first and so far the only female player to enter the prestigious Poker Hall of Fame. She was inducted in 2007, together with Phil Hellmuth.
Barbara Enright is still very active in the poker community, both as a player and ambassador for the game.
Women In Poker In The 1990s: Jennifer Harman
As time progressed and poker started to become more mainstream, there was a notable rise in the number of female players willing to join the fray.
The contribution from players such as Freer and Enright was certainly important, but the game's stigma was slowly lifting as well. All these things encouraged more women to enter tournaments and test their skills and luck.
Probably the biggest name from this period is that of Jennifer Harman.
Her early passion for the game pushed her towards taking up poker seriously, and her career really started during the mid-1990s when she became a regular at the World Series of Poker.
Harman won two WSOP bracelets in open events in 2000 and 2002, joining a very small club of female players to have achieved this feat.
The 2002 win was in a Limit Hold'em event, a game in which Jen was very good as she honed her skills at cash game tables. However, the 2000 bracelet came from a No-Limit Deuce to Seven tournament, a poker variation that Harman had no experience with whatsoever.
Prior to the start of the event, Howard Lederer introduced her to the game rules and gave her a few basic pointers. Jen took these and ran with them all the way to the victory, proving her natural talent and ability.
As poker continued to grow in popularity, Harman became one of the most prominent female figures, appearing on many poker shows like High Stakes Poker and Poker After Dark.
Despite usually being surrounded by a bunch of men players, there was never any doubt she belonged there. She earned respect and admiration from her male peers, which was no small feat by any stretch of the imagination.
Kathy Liebert – A Huge Name In The List
In addition to Harman, another very successful female player who marked the 1990s is definitely Kathy Liebert. Although the bulk of her major scores came after 2000, Liebert has been on the grind since the mid-1990s.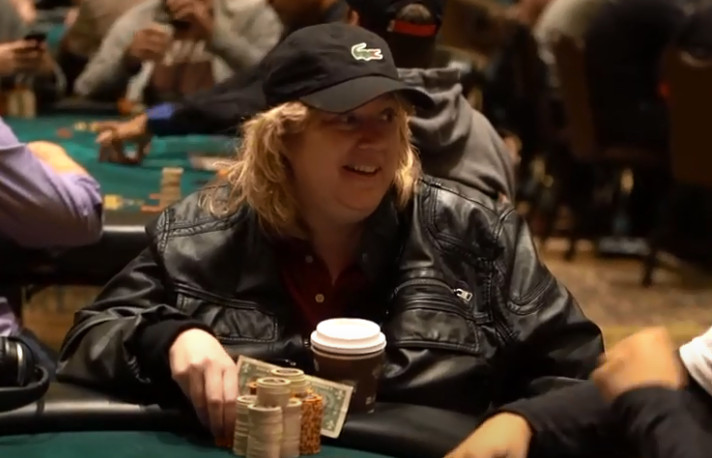 Kathy made her first steps in the poker world as a prop player in Colorado, and after a while, she moved on to bigger tournaments.
As it turned out, she would find quite a bit of success on the tournament circuit, but it took a few years before the first big wins started to roll in.
In 2002, Liebert triumphed in the first-ever Party Poker Million event, winning a cool million for the biggest score of her career.
In the years to follow, she made several WPT final tables. Although she couldn't quite close the deal in any of them, Kathy had several notable finishes, the most important one being second place in the 2009 Shooting Star event.
With total live winnings of close to $6.5 million, Kathy Liebert holds second place on the female all-time money list, behind only Vanessa Selbst.
She is still very active, playing live and online tournaments alike, so her impressive and inspirational poker journey is still far from over.
Pioneers Of The Poker Boom
There is hardly any poker fan out there who doesn't know what the year 2003 meant for the game.
Moneymaker's shocking victory in that year's Main Event set in motion a series of events that would change poker forever.
Of course, among other things, the aftermath of the poker boom had a big influence on the rise of women in poker as well.
The game started to receive much more TV coverage, and the narrative of poker being just another form of gambling had started to change. You could start hearing discussions about it being a game of skill, a proper form of competition that offers equal opportunities for everyone willing to learn.
The poker world saw many competent female players coming out of the woodwork seeking to make their claim to fame.
We'll try to mention a few of the most prominent names from this period of female players who left a deep mark on the game's history.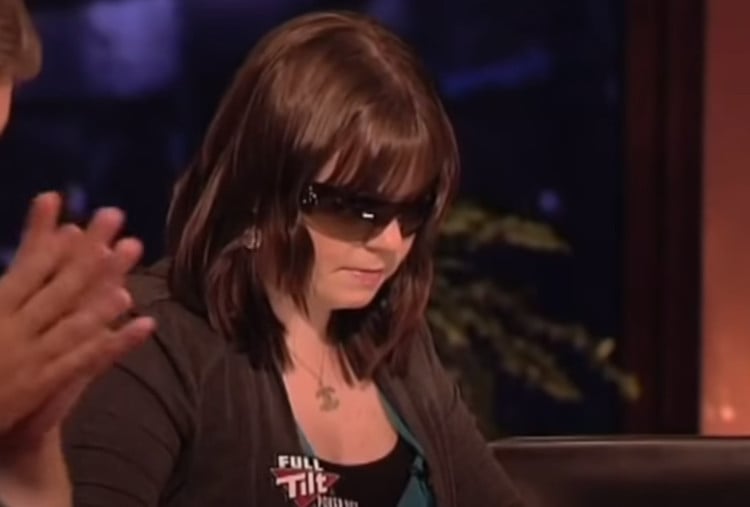 In 2007, the 18-year old Norwegian phenom took the entire poker world by surprise, winning the very first WSOP Europe Main Event. In doing so, she became the first and only female player to claim this prestigious title.
Annette's achievement was a huge milestone for women in poker.
Liv Boeree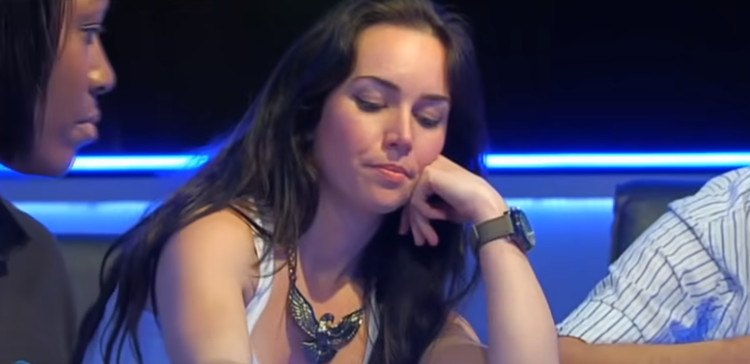 Liv Boeree is another prominent female player who did a lot to promote the game and attract more women to the felt. Her career started in the mid-2000s but really accelerated in 2010 when Boeree took down the EPT Monte Carlo Main Event.
Liv was a member of the PokerStars Team Pro for a while and had appeared on many poker shows and televised events.
Although she's no longer a professional poker player, Boeree has certainly contributed to the rise of women in poker in the past decade.
Vanessa Rousso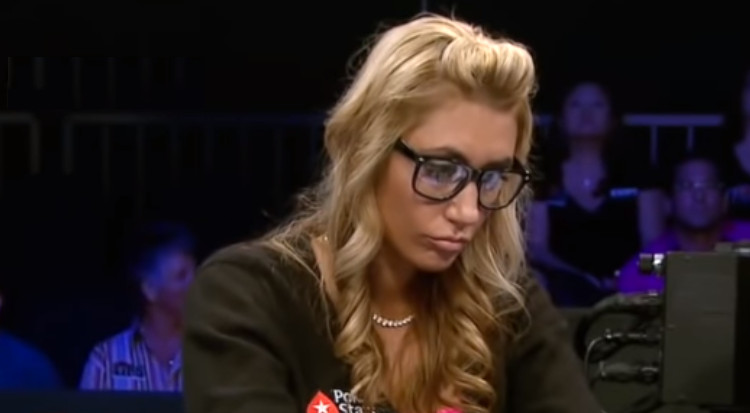 Vanessa Rousso is another successful female poker player who joined the poker craze in the post-Moneymaker era. Although she's loved and known the game from a very early age, Vanessa made her first serious steps in poker in 2005.
She didn't have to wait long for her first major success. In 2006, she took down the WPT Borgata event, banking $285,000 for her efforts.
Rousso was signed by PokerStars shortly after, and she was a member of the room's team for several years.
Vanessa amassed over $3.5 million in tournament winnings, but her many appearances on TV have helped inspire women across the globe to give the game a chance.
Vanessa Selbst: The Most Successful Female Player of All Time
If we had to sum up the culmination of the rise of women in poker in a person, that person would have to be Vanessa Selbst.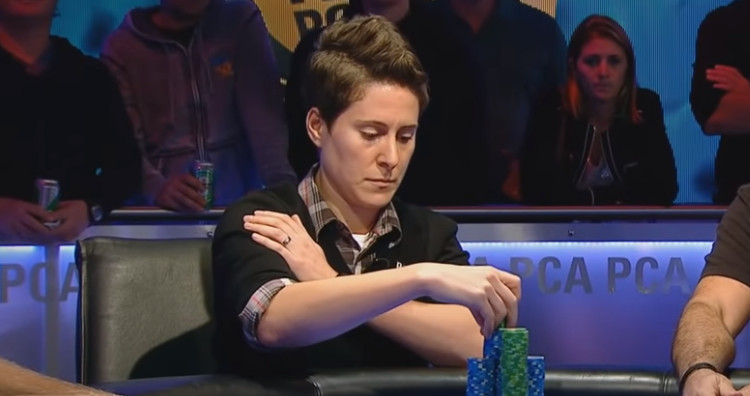 Born in 1984, Selbst is the first and the only female player to win three World Series of Poker bracelets in open events, and her success in poker is a real inspiration for women.
Selbst isn't just the most successful female poker player. She's one of the best poker players around, period.
With winnings of almost $12 million, three bracelets, two NAPT titles, and many other trophies, Vanessa has proven time and time again that she can play poker as well as any man – and much better than most.
In addition to her success on the felt, she's been a great ambassador for the game, doing a lot to attract more female players.
She was one of the members of PokerStars Team Pro and ambassadors for a long time, using her high profile to make the game appeal to the masses, in particular to other women.
Vanessa took a short break from poker, focusing on other things in life, but she's announced her return.
There is very little doubt that she'll continue where she left off, proving that once the cards are in the air and chips are in the middle, it's the skill that determines the winner, not their gender.
2021 And Beyond
From Barbara Freer's early successes to Vanessa Selbst's impressive achievements, it's quite clear that women belong in poker as much as men.
With old stereotypes and prejudices mostly out of the way, aspiring female players are free to seek their fortunes at the green felt and prove to the world they have what it takes to climb the poker ranks.
Still, there is the feeling that more could and should be done to attract more women and make them feel comfortable in the game, especially in the live setting.
The poker world has come a long way compared to the 70s and 80s, but there are still many reasons why there aren't more women playing poker, proving we still have a long way to go.
Perhaps poker will never be as appealing to women as it is to men, but there is very little doubt that we'll see some new female players joining the action and taking on the challenge in years to come.
Lead image: World Poker Tour/Flickr, CC BY-NC 2.0