The World's Best Chicken Parm is Back at Triple George Grill
We're over-the-moon with glee to report the best chicken parm in Las Vegas, and possible in the world, has returned to Triple George Grill across from Downtown Grand in downtown Las Vegas.
For years, we raved about Triple George Grill's glorious chicken parmesan and its associated chicken parm sliders. When the sliders were dropped from the menu, we even personally badgered the restaurant's management into keeping it as a secret menu item.
Then, the Dark Ages.
The sadness began when the restaurant's Side Bar (named so because lots of lawyers went there) closed down its video poker machines.
Triple George started fiddling with its menu. The revamped chicken parm was lighter, healthier and not even remotely as good. Oh, and the chicken parm had a bone sticking out of it. Everything was just off. So, we didn't visit as often, then we stopped altogether. It was like seeing an ex-girlfriend. It's just awkward when you realized you've fallen out of love.
Recently, though, things have turned around. The video poker machines are back in operation, and the chicken parm is back to its former glory, and it is truly exceptional.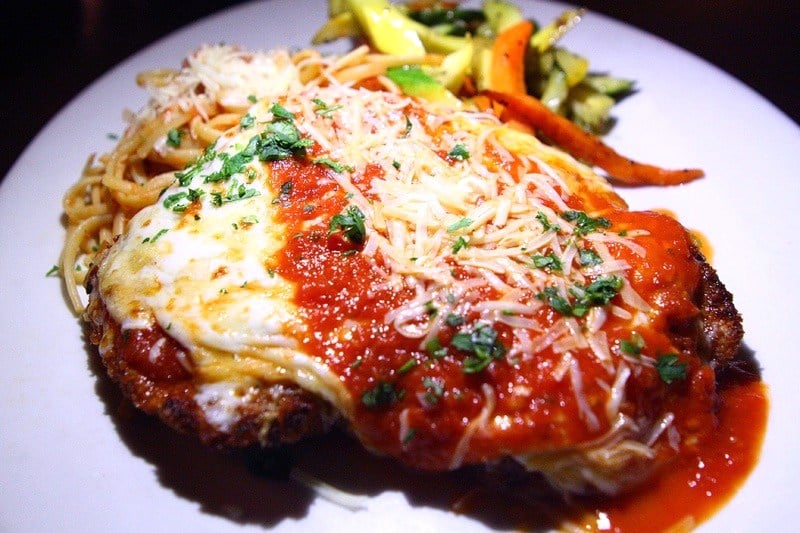 Triple George has not only gone back to its original chicken parm recipe, it is including its once-renowned chicken parm sliders on the happy hour menu. We hear there are also a slew of new signature cocktails which we look forward to trying soon.
Bonus: The bread that comes with your chicken parm entree, along with the seasoned, whipped butter, is as amazing as it's always been.
Welcome back, baby.