Vegas Vic Neon Sign Gets Much-Needed Repairs
An iconic Las Vegas neon sign, Vegas Vic, was recently repaired following months of neglect.
The Fremont Street fixture, first erected in 1951, looks better than ever thanks to the efforts of the YESCO sign company. (Before you point it out, we understand "YESCO sign company" is redundant, as YESCO stands for Young Electric Sign Company, so it's like saying "ATM machine." We love your freakish attention to detail.)
Here's a look at Vegas Vic following his rejuvenation surgery!

Vegas Vic made his debut in 1947, first at the Chamber of Commerce building. Shortly thereafter, he began to stand watch over the Pioneer Club.

The Pioneer Club casino closed in 1995. Now, it's a gift shop.
In fact, it was the Pioneer gift shop owner, Haim Gabay, who paid to have Vegas Vic repaired. Gabay is the former owner of the Bonanza Gift Shop, touted as the world's largest gift shop. He sold Bonanza for $50 million in 2016.
Technically, the responsibility for maintaining Vegas Vic falls to the owner(s) of the building, in this case Schiff Enterprises. The owners have apparently been unresponsive to ongoing requests to get Vegas Vic back up to snuff. Duly noted, Schiff Enterprises.

While the 40-foot-tall Vegas Vic is looking infinitely better than in recent months, he's not the man he used to be.
Originally, Vegas Vic had a moving arm (it stopped moving in 1991) and featured audio saying, "Howdy Podner," among other things.
In addition, a portion of Vic's cowboy hat was trimmed away when the Fremont Street Experience was build in 1995.

Worth noting: The red circle in Vic's pocket is a Durham Tobacco tag hanging from a yellow string. Vic presumably rolled his own.
Vegas Vic's repair has sparked questions about his counterpart, Vegas Vickie.
Vegas Vickie was taken down in July 2017 (see below), and was recently transported to YESCO for a renovation. Vickie will return to Fremont Street in the new Circa Las Vegas resort in December 2020.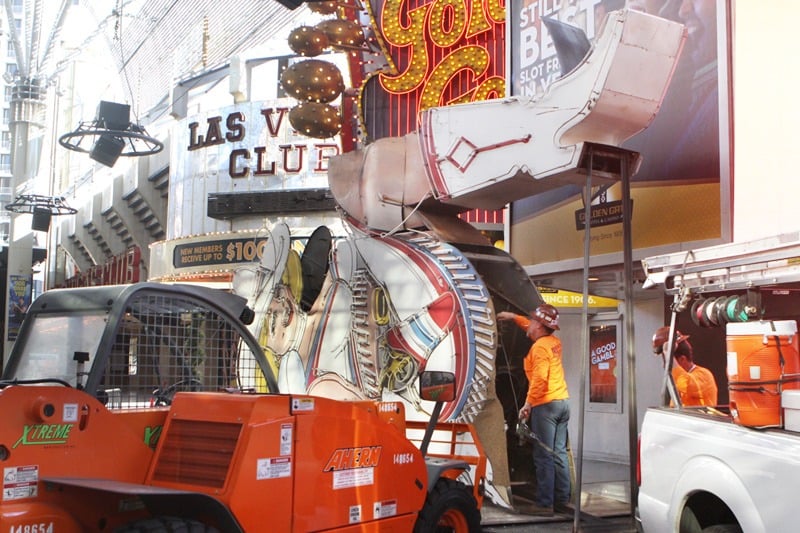 Vegas Vic and Vegas Vickie were married in 1994. We can't wait to see the pair reunited again following their legal separation.
Big thanks to the entities, governmental and otherwise, who kept the pressure on to get Vegas Vic back to his former glory.
Vegas Vic is an irreplaceable part of Vegas history, like the "Welcome to Fabulous Las Vegas" sign, and it warms our cockles to see him looking so sharp again.