Wolfgang Puck Teams With Vegas Golden Knights Players for Sports Restaurant
Doubt our sources at your peril, as we've broken yet another story and it's probably a good time to remind you of the incontrovertible adage, "It's not bragging if it's true."
We were the first to share Wolfgang Puck will close his Wolfgang Puck Bar & Grill in Downtown Summerlin (about 15 minutes west of The Strip) and the celebrity chef will re-open the venue as a sports restaurant and lounge.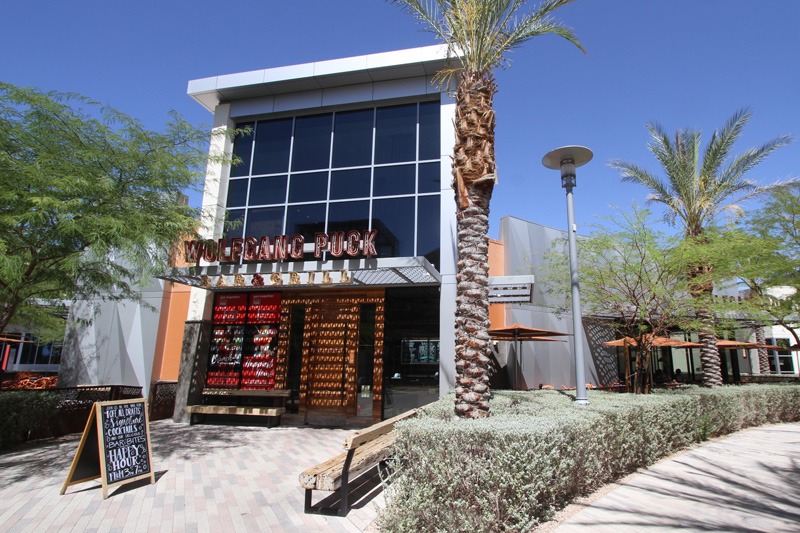 In addition, Wolfgang Puck will launch his new effort in partnership with team members of the Vegas Golden Knights. The hockey team. That's the sport with the ice and the pummeling.
Some people are into it.
Our scoop was immediately confirmed by Tom Kaplan, Senior Managing Partner of Wolfgang Puck Fine Dining.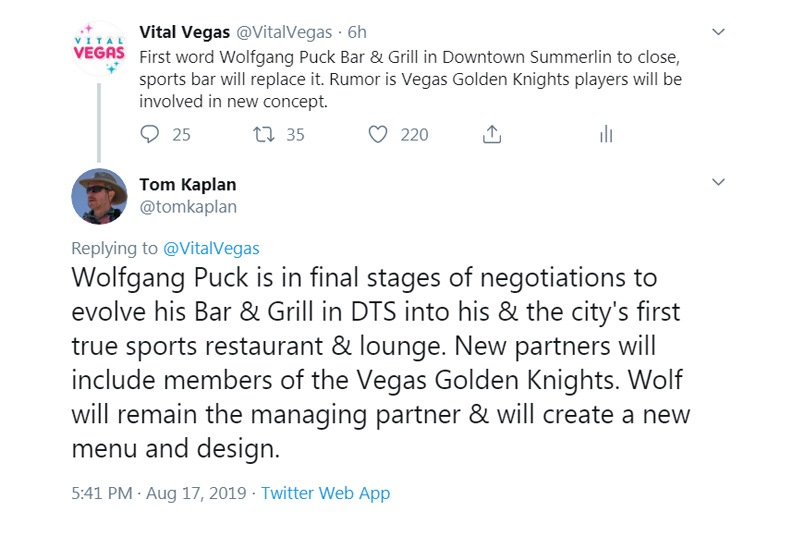 Boom, as the kids say.
Let us be the first one to point out the fact someone with the last name of Puck is teaming up with hockey players. You're welcome. (Yes, his real last name is Topfschnig. Don't be a buzzkill.)
The official statement, of course, glosses over the fact restaurants don't rebrand if they're doing booming business.
The Downtown Summerlin shopping center is awash in dining options, creating business challenges for dozens of restaurants, even those bearing the names of bigtime chefs.
Downtown Summerlin has 30-plus dining options, and the neighboring Red Rock Resort has an additional 15 or so. Translation: That's a lot, and a number of good restaurants have gone under, including Crave, Casa Del Matador, Fogo de Chao and others.
We were the first to share another struggling restaurant, Andiron Steak & Sea, will close for at least two months for an overhaul.
As for the new Wolfgang Puck concept, we can all agree the company's assertion this effort will be "the city's first true sports restaurant and lounge" is hooey. That aside, having Vegas Golden Knights players involved certainly won't hurt the chances of success (the team's practice facility is 30 seconds away).
It also can't hurt to have a culinary icon doing the menu!
We met Wolfgang Puck a couple of times, he's a hoot.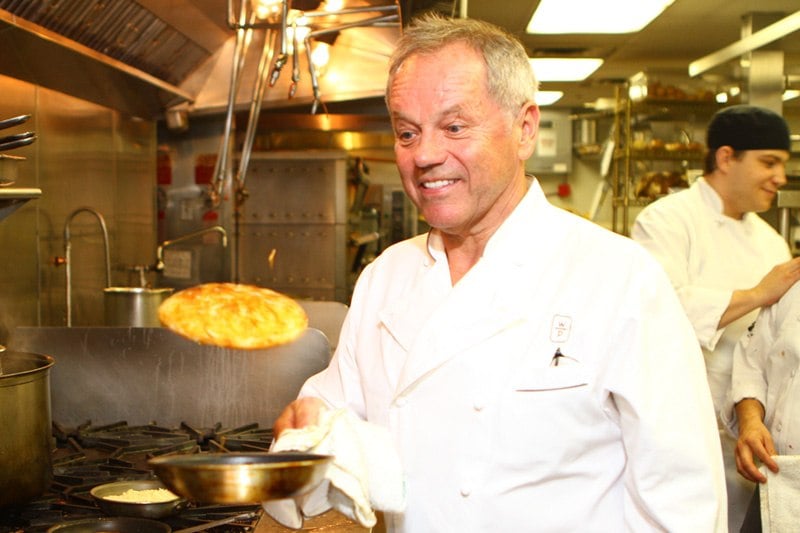 While details about the new Wolfgang Puck concept are few, we're going to make a wild guess there will be TVs. In Las Vegas, it's the law.
We trust there will also be puckball-themed food items like: "Barnburner Burgers," "Clapper Snapper," "Sin Bin Potato Skins," "Goon Guac," "Hat Trick Fish Sticks" and "Faceoff Beef Stroganoff." Not too shabby for making up that list while inebriated.
We're looking forward to checking out the new Wolfgang Puck sports restaurant and lounge when it opens, yes, despite the sports part. It's flipping Wolfgang Puck.