Top of Binion's Steakhouse to Reopen March 10 After Two Years
A popular downtown steakhouse with a metric hell-ton of history is finally reopening after being closed for two years.
Top of Binion's Steakhouse reopens March 10, 2022 and our taste buds are already on high alert.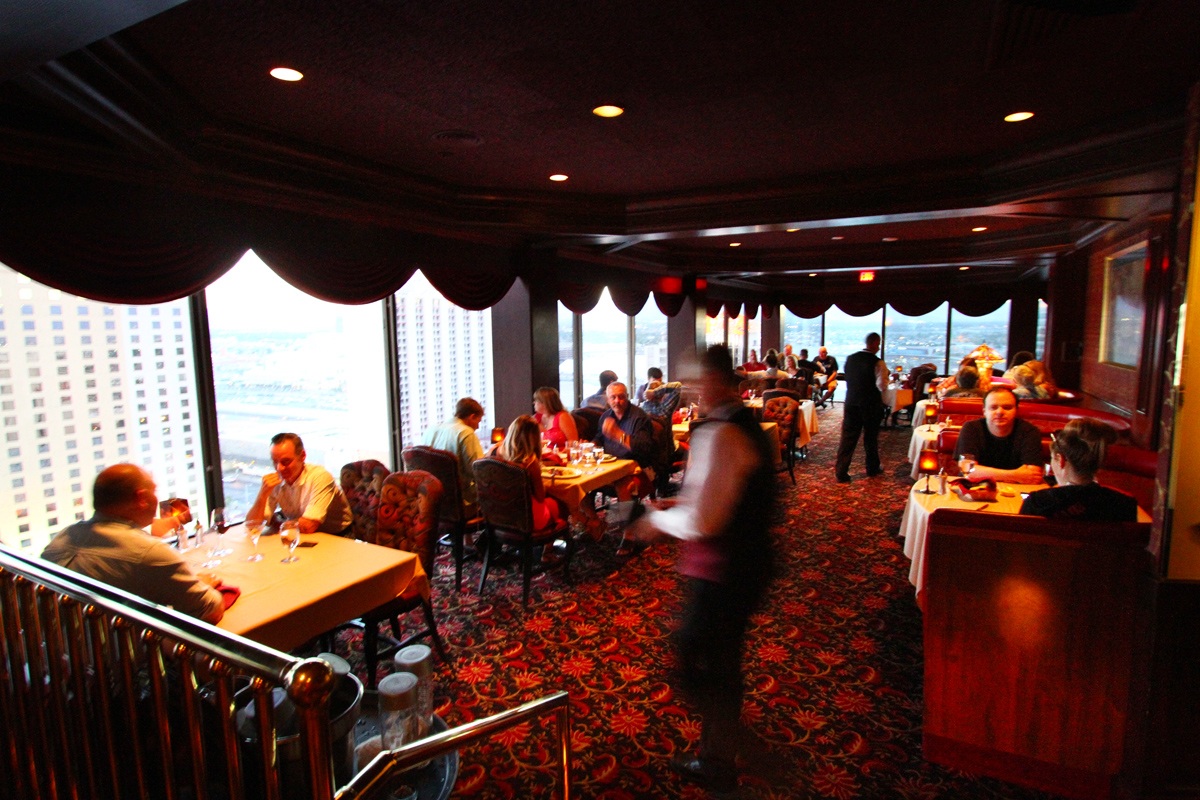 Binion's Steakhouse is a true throwback, and lots of visitors have been champing at the bit to get back inside this classic Las Vegas meatery.
Returning guests will again be able to find their favorite menu items, plus a new batch of dishes, some of them resulting from market research. The team behind the Binion's steakhouse scoured the review sites for items diners seem to care about most (beyond the obvious). Those tend to be bread, appetizers and desserts, so those elements of the menu have been augmented accordingly, including the addition of Baked Alaska, one of the more Grammable dishes because of the flames used to caramelize the meringue.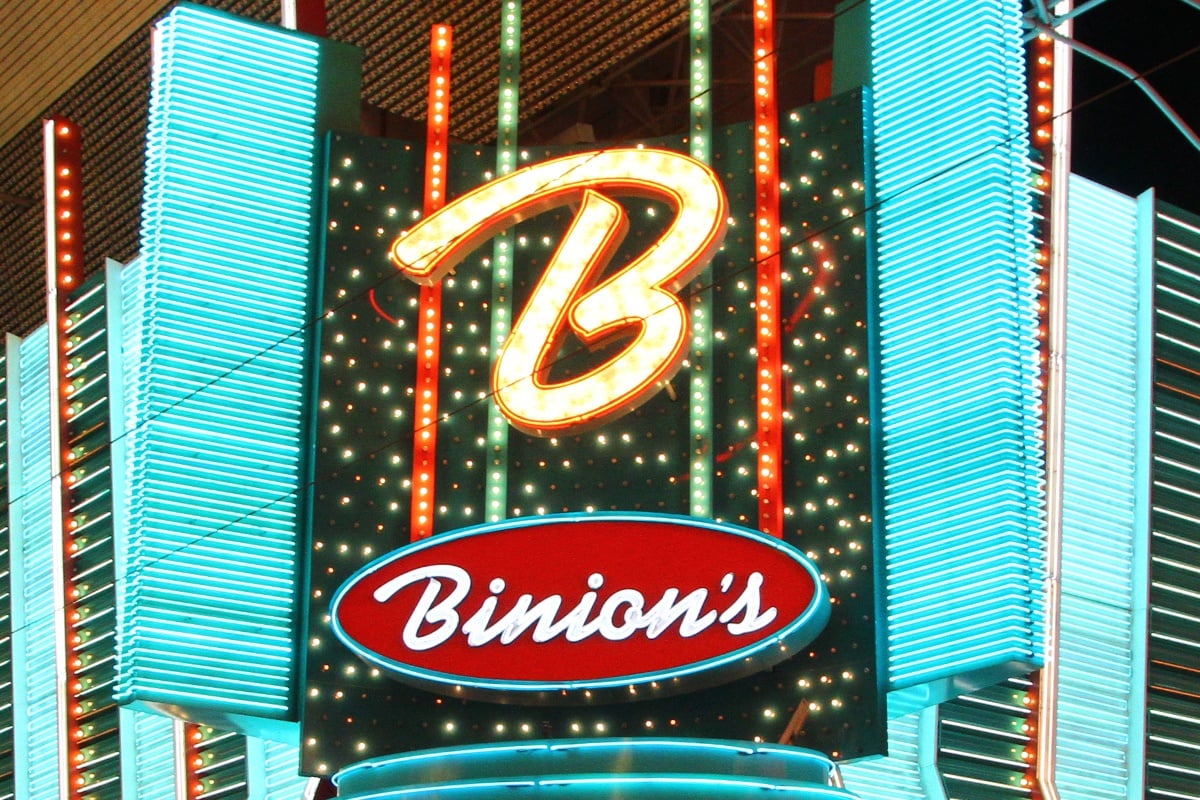 Longtime customers need not fear, however, their favorite things will be back, including their favorite servers.
Some of the servers have been at Top of Binion's Steakhouse before it was even Top of Binion's Steakhouse! Several of the employees worked at the previous incarnation of the restaurant, Top of The Mint.
As a frame of reference, Binion's bought The Mint in 1988.
Let's just say the waitstaff at the Binion's steakhouse is even more seasoned than the steaks.
We're told some servers took gigs as truck drivers and realtors to make ends meet during the restaurant's closure.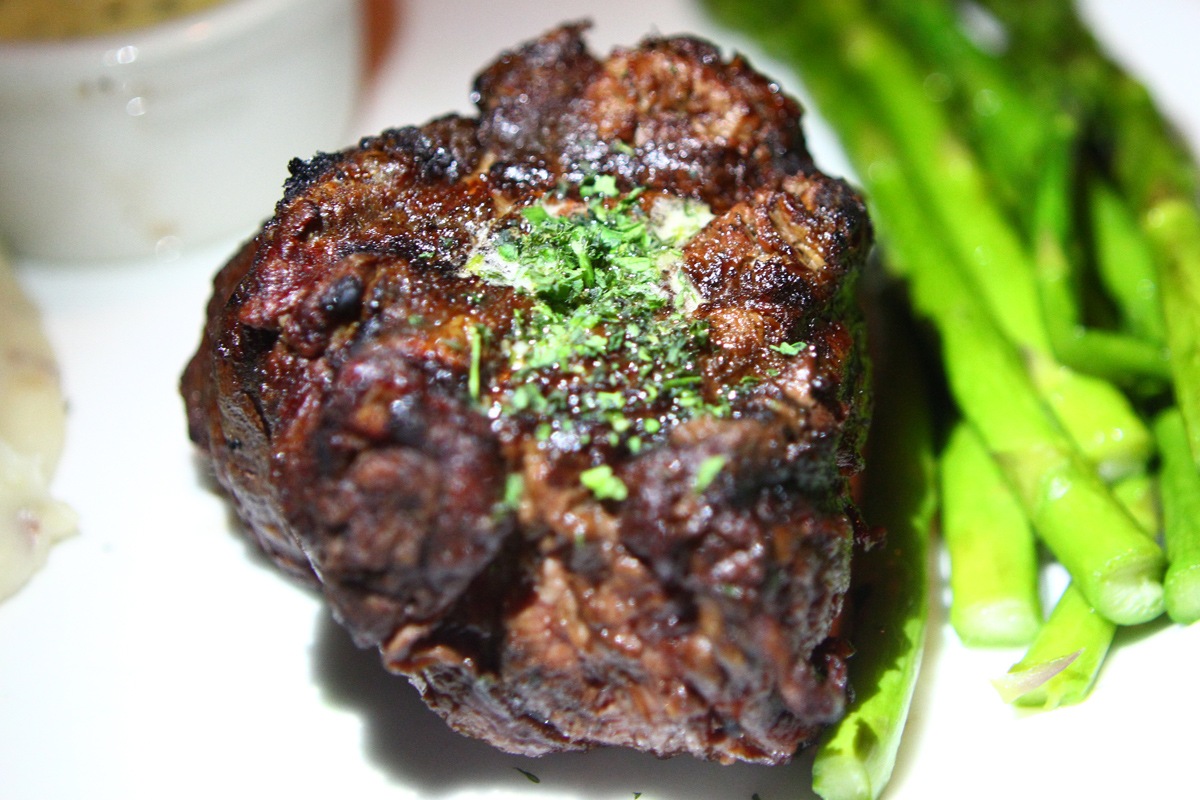 While most of the servers are veterans, the kitchen staff will largely be fresh meat. One of the obstacles to reopening the steakhouse at Binion's has been staffing challenges. (Staffing is also the reason Wana Taco hasn't opened at Four Queens. Four Queens has the same owner as Binion's, Terry Caudill.)
Binion's originally wanted to reopen the steakhouse in August of 2021, in honor of the 70th anniversary of Binion's, but just couldn't swing it.
Another change when the restaurant reopens: While the Top of Binion's Steakhouse was previously open seven days a week, it will now be closed Tuesdays and Wednesdays.
Here's a look at the new menu for Top of Binion's Steakhouse.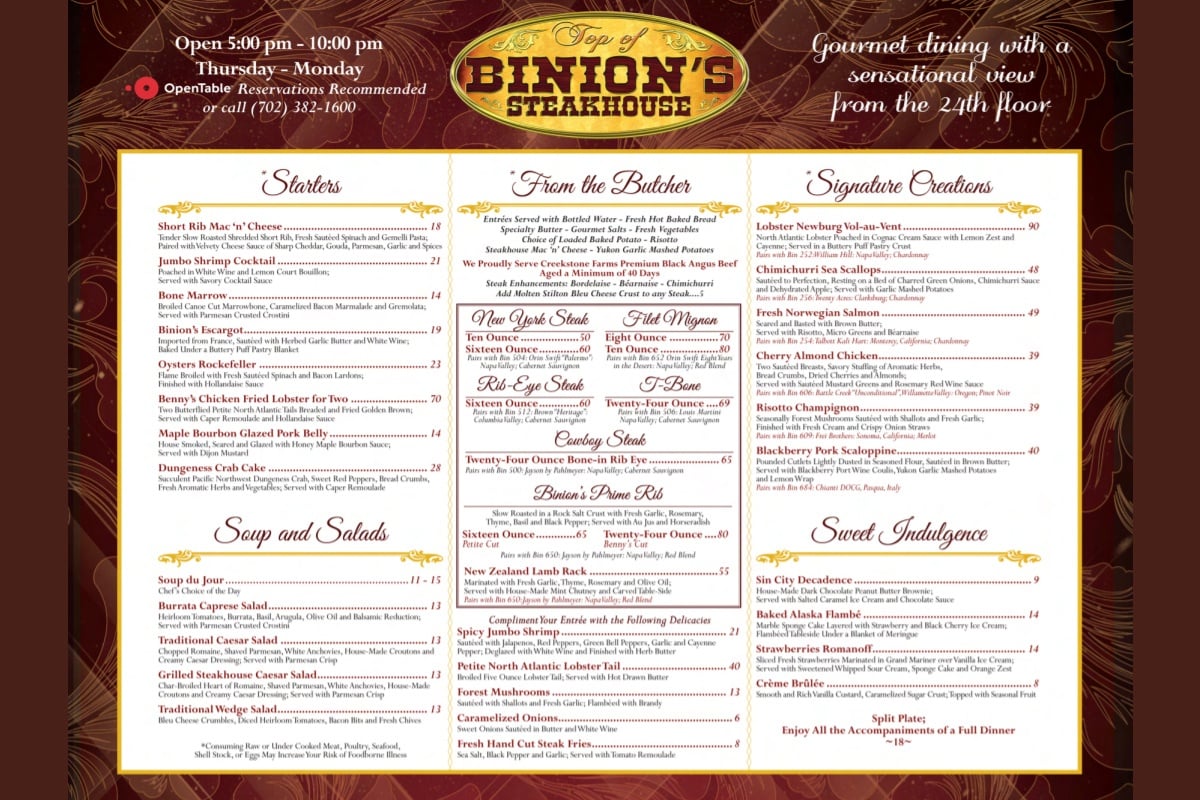 While the Top of Binion's Steakhouse menu is being refreshed, steak fans can look forward to a return of the restaurant's Creekstone Farms Black Angus Beef, aged a
minimum of 28 days for maximum succulence.
Guests will again be able to enjoy old-school service and a sweeping view from the 24th floor of the hotel tower at Binion's. The hotel closed in 2009, but Binion's has since opened Hotel Apache, a boutique hotel with just 81 rooms.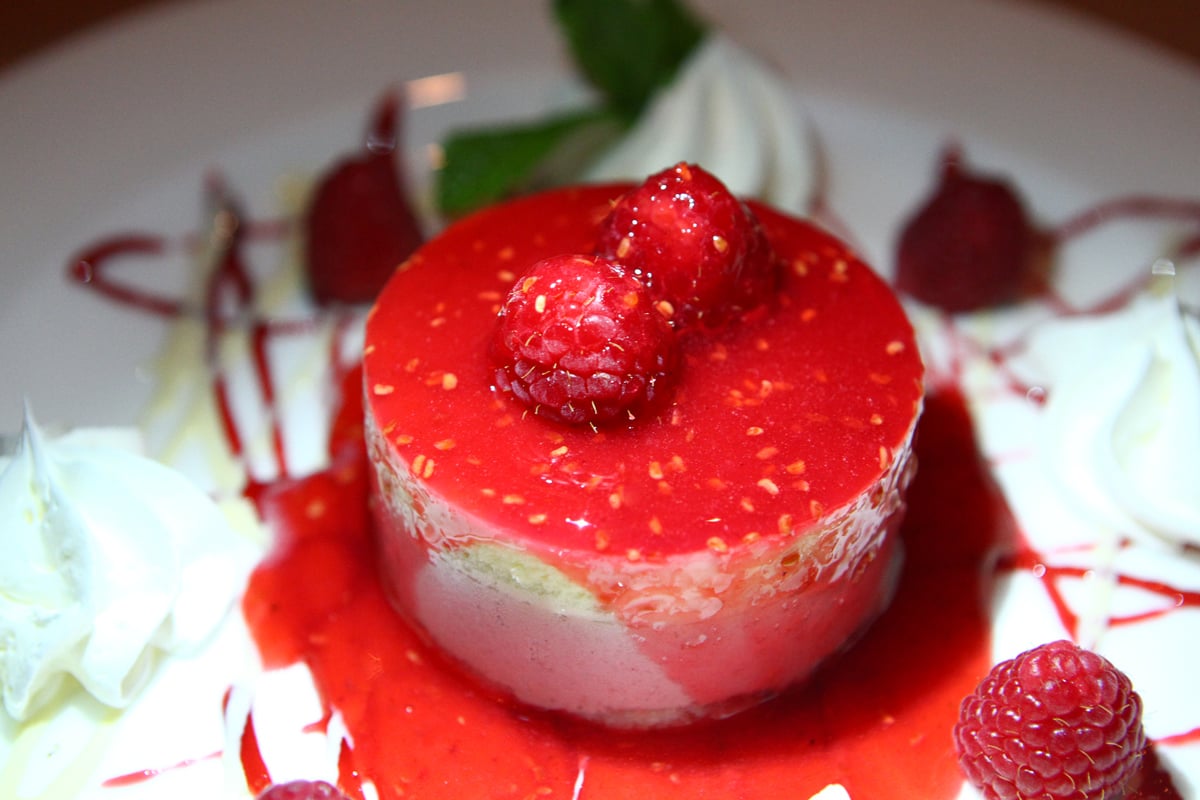 Downtown is replete with great steakhouses, and Top of Binion's can hold its own against any of them, including Hugo's Cellar at Four Queens.
Other worthy downtown steakhouses include Vic & Anthony's and Saltgrass at Golden Nugget, Triple George near Downtown Grand, Oscar's at Plaza, Redwood Steakhouse at The Cal, Andiamo at The D and Barry's Downtown Prime at Circa.
Top of Binion's Steakhouse, though, feels like it's in a class all by itself, because it's not just about food. It's about a Vegas many remember but have difficulty finding these days. Top of Binion's is about friendly, experienced servers and it's about feeling like you're getting your money's worth, and it's got a touch of fancy without pretense.
Learn more at the official Web site or make a reservation on Open Table. All the kids are doing it.
The reopening of Top of Binion's Steakhouse also serves as a symbol of the return to normalcy of Las Vegas after two years of unremitting WTF.
Vegas is feeling like Vegas again. Let's eat! And possibly also drink. Possibly.