Today's Thing We Don't Entirely Get: Downtown's Las Vegas Parklet
Tony Hsieh's Downtown Project continues to push the boundaries of WTF, keeping downtown in the news as it has with its latest endeavor: Parklet Las Vegas.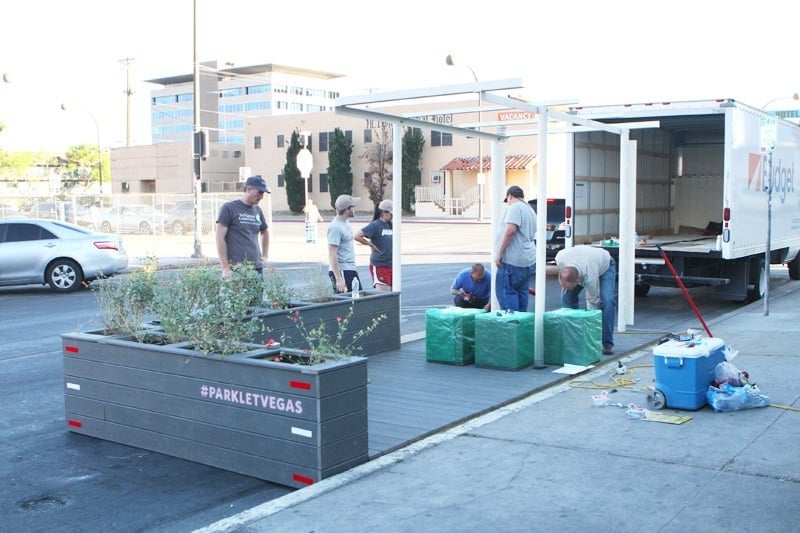 So, what is it? The "parklet" is essentially a tricked-out, 8-foot by 20-foot parking space.
The parklet is being built near downtown's John E. Carson building, home to the popular Carson Kitchen and other shops.
The baffling pop-up structure (which is supposed to be in place for a year) is intended to turn an urban parking space into "a little slice of nature." No, really.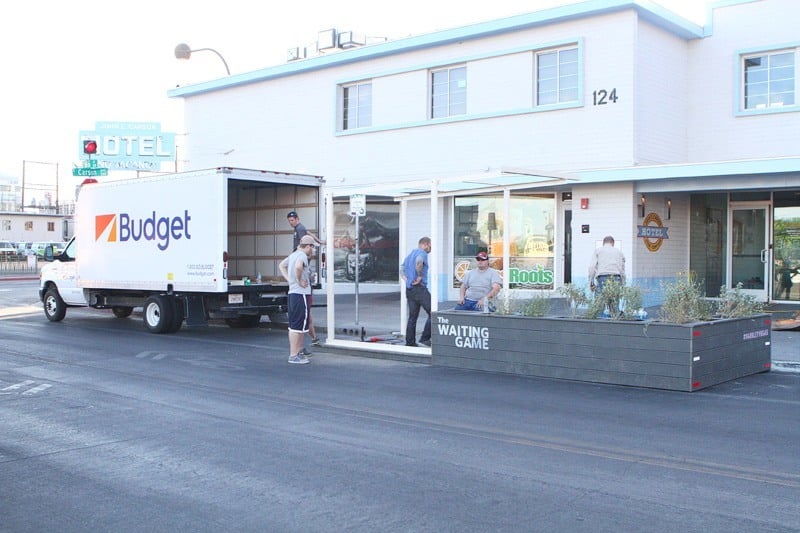 The parklet is "designed to connect people downtown with nature by providing a place to enjoy the outdoors, which reduces stress, increases brainpower and more. Like any park, the parklet is also a place for people to connect with each other—to gather with friends and meet others who also enjoy being outside."
So, yeah, we still don't get it. This blog tends to love the Las Vegas that's the exact opposite of outside.
The first parklet was erected in San Francisco in 2010.
While our work-in-progress photos of Las Vegas parklet don't make it look all that impressive, the rendering below of the finished product also makes it look not all that impressive.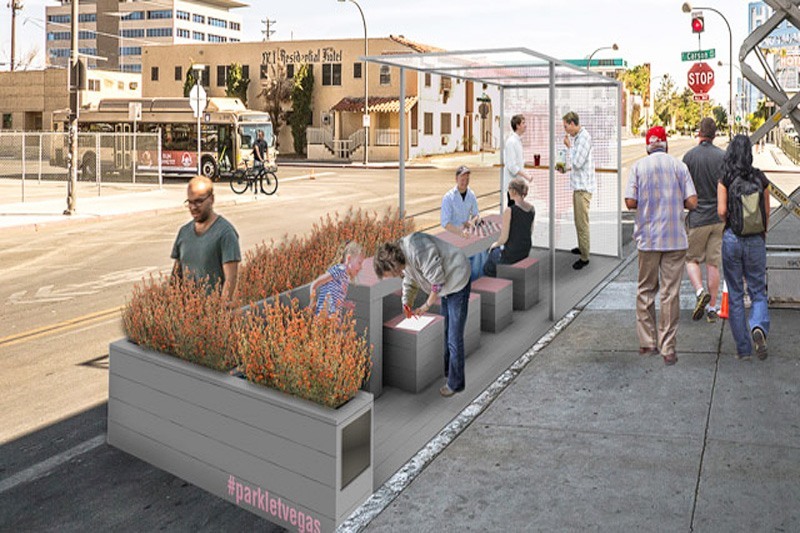 It took a lot of people to make the parklet possible, including a team of professors and students at Iowa State University and UNLV, the Nevada Chapter of American Society of Landscape Architects and Las Vegas Chapter of the American Institute of Architects, the latter two "facilitated community engagement with the project."
Oh, and parklets cost $20,000-$60,000 to build.
The Las Vegas parklet, dubbed "The Waiting Game" (presumably because visitors can use the parklet while waiting for a table at nearby restaurants) opens April 18, "just in time for Earth Day on April 22." Yeah, a bit of a stretch, but we're writing about it, so something's working. Here's more.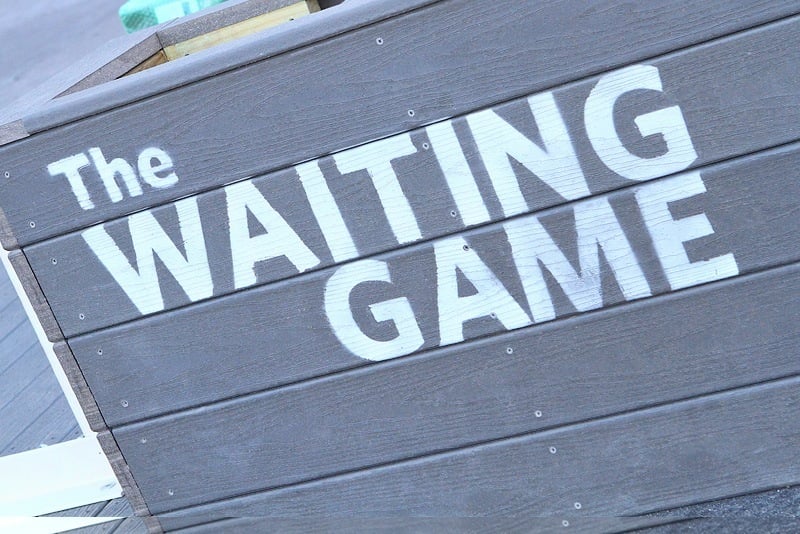 We'll be swinging by again to see the finished Las Vegas parklet, especially if we can hang out with our cocktail.
This part of downtown has cleaned up nicely in recent months, but it's still fairly grubby, so sitting outside in a parking space as cars go by doesn't sound all that appealing at first glance. Then again, we had our doubts about having lunch in a shopping center made of shipping containers, and we're at the Downtown Project's Container Park all the time.
Update: Here's a look at the finished Las Vegas parklet.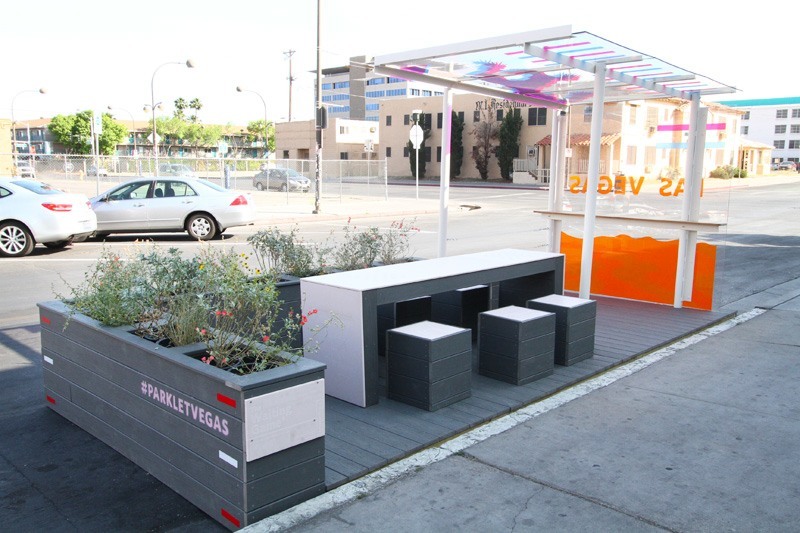 The completed parklet has seating for six people. People who are clearly up for an adventure. The roof of the parklet is fancy.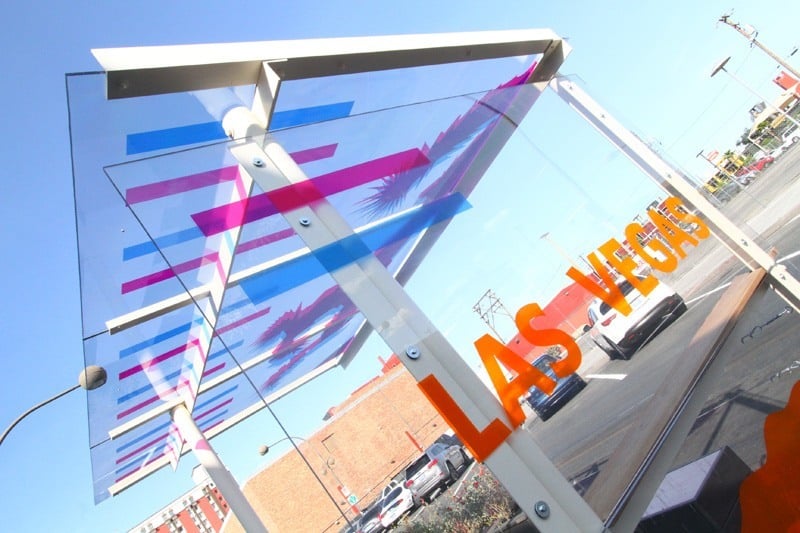 Keep the surprises coming, Downtown Project. We didn't get the fleet of Airstream trailers, turning Gold Spike into a college dorm gameroom, or the preoccupation with llamas, either. But a recent report pegs Downtown Project's fiscal contribution to downtown in the range of $118 million, including more than 1,000 permanent jobs.
We love a revitalized downtown, even when it comes in the form of a spruced-up parking space.