Tipsy Robot's Automated Bartenders Are a Riveting New Diversion on the Las Vegas Strip
A pair of robotic bartenders have created some serious buzz since a new bar, Tipsy Robot, opened inside Miracle Mile Shops at the Planet Hollywood Las Vegas resort.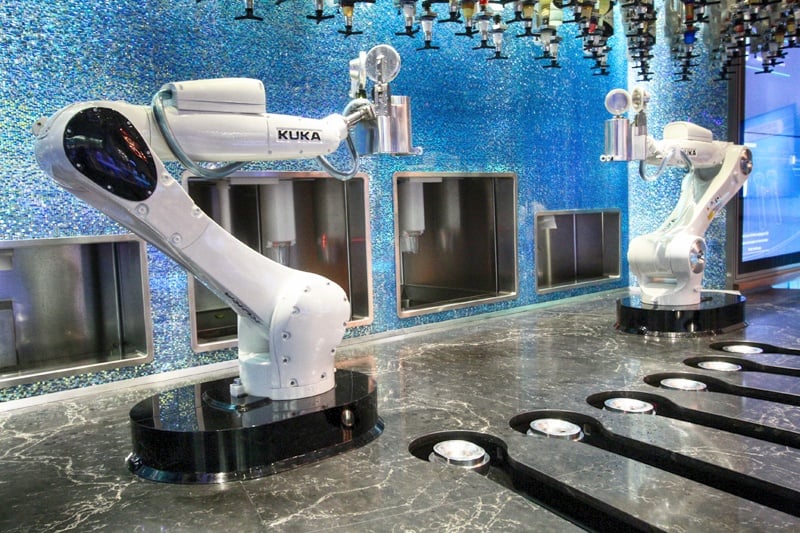 Tipsy Robot is billed as the "first land-based robotic bar." There's another pair of robot bartenders on Royal Caribbean's Harmony of the Seas cruise liner, but these are infinitely better, because Las Vegas.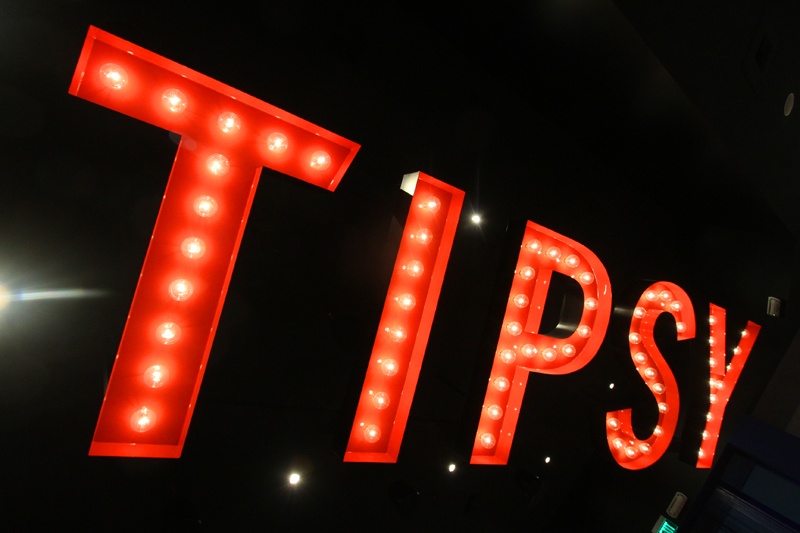 As marketing gimmicks go, this is one of the best we've ever seen, and crowds were gathering to watch the robots mix drinks even before the venue opened to the public.
We were utterly mesmerized as the dynamic duo deftly delivered drinks. See for yourself in our hastily slapped-together video.
That adorable little dance, though.
So, here's all the Tipsy Robot skinny.
Guests place orders via one of 33 tablets. There's a robust list of 18 signature cocktails, but guests may order custom-built drinks, too.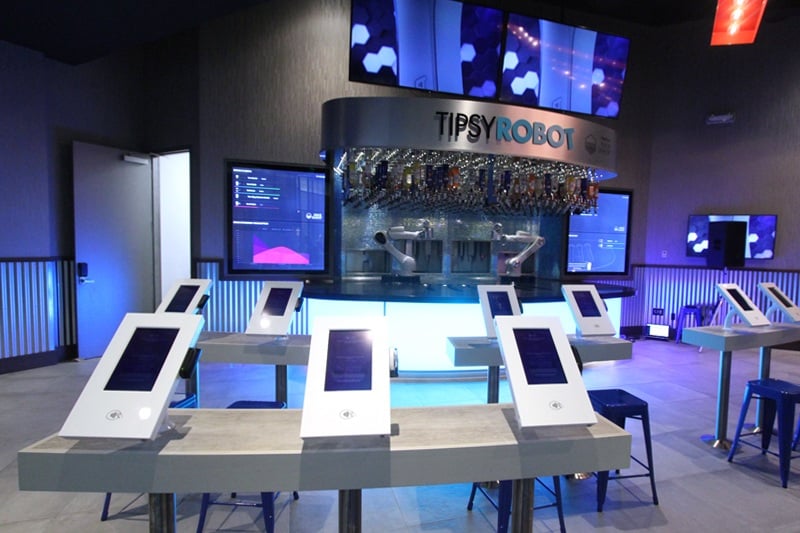 For an existing drink, it's just a matter of making a selection and providing a name and e-mail address.
For custom drinks, guests can choose from virtually unlimited options, from the kind of liquor (Tipsy Robot boasts 172 bottles, or 59 different brands) to exact proportions of liquor and mixers and ice.
There are 14 "portions" in all. For example, we ordered a rum and Coke with two parts rum, six parts Coke and six parts ice. We really like ice.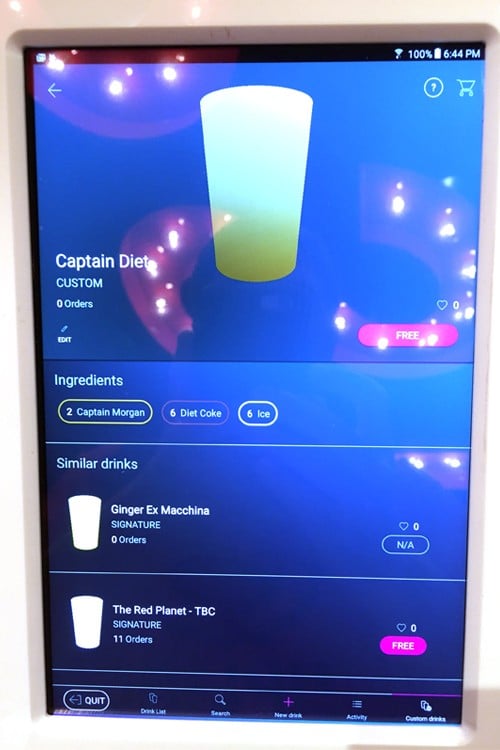 Once an order is placed and paid for with a credit card (drinks are $14 for a standard drink with one shot of alcohol), it goes into a queue. That's a fancy European term for "line."
The robots take anywhere from a minute to 90 seconds to prepare a drink, so the virtual line moves quite quickly.
A fun part of the process is that video displays keep track of where your order is in the queue, and you can tell when your specific drink is being made.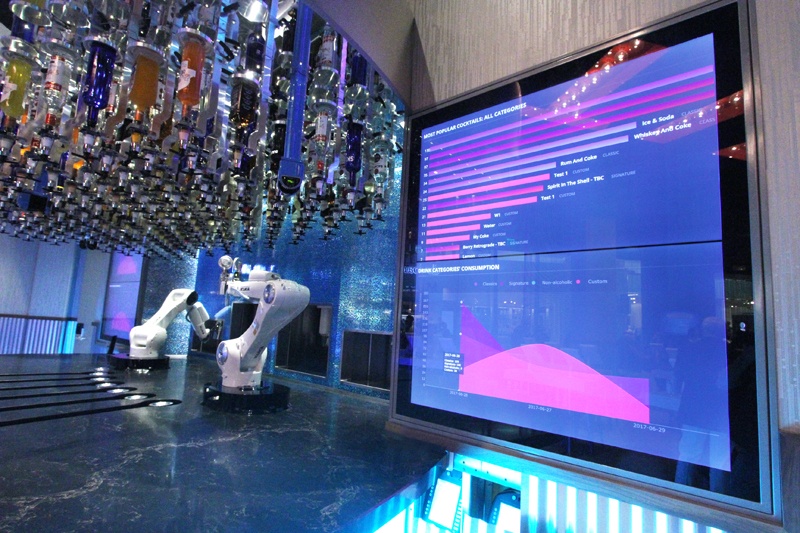 While a drink is being prepared, an e-mail is sent to the address given when the order was placed.
The e-mail contains a QR code which, when scanned, "unlocks" the drink. This ensures nobody can abscond with a cocktail.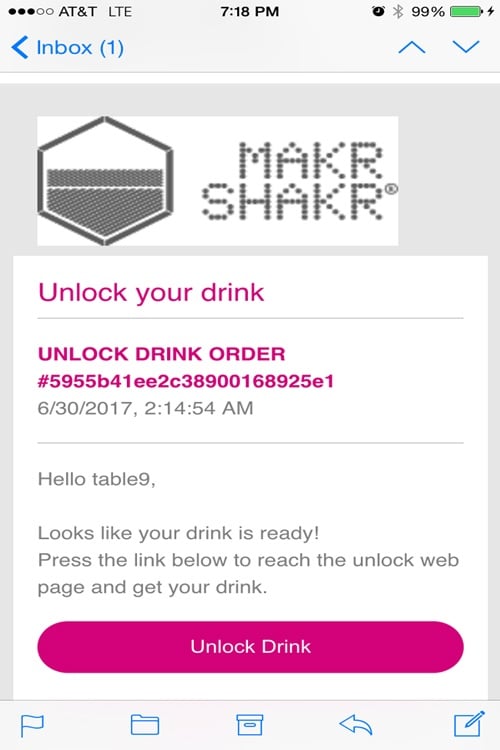 That's it.
The robots prepare drinks element by element, grabbing ice from a dispenser, extracting liquor from bottles hanging overhead, slicing fruit, shaking up the drink and pouring the cocktails ever-so-carefully into plastic cups.
What don't the robot bartenders do? They don't take breaks, they don't accept tips and they don't provide straws.
There are attendants in space-aged uniforms to handle the straw thing.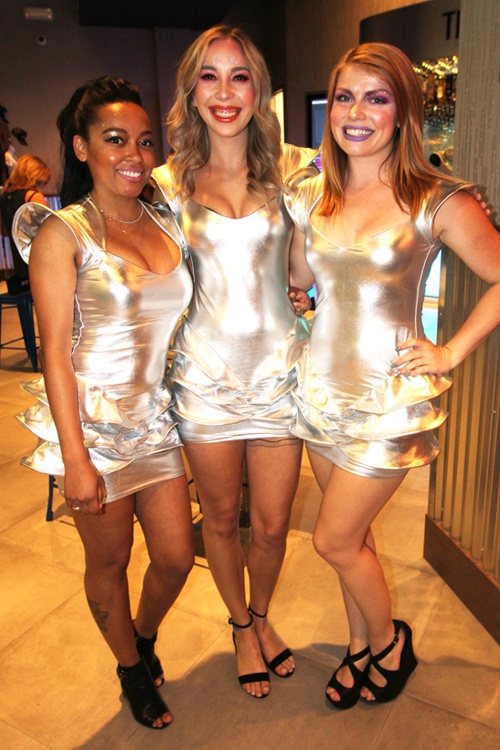 During our visit, we chatted up Rino Armeni, owner of the 2,500-square-foot Tipsy Robot and Chairman of Robotic Innovations. He said, "I'm very proud that Las Vegas finally has something different, new, and most importantly, ahead of its time."
Armeni is a charismatic Italian whose enthusiasm is contagious.
"In food and beverage," Armeni says, "I think we've been asleep at the wheel lately. It's been a matter of recycling, rather than being inventive."
Yes, he actually said "sleeping on the wheel," but we know what he meant.
Armeni continues, "We want to be almost like the fountains of Bellagio, the 'Welcome to Las Vegas' sign. We want people to come and experience this kind of entertainment."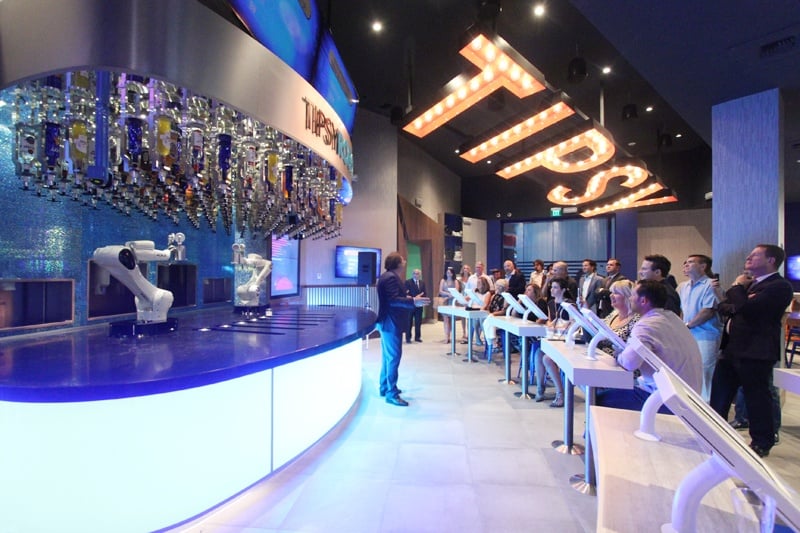 Armeni is careful to point out he considers the robot bartenders entertainment, rather than a replacement for actual bartenders.
In fact, Tipsy Robot has a "Human Bar," with humans serving up the libations.
The robot bartenders aren't fully autonomous, of course. A human being is still tasked with replacing the liquor bottles.
When we asked an insider how much the robots cost, the answer was along the lines of "a metric ass-ton."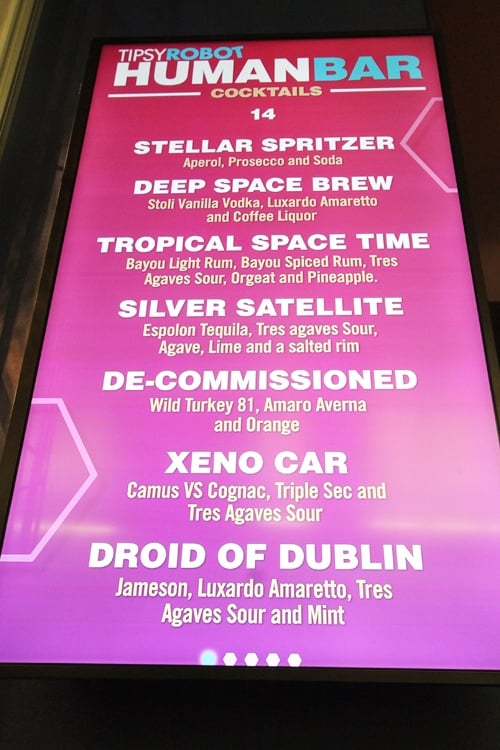 Tipsy Robot is looking to crowdsource the names of the robots. Siegfried and Roy leap to mind. Find out more on the Tipsy Robot Facebook page.
Tipsy Robot is open from 10:00 a.m. to 11:00 p.m. Sunday through Thursday, and 10:00 a.m. to midnight on Friday and Saturday.
Here's another look at these modern marvels. You may not be able to tell these robot bartenders your problems, but you'll always know the precise size of your pour.