Three New Lounges Open at Wynn Las Vegas: Overlook, Parasol, Aft
Wynn Las Vegas has three new lounges and we're here to gently guide you through the eye candy and libations that await.
The three new lounges are Overlook Lounge (formerly Parasol Up), Bar Parasol (formerly Parasol Down) and Aft Cocktail Deck (formerly we have no idea because when we visit cocktail lounges, we're drinking, not taking notes or whatever).

Overlook debuted a few months ago (August 2021), but in the context of the grand expanse of time, it's still "new."

Each of the three lounges has a custom cocktail menu, but we'll save you some time by highlighting the must-try drink from each.
At Overlook, it's the Cleo. The Cleo is a take on a margarita, made with Casamigos Blanco tequila, agave, dragon fruit and lime.

All the cocktails were concocted (do not try this at home, we are a professional writer) by Mariena Mercer Boarini. She oversees the cocktail program of more than 30 bars at Wynn and Encore. Check out our Q&A with the award-winning mixologist.
Mercer Boarini invented the legendary Verbena cocktail at Cosmopolitan, and the Cleo at Overlook features her invention, Electricdust (a shelf stable version of the Verbena's buzz button). It's the blue stuff on the dragon fruit in the photo above.
Bar Parasol and Aft were unveiled recently, and they're gorgeous, something we've come to expect from Wynn Las Vegas.
The new bars all overlook (hence the name Overlook) the hotel's Lake of Dreams.
Here's a quick peek at the three new venues and the Lake of Dreams show. If you don't know what the Lake of Dreams show is, don't worry. We saw it and we still don't know what it is. The best way to describe the Lake of Dreams is a giant animatronic frog sings Sinatra while guests all get quizzicle looks on their faces simultaneously.
Note: If you're unfamiliar with "WTF," it stands for "What the frog?" Possibly.
All the lounges were designed by interior design legend Todd-Avery Lenahan, President & Chief Creative Officer of Wynn Design & Development. The title sounds a little snooty, but trust us, Lenahan isn't.
Lenahan is a force of nature, a whirlwind of creativity and imagination, and his work has been a cornerstone of the Wynn brand for years (even as others have sometimes gotten the credit for it).
Lenahan pointed out a number of features at Bar Parasol we would never have noticed, but that's because: 1) he has a wealth of institutional knowledge and 2) what part of "We drink at cocktail lounges?" didn't you grasp?

Lenahan smartly kept the parasols in play at Bar Parasol. Had they been removed, not only would Bar Parasol be a stupid name, but there would've been a riot among longtime Wynn fans.
Lenahan mentioned overhead lights have been turned on again for the first time in 12 years. The parasols are revolving and going up and down again for the first time in seven years.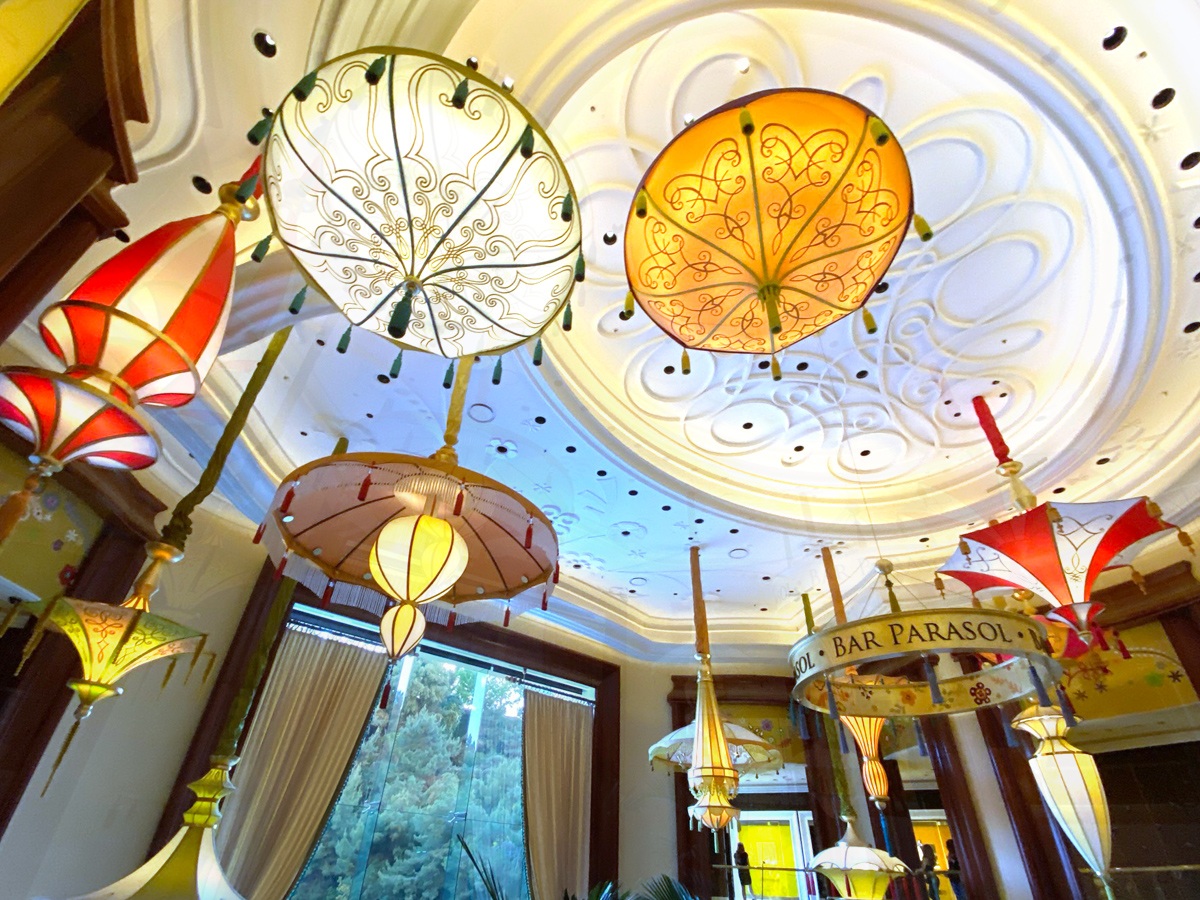 The vital drink at Bar Parasol is a sassy take on a margarita, the Cozumel. The Cozumel has Casamigos Reposado tequila, carmelized pineapple puree, pineapple juice, Ancho Reyes Verde liqueur, habanero-infused agave and lime juice. Plus something called Sal de Flor (freeze-fried mango powder, tajin and dehydrated edible flower petals). Mariena Mercer Boarini is like a mad scientist, but attractive.

"We're doing a lot to restore this property to its opening day glory," says Lenahan. "What you're looking at here is the way it looked on opening day, but it hasn't been seen like that in over a decade."
He continues, "This is a major restoration. Our WDD [Wynn Design & Development] team is about taking this incredible asset and polishing this diamond. Every now and then we cut a new facet in the diamond to give it more sparkle, but we keep the existing diamond with its beautiful luster on it."
Lenahan and his team continue to create beautiful spaces, but it's not just about how they look, it's how they make guests feel. When you're at Wynn, you feel like a VIP whether your level of play or spend qualifies you as such.
The third new lounge is Aft.

This patio space has been overhauled to give guests the feel of being on a super yacht. A super yacht is like a regular yacht, but after it's been exposed to gamma radiation.
The drink of choice at Aft: The Cannes. It contains Grey Goose Strawberry Lemongrass vodka, Rhubarb Giffard liqueur, strawberry-rhubarb rose syrup, Monin Strawberry-Rhubarb Puree and lemon juice. Hey, we recognized "lemon juice."

Mariena Mercer Boarini mentioned the foam on this drink (see above), which simulates Champagne, which is awesome because we are not a Champagne person. It's called "Cham-Feign Foam," and uses rosé wine, strawberry-rhubarb rosé syrup and pasteurized egg whites.
Back to the decor: Super Wynn nerds will want to look for the flags on top of Aft's umbrellas. The nautical flags represent letters spelling out "Wynn LV."

Between Overlook, Parasol and Aft, Wynn guests are bound to find a cocktail menu and vibe to their liking.
Whether you know the stories behind the redesigns or cocktails or not, you're bound to discover something you've never seen or tasted before.
Overlook Lounge is open Sunday through Thursday 2:00 p.m. to 3:00 a.m., Friday and Saturday from 2:00 p.m. to 4:00 a.m.
Aft Cocktail Deck and Bar Parasol are open Sunday through Thursday from noon to 2:00 a.m., Friday and Saturday from noon to 3:00 a.m. "Light bites" are served daily from 2:00 p.m. to 10:00 p.m.

Wynn Las Vegas continues to deliver experiences that can only be described as "elevated." We love these new lounges, and they don't even have video poker, which is saying something.
Let us know what you think when you stop by. Tell the weird-ass frog we said "hello."