"The World's Greatest Freak Show" to Open at Neonopolis
A new show is in the works for downtown's Notoriety performance space at Neonopolis, "The World's Greatest Freak Show."
We honestly didn't know the term "freaks" was still acceptable, since the world is currently hypersensitive to everything.
But, nope, this show is unabashedly using "freaks" rather than "non-traditionally-talented individuals," so send any hate mail directly to them.
"The World's Greatest Freak Show" opens June 3, 2022.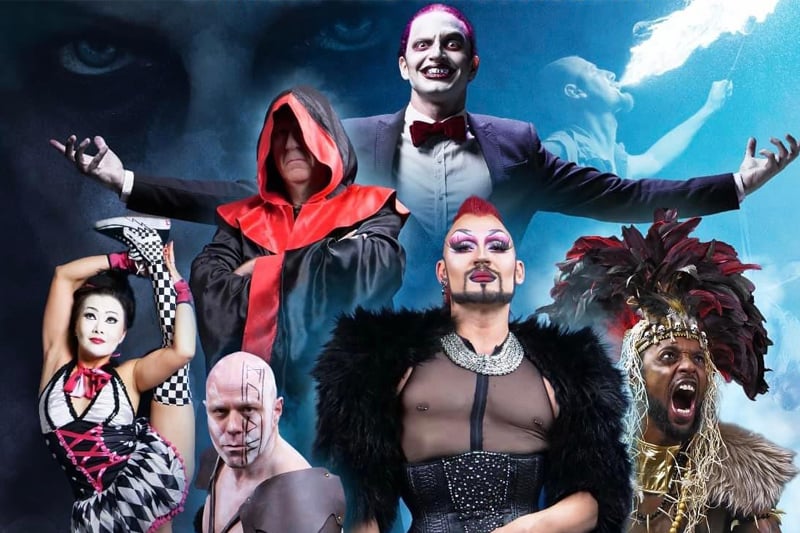 The description of the show on the official Web site doesn't help a ton, other than saying the aforementioned freaks are "powerful, enchanting and miraculous." The trifecta of freakdom, really.
The performers "take the human body to the absolute limits," which you should be familiar with if you've ever visited Las Vegas. We'd tell you to take it easy on your first night in town, but you wouldn't listen.
Here's a look at the scheduled performers and what they do, sort of:
Brandon, host of the show and is dubbed "Master Aerialist Chains." We get the feeling this is more than just being suspended by chains. Make-up on fleek (at left, photo below).
Anna (center, below), "taking the body to the limit of what's possible and far beyond." This is intriguing as we're curious about what "beyond possible" looks like.
David (right, below), resident strong man who will "show you the raw power of his Iron Jaw."

Leslie (below left), who "brings the art of Magic and Illusion [and random capitalization] to the stage."
Johnny (below right), described as a "tribal Voodoo witch doctor" who "takes you on a journey percussion movement."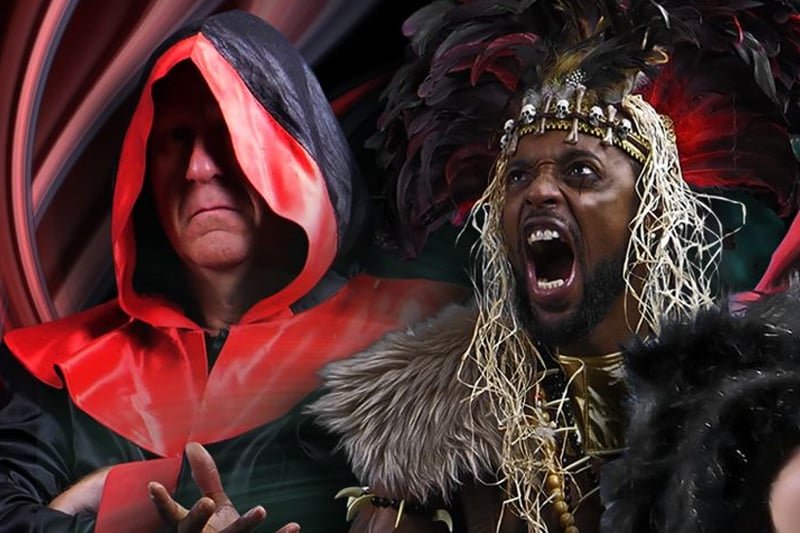 There's also a cast member called Alien, "From dimensions unknown this creatures comes with a message, we are not alone in the universe." Big "dunno" on this one.
Overall, we predict the show will be filled with lots of collective gasps and wincing.
Longtime Vegas fans will recall another freak show, "Freaks," at the original O'Sheas. That was a blast of originality and queasy good fun, and we still have occasional dreams involving temptress Bambu, wherever she might be now. That show had a lot of glass-eating and body-piercing. "The World's Greatest Freak Show" seems a smidge less into self-harm, but we're curious to see the level of freak involved.
"The World's Greatest Freak Show" runs Thursday through Sunday at 7:00 p.m.
Ticket start at $39, up to $59 for VIP seating. Learn more and get tickets.
Notoriety is home to a quirky collection of value-driven shows that won't break the bank, including "Totally Mental," "Faaabulous," "Laugh After Dark," "Chase Brown's Vegas Country," "Viral Live with Sarah Hester Ross," and Justin Young.