Something Something Final Four 2028 in Las Vegas Something
Today is a special day. We have decided to set aside our personal feelings about sports ruining Las Vegas. Just for today.
Today, we're just going to share some news.
In 2028, Las Vegas will host the NCAA Men's Final Four at Allegiant Stadium.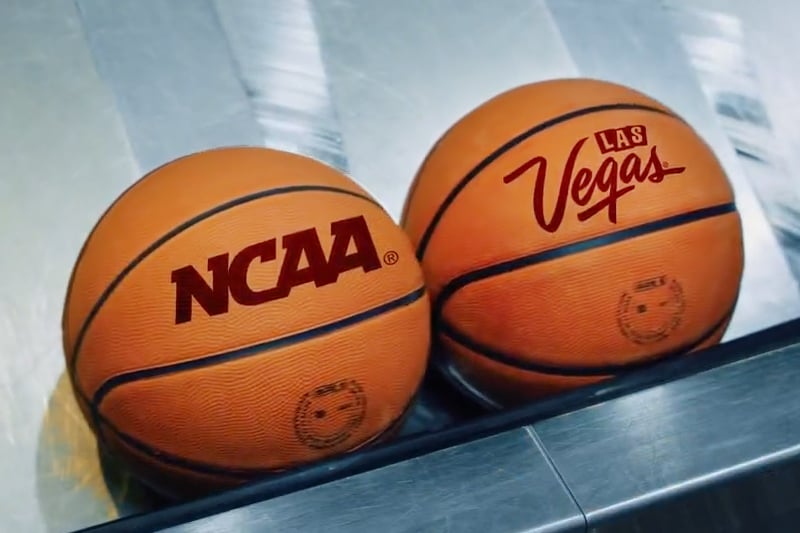 Apparently, this is some sort of basketball competition.
According to the official announcement, "This is the first time Las Vegas will host the collegiate basketball championship."
The Men's Final Four activity will happen April 1 and 3, 2028.
Despite this event being virtually a decade away, a number of people in Las Vegas are very excited about this reportedly momentous news.
While we don't know much about collegiate basketball, we are hoping there are cheerleaders.
With the announcement of the Final Four, the Las Vegas Convention and Visitors Authority (LVCVA) rolled out a new moniker, "The Greatest Arena on Earth," which we can all agree is deeply annoying. At least give us that much.
The official announcement goes on to confirm our belief Las Vegas has too much sports, citing a list of other sports things Las Vegas has hosted or will host: the NFL Draft, the NFL Pro Bowl, Formula 1 Las Vegas Grand Prix (2023) and the Super Bowl (2024).
The LVCVA didn't mention our professional lacrosse team, the Las Vegas Desert Dogs, which is rude.
Also rude is the fact Las Vegas isn't hosting the Final Two, which seems like at least twice as big a deal as the Final Four. Baby steps, apparently.
In order to flesh out our story a bit more, we will include this excerpt from the official announcement, "Las Vegas has hosted many NCAA member conferences' basketball championships, including the Mountain West Conference, Pac-12 Conference, West Coast Conference, Western Athletic Conference and the Big West Conference. In 2023, the destination will also serve as host to the NCAA Division 1 Men's Basketball West Regional and the National Invitation Tournament (NIT)."
If aliens ever land and read this blog (their first agenda item, obviously), they're going to read those words and: 1) collectively shrug and 2) annihilate Humanity.
If you think it's been enervating to see F1 being promoted daily despite being a year away, just wait for the years of talking about the Final Four in Las Vegas.
Anyway, the Final Four is a big deal for Las Vegas sportsbooks, which is at least a little closer to something we care about, casinos. March Madness is one of the busiest and most lucrative times of the year for casino sportsbooks.
It's worth noting that not too long ago, the idea of hosting an event like the Final Four in Las Vegas would've resulted in scoffing. The proximity to gambling was seen as a deal-breaker.
Now, sports gambling is everywhere. The federal ban on sports betting was lifted in 2018, and ever since, sports betting has contributed dozens of dollars to the bottom line of casinos.
Las Vegas will also host the 2023 West Regional, whatever that might be, March 23-25, 2023. Here's more basketball stuff coming up.
You're welcome for our completely objective reporting of this important sportsball news.