Shinya Maru Ramen & Izakaya Opens on Fremont East
A new Asian restaurant has opened on Fremont East, Shinya Maru Ramen & Izakaya, and we fully know what one of those words means.
Ramen.
Because we went to college. Not that you'd know it from our writing, of course.

Shinya is located in the Emergency Arts Building, just around the corner from another new dining option, Eureka.
Shinya is just off Fremont Street, facing El Cortez.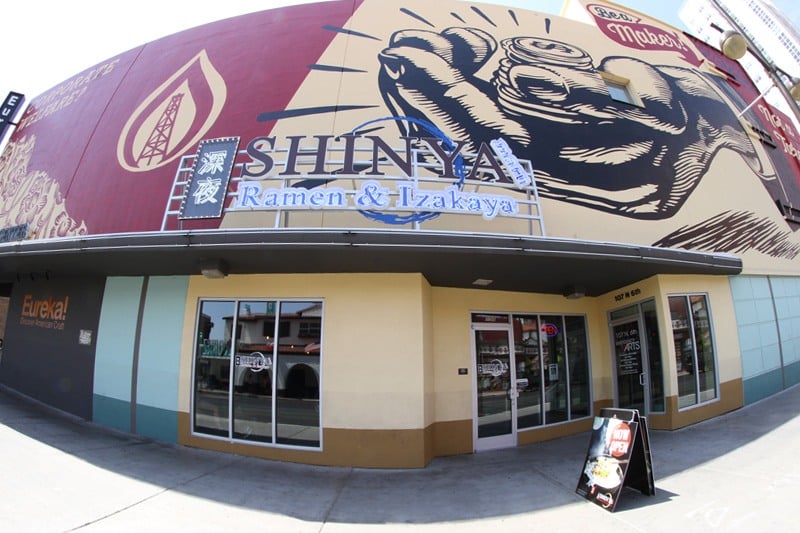 "Shinya," it seems, can mean either "truthful one" or "late at night."
We would've asked the owners which definition applies, but we were too busy stuffing our face with the amazing potstickers.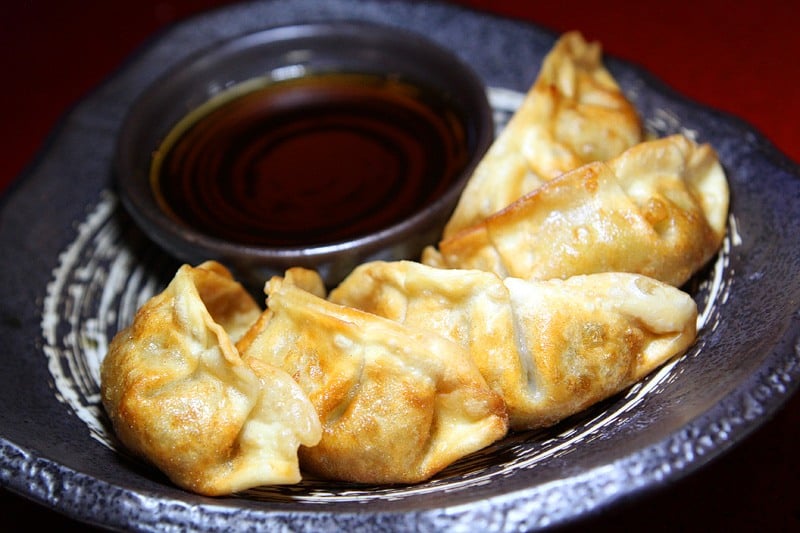 Yes, we know potstickers are Chinese and gyoza are Japanese. We were not born yesterday. We also have the Internet.
Shinya's menu is teeming with cleverly-named appetizers ("Izakaya") inspired by song titles and bands, from "I Slaw Her Standing There" and "Sgt. Shishito Peppers" to "Belly Jean Slider" and "Poutine on a Show."
There's also a Yakitori menu if you like your food simple and served on sticks.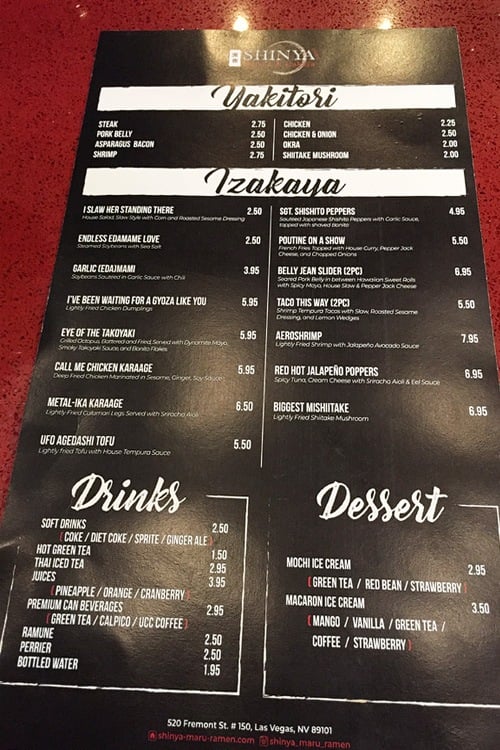 While ramen is a bit of a tough sell on a 110-degree day, we weren't going to visit a ramen restaurant without trying it, despite the fact we aren't particularly a hot liquid person.
We're pleased to report that the ramen is top-notch, and the fried chicken in our "Let's Get Physical" fried chicken ramen could could go toe-to-toe with some of the best fried chicken in town.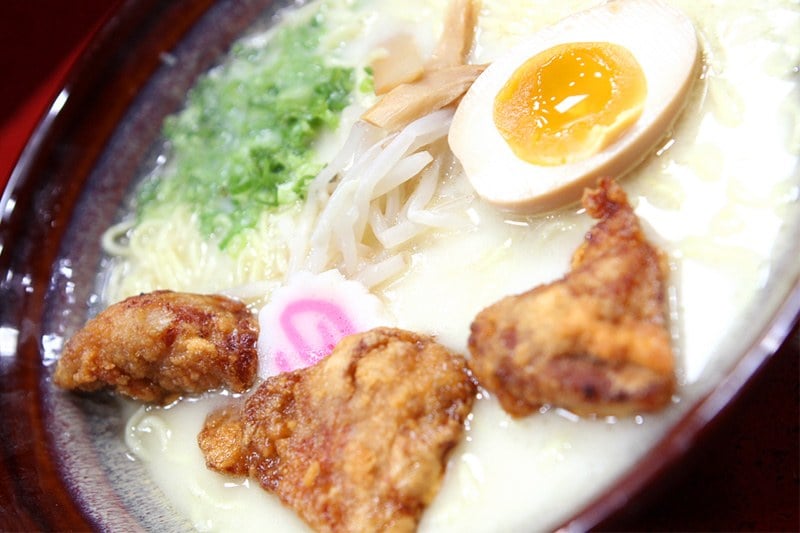 Here's the rest of the Shinya ramen menu.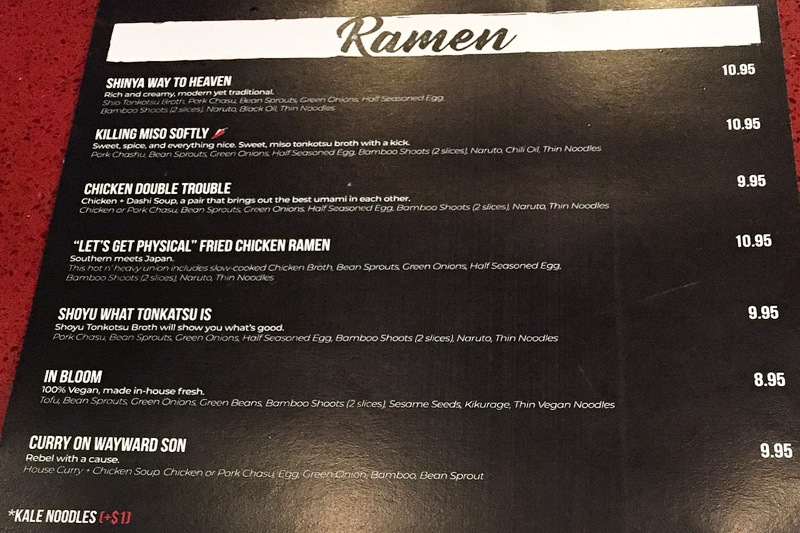 Shinya has a full bar, of course, because in Las Vegas it's the law.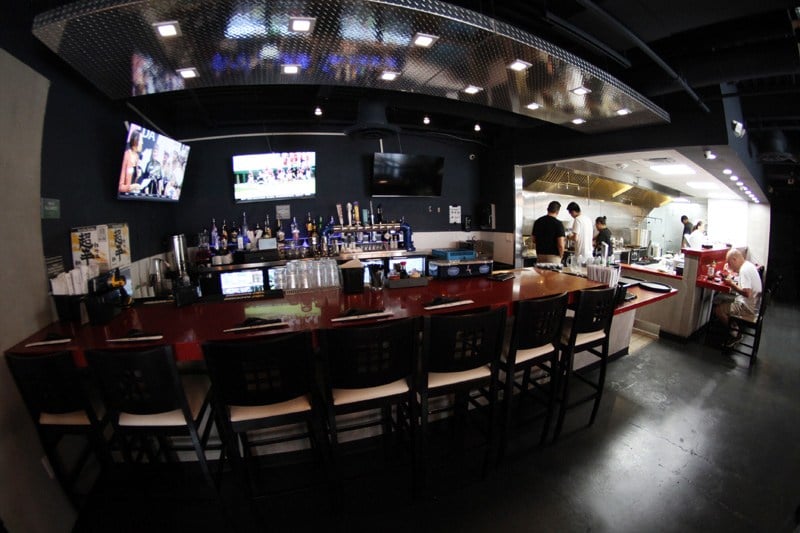 The signature cocktail menu only has five options, but they cover a lot of ground. Cocktails include berry sangria, Caribbean sangria, mojito (strawberry, peach and mango), Mai Tai and
margarita.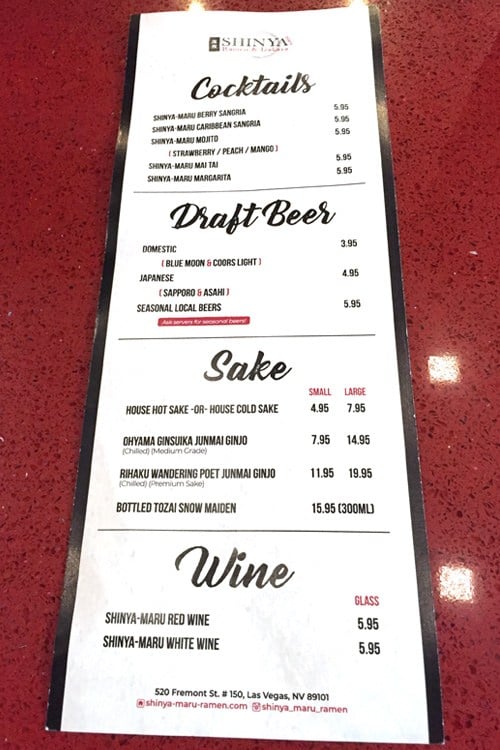 There are also non-alcoholic beverages, although if you order something on this side of the menu, you're doing Vegas wrong.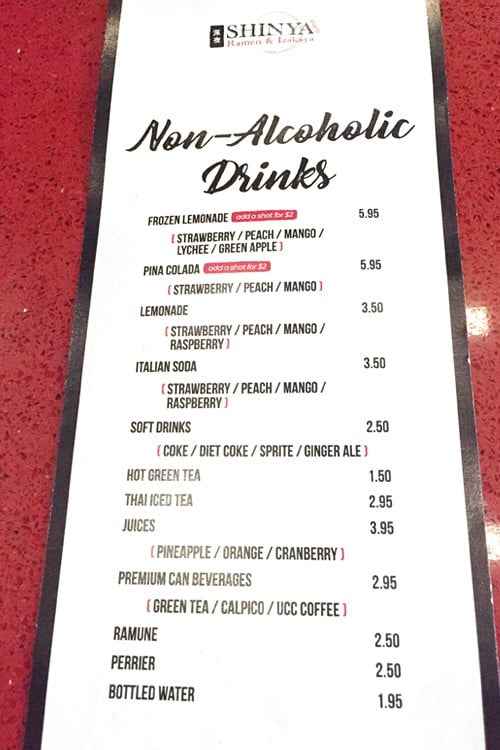 Desserts come in the form of macaron ice cream. They're kept in a freezer just inside the entrance so they'll be on your mind the whole time you're dining. At just $3.50 a pop, we'll be back to try all five flavors.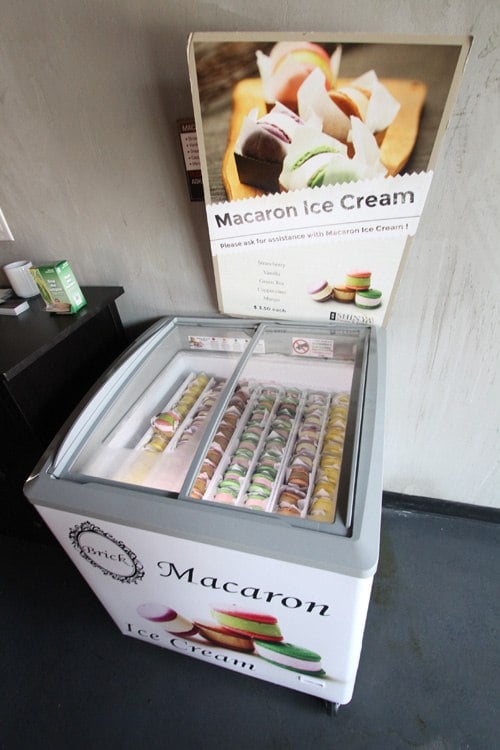 The hours at Shinya are all over the place, so keep this blog post handy at all times if you expect to crave Ramen for some reason.
Shinya is open from 11:00 a.m. to midnight, Sunday through Wednesday, and open until 2:00 a.m. Thursday and Friday. Saturdays, it's 10:00 a.m. to 2:00 a.m. There will be a quiz.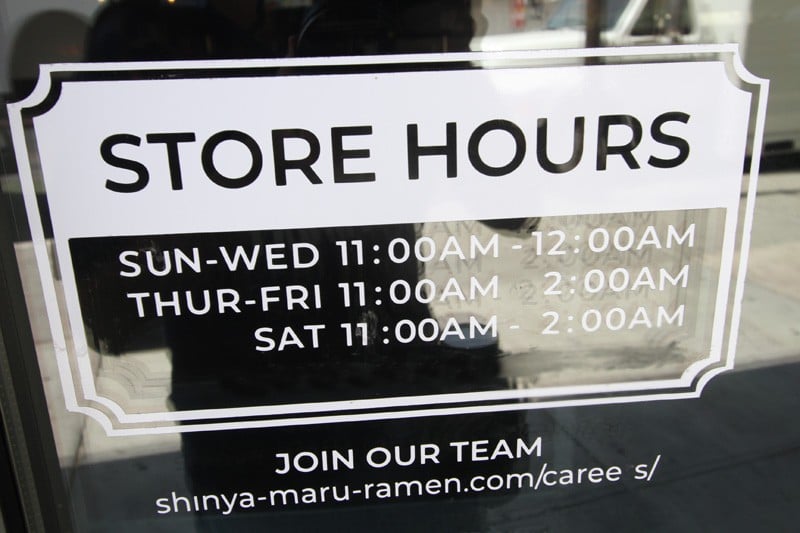 We love new things, and Shinya Maru Ramen & Izakaya is a new downtown Las Vegas dining option well worth a "maru."
If you hadn't skimmed, you'd know what "maru" means. It wouldn't make sense in that sentence, but you'd know what it means. Let that be a lesson to you.