San Manuel Tribe Gets Green Light to Operate Palms
The San Manuel tribe has received approval from the Nevada Gaming Commission to operate the off-Strip Palms resort.
This licensing thumbs up is a pivotal step in reopening Palms following its closure in Mar. 2020 under the cover of the pandemic.
The San Manuel Band of Mission Indians is the first Native American tribe to own a casino in Las Vegas.
The plan is for Palms to open in spring of 2022.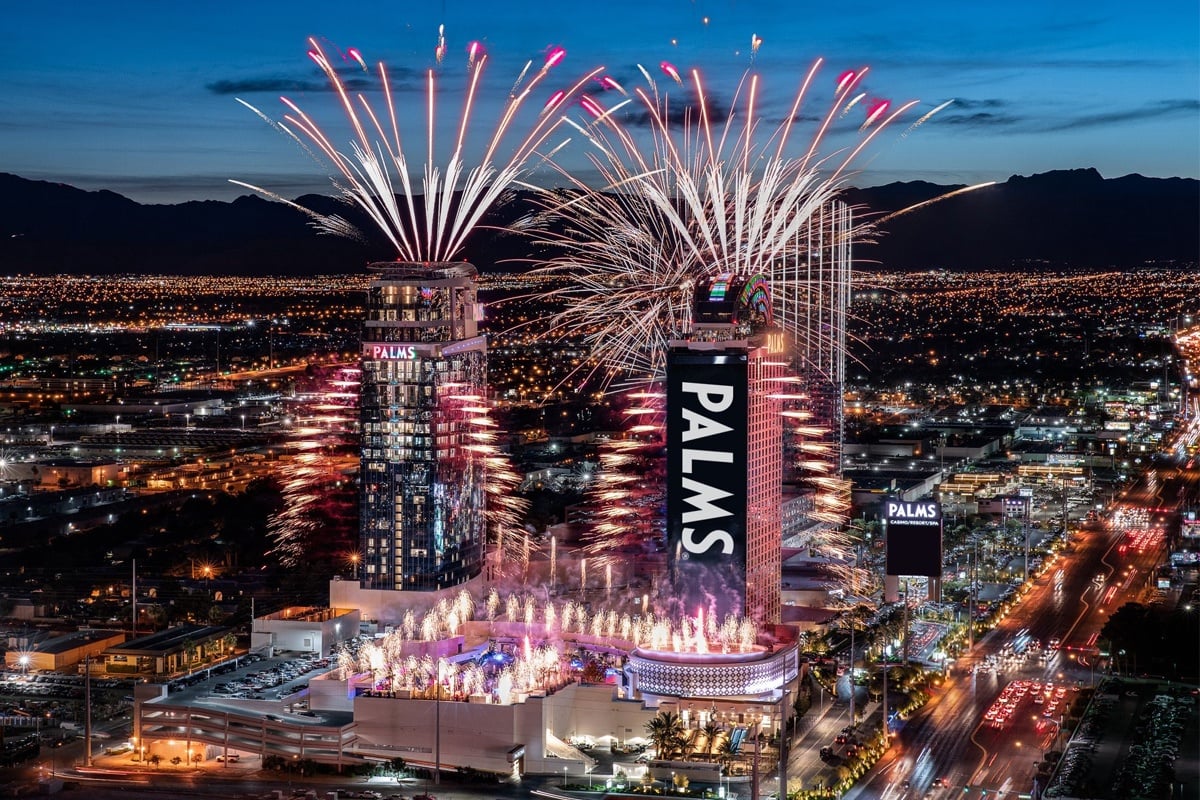 The licensing approval technically went to something called the San Manuel Gaming and Hospitality Authority (SMGHA), an affiliate of the San Manuel Band of Mission Indians. This was a clever maneuver to avoid too much scrutiny of the entire leadership of the tribe and helped streamline the approval process.
In another layer of insulation, Palms will actually be operated by SMGHA Nevada, LLC, owned by SMGHA.
Either way, we get our Palms back. This time, thankfully, it will be run by people who actually know what they're doing. All due respect to the people who didn't know what they were doing, including the one who publicly tried to shame us by claiming Palms wasn't for sale when it was. Long story. Bygones.
The San Manuel tribe owns Yaamava Resort (formerly San Manuel Casino) in Southern California, known mostly for spending its days rolling around in giant mounds of cash.
San Manuel recently spent a little of its cheddar ($760 million) on a 17-story hotel tower at Yaamava.
The current Yaamava is a far cry from the casino's origins. It started as a bingo hall in 1986. We would like to visit Yaamava, but that would involve leaving Las Vegas, which we're pretty sure isn't happening unless there's a zombie invasion.
San Manuel wisely laid the groundwork for its move to Las Vegas through acts of generosity.
The tribe donated $9 million to the Harrah College of Hospitality and Boyd School of Law at UNLV, as well as $250,000 to Las Vegas nonprofits (including Shade Tree, NPR, Smith Center and Make-A-Wish) during the pandemic, with an additional $100,000 going to Three Square Food Bank.
San Manuel is also a Founding Partner of the Las Vegas Raiders, another Las Vegas charity. (While not a nonprofit, it's definitely a charity. Taxpayers donated $750 million to build the stadium. Don't get us started.)
So, what's in store for Palms? We've been sharing details since word of the Palms purchased was announced. Before, actually, that's how we roll.
Palms will stay Palms.
If you had a favorite restaurant at Palms, it could be back. The tribe is in discussions with most of the third parties involved, with the intention to bring back the restaurants that worked.
Early word is Scotch 80 Prime and Greene St. Kitchen will return. Bobby Flay's restaurant is out, however, same with Vetri Cucina.
Odds are favorable Palms will have a buffet.

Don't expect San Manuel to fall into the traps Red Rock Resorts (Station Casinos) did. There's not going to be a nightclub/dayclub push, and the casino is going to appeal to regular folks, not some imagined high-end clientele that doesn't actually exist for Palms.
The focus will be on gamblers.
From day one, our friends at San Manuel have talked about an emphasis on value, and we trust they'll keep beating that drum.
If you're into sports, know that William Hill will be the sports book operator at Palms.
If you're a lounge person, we're told Ghost Bar is likely to be back.
If you're into art, you'll be relieved to know Damian Hirst's dissected shark will stay. Most of the art at Palms is leased through 2023, so while it will remain on display when Palms reopens, it'll probably go away when the lease expires.
Parking at Palms will remain free.
Everything we've heard about the San Manuel tribe is they have the right priorities. They put employees and customers first, and avoid short-sighted decisions for short-term profit.
It's exciting to have some new blood in the world of Las Vegas casinos.
San Manuel joins other tribes dipping their toes into the waters of Las Vegas. The Seminoles are buying Mirage and Mohegan Sun operates the casino at Virgin.
Honestly, we're ready to Palms again! See you there in early 2022.
Update (12/17/21): As we were publishing this story, the Palms Web site went live, confirming several of our scoops. Mabel BBQ is back, too! Check it out. The new Web site includes the current slate of confirmed restaurants, bars and venues. Pearl Theater is back, among other news.