Ramsay's Kitchen Taking Reservations, Plus Some Inside Baseball
Ramsay's Kitchen is coming to Harrah's Las Vegas on Nov. 25, 2022, and the restaurant is now taking reservations.
The new restaurant is gorgeous, and sits in the space where the former buffet used to be. Not to make it awkward.
You can book your spot via Open Table. All the kids are doing it!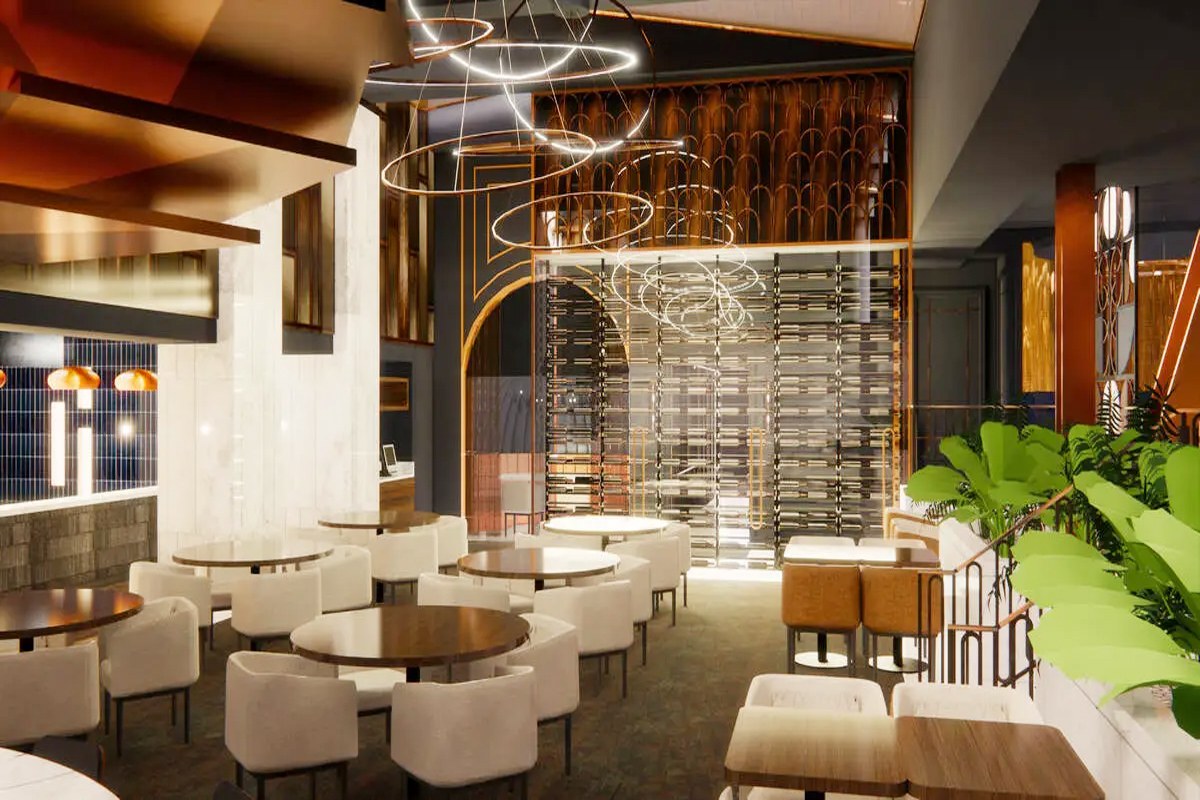 Per the official Web site, "Prepare for a one-of-a-kind culinary journey with Michelin-starred Chef Gordon Ramsay in this new casually refined and bustling venue where you can experience some of Gordon's classics and favorites such as Beef Wellington and Sticky Toffee Pudding."
Oh, come on, nobody cares about Michelin stars. They care about "Hell's Kitchen" and "Kitchen Nightmares" and "Gordon Ramsay Behind Bars" and "Gordon Ramsay on Cocaine." No, really.

Anyway, everyone knows Gordon Ramsay, and they know he's got some very successful restaurants in Las Vegas.
They're all at resorts in the Caesars Entertainment family, and Ramsay's Kitchen doesn't screw with the formula.

Ramsay also has Hell's Kitchen and Gordon Ramsay Pub & Grill at Caesars Palace, Gordon Ramsay Steak at Paris, Gordon Ramsay Fish & Chips at Linq and Gordon Ramsay Burger at Planet Hollywood.
The chef licenses his name and takes five percent of the gross. Las Vegas has been very good to Chef Gordon Ramsay.
The day-to-day job of operating his namesake restaurants in Las Vegas falls to the Food & Beverage team at Caesars Entertainment, and they do a great job. As part of his licensing deal, Ramsay is obligated to make an appearance at each of his Las Vegas restaurants once a year. Photo ops and such.
While that's some inside baseball, it's not the inside baseball we were talking about in our headline.
The inside baseball has to do with what the Ramsay's Kitchen project was called in all the paperwork, including in renderings and plans for the space.
The project was called "Bond." The name wasn't just on permit documents, it was everywhere.

We reached out to two Caesars Entertainment reps, and they weren't aware of the project's name.
Even the construction company believed the venue was going to be called Bond.
So, what does it mean? Who the hell knows? We are not psychic.
The story we've made up in our head is the original plan was to call the restaurant Ramsay's Bond at Harrah's Las Vegas.
The restaurant would be James Bond-themed, and the signature cocktail would be a martini, shaken, not stirred.
Fun fact: The server uniforms at Gordon Ramsay Steak were inspired by James Bond movies.
Anyway, the imaginary scenario in our head goes something like this: The name Bond is trademarked and during the approval process, lawyers decided they'd get a cease-and-desist from the "Cubby" Broccoli or whoever, so they went with a brand that already exists at other Caesars Entertainment casinos outside of Las Vegas, Ramsay's Kitchen.
We have no evidence any of that actually transpired, but the use of "Bond" throughout the development and build of Ramsay's Kitchen is fun to ponder.
Oh, and the planning documents also say Ramsay's Kitchen cost $7 million. Boom.
According to Harrah's, the 244-seat restaurant will be open from 11:00 a.m. to 11:00 p.m. and will feature a seven-seat seafood counter (shout-out to all you former oyster bar fans), full bar and private dining room.
And because you have somehow managed to read this far, here's some bonus scoop.
The high limit slot room at Harrah's is out, a new lounge is in the works. The name: The Lounge.
Rumors of a lounge going into the former high limit slot room at Harrah's is confirmed. Also, naming things is hard. Archive: https://t.co/daNMH6p7Mu (h/t @JamesInLasVegas) pic.twitter.com/rNrHdjAn9o

— Vital Vegas (@VitalVegas) October 26, 2022
Whenever something in Las Vegas is named what it actually is, we get to share an old story we wrote, Casino Exec's Shocking Confession: Naming Things Is Hard.
Stay tuned for more from Harrah's Las Vegas and beyond.