Pinball Hall of Fame's New Sign is Glorious
The Pinball Hall of Fame has a new home on the Las Vegas Strip.
To help pinball fans (also known as "pinheads") find this hands-on museum offering hundreds of classic pinball machines, the non-profit has erected a mind-bogglingly awesome new sign. We could appreciate it if you'd acknowledge we didn't feel compelled to insert an erection joke here. It's called maturity.
Like Las Vegas, it's just so much.

For a sense of scale, the "Pinball" lettering is 44 feet tall and the circles around the letter are six feet, six inches wide.
The entire sign is about 54 feet across. The LED screen is 20 feet wide. See more details here.
We're told the sign was built by High Impact Sign & Design in Henderson, Nevada.
Fans of In-N-Out might find that arrow familiar!

The wildly popular Pinball Hall of Fame opened at its new location on July 1, 2021. It was previously located on Tropicana Ave.
The new location is near the "Welcome to Las Vegas" sign on Las Vegas Blvd., not far from the Harley Davidson dealership and next to the future site of the Dream Hotel, should that ever end up being a thing. The address is 4925 Las Vegas Blvd. South, Las Vegas, NV 89119.

We were the first person to pretend to play a pinball machine at the new location, which caused several longtime pinball nerds to be extremely butthurt.
We don't live by society's rules.
When the Pinball Hall of Fame reopened, we thought the sign on the building was pretty eye-catching.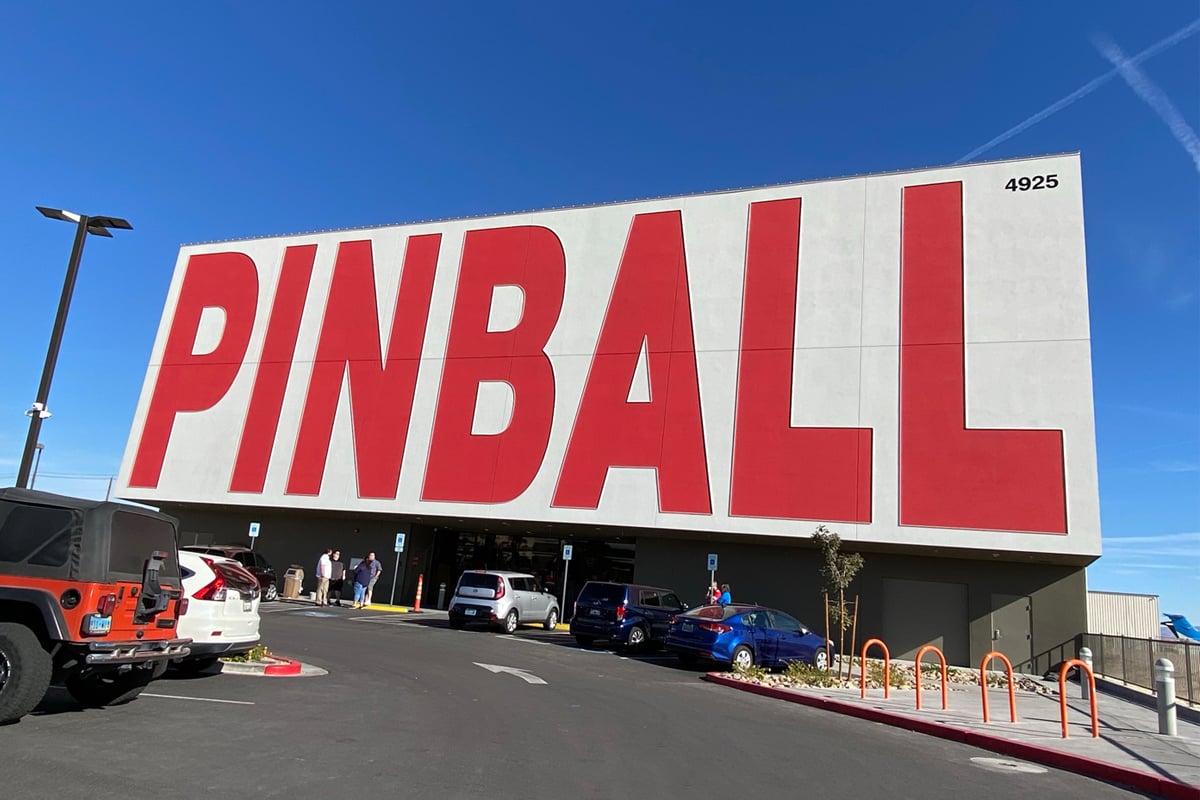 The Pinball Hall of Fame has hundreds of pinball machines and arcade games, the vast majority of which can be played.
Entry to the Pinball Hall of Fame is free, and the games largely cost what they cost to play when they were first produced.
If you look closely at the new Pinball Hall of Fame sign, you can see a stuffed cat perched on the sign, a nod to the attraction's resident "greeter cat."

The new Pinball Hall of Fame cost about $10 million to build, and it's a Las Vegas must-do.
The Pinball Hall of Fame is open every day from 11:00 a.m. until 9:00 p.m. The venue is family-friendly, but ankle-biters must be accompanied by an adult.
Given the larger-than-life signage, you definitely can't miss it.