Park on Fremont Plans Luscious Renovation
A popular downtown restaurant and bar, Park on Fremont, is set to get a major refresh this summer.
Park on Fremont sits at the corner of Las Vegas Blvd. and Fremont Street, the westernmost establishment on Fremont East.
We've got an exclusive look at renderings for Park on Fremont's upcoming facelift, because that's how we roll. If that's even a phrase people use anymore.

Park on Fremont is doubling down on its "park" theme, with the addition of lush foliage.
See how we used "luscious" in the headline of this story to foreshadow "lush"? Park on Fremont also has a bar. The term isn't used much anymore, but "lush" used to refer to a heavy drinker. You can't just skim our scoop, you have to pay attention! Are you even reading this right now? If not, you're missing a lot of good stuff. Fine, just jump ahead to the next photo, but a life without nuance isn't a life fully lived!
The lushness will not only make Park on Fremont's outdoor area more welcoming, it will gently deter panhandlers from hitting up guests while they dine. Despite progress, downtown has its challenges, especially for businesses along Fremont Street.
Park on Fremont's location, right on Fremont Street, is great for people-watching, but that has pros and cons. Often literally.
Park on Fremont's courtyard (behind the restaurant) is very popular, so the improvements out front will reflect that vibe.
Owner Ryan Doherty says, "This new design will allow us to create a green space on our Fremont frontage to rival the back patio."

The back patio is home to our favorite piece of art in Las Vegas, and Doherty reassures it's not going anywhere.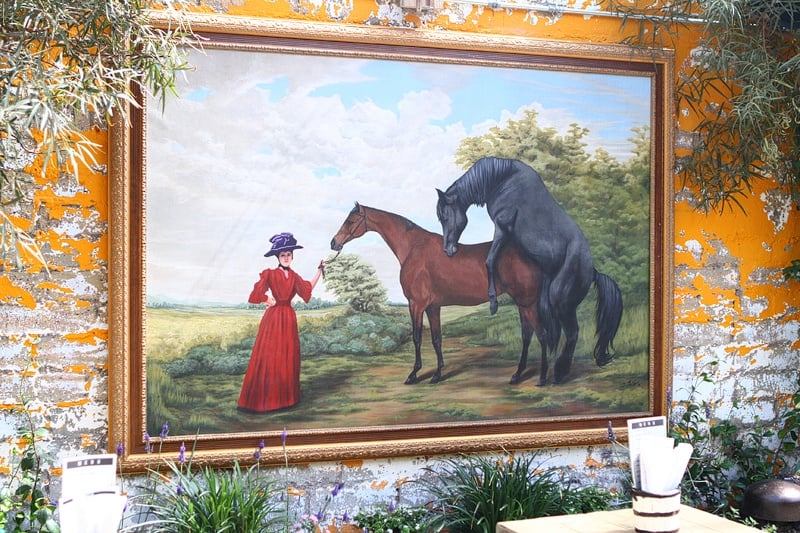 Of the art, Doherty says, "That's never leaving. It will rot off that wall before I remove it."
That's the spirit!
Also not going anywhere is the restaurant's "secret" see-saw area. Ryan Doherty says his insurance company would prefer it go away, but Ryan Doherty doesn't live by society's rules. It stays.

The renovation will include adding a new dining area for private gatherings.

You're going to need a "before" photo to compare the renovation to, so we've got you.

Park on Fremont will be closed during June, July and August of 2022 for the renovation.
The restaurant will open again on Sep. 1, 2022.
To say Ryan Doherty has a lot going on in addition to the Park on Fremont project is a huge understatement.
He's got two new venues coming online soon, We All Scream and Cheapshot, both on Fremont East.
We All Scream is a dance club with an ice cream window, and Cheapshot is a bar and performance space. We've got construction pics, just give us a minute!
Doherty recently debuted another restaurant, Peyote, at Ferguson's Downtown Motel.
Doherty is also the idea machine behind Lucky Day and Discopussy on Fremont Street and Oddwood bar at Area 15.
Because he's not busy enough, we've heard Doherty has big plans for the parking lot outside Park on Fremont. The spot was once home to a neon Pabst Blue Ribbon sign. Doherty's not done with that space, and from the rendering we saw, there's going to be a lot of conversation around what's in the works.
More about that and everything Fremont East soon.