Park MGM Confirms It Will Be Smoke-Free Upon Reopening Sep. 30
Our sources knocked it out of the park this time. MGM Resorts has confirmed Park MGM and its hotel-within-a-hotel NoMad will be entirely non-smoking when they reopen on Sep. 30, 2020.
This news confirms our story of June 3, 2020, not that everything has to be about us. Just this one thing. Probably.

No, really.

When it reopens on Sep. 30, Park MGM will be the only non-smoking casino resort in Las Vegas, and it's about damned time.
The long-standing myth casinos can't survive without smoking is about to be settled once and for all.
The smoke-free angle will be a great hook for Park MGM. The resort has failed to meet financial expectations ever since being rebranded from Monte Carlo, and going completely non-smoking could give Park MGM a much-needed boost.
While we sometimes hear tourists say they wouldn't go to a non-smoking casino, we hear vastly more saying they'd specifically go out of their way to visit one.
That bodes well for Park MGM, especially during a challenging time for Las Vegas resorts.
We'd be visiting anyway because one of the greatest slot machines of all time, Hundred or Nothing, lives at Park MGM.

Amenities will be limited at Park MGM when it reopens.
Eataly, the awesome Italian marketplace (food court) will be open, as will the pitch black but tasty Bavette's Steakhouse, the French-inspired Primrose restaurant and the hotel pool.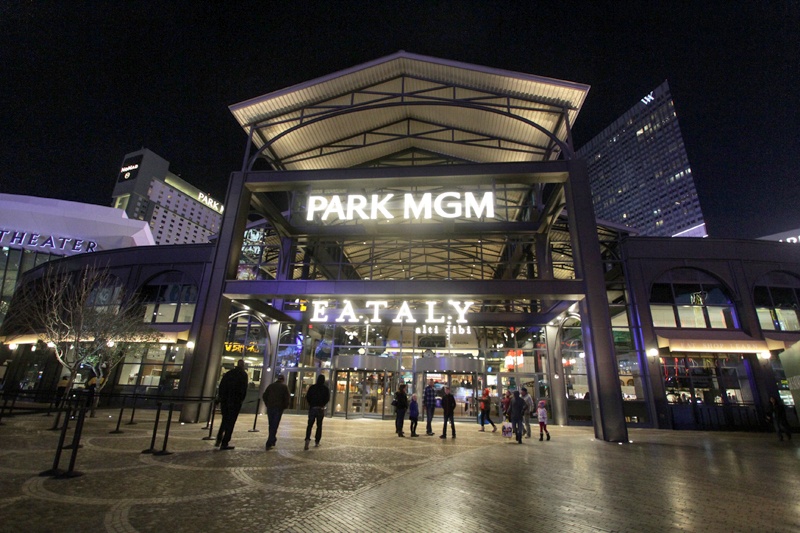 That leaves a lot closed at Park MGM, including the Park Theater.
Among the venues closed at Park MGM will be La La Noodle, Best Friend and Manzo. See all the Park MGM restaurants on the official site.
As with all MGM Resorts casinos, the place has been overhauled to meet COVID-19 safety protocols. The mask mandate will be in place, as well as physical distancing.
MGM Resorts casinos also have some handy, free-standing hand-washing stations. We would like those to stick around even after the pandemic is a distant memory.

Buried in the Park MGM news release was word Four Seasons Las Vegas, at Mandalay Bay, will reopen Sep. 25, 2020.
We're thrilled Park MGM will be back in the mix on the Las Vegas Strip again, even the scaled back version.
Hope to see you there. We'll be the one devouring pizza at Eataly, grabbing a cocktail at West Bar (remember, guests must be using a loyalty card to get comped drinks now) and camping out in front of Best Friend on our Hundred or Nothing machine.
Let's Park MGM again.