No Pants: A New Contender for Best Burger on The Strip
Las Vegas has a metric hell-ton of great burgers.
There's a new contender for best burger on The Strip, and it's served in the last place you'd suspect a contender for best burger on The Strip would be served.
It's not even a restaurant. You can find the burger at a show called "Absinthe." Technically, it's outside "Absinthe," but please don't muck around with our narrative.
It's a burger served from a shipping container, actually. It's a place called No Pants.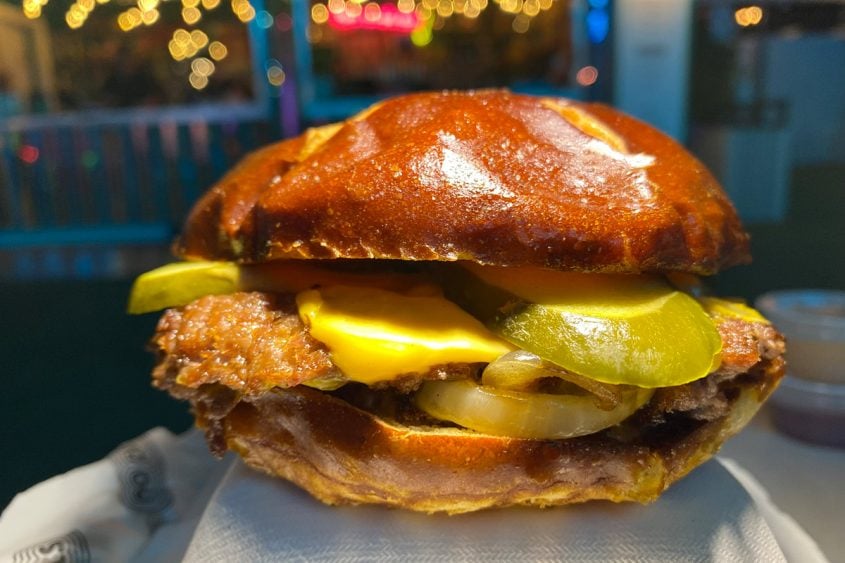 No Pants is yet another quirky offering from the lovable weirdos at Spiegelworld, the team behind "Absinthe" at Caesars Palace, as well as "OPM" at Cosmo and "Atomic Saloon" at Venetian.
The No Pants shipping container kitchen is in an area dubbed the Green Fairy Garden. The Green Fairy is a character in "Absinthe," although we aren't entirely sure why.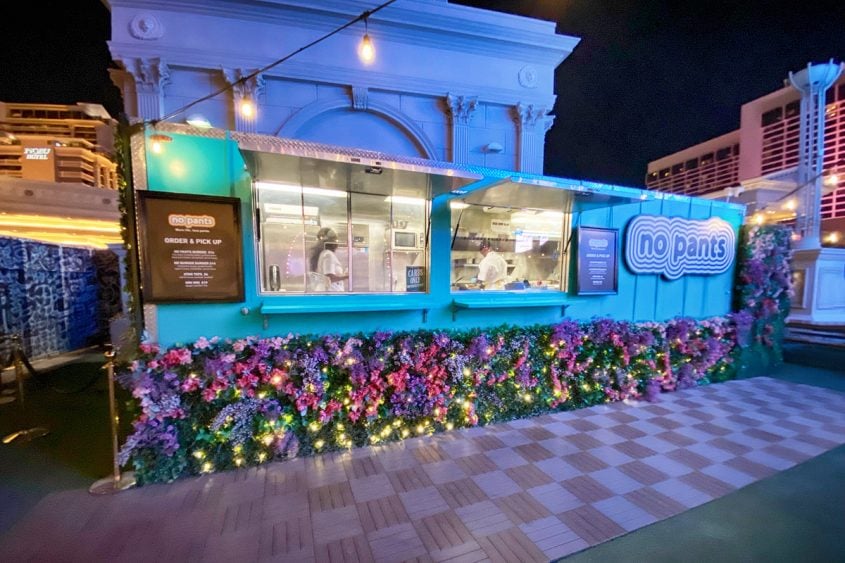 Until recently, we figured this whole courtyard was just for ticket-holders, but it's open to the public, which is awesome, because the Green Fairy Garden has two shipping container bars and a new speakeasy, the Pier 17 Yacht Club, which we probably should've taken photos of, but we aren't omnipresent.
No Pants has exactly three things on its menu. Two kinds of burgers (one made of plant life) and tots. That's it. No Pants is the perfect place to grab a bite if you suffer from decision fatigue. Which actually afflicts people in Las Vegas often.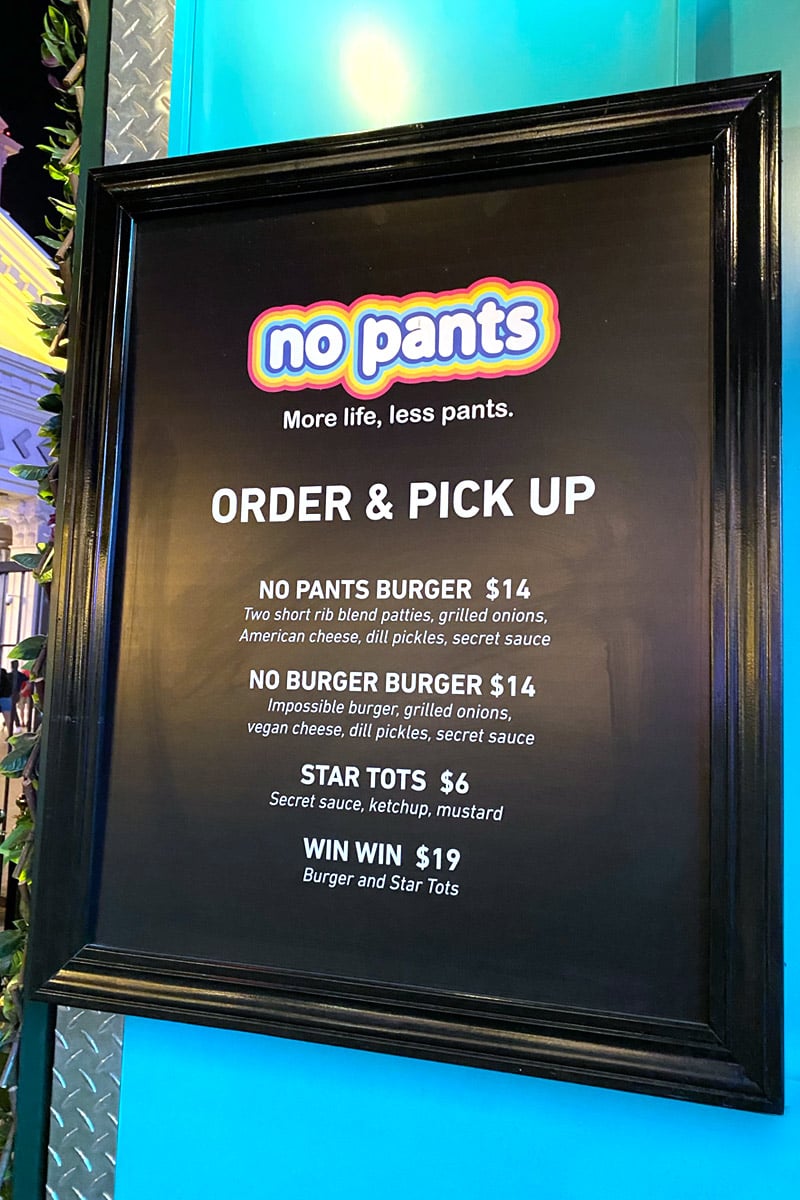 The burger is extraordinary and much, much better than it has to be given it's basically part of a snack bar for a Las Vegas show.
As you saw in the photo above, the burger has lots of things which would normally make us run in the opposite direction (massive pickles and onions, for example), but a P.R. rep for Spiegelworld ended up paying for the burger, so we had to try it. (As always, our opinions are our own. We have never done a sponsored post, nor do we have any partnerships with any casino, restaurant, show or other entity in Las Vegas.)
For whatever reason (we are not a foodie), the flavors were amazing together. The pickles, although giant, didn't overwhelm the taste of the meat (juicy and succulent).
Our only gripe was that the onions are grilled into the burger itself. The burgers benefit from the flavor of the onions, but it's weird having long, stringy onions in one's burger meat. It's really a texture and vanity thing with us, like not wanting to eat spaghetti on a first date. We asked the crew at No Pants, and they said they could make it without onions, which is how we'd order the burger next time.
The tots are also delicious, although they're definitely much better if you're drunk. Allegedly.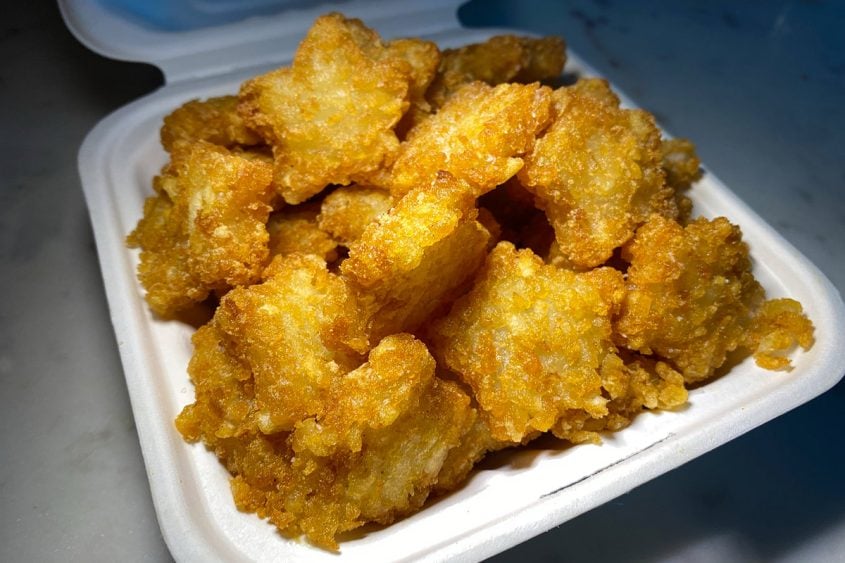 The prices at No Pants aren't too steep, at least in the context of restaurants on The Strip.
If you want to try the burger for free, you can: 1) be a member of the media, or 2) attend an upcoming event where the burger will be free if you aren't wearing pants. No, really. Date TBA.
You'll want to gird your loins for the drink prices. Again, not unusual for drinks at Las Vegas shows, but several "Absinthe" guests have been treated for sticker shock over the years.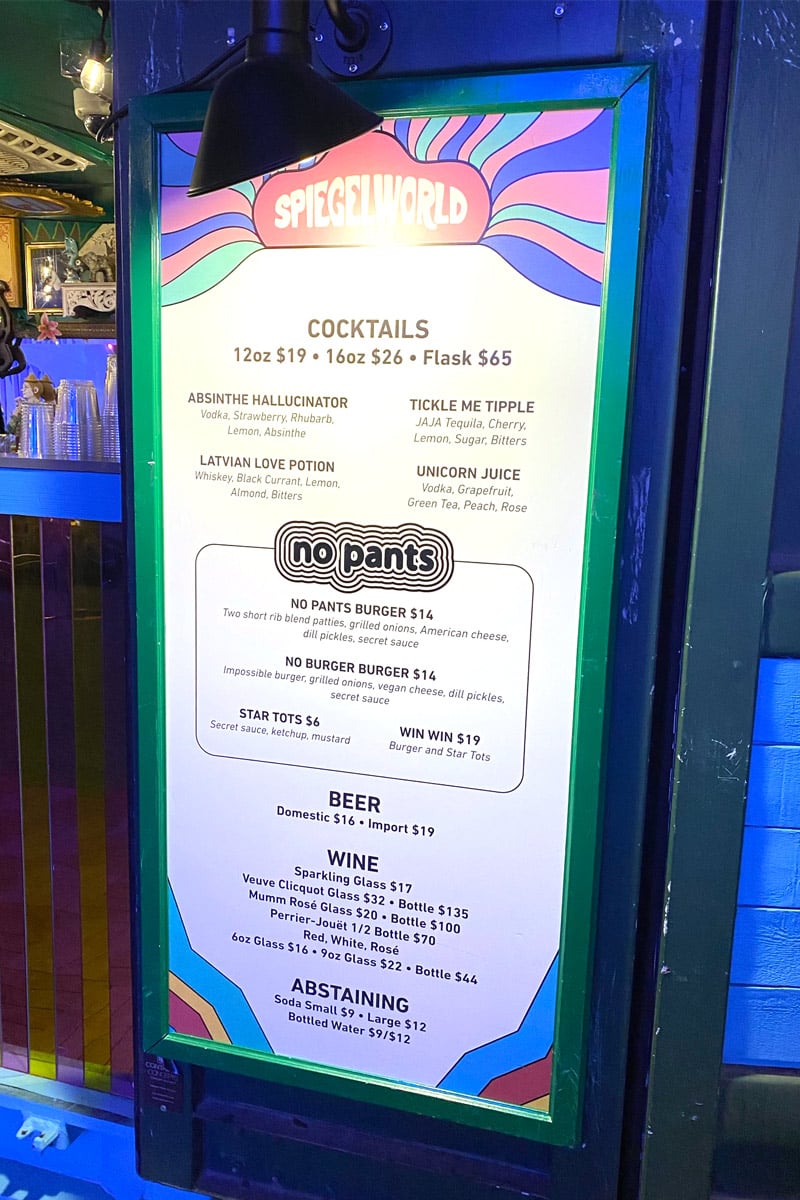 Speaking of "years," "Absinthe" recently celebrated its 12 anniversary at Caesars Palace, and remains the must-do show in Las Vegas, despite our name being on the ads for "OPM" saying that's the best show we've ever seen. We're seeing it again tonight just to make sure.
Here's a look at "Absinthe" on its 12th anniversary. If you watch closely, you will see the aforementioned Ross Mollison, sans pants. Again, girding recommended.
Some of the acts have changed, but "Absinthe" is still rowdy, bawdy, offensive and fun as hell. The ladies on poles alone are worth the price of admission.
Before or after, No Pants.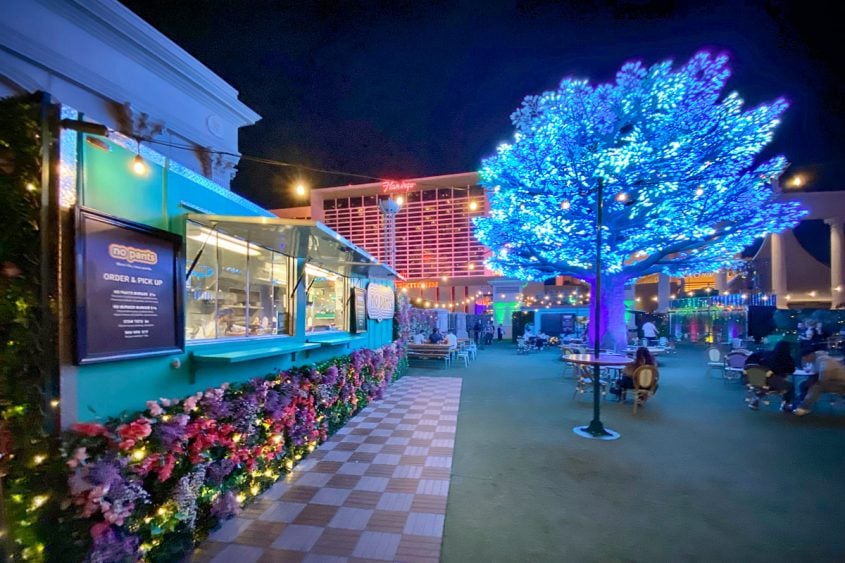 Our go-to for best burger on The Strip has always been Gordon Ramsay Burger at Planet Hollywood, but No Pants is going to give Ramsay a run for his money. Nusr-Et at The Park also rates a mention.
Downtown, try the burger at Oscar's at Plaza, or the all-time most-recommended burger in Vegas (especially at the price) at Binion's Cafe.
You can grab the No Pants burger without seeing "Absinthe," but why would you do that?
Don't take our word for how great the No Pants burger is. Give it a try and let us know what you think. If you don't agree, keep it to yourself or start your own blog. Good luck with that.