Mirage Volcano Slashes Showtimes to Save Some Bucks
The Mirage is cutting back on its free volcano shows, bigtime. The cost-cutting measure means you'll have fewer chances to see one of the best free things to do in Las Vegas.
The volcano show at Mirage opened in 1989, when offering lavish free spectacles was used to lure gamblers into Las Vegas casinos. The Mirage volcano underwent a renovation in 1996, and was closed for most of 2008 while it underwent another renovation, at a cost of $25 million.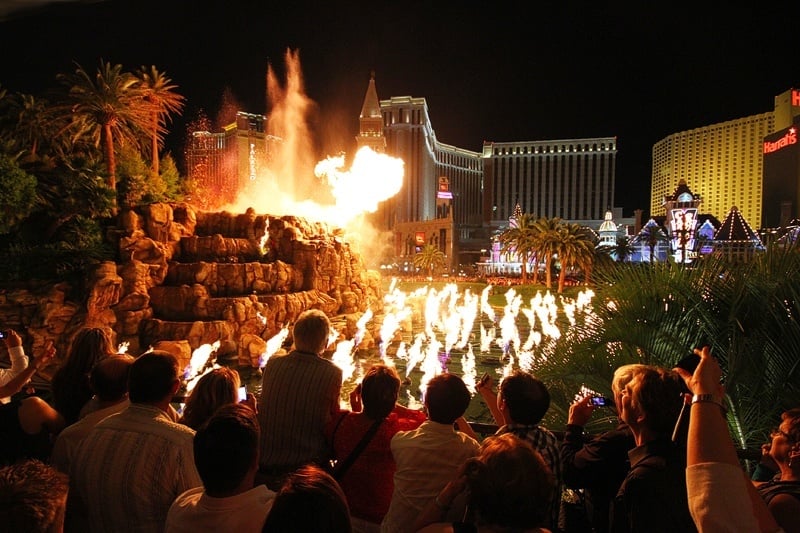 The Mirage volcano was designed by a company called WET, the same firm that designed the Bellagio fountains. The all-caps company name is less annoying when you discover it stands for "Water Entertainment Technologies."
Here's the skinny on the new Mirage volcano schedule. The volcano will erupt at 8:00 p.m. and 9:00 p.m. Sunday through Thursday. On Friday and Saturday, there will be an additional 10:00 p.m. show.
The volcano showtimes have been cut back from happening every half hour, 8:00 p.m. to 11:00 p.m. If you hurry, you can still pretend that's the case because the Mirage Web site's metadata hasn't been updated.
Thanks to our friends at Las Vegas Advisor for the tip about the change in showtimes.
The cost-cutting at Mirage is reminiscent of when Treasure Island, also in the MGM Resorts family of hotels, sent its "Sirens of TI" to Davy Jones' Locker (read more), replacing it with a CVS. The sexiest of the pharmacies, we might add.

So, why would Las Vegas resorts cut back on free attractions? Because they can. Or think they can. (We're counting down the minutes until The Mirage claims cutting back on showtimes is done because it's part of a green initiative to save energy.)
Mirage says it will monitor visitor reactions to the schedule change. Translation: "We'll see if fewer shows has any impact on revenue, but switching back is about as likely as bringing back coin-operated slot machines or Siegfried & Roy."
Las Vegas has changed a lot over the years, and resorts are relying less and less on free attractions to distinguish themselves. While casino revenue used to subsidize such attractions and spaces, now, every square inch of a resort has to make money, or it's downsized or removed altogether. The park-like area outside Bally's, for example, was replaced with Grand Bazaar Shops. Which will also feature, wait for it, a CVS.
There are still lots of free things to do in Las Vegas, of course. And you can still catch the Mirage volcano doing its thing, just less often.
We should probably resign ourselves to the fact eruptions happen less frequently as time goes by. If you get our drift.
If the news about reduced Mirage volcano shows bums you out, we suggest you console yourself with shots of Fireball. See what we did there?