Imagine Dragons Featured in New Light Show at Fremont Street Experience
It's been awhile, but Fremont Street Experience has unveiled a new light show on its massive Viva Vision screen, "Imagine Dragons – Home in Vegas."
The new, six-minute show features three of the group's hits, "Radioactive," "Demons" and "Shots."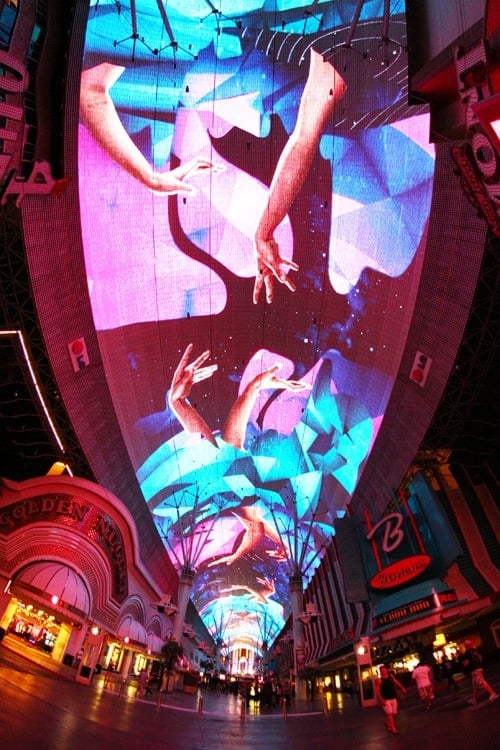 Here's a peek at "Radioactive," the single which holds the record for being on Billboard's Hot 100 chart longer than any other in history. Yeah, we didn't believe it either, but apparently it's true.
The new Viva Vision show, done in collaboration with Imagine Dragons and multi-media company Moment Factory, joins other shows highlighting the work of popular bands, including "Heart – Crazy on Vegas," "Bon Jovi – Wanted in Vegas" and "The Who – Miles Over Vegas." (Starting to see a pattern here?)
Given that we work at Fremont Street Experience as our day gig, we're more than little excited to have a new show to talk about. The most recent addition to the line-up was The Who's show which made its debut in 2013. Yes, we were there when it launched, because that's how this Las Vegas blog rolls.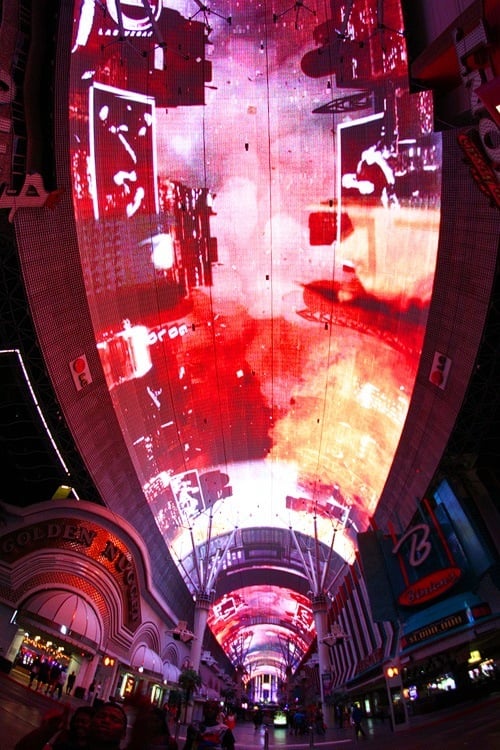 Imagine Dragons have a special connection to Las Vegas, and downtown, as they performed a number of their early shows in venues like Bunkhouse and Beauty Bar on Fremont East. The band is often described as being from Las Vegas, but actually formed in Provo, Utah.
The band recently made headlines with a Grammy appearance they performed on a pop-up stage on Fremont Street near the El Cortez casino.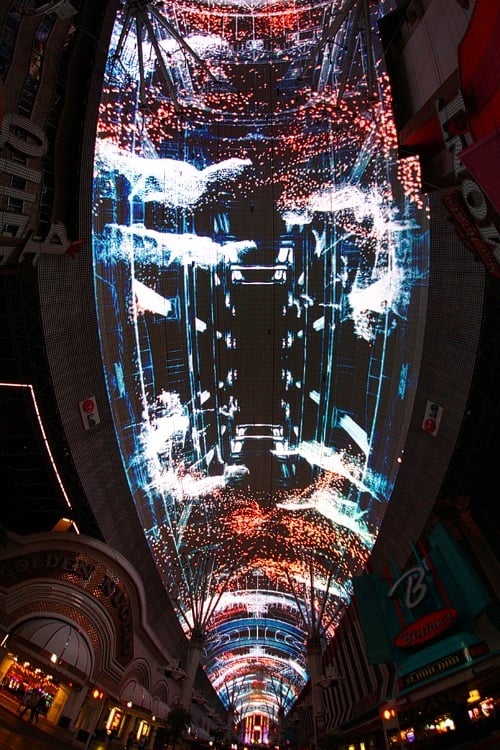 The visuals in the new Viva Vision show range from surreal to the dystopian, with special care taken to exploit the unique screen size and shape (it's arched, technically a "barrel vault canopy").
The show was custom-made for the Viva Vision screen, the second largest video screen in the world (after Harmony Times Square in Suzhou, China), by Montreal-based Moment Factory.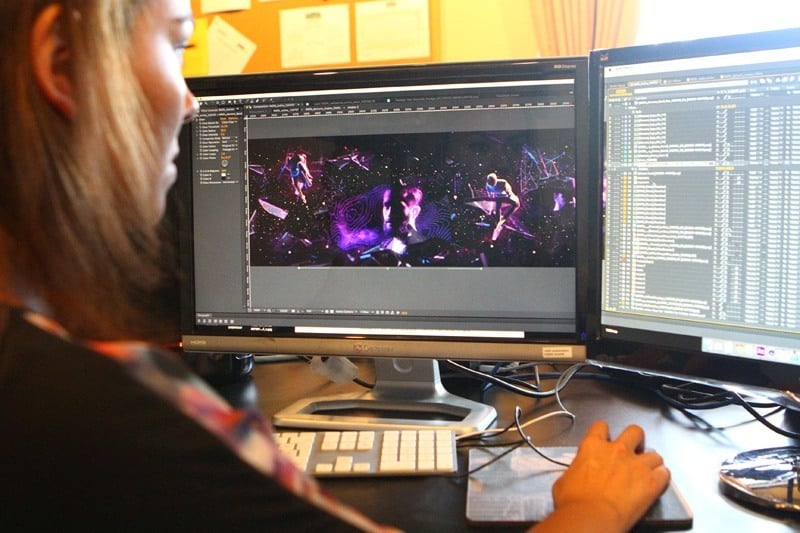 Moment Factory built a virtual replica of the Viva Vision canopy to run simulations of the Imagine Dragons light show before its debut. Hopefully, Moment Factory will leave the simulator live. It's a blast.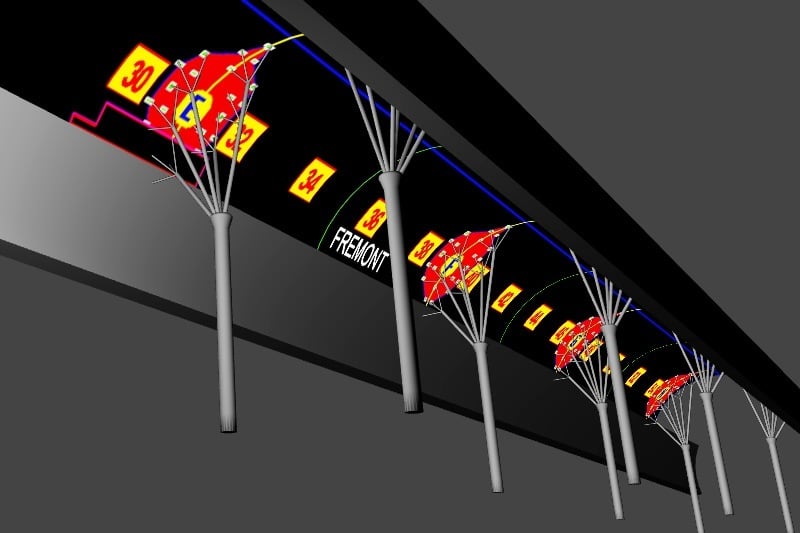 Moment Factory has done innumerable large scale media installations around the world, and have worked extensively with Cirque du Soleil, including the Beatles Revolution lounge inside Mirage Las Vegas.
Moment Factory has also produced visuals for the Celine Dion show at Caesars Palace and Light Nightclub inside Mandalay Bay.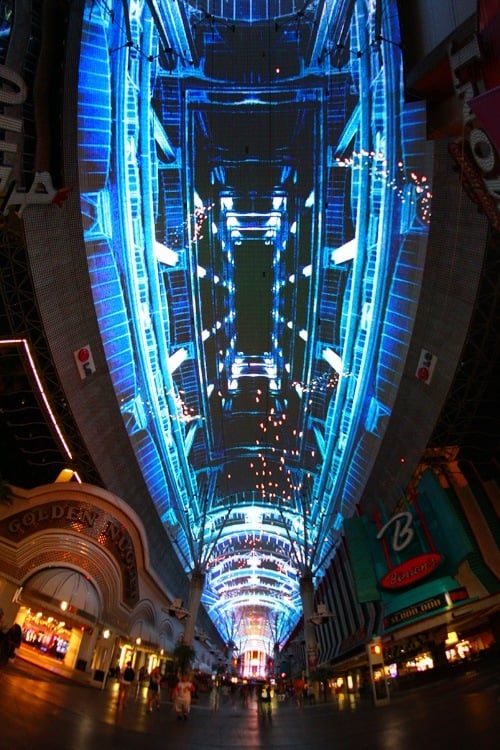 Here's a moment from "Demons."
"Imagine Dragons – Home in Vegas" will now be added to the Viva Vision show rotation, playing free each night at 9:00 p.m.
The show is expected to have an official launch, with an appearance by Imagine Dragons band members, within the next few months, possibly around the time of the Life is Beautiful music festival, Sep. 25-27, 2015. The band headlines Life is Beautiful along with acts like Duran Duran, Stevie Wonder, Hozier, Snoop Dogg, Weezer, Kendrick Lamar, Brandon Flowers and others. But mostly Duran Duran.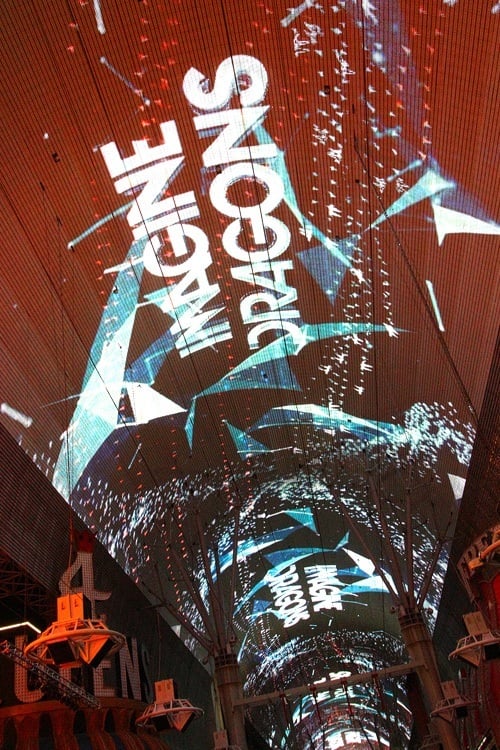 While we wish the new Imagine Dragons Viva Vision show included "I Bet My Life," the band chose not to use it for whatever reason. The song did play on the Viva Vision canopy, though, when the single was released in December, 2014. See it here.
Here's a look at the segment with "Shots."
Imagine Dragons are currently on tour in support of their album, Smoke + Mirrors. Their average ticket price is $137.32, but you can check out three of their hits free at Fremont Street Experience in "Imagine Dragons – Home in Vegas." Say "hello" if you drop by. You can frequently find us roaming Fremont Street, poking our nose into places we shouldn't, donating to various Top Dollar slot machines and pushing our liver to its limit.
Here are a few more shots (see what we did there?) of the new Imagine Dragons light show at Fremont Street Experience.
Imagine Dragons Viva Vision Show