Mirage Alerts Customers to Date of Change to Hard Rock Las Vegas, Sorta
Ever since Hard Rock International purchased Mirage, there's been a lot of speculation about when the resort would actually become Hard Rock.
On Oct. 10, 2022, we shared word the date could be Dec. 19, 2022. Now, it appears, Mirage is confirming that date to guests.
There's an asterisk, however.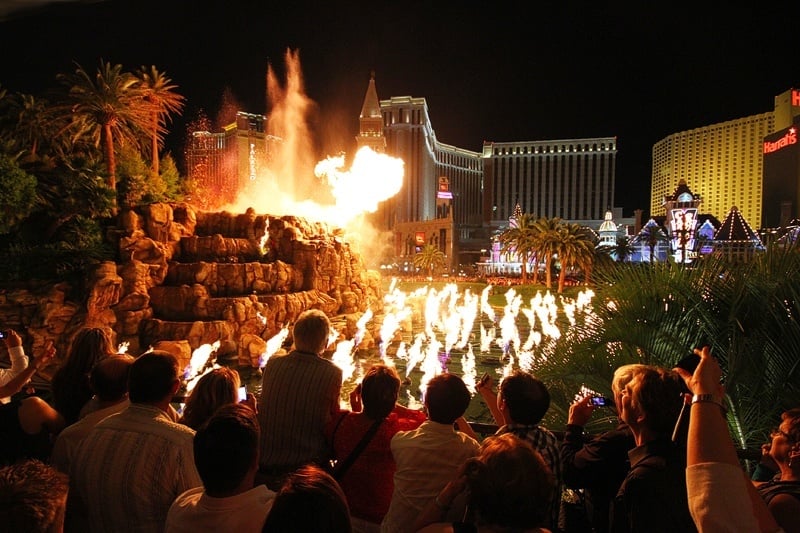 Guests have been getting this message from Mirage: "The Mirage Hotel and Casino will be renamed The Hard Rock Hotel and Casino effective December 19, 2022 and will no longer be under the MGM brand."
Our friend Travel Ruby shared the message on Twitter.
Mirage is the first hotel I ever stayed in Las Vegas and I am sad to see it go. Starting Dec. 19th it will officially be renamed The Hard Rock. pic.twitter.com/lCx8rO3hDf

— Ruby (@TravelRubyYT) October 30, 2022
The Mirage is pretty strong source when it comes to information about, you know, Mirage. However, it's unclear if that information actually came directly from Mirage, or a third party that jumped the gun on the name change. (It's believed the message came from WestJet, the airline and seller of vacation packages.)
The "asterisk" relates to when the transfer of Mirage to Hard Rock International is given the green light, as the Nevada Gaming Commission is the entity that approves such things, not casinos or casino companies.
The Nevada Gaming Commission's earliest opportunity to approve the sale is Dec. 22, 2022. First, it must be approved and recommended by the Gaming Control Board (which meets Nov. 2, 2022, but this subject isn't on the agenda). That means, unless there's a special meeting of some sort, the soonest the Mirage-to-Hard Rock deal could be approved is Dec. 22, 2022.
The bottom line is Mirage and Hard Rock can call themselves whatever they'd like, but it's not official-official until the Nevada Gaming Commission signs off.
Approval is expected, of course. Hard Rock sort of has a track record.
It seems the Dec. 19 date could be the timing of an internal changeover, as opposed to saying the name of the hotel will change this year.
We previously shared an internal document talking about the transition from Mirage to Hard Rock recently. It wasn't particularly exciting, but "internal document" makes it sound sexy.
Internal document to Mirage employees about the transition to Hard Rock. pic.twitter.com/bYXTa7Zx66

— Vital Vegas (@VitalVegas) October 14, 2022
If you're looking for asterisks, there's a bigass one in that memo.
The executive (Joe Lupo is President of the future Hard Rock Hotel & Casino in Las Vegas) clearly states, "Once the sale is completed, we will still operate under The Mirage name until we fully transform into a Hard Rock property, including the guitar shaped hotel." That appears to directly contradict what the hotel is currently communicating to guests. The completion of the tower is potentially years away. Hard Rock has use of the Mirage name for three years.
If the Mirage name is used until the resort's transformation is complete, that means Mirage will stay Mirage until 2025.
Beyond the name change or behind-the-scenes administrative changes at Mirage, we've shared a number of other items of interest.
There's been some chatter about the controversial Siegfried & Roy's Secret Garden. It was supposed to reopen Oct. 9, then on Oct. 31, but those dates have come and gone. Related: Three dolphins have died at the exhibit in the last six months.
Secret Garden at Mirage was to reopen Oct. 31, now postponed indefinitely. Even money it's not coming back, and that's a good thing. Let's get these animals to sanctuaries.

— Vital Vegas (@VitalVegas) October 28, 2022
The plan was to scrap the volcano immediately to make room for a new hotel tower, but we've heard there's some pressure being exerted to keep it operating awhile.
Glimmer of hope for Mirage volcano fans. Chatter is F1 has asked that demolition of the attraction be pushed back to 2024, as F1 prefers to not have construction going on during the Vegas Grand Prix (November 2023). Unknown if Hard Rock will be receptive to that request.

— Vital Vegas (@VitalVegas) October 31, 2022
Here's a look at the volcano, in case it shuts down before you get a chance to visit again.
After the Mirage volcano show closes, you can watch this video while standing in front of a pizza oven. You'll be OK. pic.twitter.com/qUBRTBXfTm

— Vital Vegas (@VitalVegas) June 24, 2022
We've also shared some inside scoop about the potential future of "Love."
Interesting twist to the "Love" saga as Mirage transitions to Hard Rock. As announced, "Love" should continue through 2023, now hear Cirque is working with Hard Rock to develop a new show more in line with the rock theme of the rebrand. (1/2)

— Vital Vegas (@VitalVegas) September 24, 2022
The most recent plan we've heard is Mirage (or Hard Rock) will operate throughout the resort's transformation, but plans can change and often do.
While it's been widely repeated Mirage will close for the transition to Hard Rock, that is not the current plan. The plan is to keep the casino and hotel open throughout.

— Vital Vegas (@VitalVegas) July 19, 2022
Wow, we've really Twittered the hell out of this story.
That's because Vegas moves fast, and Twitter is about the only way to try and keep up. We should probably start a GoFundMe to pay for our blue check mark.
Anyway, lots of changes coming up for our beloved Mirage. Calling Mirage by its new name, Hard Rock, is going to take a minute, just as it took time to get used to calling the former Hard Rock by its new name, Virgin. Bally's is becoming Horseshoe, and Tropicana is probably going to become Bally's.
Thankfully, Fontainebleau is back to being Fontainebleau, we barely had time to call it The Drew.
More to come.
Update (11/2/22): Seemingly in response to questions around the transition from Mirage to Hard Rock, the company published an FAQ on its Web site clarifying some of the concerns.
Is Mirage closing? "No, MGM is transferring ownership of the Mirage to Hard Rock International. The property will remain open as the Mirage." That tracks with the resort's president saying the Mirage name will be around until 2025.
When will the property transfer to new ownership? "The transfer of ownership is expected to occur by December 31st, 2022, pending Nevada regulatory approval." Please refer to our timeline information earlier in this story.
The FAQ also asks of itself, "Is the volcano show ending." Mirage says, "There are no current plans to change the volcano show."
So, some clarification, but not much. The good news is we'll have Mirage around awhile, and you can still catch the volcano before plans change.