Linq Hotel Self Check-In Kiosks Could Give You Hours of Your Life Back
There's nothing quite like the excitement of arriving in Las Vegas. The lights. The
energy. The action.
There's also nothing quite as frustrating as the buzzkill of being stuck in a hotel
check-in line for hours on end, often just feet away from the aforementioned lights
and energy and action.
Well, brace yourself. The technology team at Caesars Entertainment just unveiled
automated self check-in kiosks at Linq Hotel that may change your Vegas hotel experience
forever.
Get ready for a four-minute Las Vegas hotel check-in.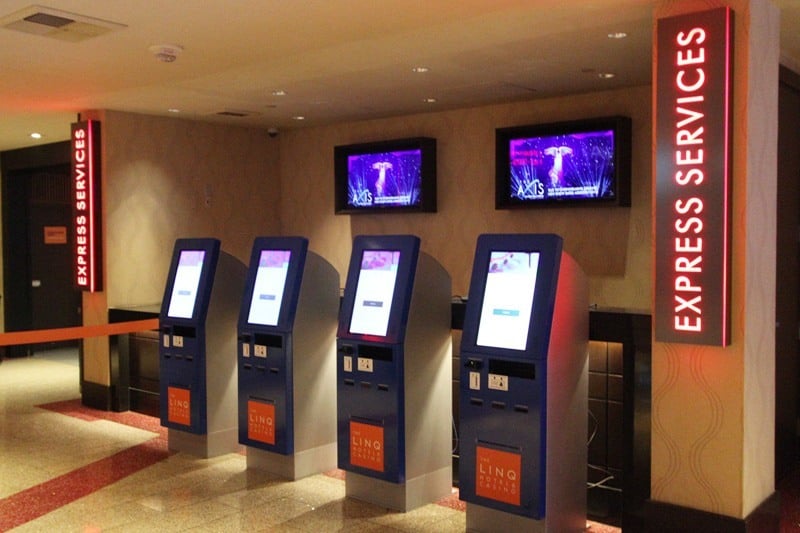 The new self check-in kiosks at Linq Hotel have been in use for about two weeks, but the company is keeping news of the innovative kiosks on the down-low as any kinks are being
unkinked.
Linq Hotel has four kiosks in play at the moment, in an "Express Services" you'd miss
if you weren't looking for it. And you should absolutely look for it.

While we're sure the technology involved in these automated check-in kiosks is
complicated, the part customers see is streamlined and simple.
First, the kiosk scans your I.D. You can use a driver's license, passport or
government I.D.

The self check-in kiosk instructions are straightforward and easy to understand, even for bloggers.

The I.D. is placed on a flat, glass surface. You can see the scanning area at right in the photo below.

Next, the kiosk asks for a credit card. The card is used for incidentals, and no
charges are put on the card until check-out.
Then, the kiosk uses some technological magic to find your reservation.
At this juncture, you're presented with some room upgrade options, called "Exclusive
Last Minute Offers," including the free option of switching your reservation from a
smoking to a non-smoking room, or vice versa.
You're also given the option of upgrading your room. The choices are dynamically
generated based upon room availability at the time of check-in. Told you it's voodoo.

Once you've chosen your upgrade, or declined, the kiosk requests a phone number and
e-mail address, and the touchscreen is used for a digital signature.
Then, the self check-in kiosk generates your room keys.
That's it. That's the whole thing. And the entire process takes an average of four minutes, even if you're lethargic. Think about it, even if there's a line three people deep, that's a 12 minute check-in. What, you thought we were using the word "miraculous" lightly?
If your room isn't ready when you check in at the self-serve kiosks, you'll get a note via e-mail telling you when you can come back and get your keys.
Other details about the self-serve kiosks: Guests can start their check-in online or via text message prior to arrival (they can text CHECKIN3 to 277466) can cut their check-in time in half. They'll just sign and get their keys at the kiosk. Also of note, the kiosk can print or e-mail a room assignment slip that includes directions to the appropriate elevator bank.
The ability to check out at the self-serve kiosks will be added soon.
We don't know much, but we do know this lightning-fast check-in process is likely to
become the standard in Las Vegas, delivering visitors to their rooms (and the casino) in record time.
It should be noted, by the way, the lines at the Linq Hotel aren't often very long, but there are lots of hotels in Vegas where waits of hours aren't uncommon. You know who you are.
As we said, the kiosks at Linq Hotel are in a soft launch phase, but from what we
observed, they're off to an amazing start. Our biggest question was, "Why in the hell
are these people still standing in line at the hotel check-in desk with people behind
it?"

It seems some guests like the human interaction. Go figure. We'd personally prefer a
few more hours of drinking and gambling, but to each their own.
Die-hard Las Vegas regulars may also miss the opportunity to do the $20 upgrade
trick, where a guest discreetly slides a $20 bill (a tip, essentially) to hotel staff
in the hopes of getting a room upgrade.
For must of us, though, these innovative kiosks—the first in Las Vegas as far as we know—are a creative answer to an age-old problem at Las Vegas hotels. Specifically, "What the hell?"
Once word about these kiosks gets out, we expect the Express Services area at the Linq Hotel is going to get very crowded. Specifically, with executives from competing resorts taking copious notes.

Caesars Entertainment make take some hits (we should know, we used to work there), but the technology nerds at Caesars Entertainment have nailed it again. Last time, they let us use our smartphone as a room key at The Cromwell. Four-minute check-ins are going to earn them the right to use the term "game-changer," irony-free.
Expect the Linq's express self check-in kiosks to crop up across Las Vegas, with Flamingo Las Vegas the next in line to institute them.
Now that you have hours of your life back, make the most of them. And, yes, damaging your liver qualifies. Technology can take care of everything.