Rumor Confirmed: MGM Resorts Releases Details About New Monte Carlo Theater
MGM Resorts has been kind enough to confirm a story we broke weeks ago, and this blog is currently experiencing a renderingasm.
Back in June, we reported rumblings about a new 5,300-seat concert venue at Monte Carlo, and now we're getting our first official look at the impressive venue. We may have swooned. And we don't tend to be a swooner.
Listen to our interview on KNPR radio about all the latest.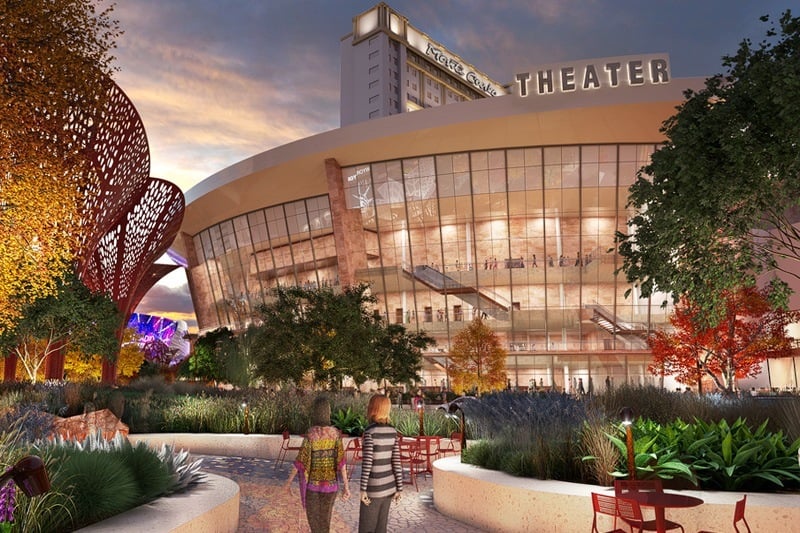 MGM Resorts has announced the "approximately 5,000-seat theater" will have a "robust calendar featuring special engagements by many of the music industry's most-celebrated performers." Translation: Gird your loins, Colosseum.
The new Monte Carlo theater (unlikely to be named that, as Monte Carlo will undergo a major rebranding before the theater opens) will be adjacent to The Park, a Linq Promenade-style shopping and entertainment district, and 20,000-capacity MGM-AEG arena being built behind New York-New York.
The new theater at Monte Carlo is expected to cost $100 million.
Bill Hornbuckle, President of MGM Resorts International, and this blog's winner of the "Best Casino Company Executive Name, Ever" award, says about the new Monte Carlo theater, "This new theater will enable us to host performers in Las Vegas who we previously haven't had a home for, broadening our entertainment offerings and providing the opportunity to expand those relationships to our properties around the globe."
Which means two things. One, popular artists are about to get a windfall thanks to the upcoming bidding wars. Two, Duran Duran will finally have a home in Las Vegas! (Hey, we can dream.)
We're going to predict the first major coup for the new Monte Carlo theater will be Adele. For months, it's been rumored she'll sign on for a $40 million, two-year residency in Las Vegas. The new theater at Monte Carlo would be a great fit. Another clue Adele will perform a residency at a rebranded Monte Carlo? She has a young child. Divas love not having to be on the road, and a Vegas residency means stability and more time with family while raking in the big bucks.

The Park and arena are expected to open in April 2016, while the Monte Carlo theater is set to debut at the end of 2016.
The new theater at Monte Carlo means a couple of existing shows will be moving, confirming reports by our bud, John Katsilometes.
Blue Man Group will move to Luxor this fall. The show originally opened at Luxor, way back in March of 2000. It began its run at Monte Carlo in October of 2012. Blue Man Group's contract has been extended through 2025, possibly to compensate for being booted from Monte Carlo.
Blue Man Group moves into the venue that's home to Jabbawockeez, so Jabbawockeez will move into the newly-renovated theater currently occupied by Beacher's Madhouse. Beacher's Madhouse will continue doing its thing on Saturday nights.
The renderings of the new arena, The Park and Monte Carlo theater are absolutely gorgeous, and the energy on this part of The Strip is already being transformed into a destination likely to be as vibrant as MGM Resorts' news releases say it will be.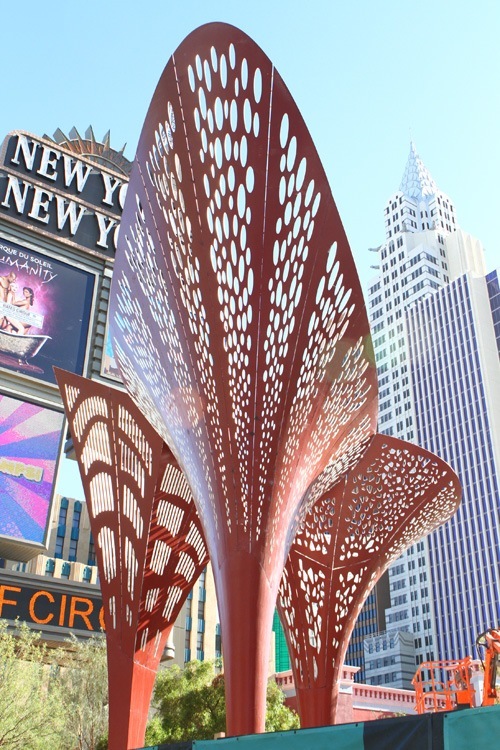 New restaurant and bar offerings continue to come online, like the excellent Tom's Urban and over-hyped Shake Shack, and while there remain some logistics yet to be hammered out (like traffic and parking), the new MGM-AEG arena will alter this part of The Strip in a dramatic way, especially if rumors of professional sports franchises come to fruition.
It's an exciting time for MGM Resorts and for all of us who love Las Vegas.