First Look: Tom's Urban Las Vegas Opens at New York-New York
Officially, Tom's Urban Las Vegas, a new restaurant and bar offering at New York-New York, opens Dec. 30, 2014 at 11:00 a.m., but a soft opening allowed us to get a jump on the crowds to check out this new casual dining option on The Strip, including its delicious signature cocktails and crowd-pleasing menu.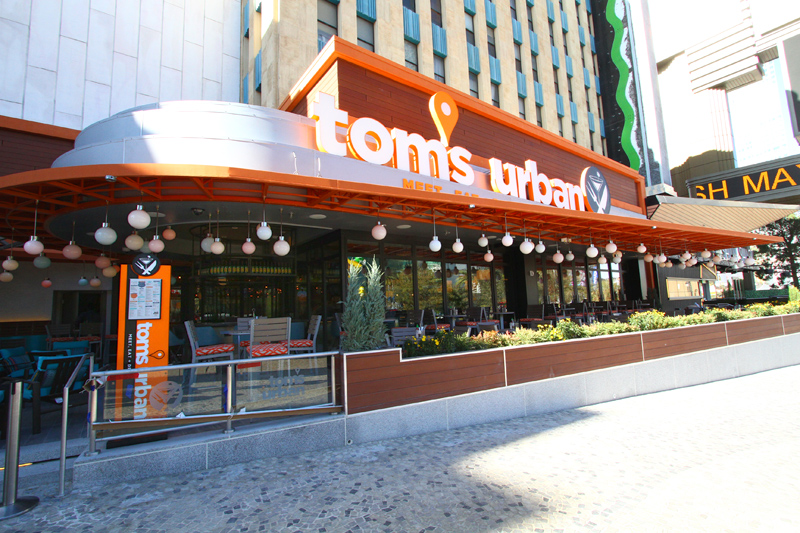 Once you get past the peculiar name (Tom's Urban sounds a little like a sentence fragment), the restaurant is pleasingly designed and a welcome departure from the Sporting House sports bar which formerly occupied the Tom's Urban Las Vegas space.
Here's a panorama we took of the place that's nearly too wide for the Internet.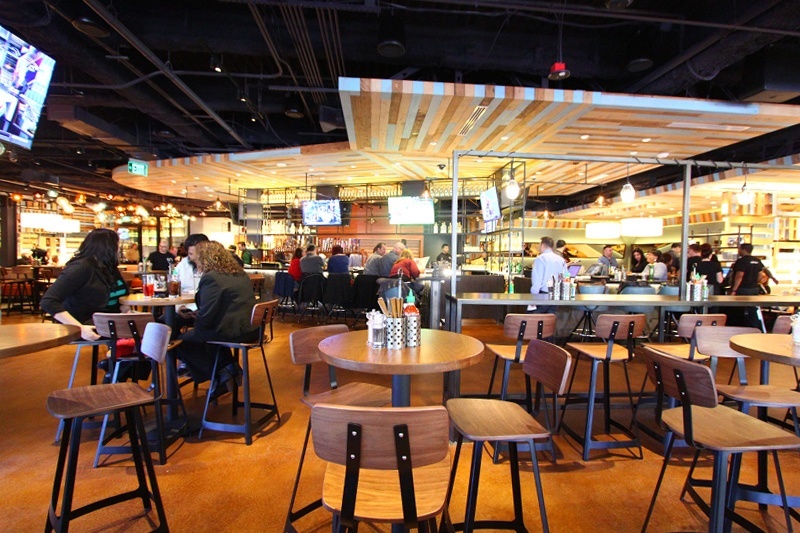 The $5.8 million restaurant had us at "four bars." (There are three inside, one outside. In one restaurant. Because Las Vegas!)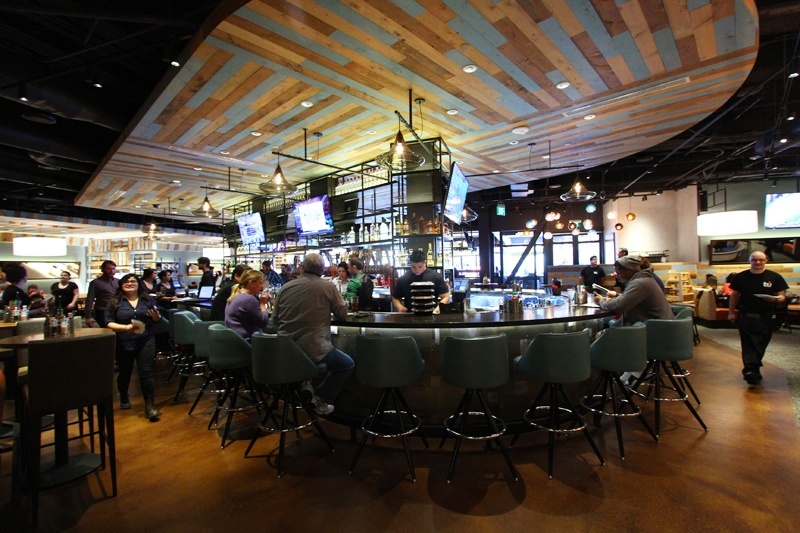 The man behind Tom's Urban, Tom Ryan, is a fascinating dude, to say the least. He's the founder of Smashburger, and created stuffed-crust pizza for Pizza Hut and the McGriddle for McDonald's.
He has an undergraduate degree in food science, a master's degree in lipid toxicology (the study of fat-induced toxins in the diet) and a Ph.D. in flavor and fragrance chemistry. This blog does not use the word "fascinating" lightly.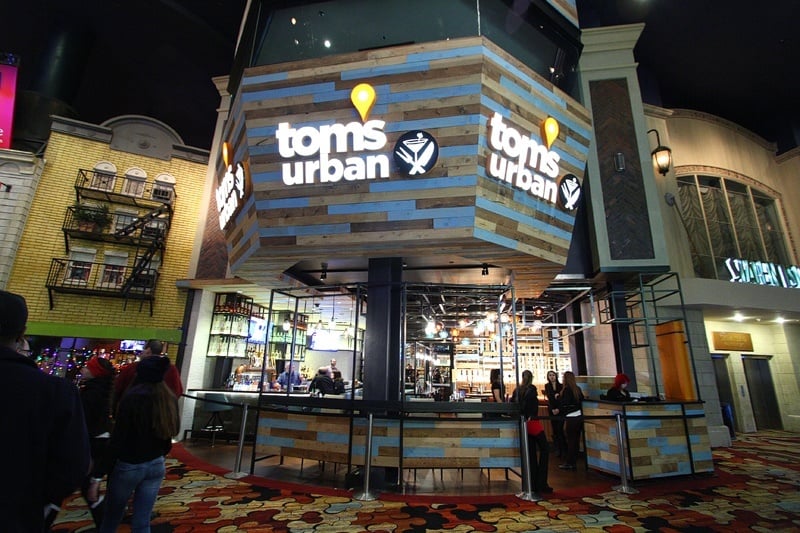 Ryan was named one of the "Top 25 Food Entrepreneurs of the Last Quarter Century" by Gourmet Magazine, and founded the Tom's Urban concept with restaurant financier Rick Schaden in 2012.
Which is all a lot less important to know than Tom's Urban's cocktails are awesome.
The signature cocktails at Tom's Urban come in two sizes, Big ($13) and Tom's Size ($22). The cocktail names are colorful and include Stripside "Horny" Marg, Area 51 Fireball, WTF, Bacon Bourbon Mary, Bog Trotter and the Taze Me, Bro.
Let's try some, shall we?
First up is the Sin City Punch with Cruzan light rum, orange juice, pineapple juice, cream of coconut and acai. We have no idea what an "acai" is, but if it helps drinks taste like our Sin City Punch, we're hoping it runs for President in 2016.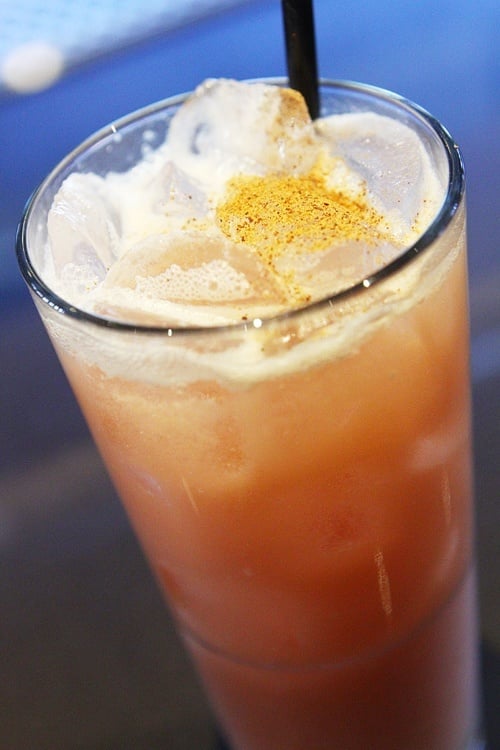 The Walk of Shame has Patron Silver tequila, kiwi, lime juice, pineapple juice and agave syrup.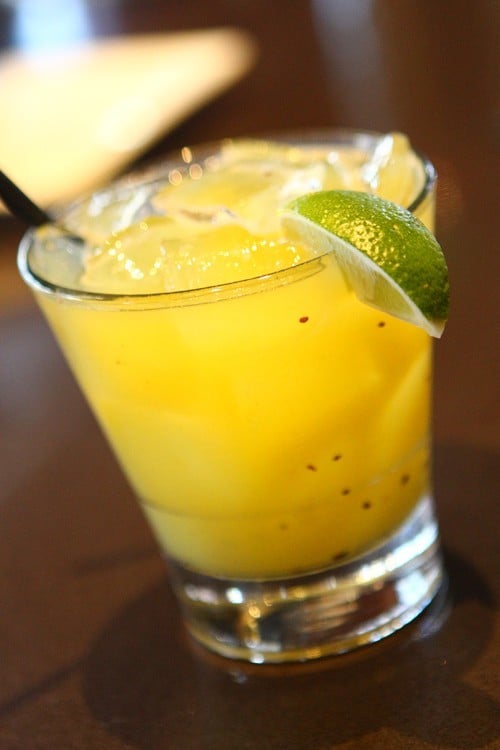 Also great was the Skyy High Roller, with Skyy infused ginger vodka, papaya, lychee, lime juice and simple syrup.

Rounding out our cocktail tour was the Cactus Ass Kick, with Almeca Altos Plata tequila, hibiscus syrup, prickly pear and lemonade.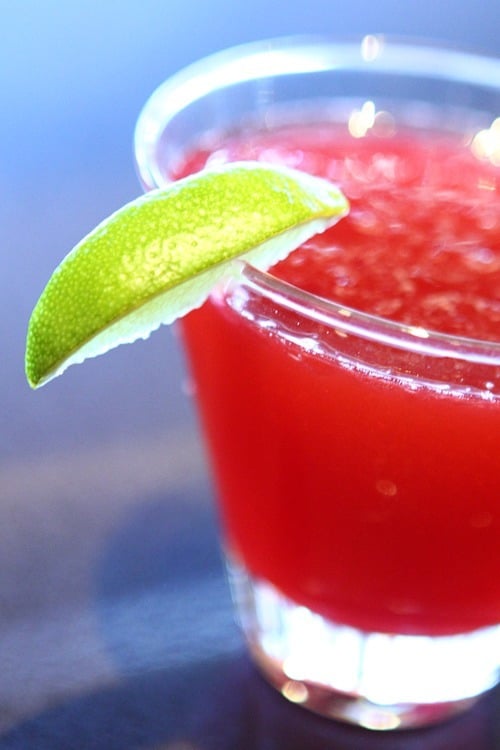 Our only disappointment was that we weren't able to try the restaurant's much-talked-about spiked shakes as they weren't available for the soft opening. As if we needed another reason to return after our Cactus Ass Kick.
The Tom's Urban menu has a little something for everyone. There are burgers, urban street tacos, sandwiches, pizzas, salads and small plates.
Here's a look at the goodness.
We tried a couple of the small plates, starting with the Ginger Chicken Potstickers, with Seoul dipping sauce. They were tasty and a fine value at $8.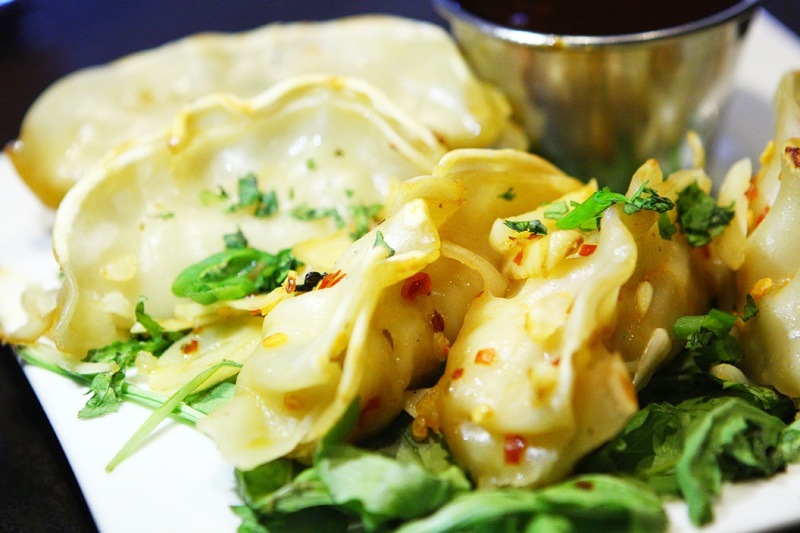 The Buffalo Chicken Sliders ($13) were equally delectable, with crispy chicken breast, Tom's buffalo sauce, blue cheese dressing, sliced celery and a mouth-watering, butter-toasted brioche bun.

As a Las Vegas blog, we were obligated to order the Sin City burger ($16.50) with American cheese, fried egg, crispy onions, applewood-smoked bacon and BBQ sauce.

There are so many more menu items we can't wait to try during our next visit.
Tom Ryan's description of the menu is a keeper: "Tom's was designed to bring comfort food forward in a very modern culinary way. People are looking for comfortable nouns but upscale adjectives."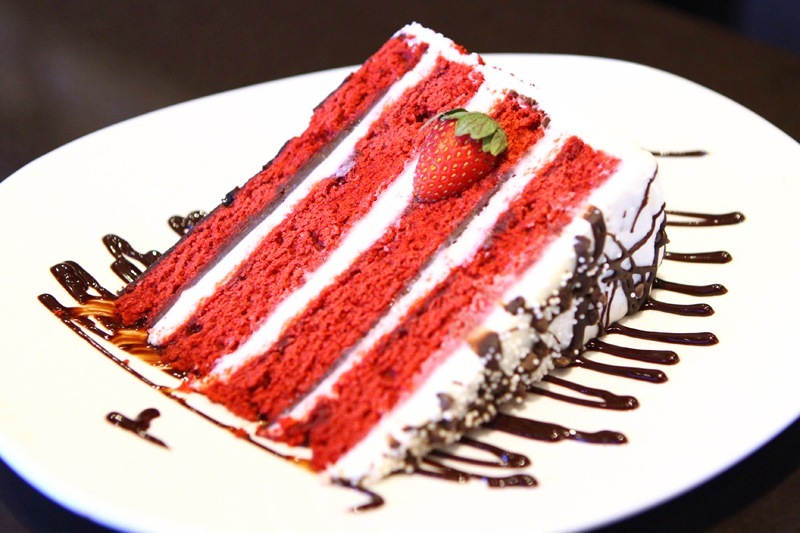 There's also a fairly extensive breakfast menu, with pancakes, benedicts, omelets, breakfast burritos and more.
Beyond the enticing food and drinks, a stand-out aspect of Tom's Urban is the bartenders. Gregarious and knowledgeable, they make you feel at home, and when you leave you'll have made some new friends. Friends with sweet mixology skills. Which are, ultimately, the best kind of friends to have.

Guests can enter Tom's Urban from inside or outside the hotel, and it's right next to the new Shake Shack, another first in Las Vegas.
Both establishment's have a great view of passersby and New York-New York's Brooklyn Bridge replica, and once the weather warms up, the restaurant's patio should do great business.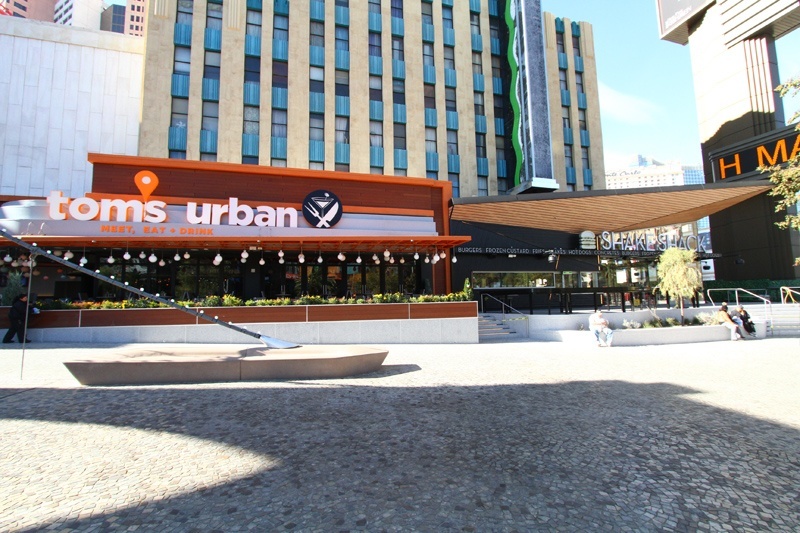 Tom's Urban may be taking a back seat to its neighbor, Shake Shack, when it comes to buzz at the moment, but Tom's Urban is going to win over its own legion of fans in short order.
Enjoy more pics from Tom's Urban Las Vegas, the outstanding new restaurant and bar, sorry, bars, at New York-New York.
Tom's Urban Restaurant Las Vegas