M Life Loyalty Club "Reimagined" As MGM Rewards, Details Unleashed
Gird your loins, MGM Resorts has "reimagined" its popular M Life Rewards player loyalty club.
For starters, M Life gets a rebrand to MGM Rewards on Feb. 1, 2022.
Beyond the name change, MGM Resorts has released details about how updates to the program will affect customers.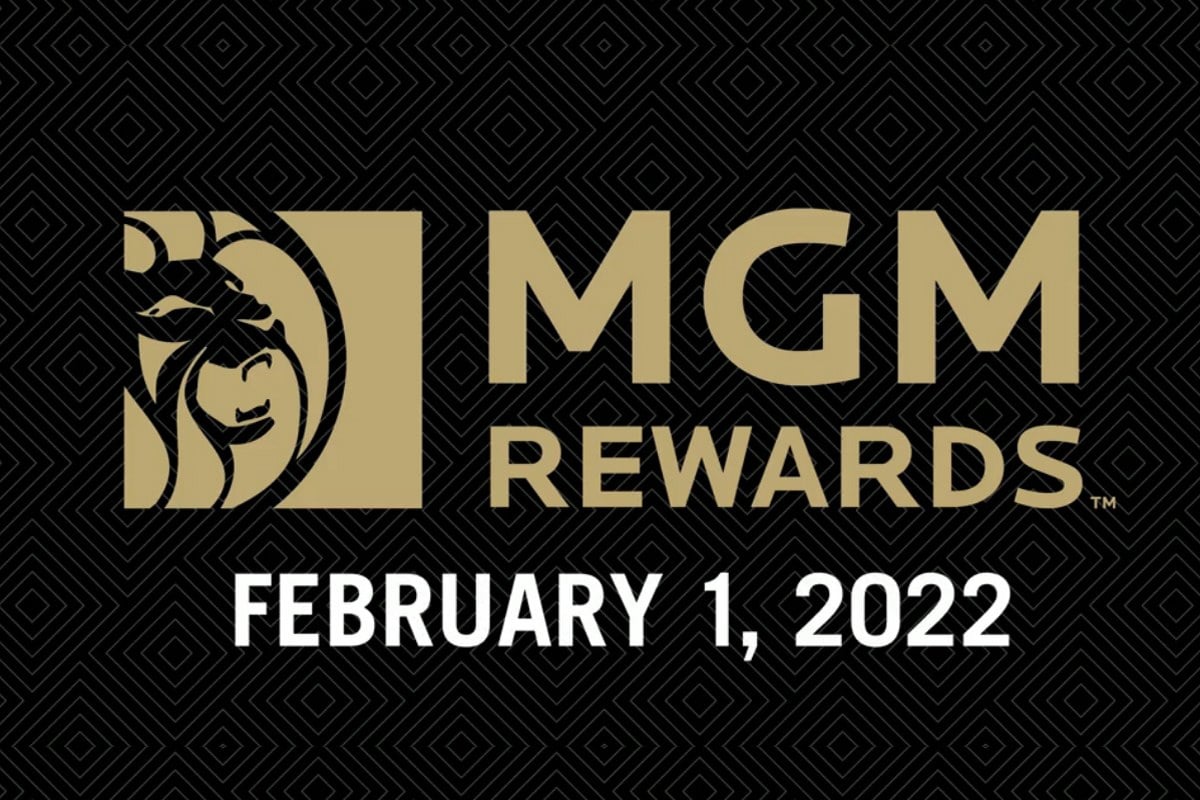 Here's some newness from the MGM Resorts news release about MGM Rewards: "For the first time, non-gaming customers will join their gaming counterparts and have the benefit of earning a currency—MGM Rewards Points—redeemable for complimentary food and beverage, entertainment, hotel stays and more. All members can now earn Points on nearly all expenditures at MGM Resorts destinations, integrating both non-gaming and gaming activity. In addition to MGM Rewards Points, customers playing slots also will earn Slot Dollars."
The program's tiers remain in place: Sapphire, Pearl, Gold, Platinum and Noir.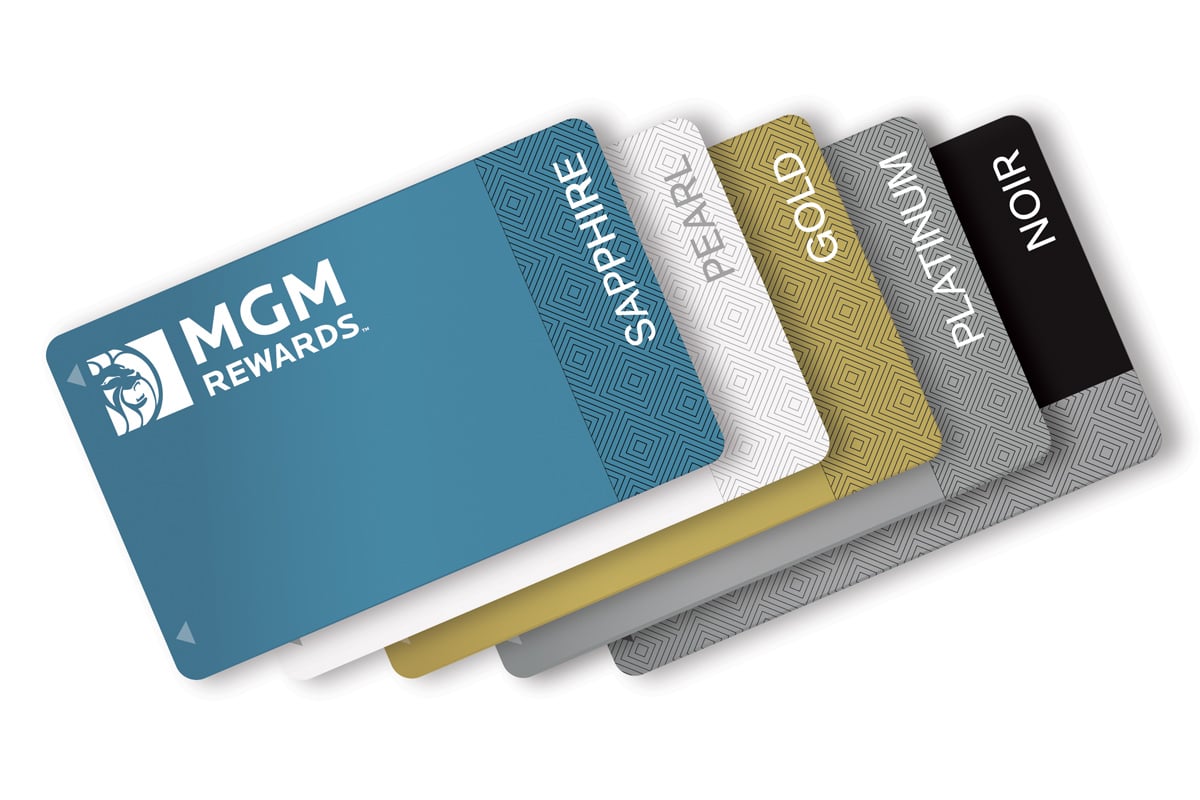 Shockingly absent from the news release was a serious downgrade in how guests earn Tier Credits. Specifically, players previously got 25 Tier Credits per dollar spent (including on non-gambling offerings like rooms, restaurants and spa services). Now, players get four Tier Credits for each dollar spent. That works out to be about an 84% reduction in buying power.
So, while there are additional perks for achieving certain tiers, it's harder to reach those tiers. (A bright spot is the fact Pearl's Tier Credit requirement will be lowered from 25,000 to 20,000 Tier Credits.)
Some of those additional perks include: Waived resort fees (Gold and above), Tier Achievement Travel Credit to Las Vegas (Platinum and above), complimentary tickets to MGM Rewards concerts (Pearl and above), advanced suite upgrades for up to three nights (Platinum and above), access to exclusive tier appreciation events and experiences (Gold and above) and 4:00 p.m. late check-out (Platinum and above).
Waiving of resort fees for Gold tier and above is a sweet perk, despite the fact why in the hell are there still resort fees to begin with, anyway? That's a pretty common pattern: 1. Parking's always been free! 2. We now charge for parking. 3. Parking is free for certain tiers, aren't you lucky?
Here's a handy list of the tier benefits from MGM Rewards.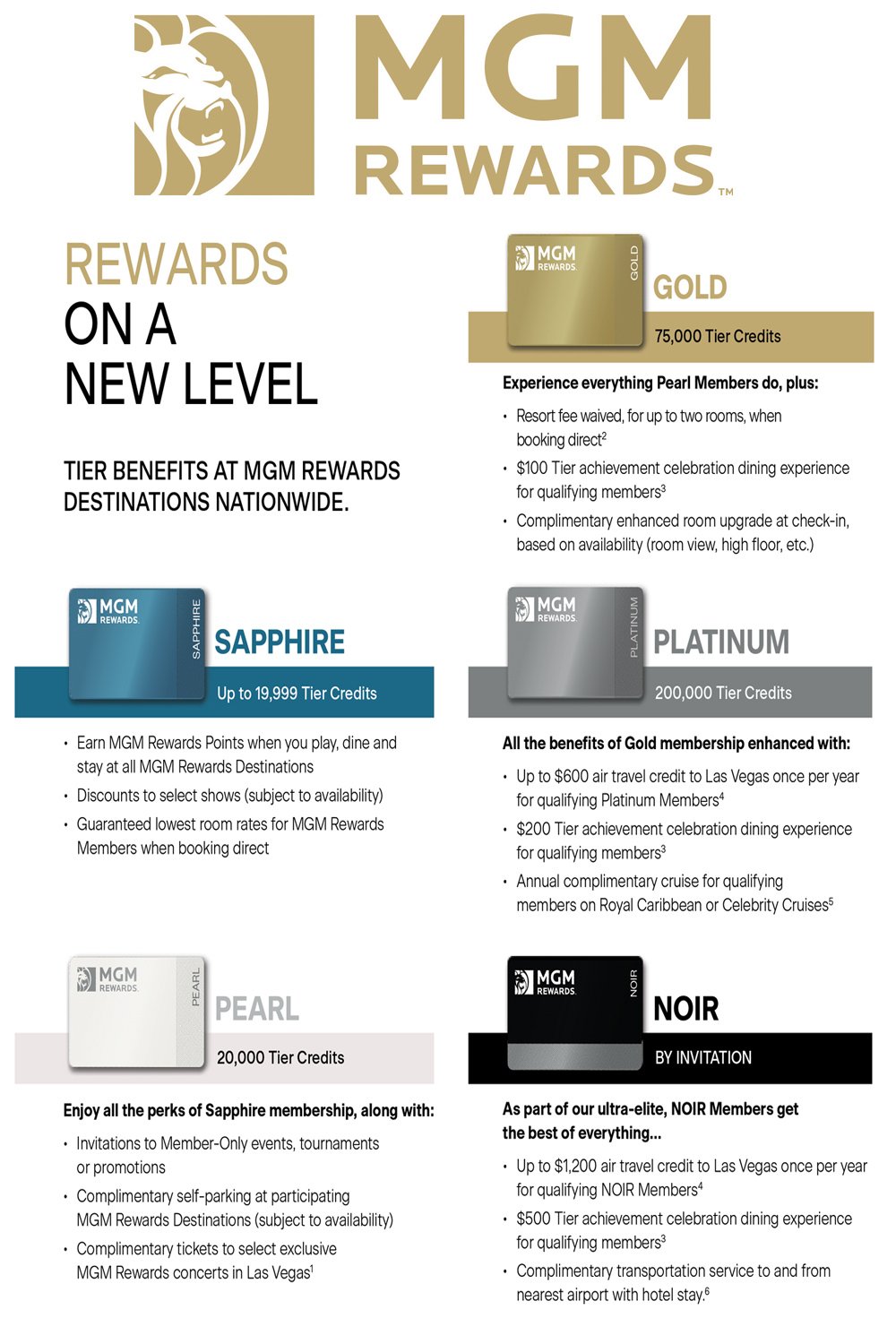 The news release had a big-ass list of bulleted items which we'll just share here because it's much easier than thinking of something original to write.
Additional program highlights include:

All members can now earn MGM Rewards Points when they play, stay or dine at all domestic MGM Resorts destinations on directly booked rooms and food and beverage, as well as slots and now, table games. In addition to earning MGM Reward Points, slots players can now earn Slot Dollars (formerly referred to as PointPlay) for their play.

Non-gaming and gaming members alike will now be able to redeem MGM Rewards Points for a multitude of experiences from hotel stays and food &
beverage to entertainment, award-winning spas and more.

New Tier Advancement Celebration Dinners and access to exclusive tier appreciation events recognize members who reach Gold or above tiers based on 2022 gaming and non-gaming spend.

Extended earning window: To celebrate MGM Rewards' launch, Tier Credits earned by members from January 1 to January 31 will count toward both 2022 and 2023 Tier Status earning.

Tier Credit multiplier promotion: As a welcome to MGM Rewards, all members are invited to take advantage of a limited-time 2x multiplier on Tier Credits earned at the company's Las Vegas resorts February 1 to April 30, 2022 (at the applicable earning rates). Tier Credits may be earned on all gaming play as well as spend on hotel accommodations, dining and spa services.

Tier Credits required to achieve each Tier Status remain the same for all tiers with the exception of Pearl which will be lowered from 25,000 to 20,000 Tier Credits required.

The enhanced MGM Rewards app simplifies the digital experience, allows members to easily review their tier status and benefits, and visualize how they can advance to the next tier. Play and spend are recognized as a single account, making it easy to stay, play and dine wherever and whenever members prefer.

Smart integration between MGM Rewards and BetMGM, the company's leading sports betting and iGaming offering, unlocks even more rewards for MGM Rewards members. Play with BetMGM earns members digital rewards for more BetMGM online play, Tier Credits towards advancing to new MGM Rewards tiers, and access to tailored offers and real-world experiences across MGM Resorts and BetMGM.

MGM Rewards has partnered with leading brands to bring members even more rewards by land, air and sea. From perks with brands including Hyatt Hotels, Southwest Airlines and Avis Rental Cars to complimentary cruises with Royal Caribbean and Celebrity Cruise Lines, with more on the horizon, MGM Rewards ensures members can enjoy world-class travel experiences even when they're not at MGM Resorts properties. Additional partnerships with premier brands will be unveiled in the coming months.
A lot of these changes will be familiar to members of Caesars Rewards, the loyalty club of Caesars Entertainment.
Caesars went through a similar rebranding and overhaul exercise in early 2019. Total Rewards became Caesars Rewards, the whole nine.
The bottom line is MGM Resorts is rejiggering its loyalty club to provide more value for its most valued customers.
Find out more about the upcoming changes to M Life, now MGM Rewards.
Want to explore more stories? Read about US gambling here:
You can also learn about online gambling in Canada here: