Las Vegas Sands Corp. and CEO Sheldon Adelson Victims of Massive Cyber Attack
Las Vegas Sands Corp. and its CEO Sheldon Adelson have fallen victim to a wide-reaching cyber attack, resulting in the Web sites for the Venetian and Palazzo, as well as the hotels' Twitter accounts and Facebook pages, being taken offline.
The Las Vegas Sands Corp. corporate Web site, Sands.com, was also taken down as a result of the attack.
Prior to the sites going dark, this screen capture was grabbed by The Allentown Morning Call, a Pennsylvania publication.

As illustrated in the image above, the hack of the Las Vegas Sands Corp. Web site allowed any site visitor to view names, social security numbers, job titles and e-mail addresses of Sands employees.
It's unclear if the Venetian and Palazzo Twitter accounts were also hacked. The company may have taken them offline as a preventative measure. The Facebook pages for Venetian and Palazzo are also inaccessible.
It's been suggested the attack is politically motivated. Before the Sands site was taken down, it featured the message, "Damn A, don't let your tongue cut your throat. Encouraging the use of weapons of mass destruction, under any conditions, is a crime." A group calling itself "Anti WMD Team" appears to be behind the cyber attack.
Sheldon Adelson is a vocal supporter of Israel, and recently proposed a nuclear strike in the Iranian desert.
Las Vegas Sands Corp. has declined comment about the cyber attack, but it appears all the sites for casinos owned by the company, including those in Macau, China were also attacked and taken down.
Update: At about 5:00 p.m. (PST), all the Sands casino Web sites, including Venetian and Palazzo, began showing a "Web site undergoing maintenance" message.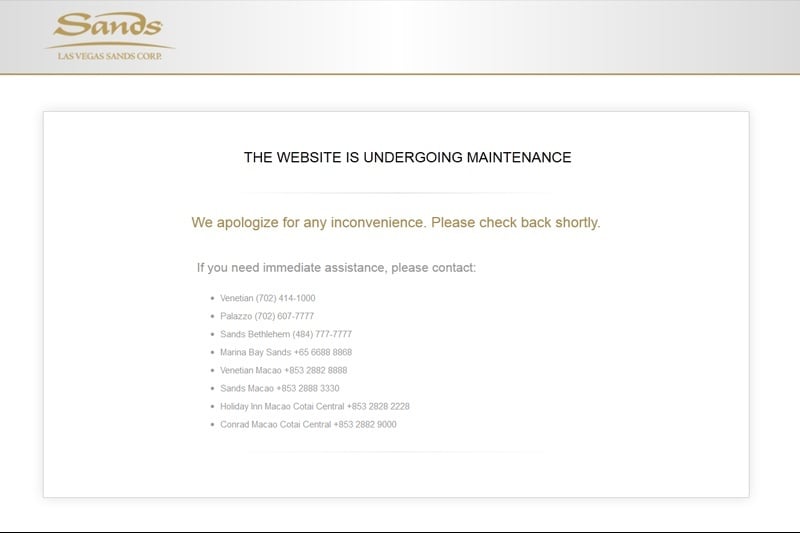 Facebook pages and Twitter accounts remain offline the last time we checked.
For those concerned, at the moment, there's no reason to believe customer records have been compromised. Read more.
Update: The hacked Web sites were restored on Feb. 18, 2013. The full impact of the cyber attack is still being assessed.