Kitschy Statue of Buck, Winnie and Chip Retired at Harrah's
A cheesy, yet beloved, longtime fixture at Harrah's Las Vegas has been retired.
The statue, featuring lucky gamblers named Buck and Winnie Greenback—along with their dog, Chip—has been the subject of hundreds of thousands of photos during its 25 years at Harrah's.
If you don't recognize these folks, you may not be Vegas enough.

The Buck and Winnie statue was made for Harrah's in 1998.
The statue was the work of interior designer Henry Conversano and artist Mario Chiodo.
Lore is Harrah's (what is now Caesars Entertainment) founder Bill Harrah conceived the statue, based upon gamblers he'd encountered.
We first got wind that Buck and Winnie's days were numbered back in Jan. 2022.
Word is Harrah's is getting rid of cheesy but beloved Buck and Winnie statue. pic.twitter.com/XgDakMu4Sn

— Vital Vegas (@VitalVegas) January 30, 2022
Some rumors, you'd prefer not to have confirmed.
Here's the spot where the Greenbacks used to welcome guests to Harrah's.

Big thanks to @ealeathers on Twitter for the pic.
Yes, the statue was tacky, but it was also old-timey and charming and sort of on-brand for Harrah's. At least the Harrah's that used to be. Now, Harrah's is evolving into a more conventioneer-friendly resort due to its proximity to the Caesars Forum conference center out back.
The Mardi Gras theme at Harrah's has been, as they say, de-emphasized.
As you can imagine, the statue had seen better days, and had suffered injuries during its time on display, presumably thanks to overzealous (translation: drunk) guests.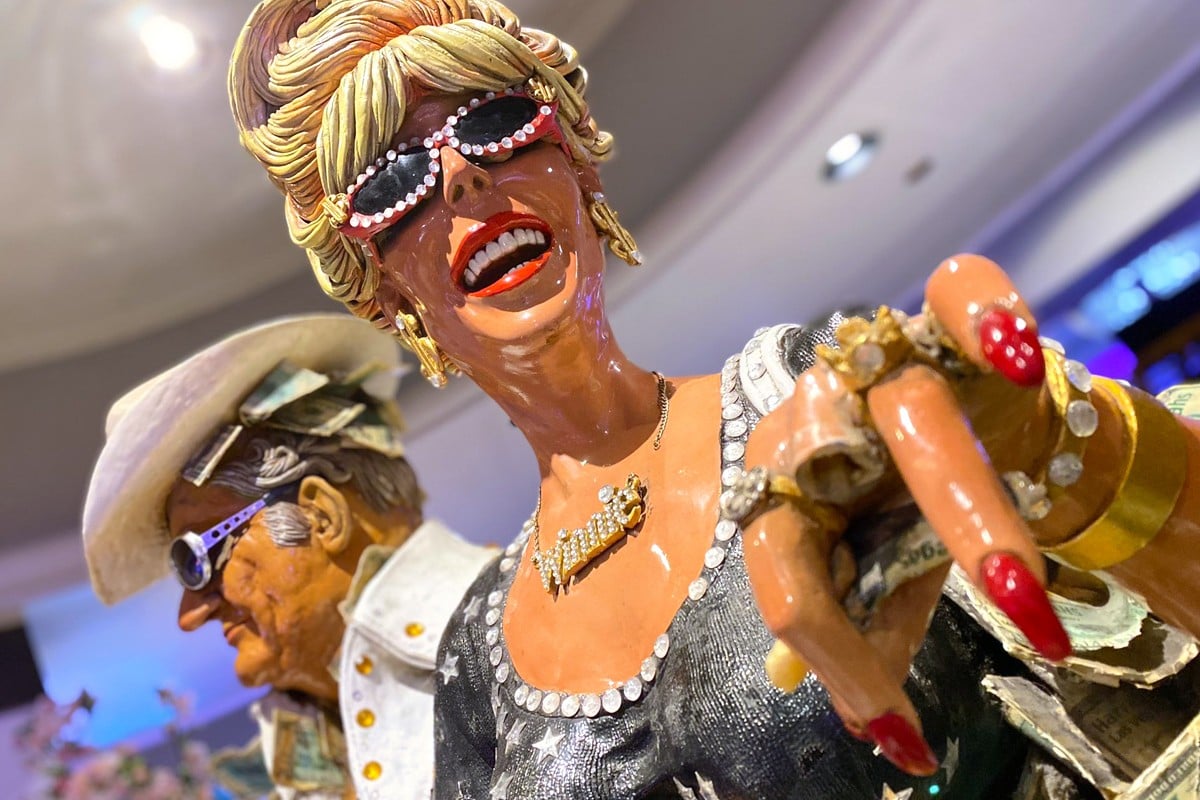 Beyond the damage, there was just wear-and-tear, as the statue remained "interactive" until the bitter end, with guests touching Buck and Winnie's money for good luck.

It's not inconceivable the statue could pop up in another location, but we've been informed it's "unlikely to return." Which means never, sorry.
The Greenbacks put in their time, and they deserve a permanent vacation from their permanent vacation.
Here's another look at Buck, Winnie and Chip for posterity.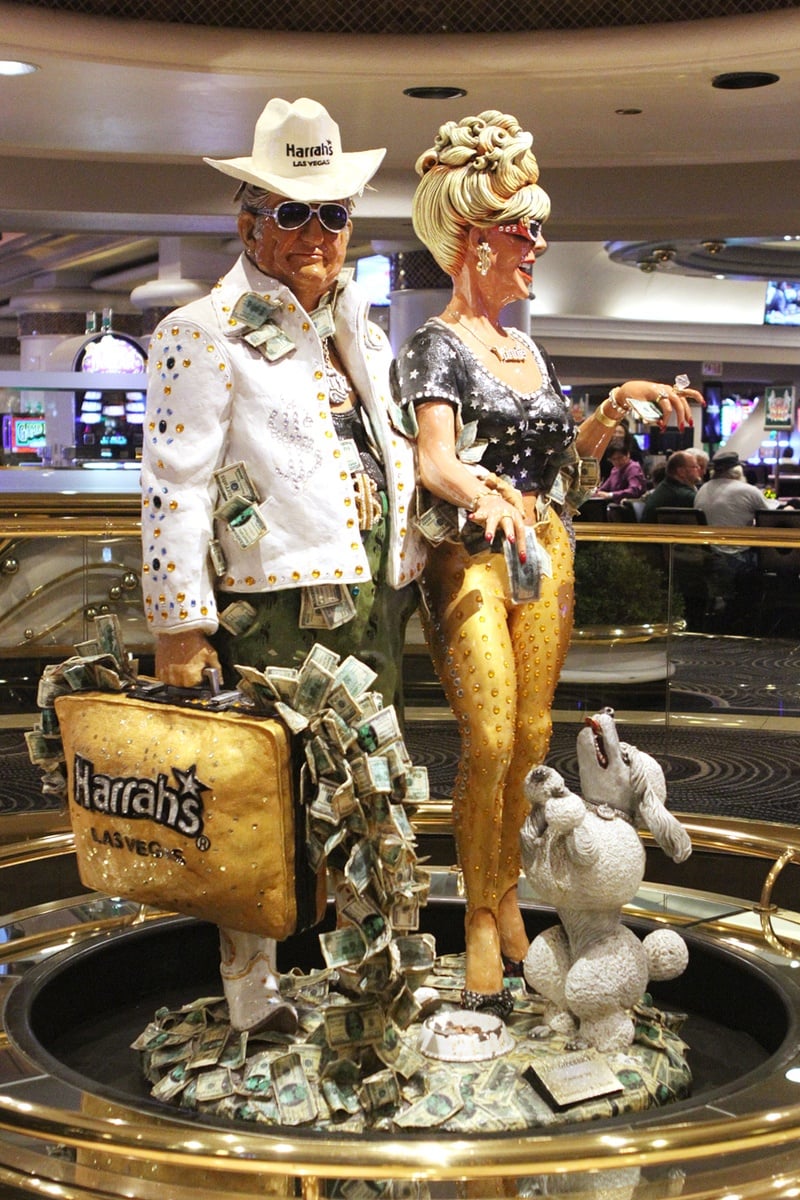 If you got a selfie with Buck and Winnie and Chip, cherish the memory.
Las Vegas is constantly moving forward, and change is just part of the deal. There's more than enough cheese in Sin City, but it's still bittersweet to see this remnant of a bygone era slip away so unceremoniously.
Buck and Winnie were symbols of the Las Vegas dream. The one where anyone can win big. And have Elvis sunglasses and necklaces with their names on them. And a poodle. If there isn't a border collie or Australian shepherd available. Yes, that Vegas dream.
It's possible that's just us, but play along.
Want to explore more stories? Read about US gambling here:
You can also learn about online gambling in Canada here: