Hidden Gem: Kayak and Paddle Board at Lake Las Vegas
The Las Vegas Strip isn't for everyone. Even people who love it feel the urge to take a break from it occasionally. We happen to know of a perfect off-Strip getaway: Reflection Bay at Lake Las Vegas.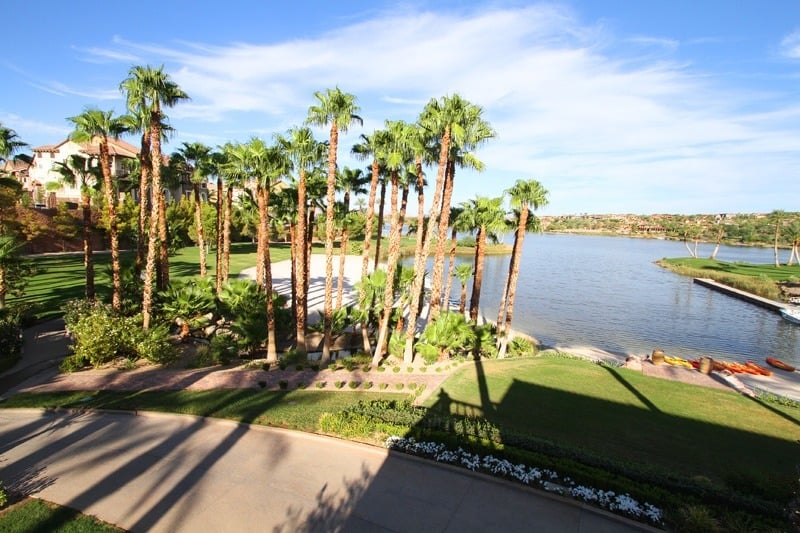 Lake Las Vegas is an intriguing part of Las Vegas. It's an artificial lake about 20 minutes from The Strip, with resorts, golf courses and upscale residences. Oh, and a casino. But that's for another time.
Our hidden Las Vegas gem is a little-known white sand beach at the Reflection Bay Golf Club.
There are a few reasons to love this particular diversion. Primary among those reasons, though, is virtually nobody is there.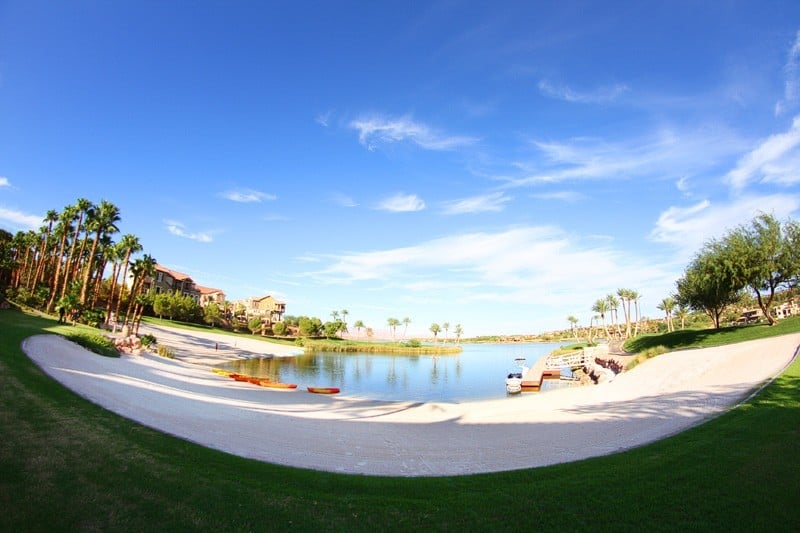 Lake Las Vegas has had its ups and downs over the last few years, and it was especially hard hit during the financial downturn. Golf courses turned brown and hotels shuttered. Happily, the golf courses are green again and businesses are doing much better, but Lake Las Vegas has never been overrun with visitors, so that means much of what you'll do at Reflection Bay can be done in relative solitude. So, sort of the opposite of the Las Vegas Strip.
Reflection Bay is on the opposite side of Lake Las Vegas as its charming MonteLago Village Resort. So, it's a step removed from what is already a laid-back place to dine, drink and relax.
The Reflection Bay Golf Club is a bright, welcoming building with plenty of free parking.

Inside, you'll find the usual golf stuff (like a pro shop), but also a cafe. The food is awesome, reasonably priced and because nobody's there, the service is quick. The cafe serves up the expected collection of salads, wraps and burgers.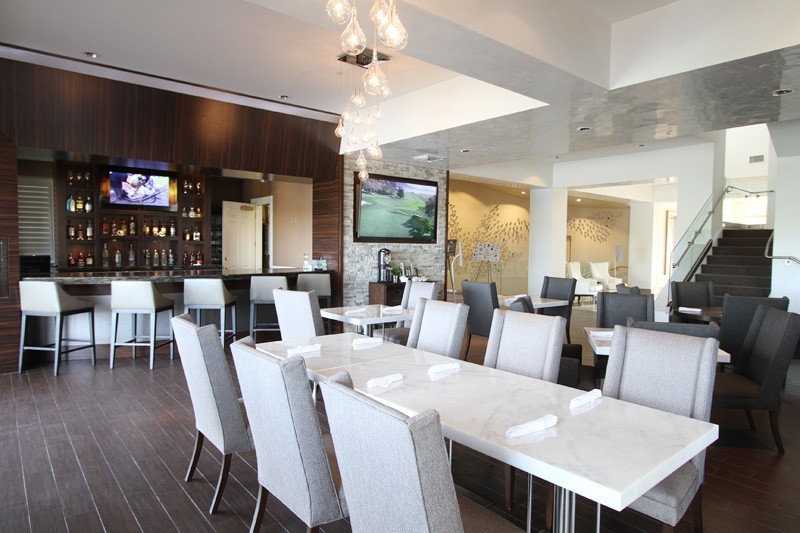 Out back is an adorable man-made bay, complete with 28,000 tons of white sand and lots of palm trees.
The main attraction for non golfers are the kayaks, pedalboats and stand up paddle boards. Equipment and instruction are provided by the friendly folks at Watercraft Rentals at Lake Las Vegas. Get details.

It was refreshing no to have to worry about the availability of paddle boards or kayaks. Just show up and take your pick.
The prices for kayak (singles or doubles) and paddle board rentals were very reasonable, $25 an hour or $40 for two hours.
Find out more on Facebook, and here's more about the Reflection Bay Golf Club.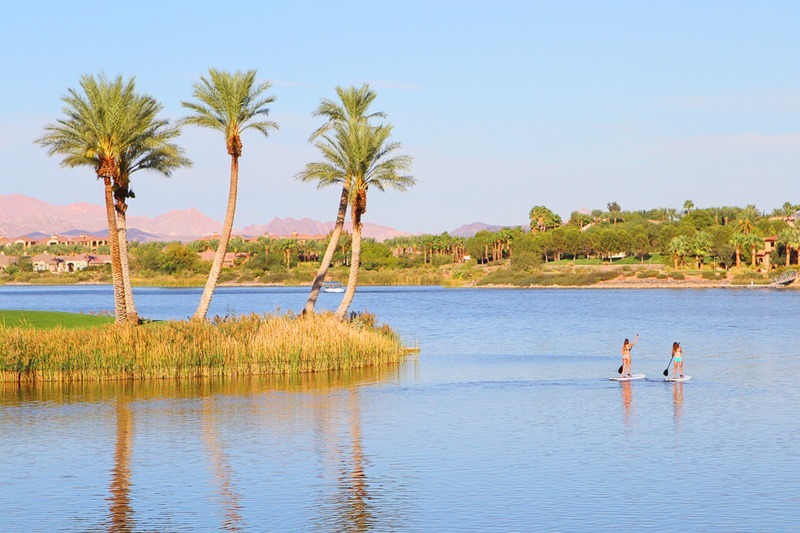 An artificial lake provides lots of benefits for those doing water sports. First, no sharks. Second, there are no rogue waves or rip tides. Third, it's impossible to get lost.
The center of Lake Las Vegas is one of the quietest, most relaxing places in all of Las Vegas.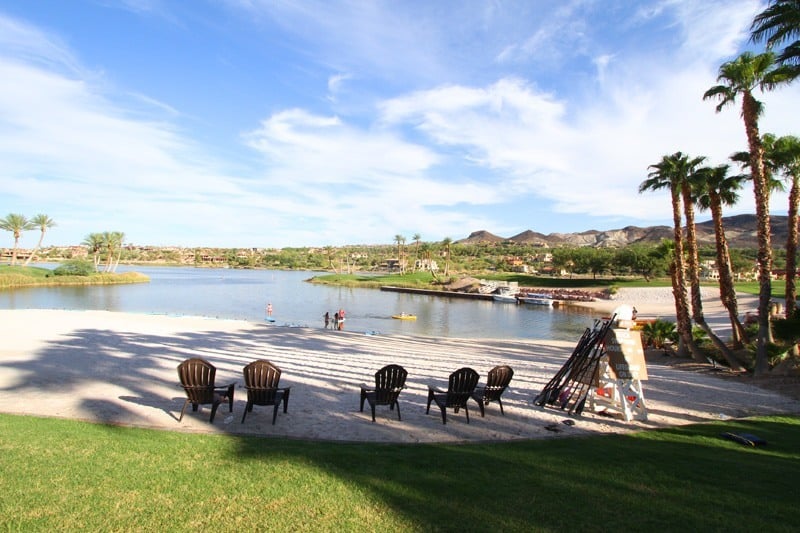 After your paddle boarding adventure, there are snacks and beverages readily available at a beachside snack bar. Bonus: A large selection of liquor served in those little bottles you get on airplanes. Everything's ridiculously cheap, especially in comparison to Strip prices.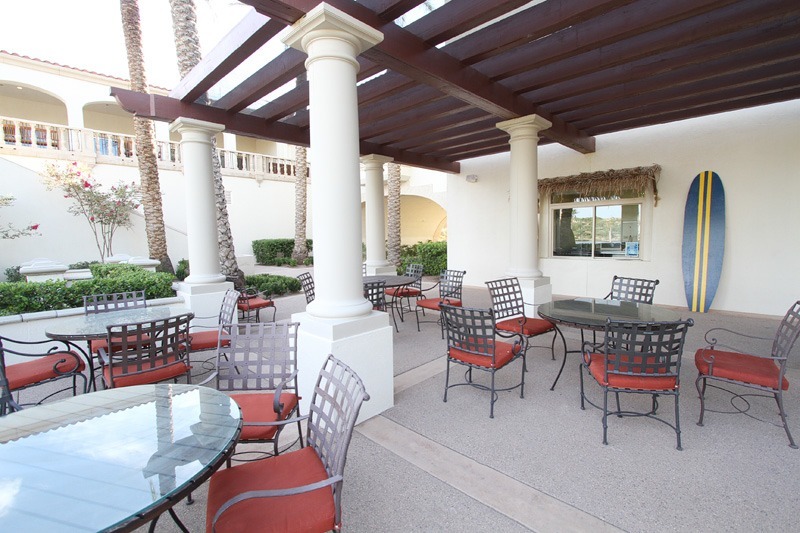 Kayaking and paddle boarding at Reflection Bay is a highly-recommended family-friendly activity if you're looking for fun things to do in Las Vegas that don't involve showgirls, timeshare salespersons or the din of slot machines.
At Reflection Bay, there are no lines, just reasonably-priced sun and fun in a tropical setting.
Here's a little bonus: Check out Reflection Bay, panorama-style.
Don't have a freak-out, the slot machines will be there when you get back to The Strip!