Popular Griddle Cafe at SLS Las Vegas Gets a Rebrand to Northside Cafe, Now Open 24/7
The Griddle Cafe restaurant at SLS Las Vegas has been given a new name, Northside Cafe, has a new menu and will henceforth be managed in-house. Mainly because we think the word "henceforth" makes things sound fancier.

The former Griddle Cafe at SLS was an outpost of the original Griddle Cafe, a staple on the Sunset Strip in Hollywood, California for the last 15 years.
The switch from The Griddle to Northside Cafe involved the restaurant being closed for upwards of eight hours on Jan. 31, 2015.
The interior at Northside Cafe remains essentially unchanged since the rebranding.

The good news related to the Griddle's change to Northside is guests will no longer have to try and figure out the hours of operation. The restaurant will be open 24/7, seven days a week, like a proper casino cafe.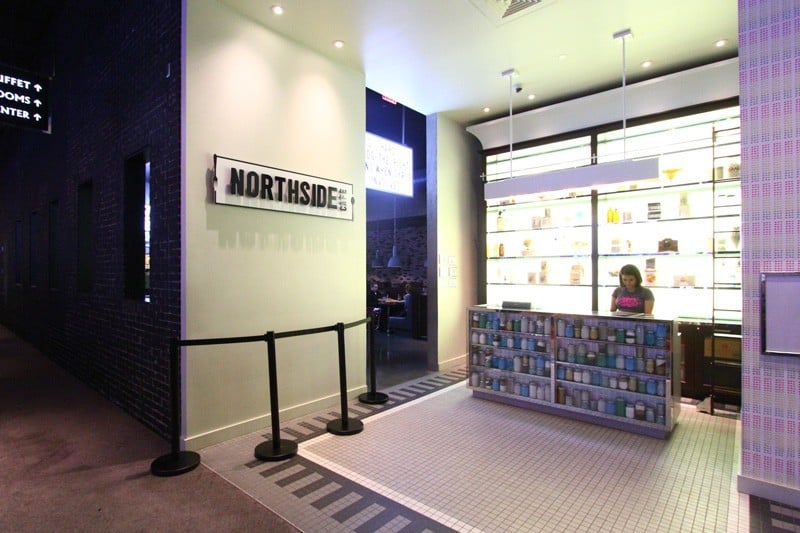 The reasons for the restaurant's new direction sound fuzzy, but the official story is the founder and owner of The Griddle decided to close the location, "unilaterally." It works out pretty well for SLS in the end, as third party partnerships can be challenging, and in-house management means more money for the house.
The Northside Cafe says it will "serve up generous portions of delicious, home-style comfort food made to order." The Griddle was known for its obscenely large portions, so that aspect of the menu appears to still be intact. Also, breakfast items will be available around the clock, and there will also be salads, burgers, sandwiches, tacos, pastas, steak and seafood." All things to all people, as it were.
A manager we talked to said the restaurant will now have four menus, for breakfast, lunch, dinner and late-night. There will be special pricing for Las Vegas locals.
The saddest part of the whole transition from Griddle Cafe to Northside Cafe might be that the future of the scratch and sniff wallpaper at the restaurant's entrance is in question. Fingers crossed that this wasn't a Griddle brand exclusive.

SLS Las Vegas, built on the site of the former Sahara hotel, is still trying to get its footing in a challenging location on the north end of The Strip. The hotel's buffet closed in November of 2014, for example, with no word about when, or whether, it will reopen.
The hotel has a new COO and President, Scott Kreeger, who came from the now-closed Revel resort in Atlantic City. Let's hope he can lead the SLS to being a worthy successor to the Sahara.