Esther's Kitchen Lives Up to the Hype
Whenever a Las Vegas restaurant gets as much hype as Esther's Kitchen has, we brace for disappointment. Thankfully, Esther's Kitchen not only warrants its good buzz, it makes us wonder why it hasn't garnered even more.
Casual diners and serious foodies alike have given Esther's Kitchen glowing reviews, and the place has pretty much been packed since the day it opened (Jan. 3, 2018).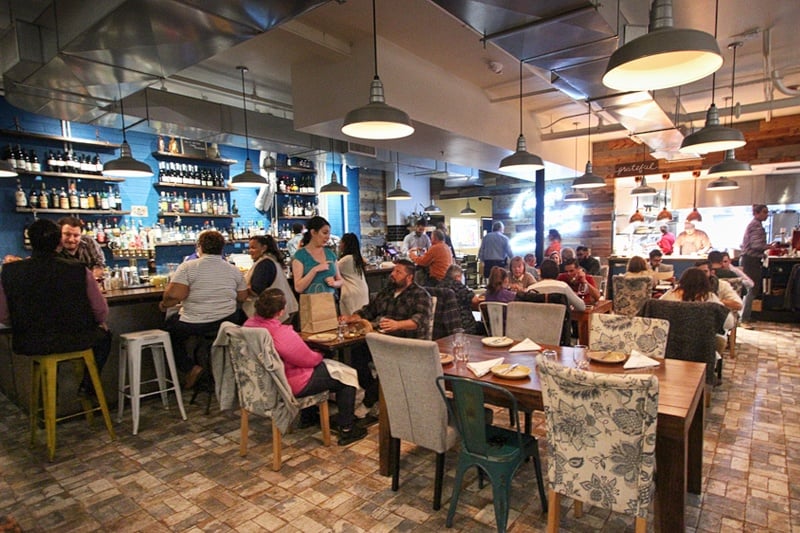 The restaurant's accolades include being named Best Italian Restaurant by Desert Companion in its "Best of the City" issue. The magazine recently named it one of the city's best restaurants of the year.
Desert Companion, published by Nevada Public Radio, is a brilliantly written and insightful magazine, and not just because we love being a frequent guest on KNPR. Probably.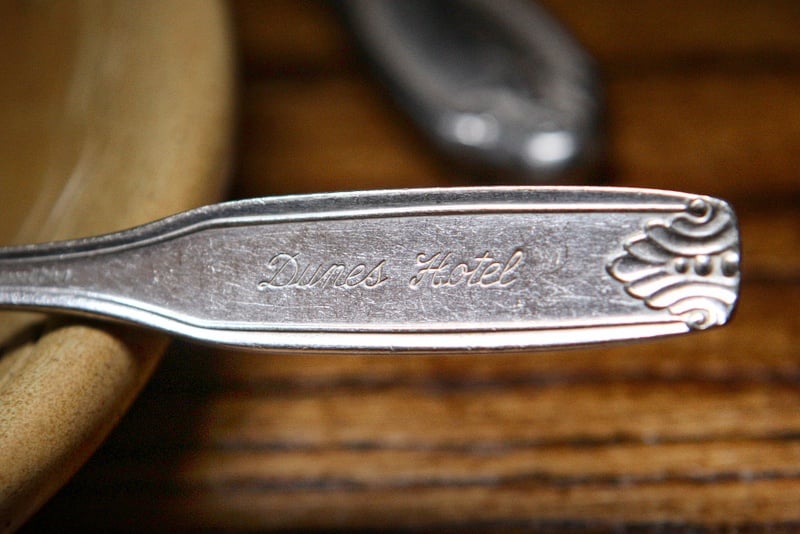 Every dish we tried at Esther's Kitchen is a revelation, familiar but new, all from a chef who exudes passion for food, drink and community.
James Trees is the chef behind downtown's Esther's Kitchen, a graduate of the Culinary Institute of America in Hyde Park, New York.
Trees earned his stripes as places like the Mirage, and has worked with chefs like Michael Mina and Bradley Ogden.
He even worked with up-and-coming chef Gordon Ramsay, who apparently has a couple of popular TV shows and approximately 26 successful restaurants at Caesars Entertainment resorts in Las Vegas, give or take.
We chatted up James Trees, so check out the interview via the SoundCloud thingy at the bottom of this blog post.
Before we dive into the food and drink, we should get the name of the place out of the way.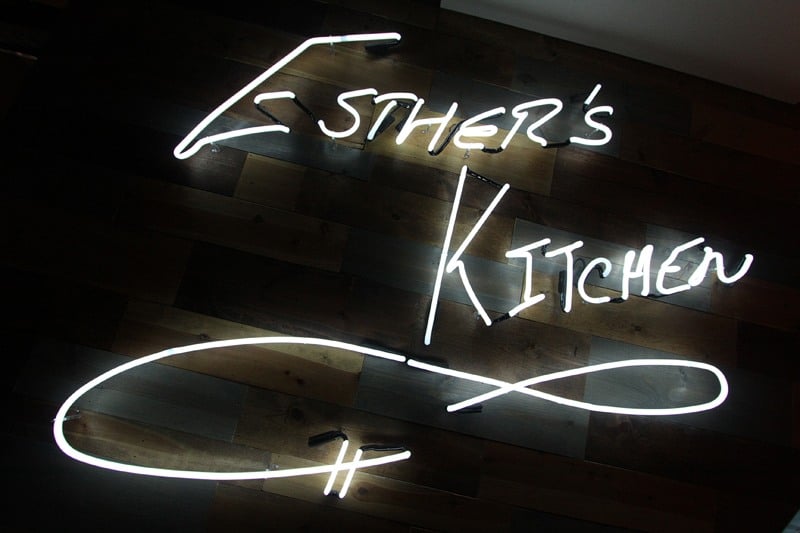 Esther was the chef's great aunt. She not only paid for him to attend the Culinary Institute, when she passed away in 2016, the inheritance helped pay to open his restaurant. The chef's site says Esther's Kitchen is "named in her honor because everyone has someone like Aunt Esther, and whoever that person was, when you walk in the door we want you to feel like you're at their house."
Dry your tears, it's time to eat.
Esther's Kitchen is all about seasonal Italian cooking, with dishes prepared from scratch, in-house.
That includes the bread ($4), the reputation of which preceded our visit by nearly a year. The housemade sourdough bread was lovely. It comes with butter and olive oil, with the option to get anchovy garlic butter or burrata all panna and basil oil for a small additional charge.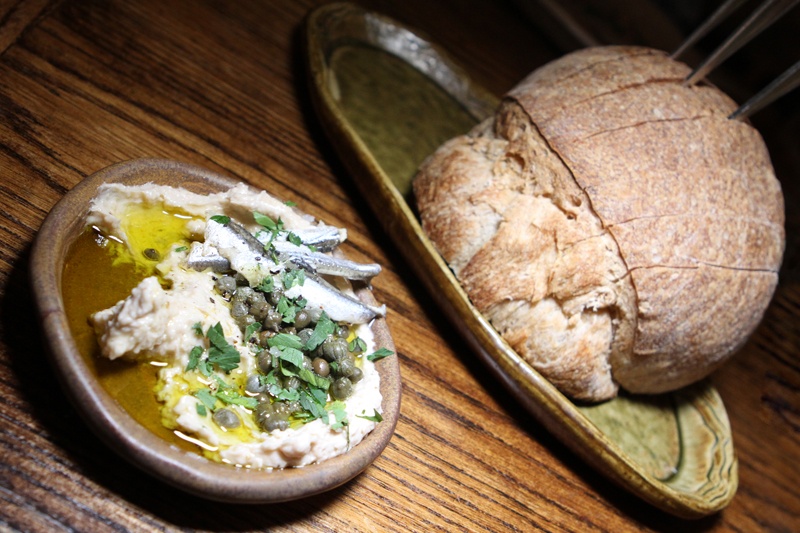 The menu offers fresh pastas, pizzas to order, antipasti and entrees.
The menu also has a "Verduras" section, or "vegetables." Yes, we actually tried the vegetables, despite the fact the last time we did that Ronald Reagan was President.
The salad ($13) had kale, apple and squash, and yet we enjoyed it, anyway.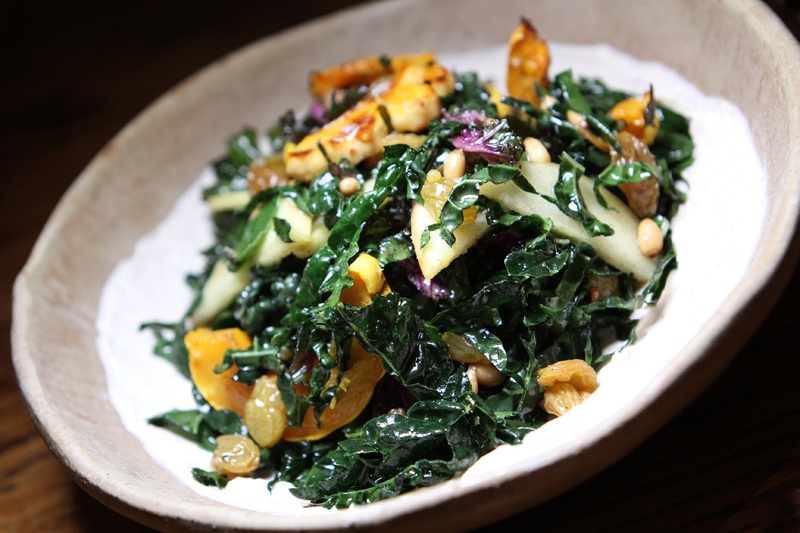 Naturally, the entire time we were eating the kale, we had our eye on the pizza, and man alive, it was great.
The pizza ($15) had sourdough crust topped with tomato, Greek sausage and salumi, fennel, charred peppers and orange.
Before typing that last sentence, we didn't entirely know "salumi" existed, so we thought it might be a misspelling of "salami." We are, come to find out, and idiot.
Salumi are Italian cold cuts mainly made from pork. "Salumi" comes from the Italian word "salume,' meaning "salted meat." We would typically slip in a meat joke here. But we are nothing if not mature.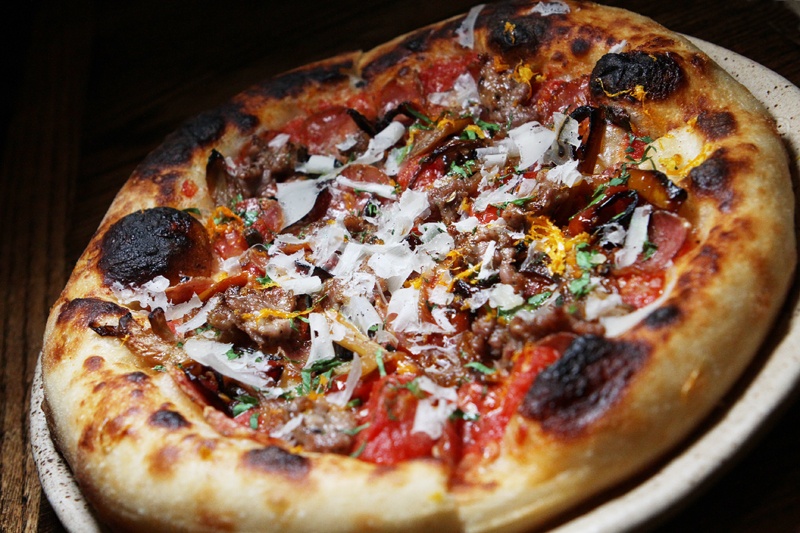 The Margherita ($10) was solid, with fresh mozzarella, basil and Chris Bianco's tomatoes. Chris Bianco is arguably the country's most revered pizzaiolo. Again, the crust was epic.

The pasta was equally memorable. We tried three.
First, it was the rye tagliatelle ($24), with braised duck, mushroom, greens and cracklins (fried pieces of pork fat).
Or, as we like to call it, pasta.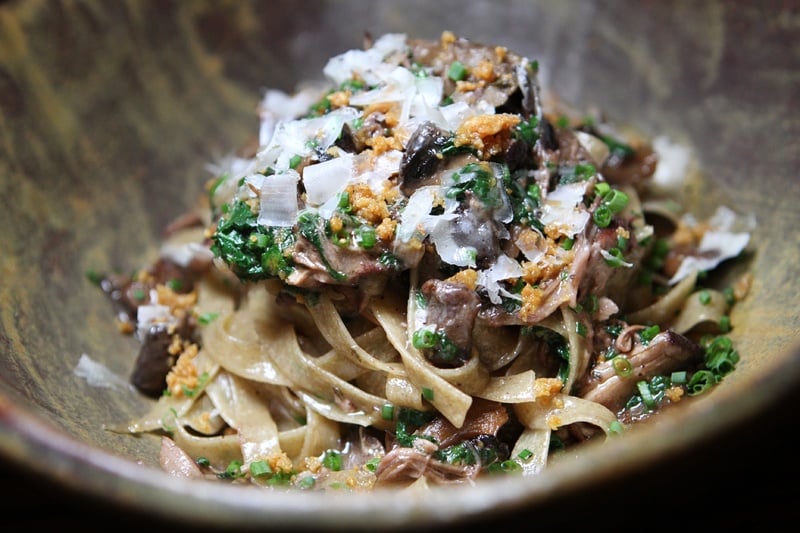 We also cozied up to the rigatoni carbonara ($17), with guanciale, peas, egg yolk and grana padana, whatever that might be. Hey, we are not a food critic.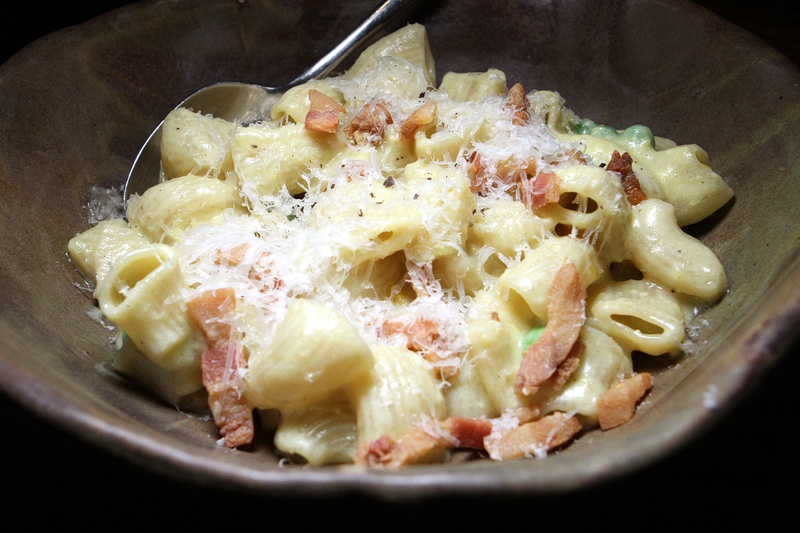 We also had to try the spaghetti ($15), with Sungold tomatoes, pomodoro ("tomato" in Italian), Parmesan ("Parmesan" in Italian) and basil. Add Italian meatballs, called "polpette," for $6.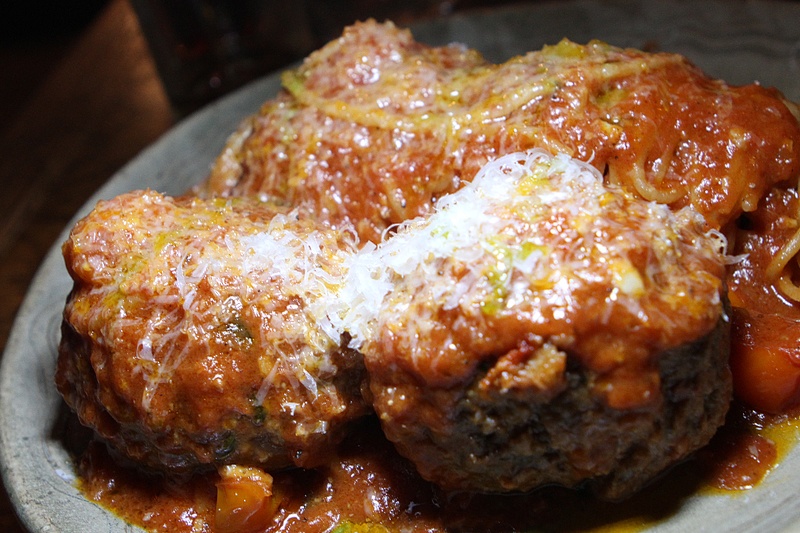 The prices are very reasonable, and some may experience reverse sticker shock, especially if they've dined at comparable restaurants on The Strip.
While it's not on the dinner menu, we got to try this mushroom panini. A sentence we never in a million years thought we would be typing.

Make sure to try these house-made taro and sweet potato chips.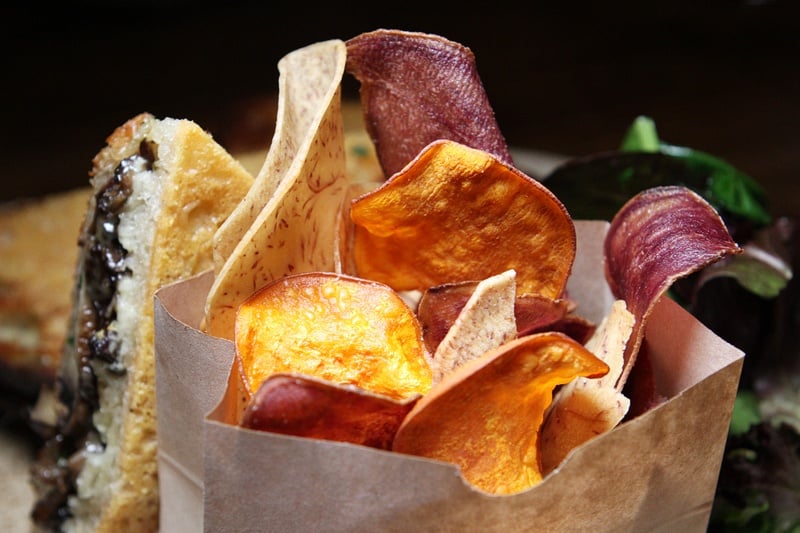 We're fairly sure Esther's Kitchen doesn't have an official dessert menu, but if you ask your server to bring you a caramel budino, you won't be disappointed. "Budino" is Italian for pudding. Man, is there anything this blog doesn't know right off the top of its head without the use of Google, at all, whatsoever?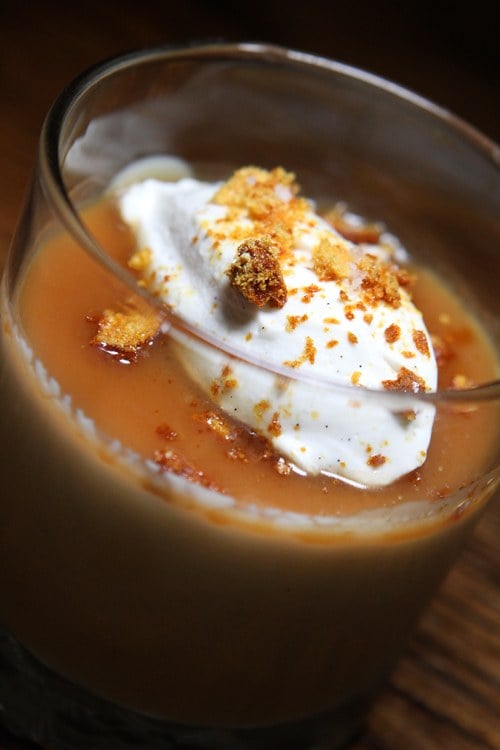 Esther's Kitchen also prides itself on its beverage program. Original and classic cocktails are refreshingly inexpensive ($8), beer is $5 and wines by the glass are around $10 (no bottle costs more than $40).
During happy hour, nothing's more than $5.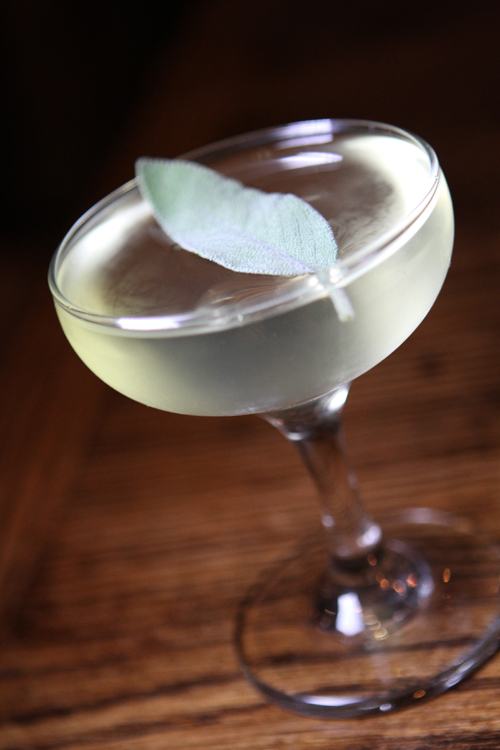 Our only complaint with the place would have to be the lack of Captain Morgan, but all was forgiven when the bartender improvised a rum-based drink that made our eyes roll back into our head. In a good way, in case that wasn't clear.
From the prices to the quality and originality of the food to the top-notch service, Esther's Kitchen simply nails it and by the time you read this, we'll be back at the downtown restaurant stuffing our face with delicious things made from ingredients we can pronounce.
Esther's Kitchen deserves to be in your Las Vegas rotation. Your taste buds and your bank account will send you a thank-you note.
We should note the place can get loud when it's busy, but that's par for the course with many restaurants, in Vegas and beyond. Solution: Visit during non-peak hours, or just suck it up.
Frankly, Esther's Kitchen isn't easy to find, even using the latest in GPS technology. We know everything, but we drove past it at least six times. While there's not a lot of outdoor signage, that's not the issue. It's that the restaurant doesn't seem to be on the same street given as its address.
Here's the official address: 1130 S. Casino Center Blvd., Ste. #110, Las Vegas, NV 89104.
The restaurant is actually on East California Ave., though, halfway between Casino Center and Main Street.
We'd say it's in the Arts District, but nobody really knows what, or where, that is.
Just hold this photo up until you see a building that matches.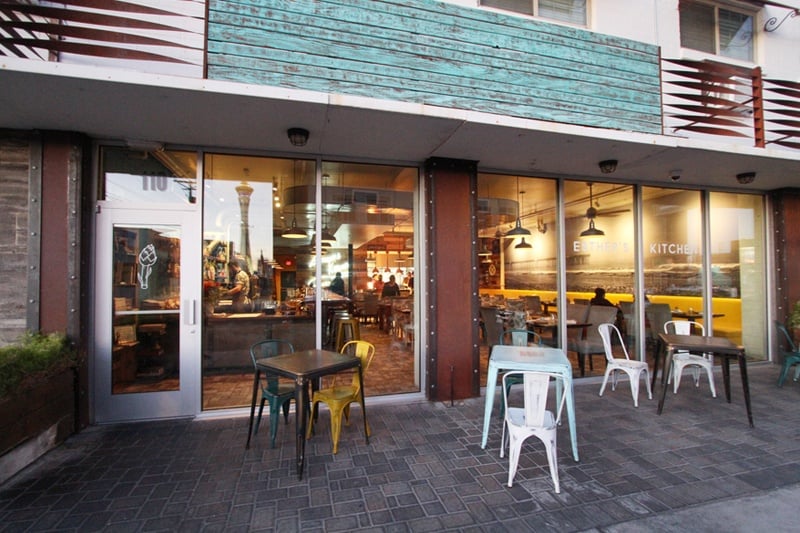 Our newfound hunger for all things James Trees couldn't have come at a better time, as the chef is set to open two new eateries, one at Stratosphere and another at Tivoli Village, about 15 minutes west of The Strip.
The chef's new place in the Strat will be in its observation tower, 108 Eats. More to come on that one, and we can't wait to give it a taste.
In the meantime, get to Esther's Kitchen, and we can't thank them enough for inviting us to sample the menu. Vegas has some stellar Italian, and Esther's Kitchen ranks among the very best.
All the good things we'd heard about Esther's Kitchen were confirmed during our first visit, and it's a sure thing it won't be our last.
It's worth noting the restaurant's chicken parm is only available on the lunch menu, so our take on that much-talked-about dish is pending.
Learn more about Esther's Kitchen, check out the menus here and take a listen to chef James Trees through the miracle of the Internet.