El Cortez Reveals Remodeled Rooms and They're Certainly Distinctive
We're going to say this up front: We love El Cortez.
This downtown casino-hotel is an absolute gem.
We love it, love it, love it.
The gambling is great, the value is strong and the friendly staff doesn't even get all that upset if you jump on a craps table and steal stacks of chips. (Also, please do not do this.)
Due to our deep and abiding love of El Cortez, we have decided not to express our opinions about their room renovations. We're just going to share some photos.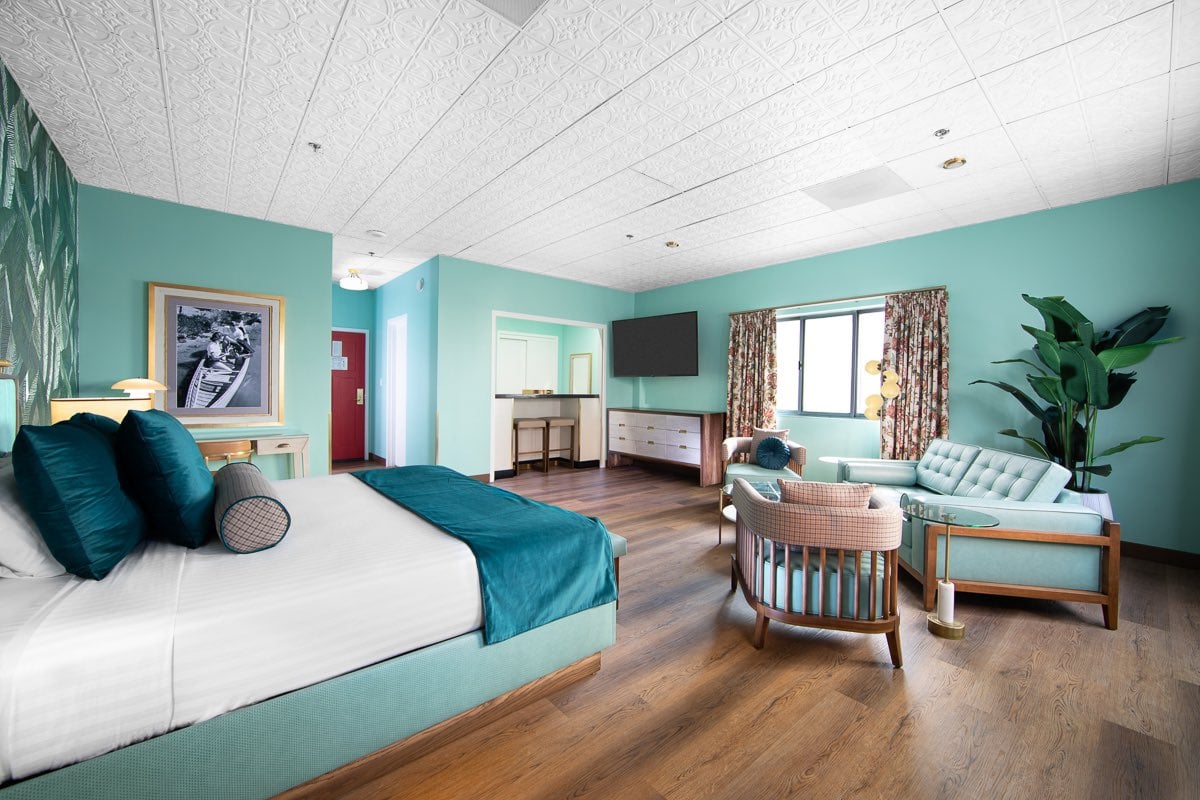 Wow, it's truly freeing to not feel like we have to express an opinion about everything.
Some things just are, they exist, outside our judgments and opinions.
In the words of Shakespeare, "There is nothing either good or bad or cringeworthy, but thinking makes it so." We're pretty sure that's what he said in "Hamlet." We haven't read Shakespeare since college, and that was just to impress a girl.
The point is, reality is subjective. The same goes for room renovations.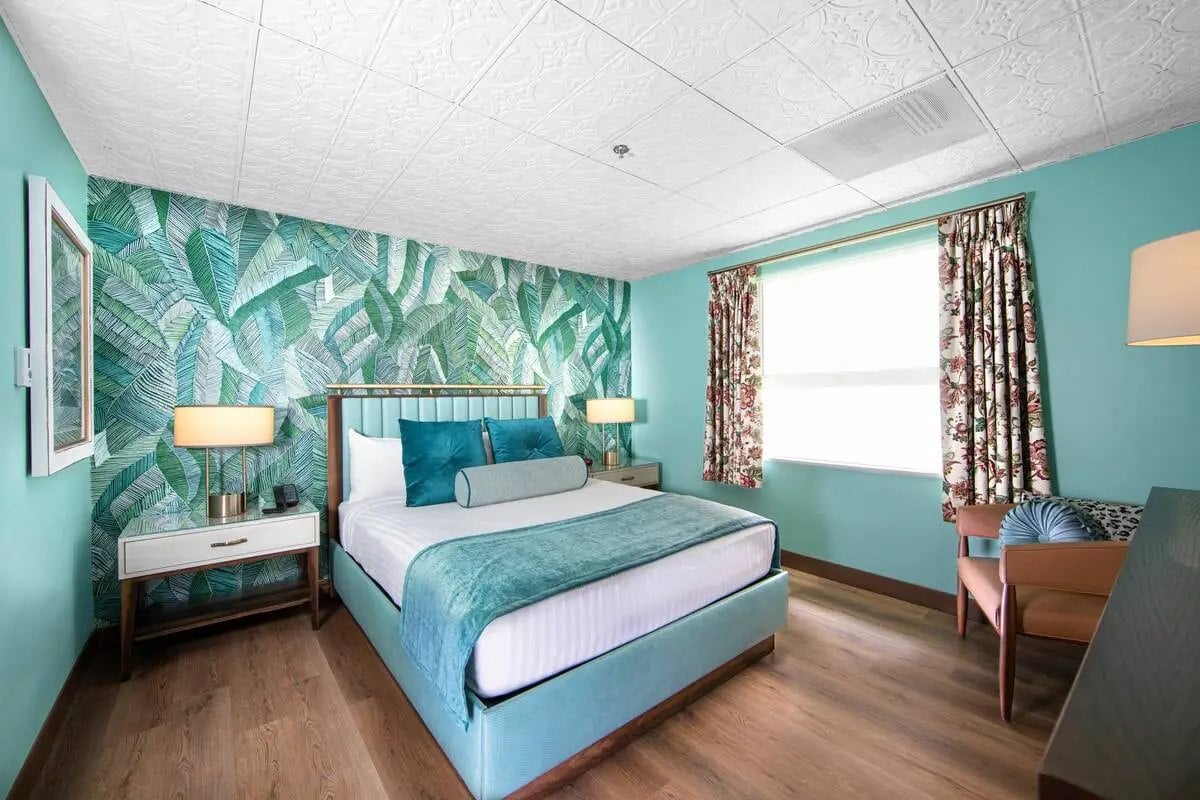 The room renovations at El Cortez cost $3 million. The renovation of these rooms is the final phase of a $28 million renovation kicked off in 2020.
As is our way, we were the first to give the world a sneak peek of the room renovations.
Sneak peek at the room renovations at El Cortez. Look at all the opinions we aren't sharing because these are clearly a work in progress. pic.twitter.com/h60GNQPiPl

— Vital Vegas (@VitalVegas) August 10, 2022
ElCo, as the kids call is, renovated 47 rooms, dubbed the "Original 47," because these rooms have been around forever. The rooms in question are so old-timey, they can only be accessed by a wooden staircase.
El Cortez opened in 1941.
El Cortez is the only casino listed on the National Register of Historic Places. And, trust us, being in the National Register of Historic Places can get you laid. Guaranteed.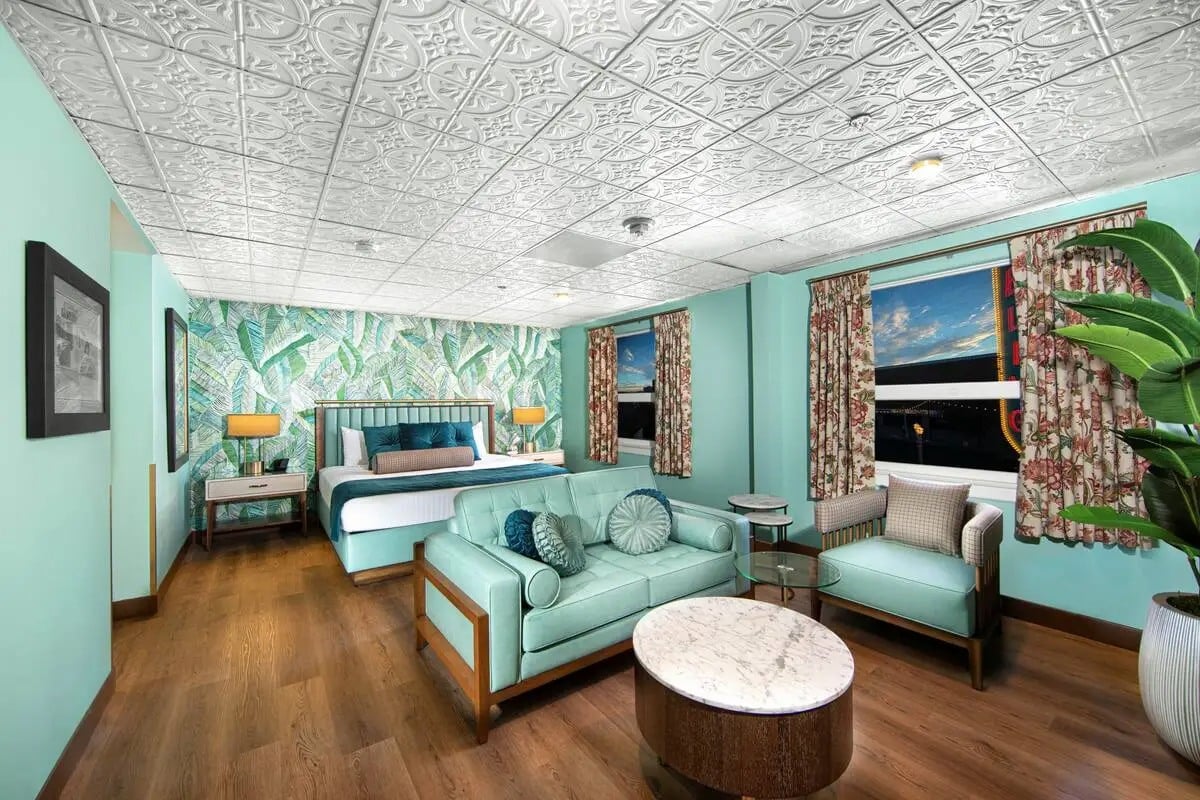 Look at how many opinions we aren't expressing! It's called maturity.
Per a news release, El Cortez general manager Adam Wiesberg says, "We're proud of our history at El Cortez Hotel & Casino. With this renovation, we've elevated the Original 47 rooms to meet the needs of today's modern traveler while keeping the timeless, vintage charm our guests expect and appreciate."
Apparently, the needs of today's modern traveler include seafoam green.
That is not an opinion!
Here's another blurb from the news release, "El Cortez was once famously owned by notorious mobsters Bugsy Siegel, Meyer Lansky, Gus Greenbaum and Moe Sedway, and still features the same façade it had in 1952, retaining much of its Spanish Colonial Revival-style architecture and keeping the spirit of classic Vegas alive."
We are not an architecture person, but "Spanish Colonial Revival" sounds very Inquisitiony to us.
We found the El Cortez news release fascinating, as it had a lot of useful information, and anything we can cut-and-paste saves us the trouble of having to "exert effort" or "do actual research."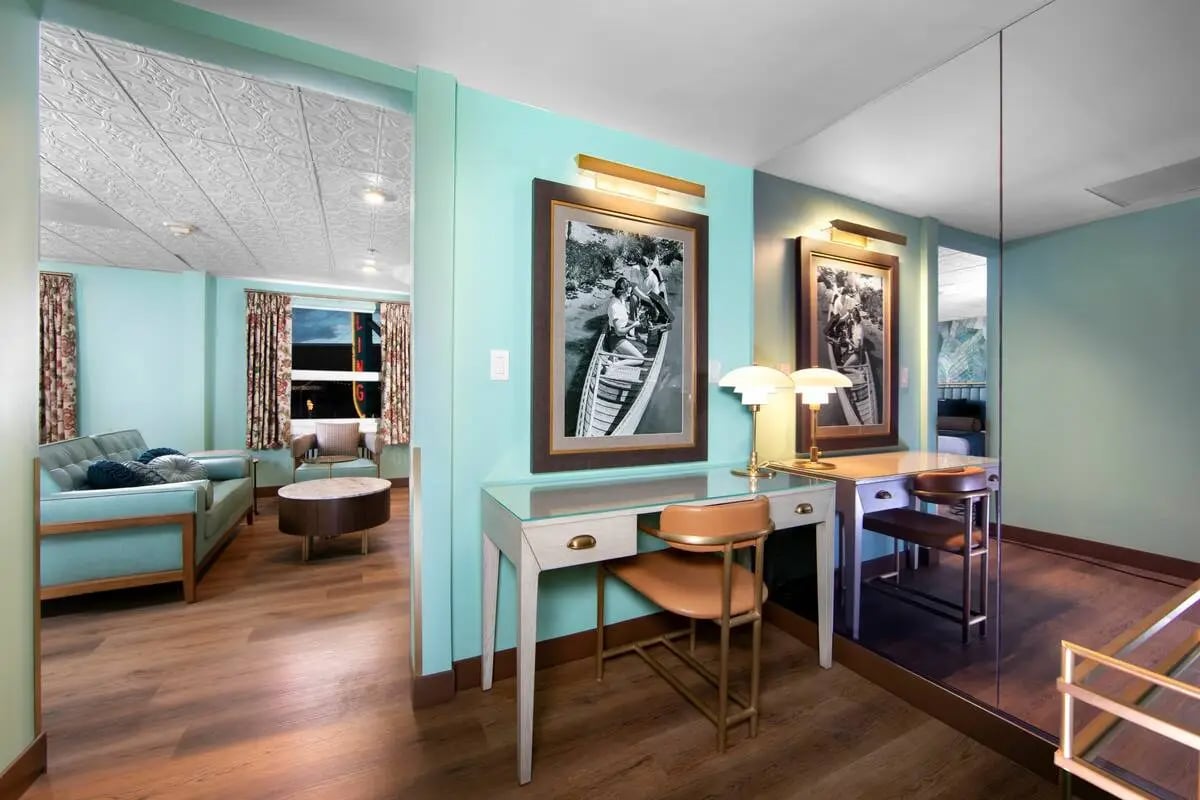 The news release continues, "The Original 47 rooms were originally used for boarding and meeting rooms, and these iconic rooms now serve as a step back in time to Vegas' vintage glamour days. Stylized after Havana, Cuba, as a nod to the Mob's first major venture into gambling before buying El Cortez, the rooms feature seafoam green walls with green fawn wallpaper and brass bedframes that seamlessly match their surroundings while offering modern comfort. Blue tufted pillows and mid-century couches are paired with marble and brass accent furniture to round out the space that transports guests back to the thriving times of the 1940s, when the Mob ruled the Las Vegas Strip."
First, Blue Tufted Pillows was the name of our band in high school. Crazy coincidence.
Second, stop capitalizing "Mob." They were crooks.
Third, all due respect.
Fourth, people would probably be shocked if they visited Las Vegas in the 1940s. Only about 14,000 people lived in Las Vegas in 1940, and for the majority of the '40s, Las Vegas casinos were mostly what historians agree were "sort of gross."
For example, they had to post rules about horses not being allowed inside.
Fifth, people don't really care about the way things were back then, because reality is subjective! We knew that would come in handy.
Most people definitely don't care about the reality of a Las Vegas run by the mob, capitalized or not.
We hear endlessly about how Las Vegas was better when the mob was in charge, despite the many whackings and other crimes for which mobsters were responsible, like tax evasion, which most people don't approve of anymore.
The aforementioned Meyer Lansky and Bugsy Siegel literally operated a murder-for-hire outfit called Murder, Inc. Literally.
Anyhoo, back to not expressing opinions. It's not easy. We are a professional blogger, and the currency of blogging is opinions. And sharing photos.
Here's another one of those.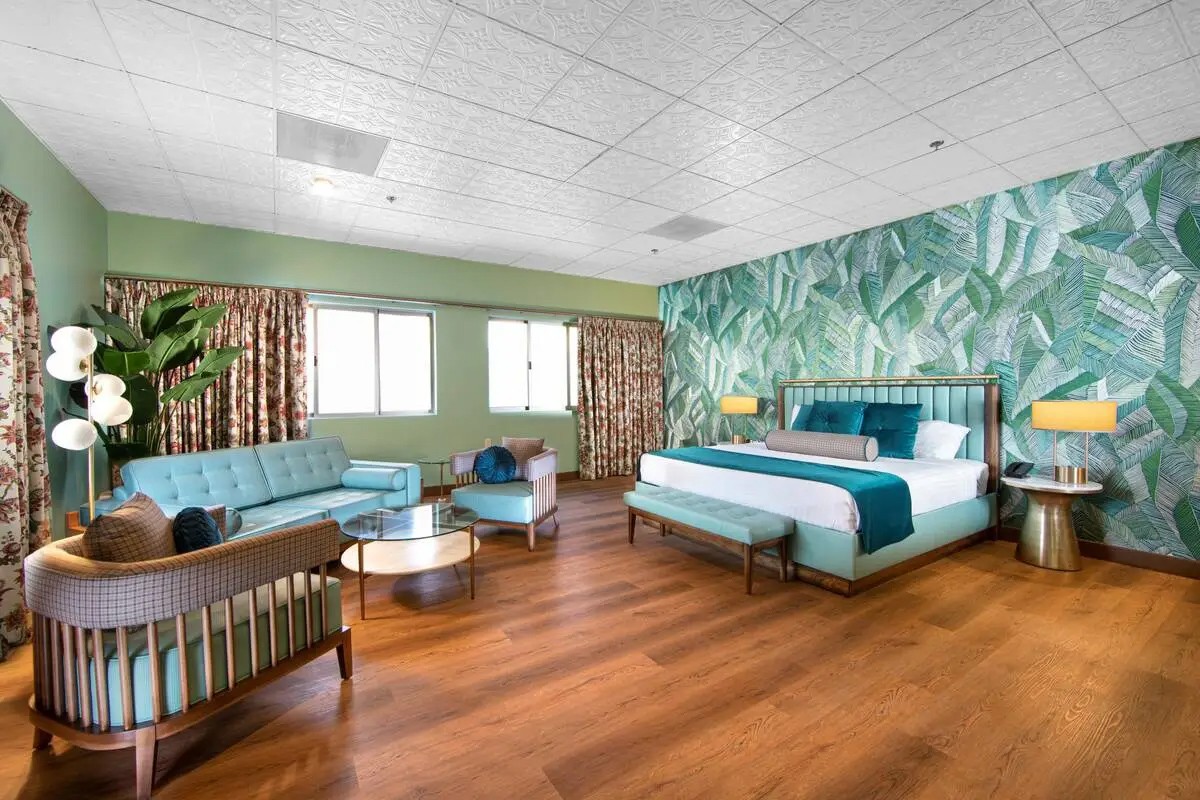 Reactions to the room renovations at El Cortez have been very positive.
El Cortez is in a unique location, in the center of the action downtown, and by that we mean surrounded by pandhandlers.
Just kidding.
It's sort of part of Fremont East, and it's near the Downtown Container Park and all the bars and restaurants you know and love downtown, like Commonwealth, La Comida, We All Scream, Corduroy, The Griffin, Smashed Pig, Lucky Day, Therapy, Discopussy, Evel Pie and Park on Fremont.
Not only is El Cortez well-rated for its rooms, it's become increasingly popular with the cool kids who are bar-hopping on Fremont East.
El Cortez is also cool because it's now a 21-plus casino, which we enthusiastically applaud with all our various appendages.
The rooms at El Cortez are sort of a mixed bag, so you'll want to shop before you book.
We'd love to hear what you think about these renovated rooms in the comments, especially if you agree with us, or whatever you imagine our opinion is because we definitely haven't expressed any.
Will these rooms be a hit or a miss with Las Vegas visitors? Only time will teal.