Downtown's SlotZilla Zipline Ride Is Getting Its Bling
SlotZilla, the zipline ride being built in downtown Las Vegas, is going to be the biggest thing to hit the Fremont Street Experience since go-go girls.
Here's a look at SlotZilla today. Oh, all right, yesterday. When did you become such a stickler for details?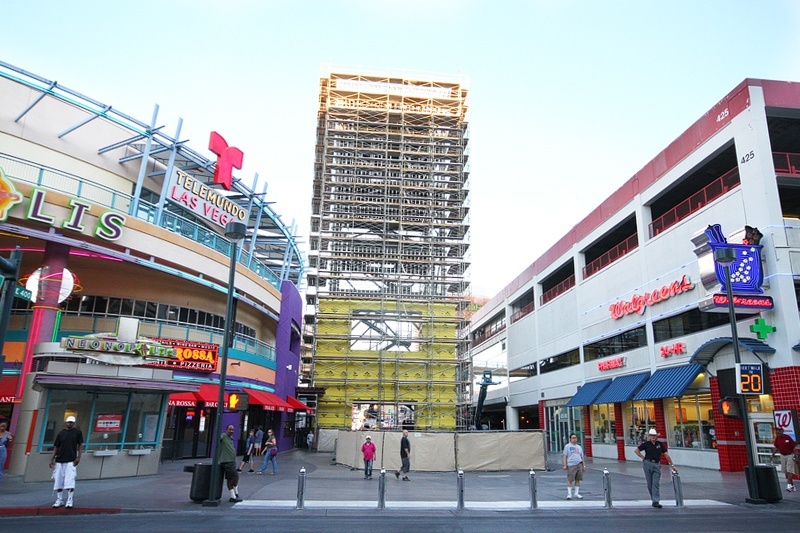 Emblematic of the progress being made in SlotZilla's construction is the new bling on the ride's Fremont Street East-facing launch tower (located just beyond the east end of the Fremont Street Experience, near Neonopolis).

SlotZilla guests will be "power-launched" from two levels, one called a "Zoomline" and the other being called a "Zipline." Each of SlotZilla's two levels will have four ziplines each.
On the "Zipline," 70 feet up, they'll ride the usual way, seated. On the "Zoomline," 100 feet up, they'll come out superhero-style (prone), accelerated for an extra shot of adrenaline. These riders will go 1,700 feet under the Fremont Street Experience canopy.
Two landing platforms are being built, too. One is about halfway down the Fremont Street Experience, and will be the landing point for the riders leaving from the lower level of Slotzilla.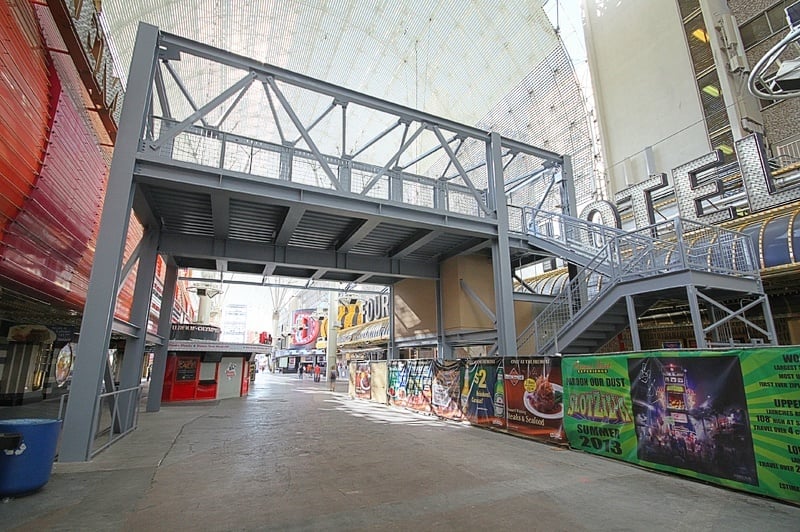 The other landing platform is at the west end of the Fremont Street Experience, in front of the Golden Gate casino, chock full of the aforementioned go-go girls. If you're into that kind of thing.

Below is a model of what SlotZilla will look like when it's done. The take-off tower will be an imposing 120 feet tall. In the model, 1/2-inch equals one foot. Yes, there will be a quiz.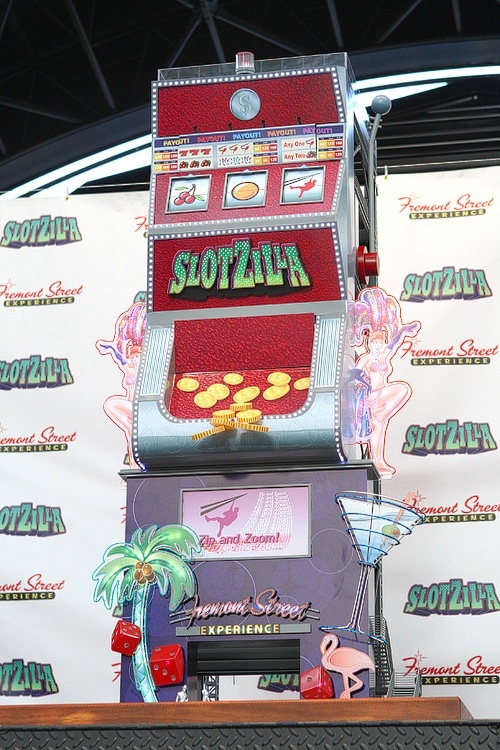 Ticket prices are expected to be $20 for the "Zipline" level, $30 for the "Zoomline" level, and $40 if you're daring (or crazy) enough to ride both.
The Slotzilla Las Vegas zipline attraction is scheduled to make its debut in late summer of 2013. You up for a ride? See all our posts about the SlotZilla zipline ride in downtown Las Vegas.