Construction Walls Come Down at Salt Bae's New Strip Restaurant
The construction walls have come down at a buzzed-about restaurant coming soon to the Las Vegas Strip, Nusr-Et.
Nusr-Et, a sub-optimal name for a restaurant, is the brainchild of former Internet sensation Nusret Gokce, otherwise known as "Salt Bae."
The restaurant will be in The Park, next to T-Mobile Arena, home of the Las Vegas Golden Knights, a popular puckball team.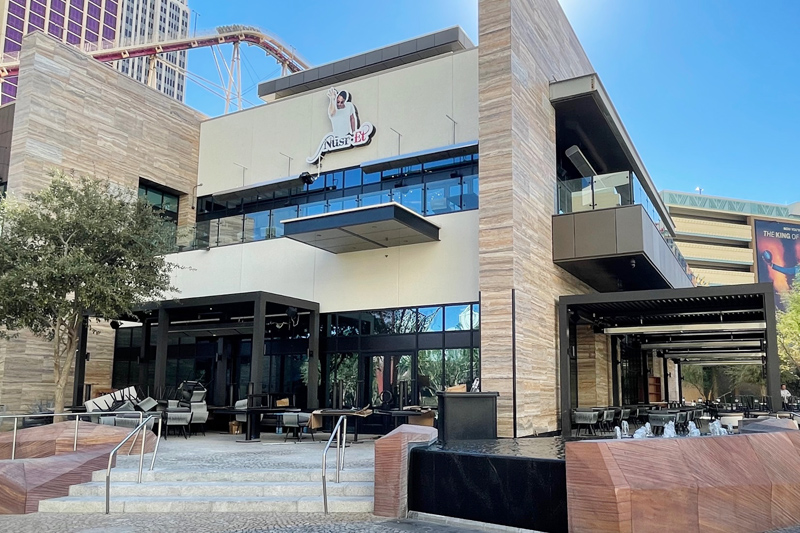 Gokce is best known for salting meat via his forearm.
His rise to fame and fortune (his net worth is estimated to be $70 million) has a colorful back story which we trust is endlessly fascinating, just not to us.
Gokce gained worldwide fame when he posted a video in 2017. In it, he cut a steak and did the salt thing, and now for some reason can charge $1,000 for a Tomahawk steak. Covered with gold leaf, though.
Anyway, here's the sign on Salt Bae's restaurant on the Las Vegas Strip.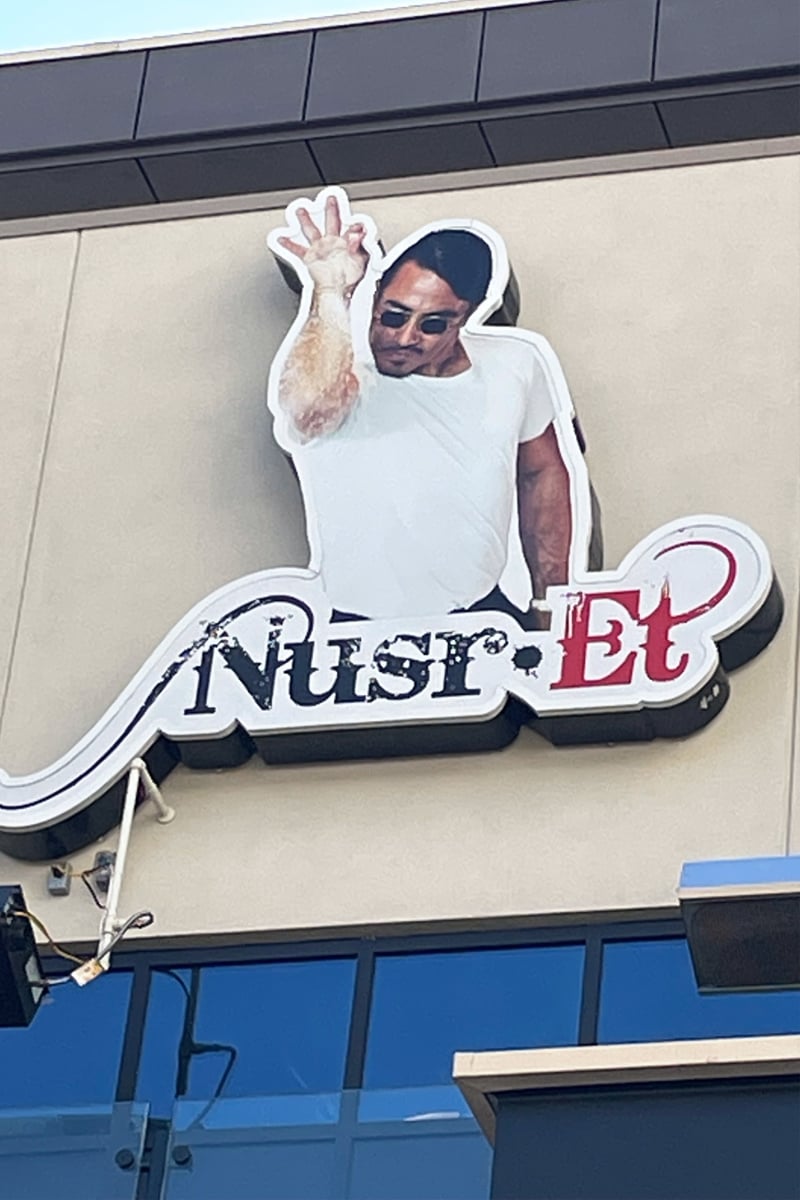 Thanks to our friend @JamesinLasVegas for the pics!
Back in April 2021, it was reported Gokce was "moving quickly" to bring his restaurant to The Park.
It still hasn't opened, but construction walls coming down are a step in the right direction.
The restaurant cost $4.5 million to build out.
Opening a high-end restaurant in The Park is bold move given it's been savaged by the pandemic. The Park is heavily reliant on events, and those were scarce for
months.
Bruxie closed permanently (owing $225,000 in back rent), and California Pizza Kitchen also shuttered. Sake Rok has yet to open following its closure in March 2020.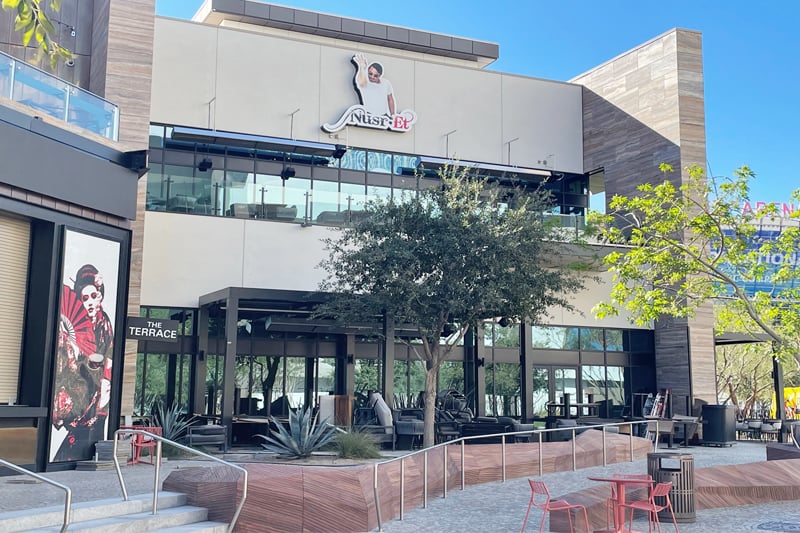 In the works, though, is another new offering, Top Round. Top Round is moving into the former Bruxie's space.
While the prospects for Nusr-Et Steakhouse Las Vegas don't seem great, in our opinion, "Salt Bae" has a substantial audience, including 42 million followers on Instagram, and lots of passionate fans, presumably.
We trust delays in opening Nusr-Et are the result of a desire to avoid a potential financial disaster. Staffing challenges continue to be a big problem and fluctuating product prices have been an ongoing nightmare for restaurants.
While Nusr-Et might have a built-in marketing hook, location is everything, and The Park hasn't been the success MGM Resorts had hoped.
We suspect the curiosity factor could help Nusr-Et Steakhouse when it opens, but the difficult location and "elevated" pricing (we're assuming, as nobody's seen the menu yet) could mean some pain is in store for Nusr-Et.
We want every restaurant to succeed, of course, so if things go south, we will try not to say we told you so. That would be like rubbing salt on an open wound.
Update (2/11/22): The General Manager of Nusr-Et, Jonathan Venegas (a name we love because it's pretty much just a couple of letters away from being "Vegas"), pinged us on Twitter, saying, "Advisory: Yes, the menu is not for the faint of heart, but will not be Miami or NYC pricing." That's a relief. This reassurance has given us a glimmer of hope for Nusr-Et, and we're never sad when our skepticism is given a good slicing and fanning, or whatever the kids are doing with steaks now.