Bruxie's Out at The Park, Top Round in the Works
Top Round is under construction at The Park, taking over the space of Bruxie, a chicken and waffle restaurant.
The Park has taken some hits during the pandemic, but things appear to be perking up with news of Top Round, an L.A.-born eatery featuring roast beef and hand-breaded chicken sandwiches.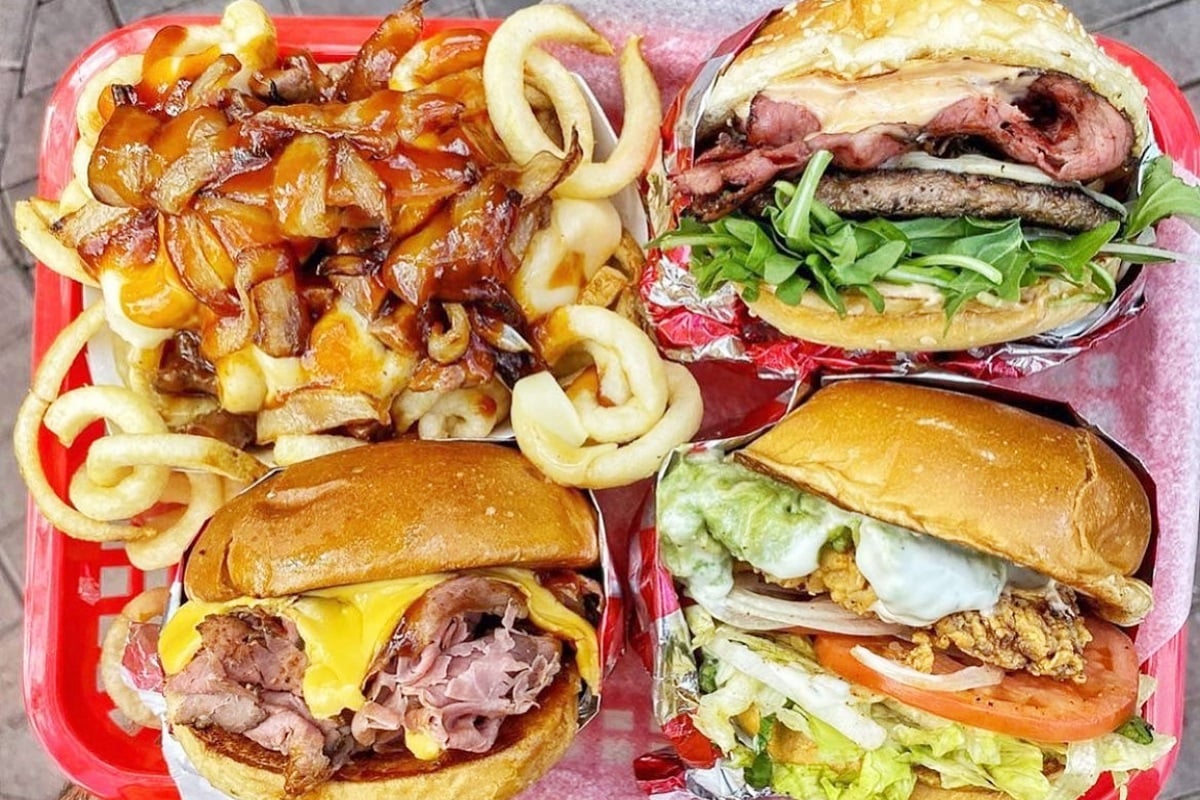 Top Round is expected to open in spring of 2022.
You know, 2022, when the world will finally go from non-stop doom-and-gloom to rainbows, unicorns and the long-awaited end of mask mandates and resort fees.
Hey, Vegas was built on optimism.
Top Round at The Park (the restaurant row near T-Mobile stadium) will be "reminiscent of the founding Los Angeles Top Round location's mid-century, motor-in design" and "will feature both indoor and outdoor seating areas for dine-in as well as the requisite take-away service."
More from the news release about Top Round: "Top Round Las Vegas will showcase offerings like the brand's 100% USDA Choice, hand-trimmed, 10-hour slow-roasted roast beef sandwiches, which are regionally-inspired and available in more than five variations. Diners may choose a 'Beef on Weck,' prepared with the chain's aptly-named 'Atomic Horseradish' and served on a caraway and sea salt bun, or the 'Horse & Hole,' topped with St. Louis-famous Provel cheese, horseradish cream and roasted mushrooms. A streamlined 'Beef & Cheese' version of the roast beef sandwich includes house-made Cheese 'Wizz' and proprietary 'Round Sauce.'"
Which all sounds pretty great, with "Atomic Horseradish" a great fit for Nevada given its history (more than 75% of all the nuclear bomb tests in human history have taken place in Nevada), and also we trust the "Horse & Hole" isn't as awkward as it sounds.
The construction wall is up at Top Round, take a look.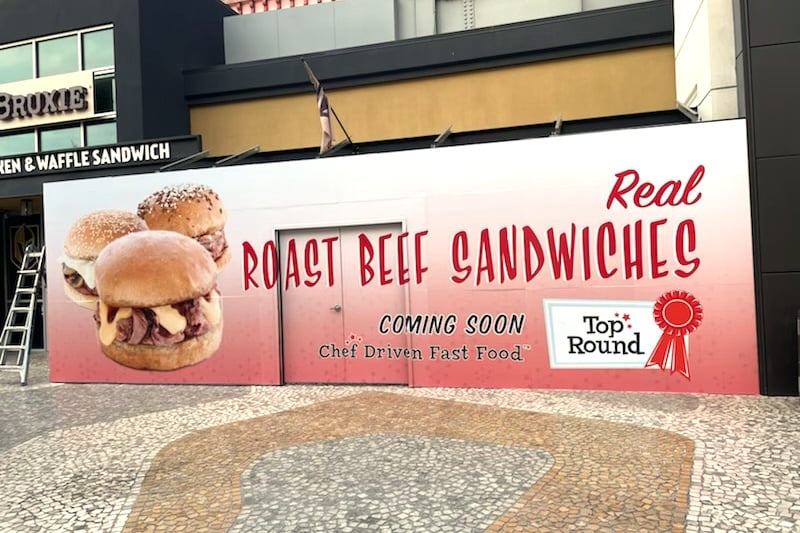 Top Round will also have hand-breaded, fried chicken sandwiches and "Idaho potato-based" curly fries. The fries can be ordered "dirty, with gravy, Provel cheese,
caramelized onions and Round Sauce. They look amazing.
The menu will also feature chicken wings and chicken tenders, plus vegetarian and gluten-free options such as crispy fried cauliflower "wings," which is weird, but just go with it.
Fun fact: The co-owner and President of Top Round, Anthony Carron, also founded 800 Degrees Pizza. The chain once had locations at the former SLS and the former Monte Carlo. Now, not so much.
Here's hoping business picks up at The Park. Shake Shack is still around, as is Beerhaus.
California Pizza Kitchen closed and Sake Rok has yet to open following its closure in March 2020.
Bruxie's demise was painful and embarrassing, as the outlet owed nearly $225,000 in back rent prior to its closure.
Presumably coming to The Park is Nusr-Et Steakhouse, from the "Salt Bae."
Top Round sounds tasty, and the fare fits the prime demographic at The Park—fans on their way to or from events at T-Mobile. No pressure, T-Mobile.
Let's hope Top Round delivers both the sizzle and the beef.