Circa Meeting and Convention Spaces Readies for Debut
The official unveiling of Circa's new meeting and convention space is three weeks away, but we aren't really into "official unveilings," we're more of a "sneak peek" and "exclusive access" type person.
So, we got all up in Circa's business for a first look at the downtown resort's newest spaces, still under construction.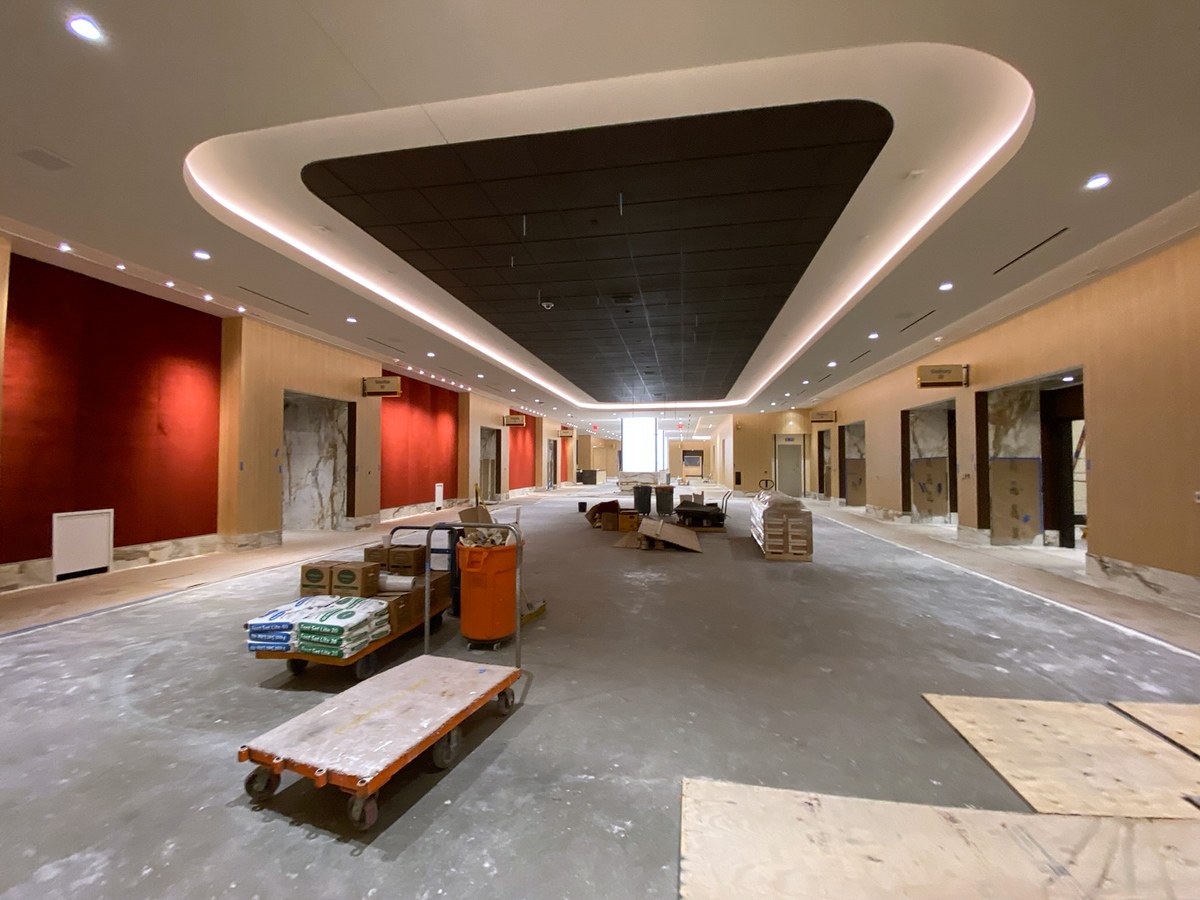 The meeting spaces at Circa will cover 35,000-square-feet. The customizable spaces can accommodate up to 1,000 people. Impressive, given the fact Circa basically sits on one city block.
The resort has held some special events in what will become its main ballroom, but it wasn't built out until recently.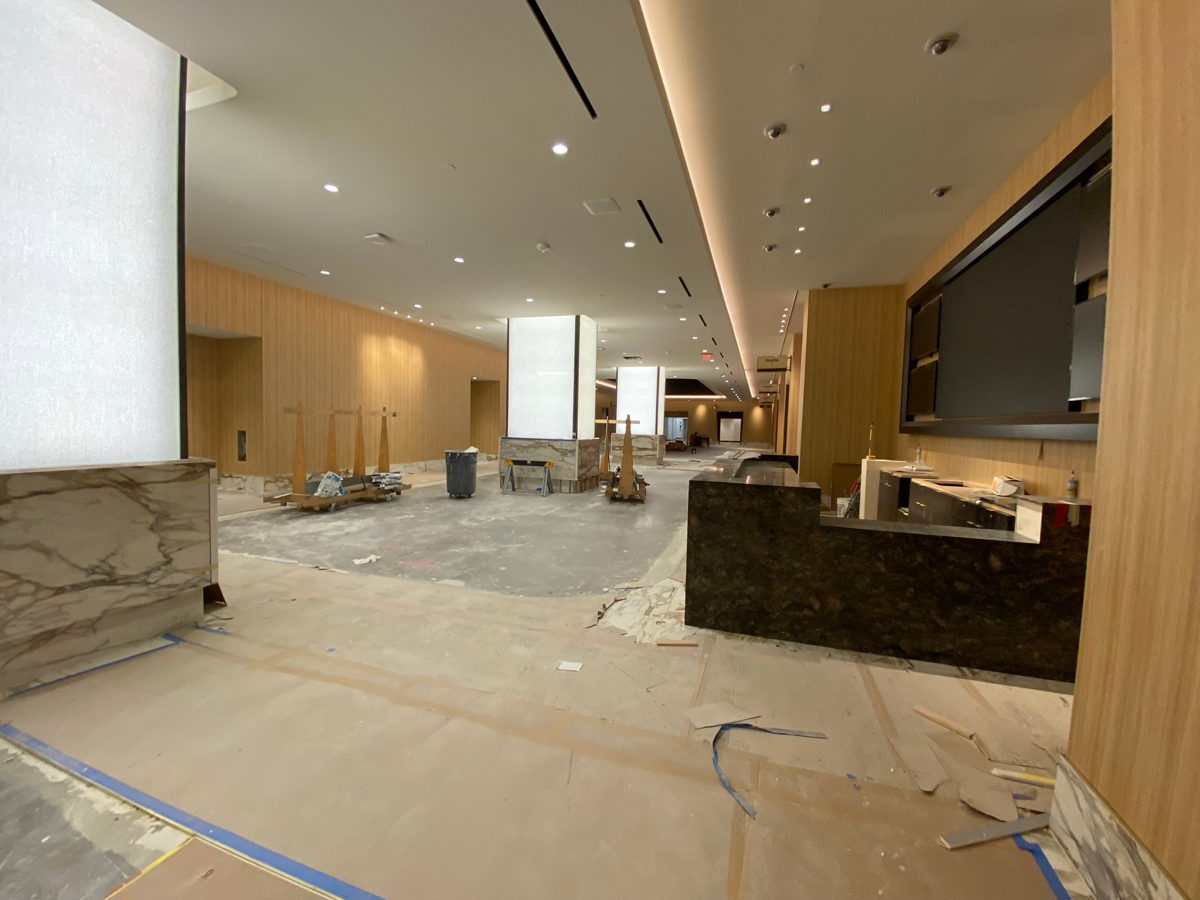 Here's a look at the finished product, renderingwise.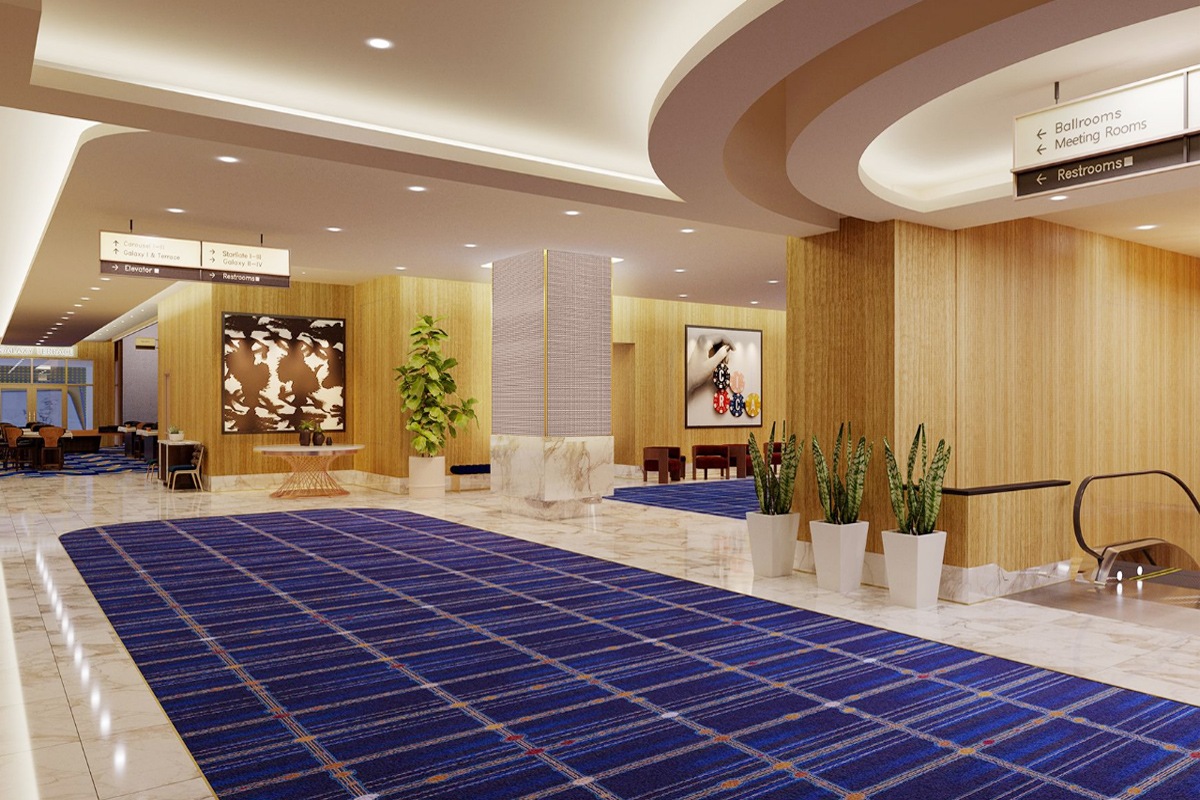 In a news release, Circa owner Derek Stevens said, "As meetings and conventions make their grand return to Las Vegas, we're excited to introduce our stunning new event spaces to meet this moment. Since our opening, we have been working tirelessly to meet this next phase of growth and provide a remarkable experience for meeting planners and attendees. At our core, we love to throw a great event, and we've thought through every detail to help you do that on any scale, with our resort as your backdrop."
Derek Stevens once said downtown was "underpooled," so he built Circa's Stadium Swim.
Downtown is also "undermeetinged." It's just not a thing. It might be now, although Stevens knows this relatively intimate space is no match for the massive convention spaces at the Las Vegas Convention Center or at several Strip resorts.
Stevens also knows he doesn't have to go head-to-head with these bigger venues. He knows his customers, and plays to the strengths of his offerings, like the sportsbook and testosterone-infused casino floor.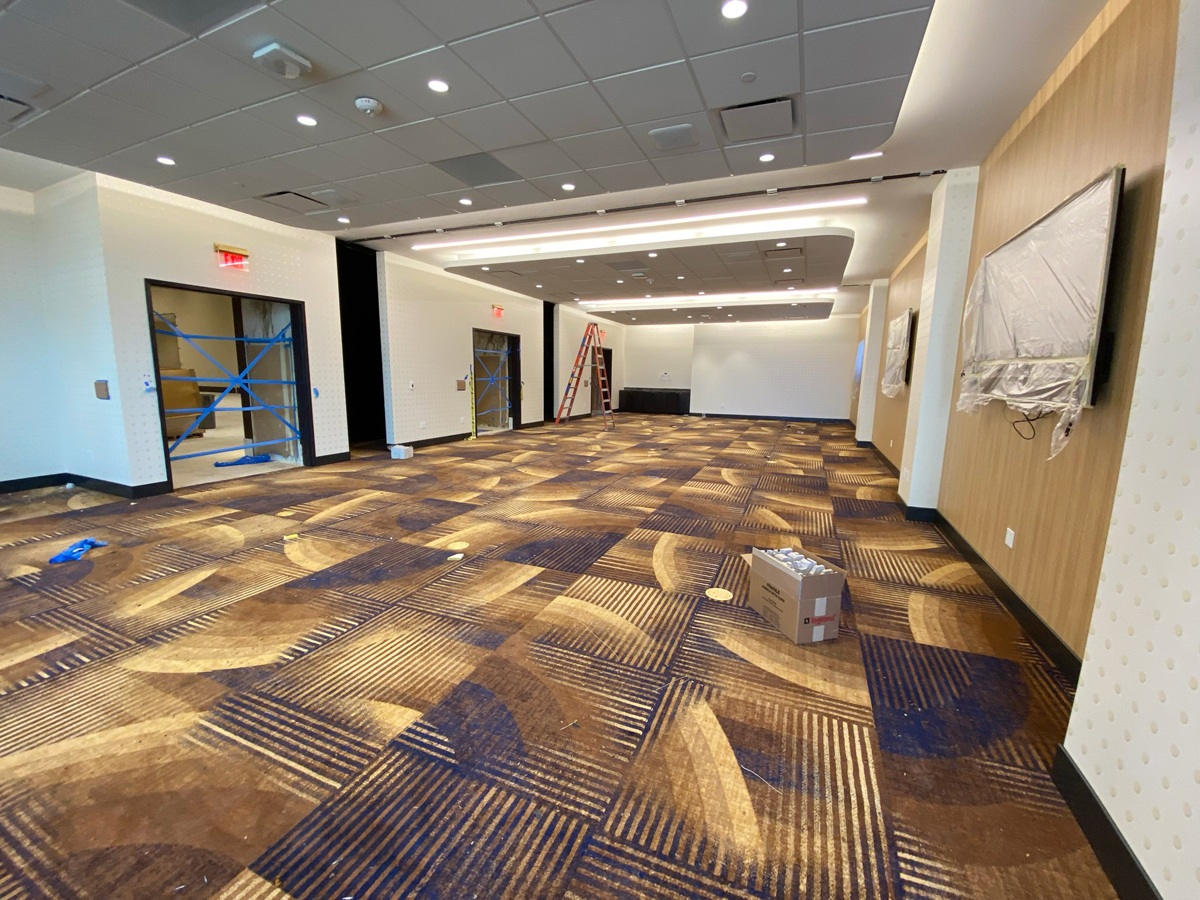 The new offerings will include a ballroom, break-out rooms, banquet space, and a 1,600-square-foot outdoor terrace.
It's worth noting the terrace is the only space on the floor where guests can smoke.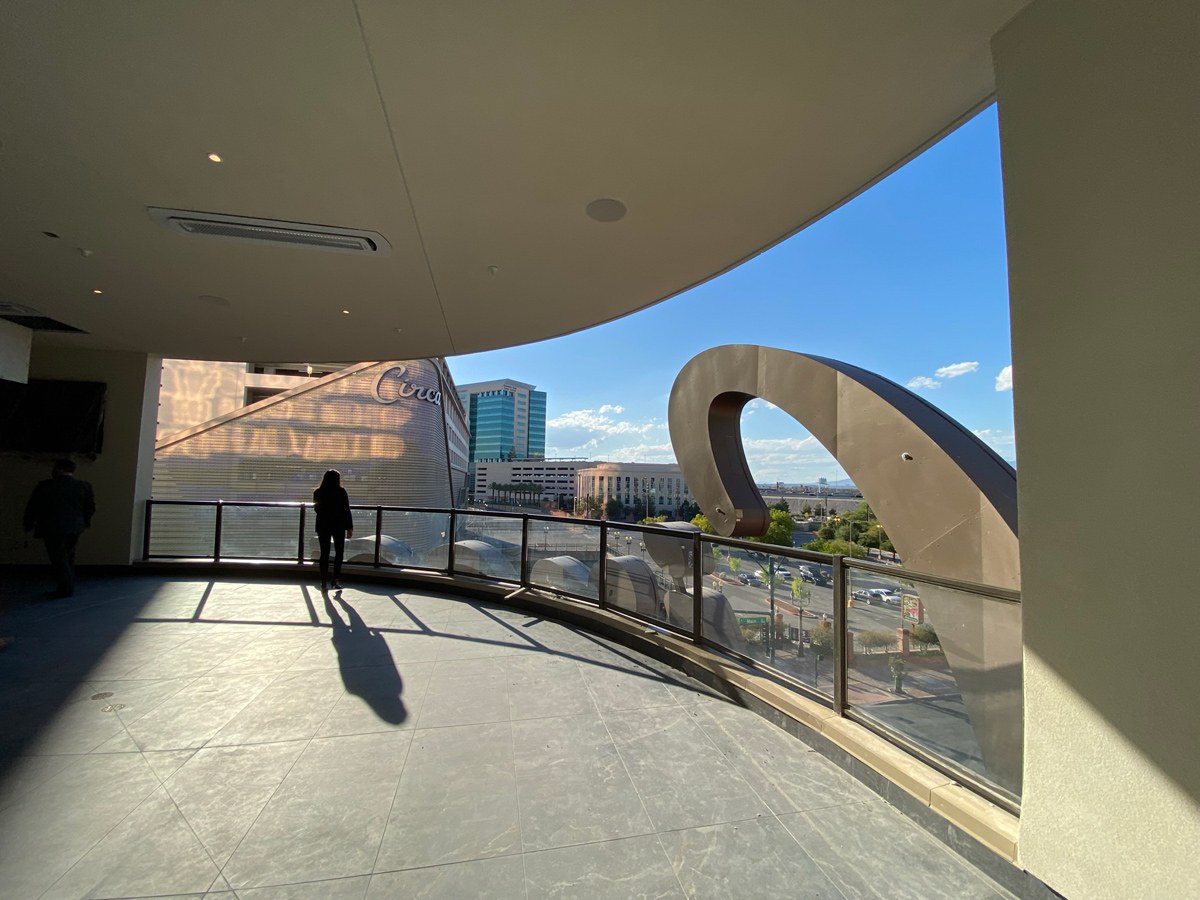 One of the best things we've heard about the convention space at Circa is it's equipped to have gambling. That means those hosting events can have live table games for attendees.
Having live gambling can be complicated because there are a lot of regulations related to surveillance, "the eyes in the skies" as the kids call them. That's all built-in at Circa. Here's a rendering of one of the possible configurations.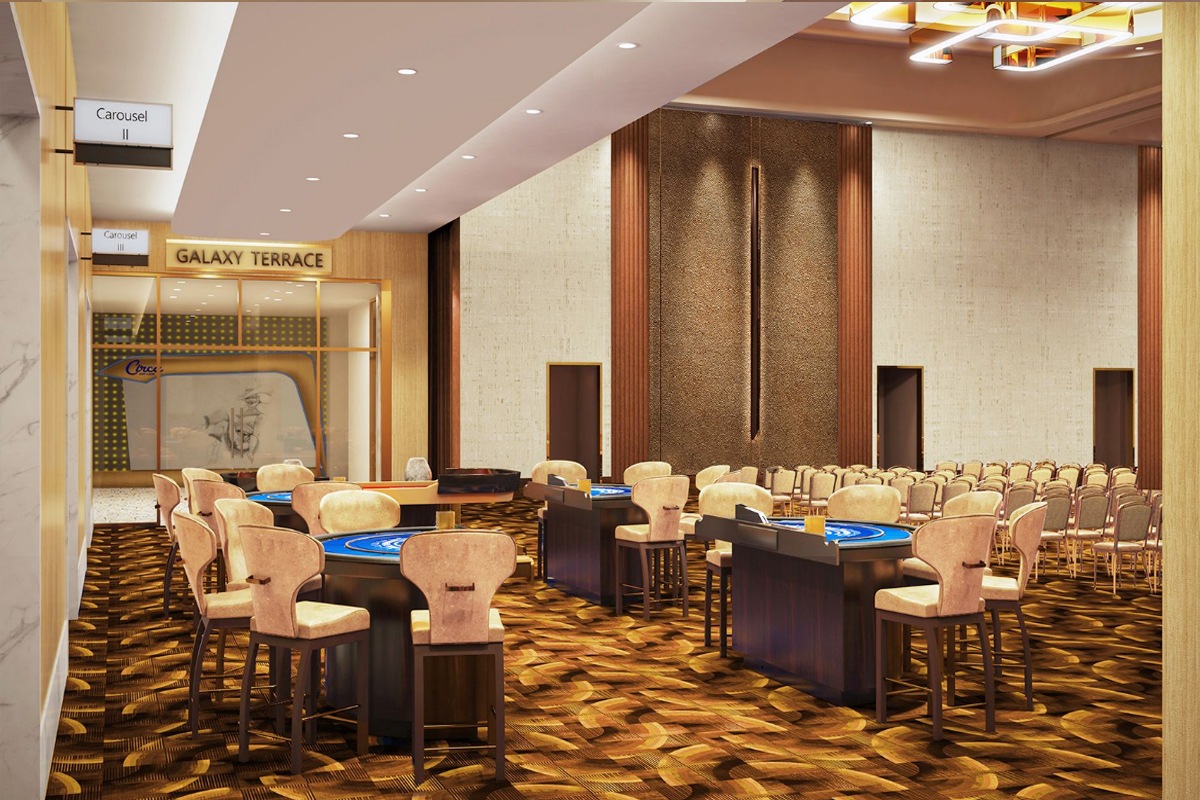 Circa's new meeting spaces were designed by JCJ Architecture with the original design concept from Steelman Partners. Steelman Partners hit a home run designing Circa, so the meeting spaces are frosting on the cake. A cake served by someone in a bikini from Stadium Swim. We know it's not woke, but just let us have some joy in life, thanks.
Stevens also likes technology, so the new meeting spaces are filled with wall-to-wall audio and visual goodies.
For the convention space nerds, the news release says: "Special environmental measures have been put in place and include LED lighting and adaptive, intelligent controlled HVAC systems that adjust temperatures for changing ecosystems. The facilities also will be home to state-of-the-art audio and visual capabilities and will include 16K LU laser projectors, retractable screens, audio tie lines, patchable ethernet tie lines, strands of patchable single mode fiber in pairs on LC connectors, quad outlets, LED screens and more."
You can just imagine Circa puffing up its chest, trash talking all the other convention venues, "Bro, you don't have patchable ethernet tie lines? How do you even call yourself a customizable meeting space?"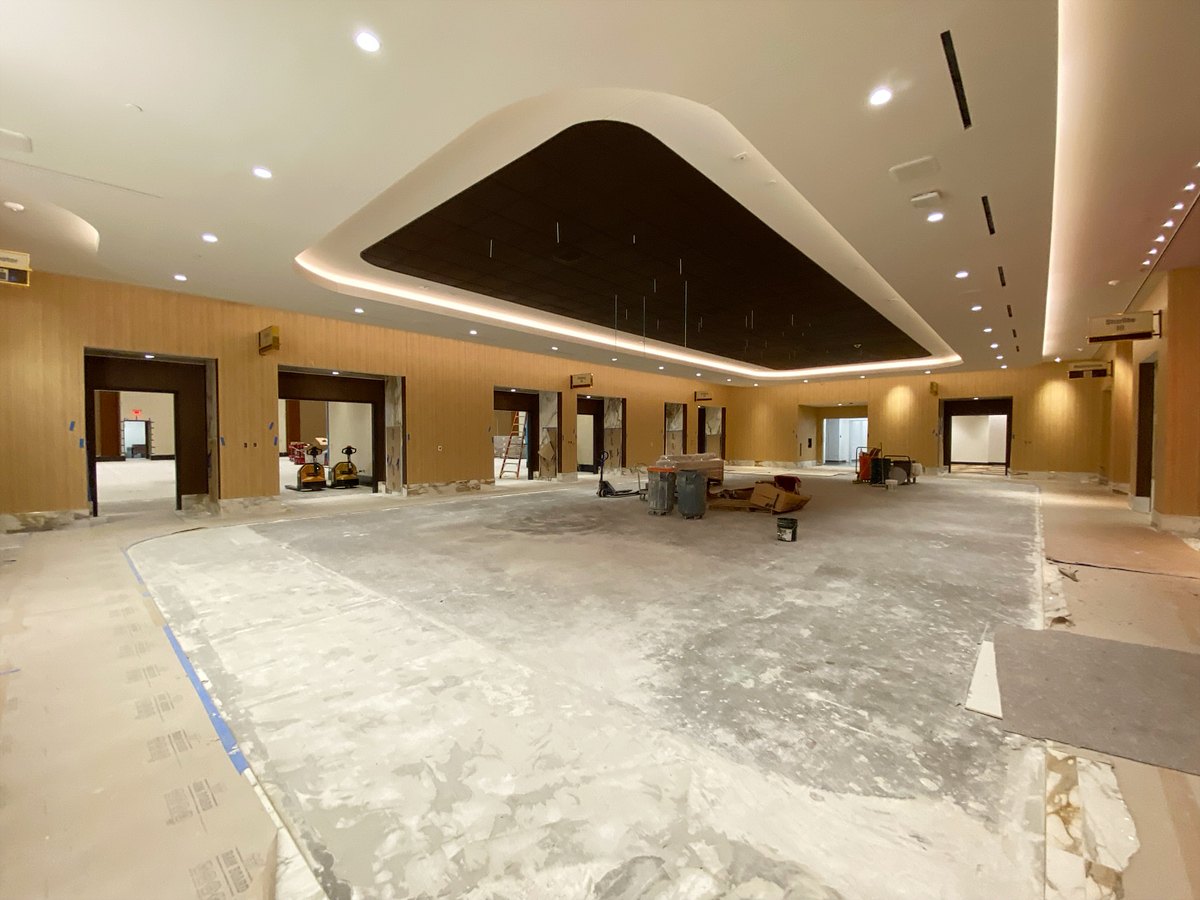 "I believe this is the smartest meeting space in the valley," said Rob Baker, of Tre Builders. This will lower costs for conventioneers because they won't have to hire third parties to do all the usual convention stuff.
A fun aspect of Circa's new meeting spaces is there are nods to Las Vegas history, a recurring theme at Circa. (A refurbished Vegas Vickie is a centerpiece of the resort.)
The meeting rooms and pre-function spaces at Circa are named after iconic Las Vegas motels and casinos of days gone by: Galaxy, Starlite, Carousel, Ambassador, La Concha and Bonanza.
It would be impossible for us to love that more.
A little inside baseball: Circa's new convention space has a full kitchen, which will alleviate many headaches related to catering.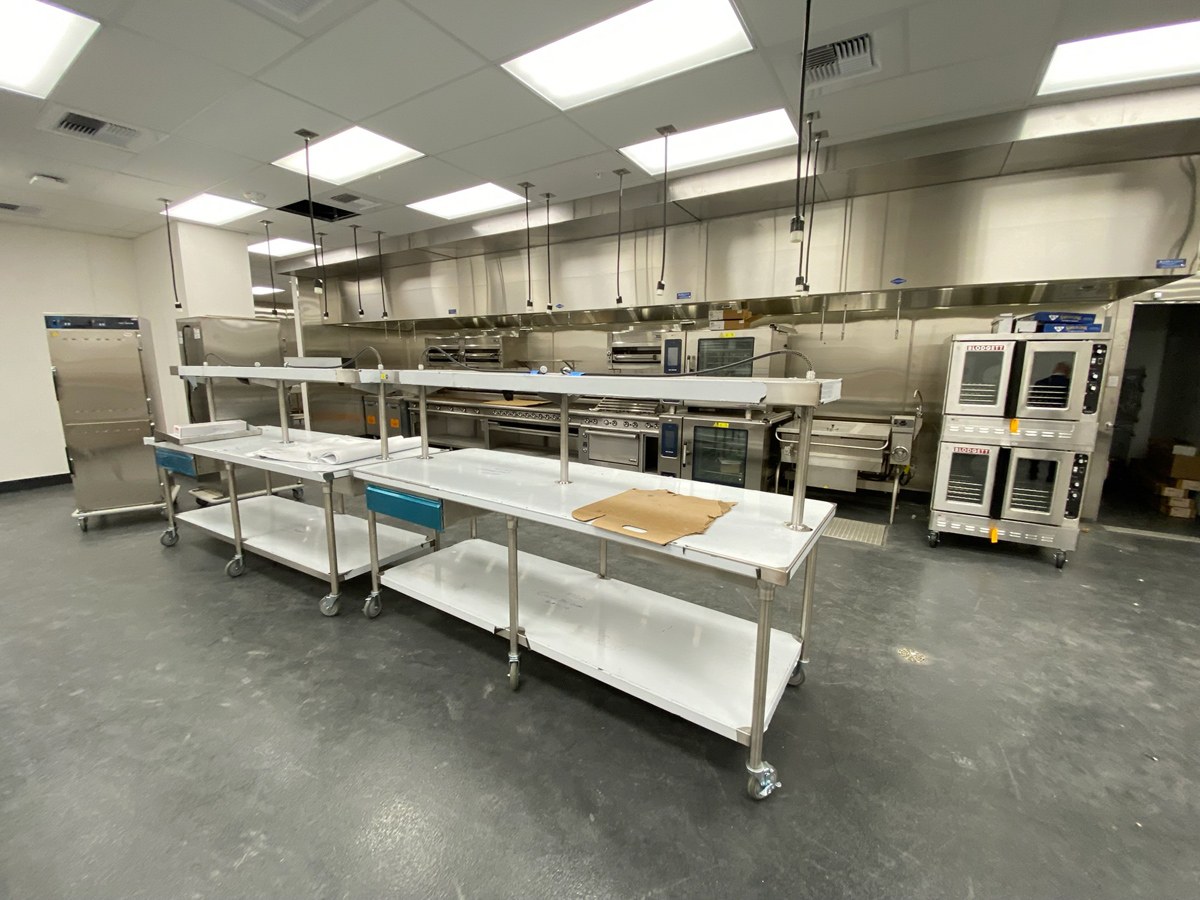 Naturally, we had to explore the entire venue, including the restrooms. Hey, it's either a sneak preview or it isn't.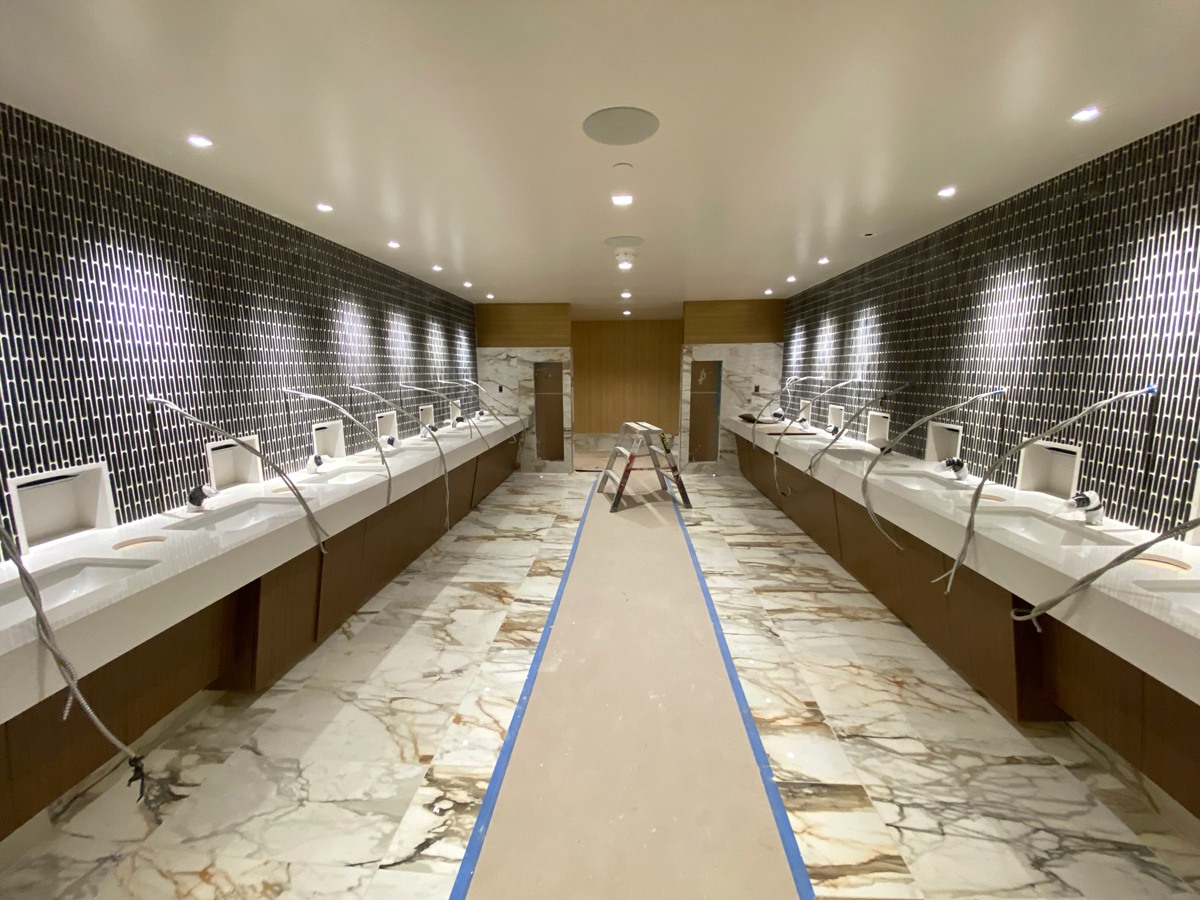 Speaking of maturity, it's entirely possible we will not be invited back into the women's restroom in Circa's new meeting spaces, so we're damn well going to share a photo.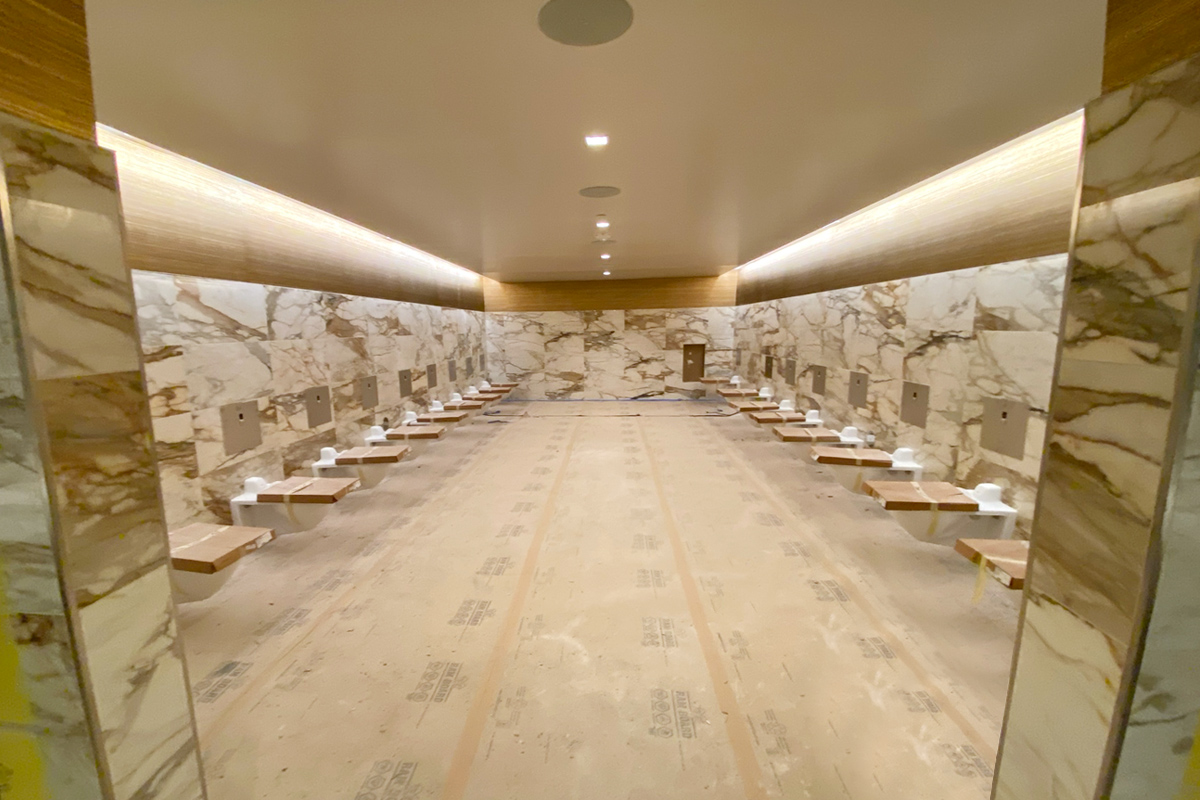 Big thanks to Derek Stevens and the crew at Circa for inviting us in to check out the resort's new convention and meeting spaces.
While petite by Strip standards, this new floor of gathering spaces round out the amenities Circa can offer its customers.
Conventions pick up the slack when business is sometimes slower midweek.
The only thing you probably won't see much of in these spaces is weddings. Circa is a 21-plus resort, and we recently learned weddings involve lots of kids, for some reason. A small price to pay for having no strollers underfoot!
You can see all the specs for Circa's meeting rooms in a sales kit (.pdf format), whatever those might be. Circa has very thoughtfully pointed out to convention-goers the video poker machine they are not allowed to play at Overhang bar.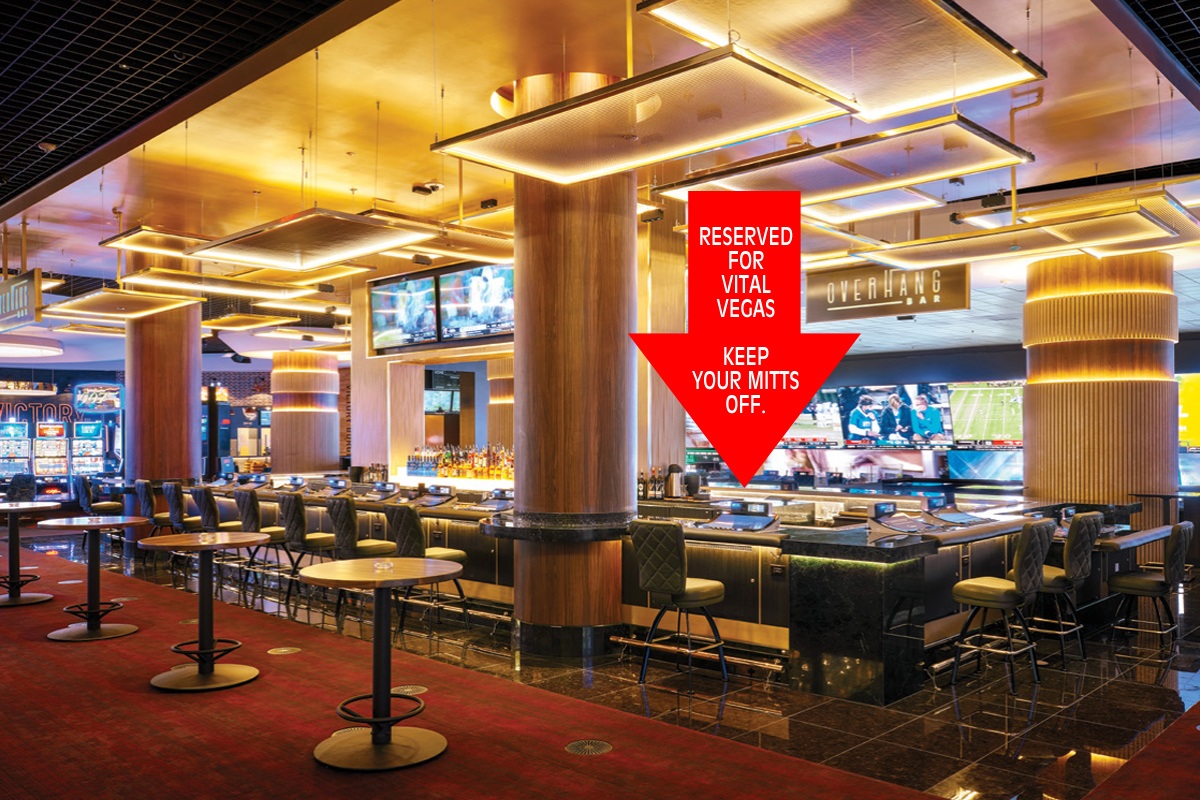 Circa will certainly benefit from the fact there's very little convention space downtown.
Even where there is some space, it's at casinos without the cache of being the shiny newish resort downtown. One with dancing dealers, a giant pool to watch sports, the world's biggest sportsbook and the only one with a restaurant serving a fried rice dish nicknamed the "Vital Vegas." (The restaurant is 8 East, and the "Vital Vegas" is a combination of two dishes, the brisket fried rice and chicken skewers. This is our favorite dish in all of Las Vegas. We order it so much, they put it into their point-of-sale system as an ordering option. No, we have no business relationship with 8 East or Circa, or any other Las Vegas casino or other entity.)
Learn more about the meetings and convention spaces at Circa at the official Web site.
We'll pop into Circa again when the meeting and convention space has opened. We may skip the women's restroom, though, sorry. "Exclusive access" doesn't mean "all access," freak.
(Update 8/11/22): While no official date has been given for the opening of the new meeting spaces at Circa, there's an event being hosted in the ballroom on August 27, 2022. The "Circa Football Preview," hosted by Circa V.P. of Operations Mike Palm, will feature "a Q&A session with leading sports betting experts, including former professional football players, Brian Urlacher and Shaun King; sports analyst Adam Chernoff; and Circa sportsbook manager Chris Bennett." The event is free and runs from 4-6 p.m. if you'd like to get a look at the new ballroom.