Caesars Entertainment Launches Play by Total Rewards App
Members of Caesars Entertainment's popular player loyalty program, Total Rewards, have been champing at the bit for the next iteration of the company's mobile app, and it appears they need champ no further.
The new app is called Play by Total Rewards, and it's free at the iTunes store. Or possibly it's just called "Play." By Total Rewards. Let's not get stymied with details, shall we?
The brand new app appears to be in a testing phase, as no official announcement of the app has been made. We've got a first look!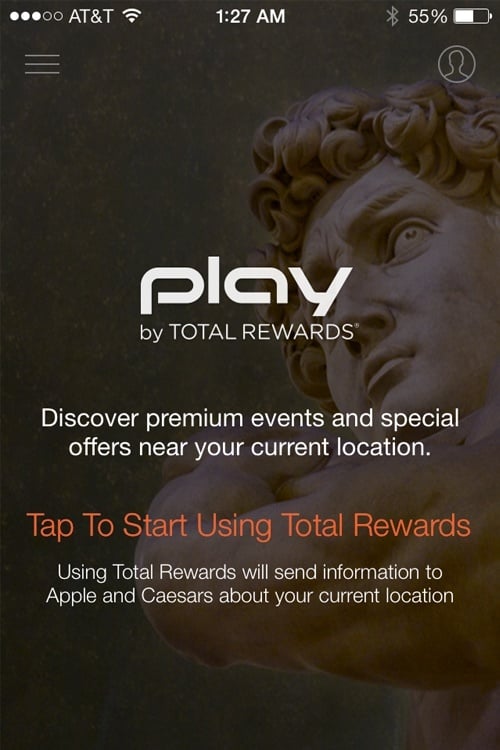 The only way we knew about the new app was a message on one of the interactive digital kiosks at The Linq (see below). Guests are prompted to have a top secret app link e-mailed or texted to their phone.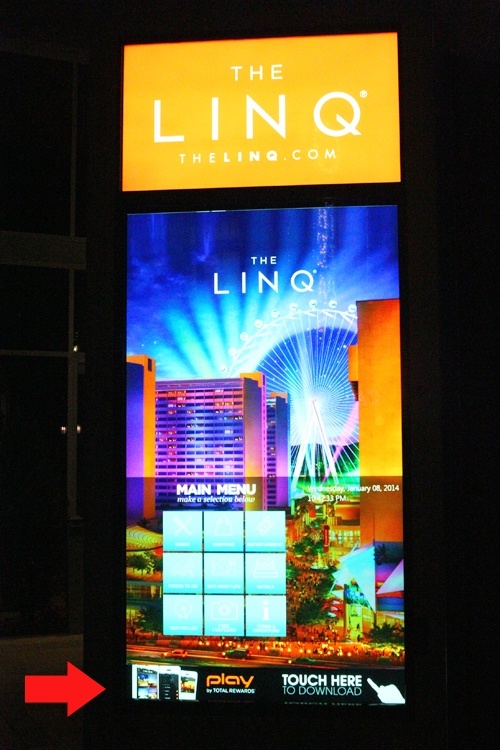 The first caveat of the Play by Total Rewards app is it is for the iPhone only, and requires that the phone be using iOS 7.0 or later. Our first hurdle leaped (we were looking for a reason to do an update, but it's an app design pitfall to create an app which can only be used on the latest operating system, on a specific device), we dove headlong into the app.
This app is the first from Caesars Entertainment which covers all its 40-plus destinations across the country. We chose the Las Vegas region, because really, is there an anywhere else?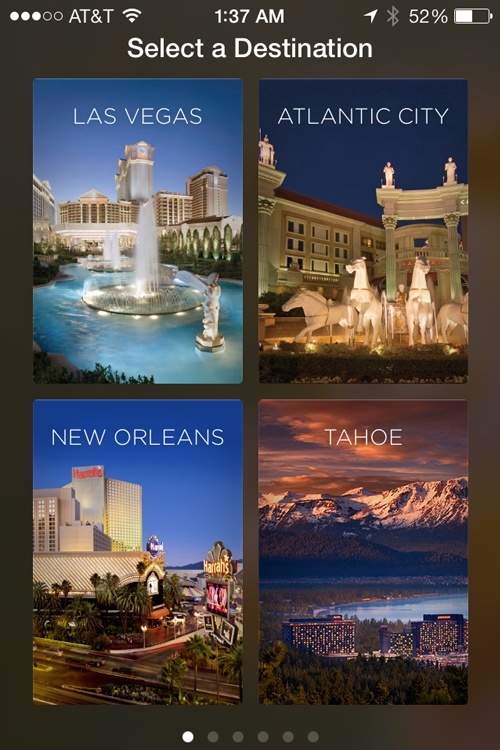 The app prompts users to log in with their Total Rewards number and password. We weren't able to log in, despite resetting and double-checking our password. (The only review we could find on iTunes also mentioned the person couldn't log in.) Given this app has "Total Rewards" in the name, we assume this glitch will be fixed soon.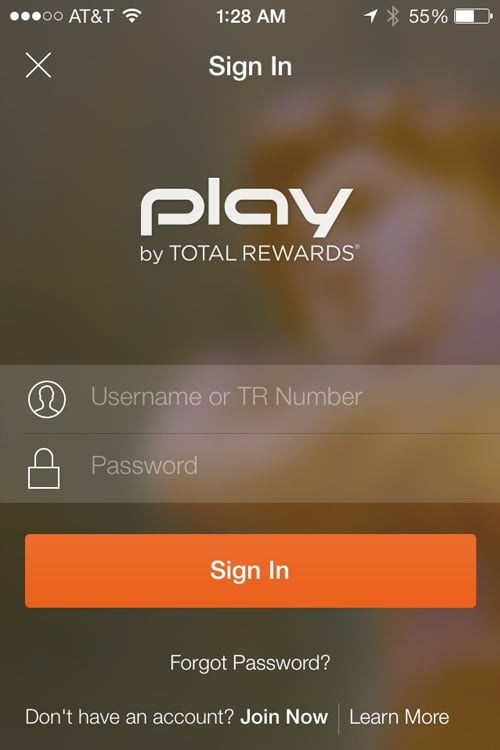 A welcome screen has an expandable set of "cards" featuring some offerings from Caesars Palace. We assume these are featured on the app's home screen because Caesars is the premier resort in the Caesars Entertainment portfolio in Las Vegas.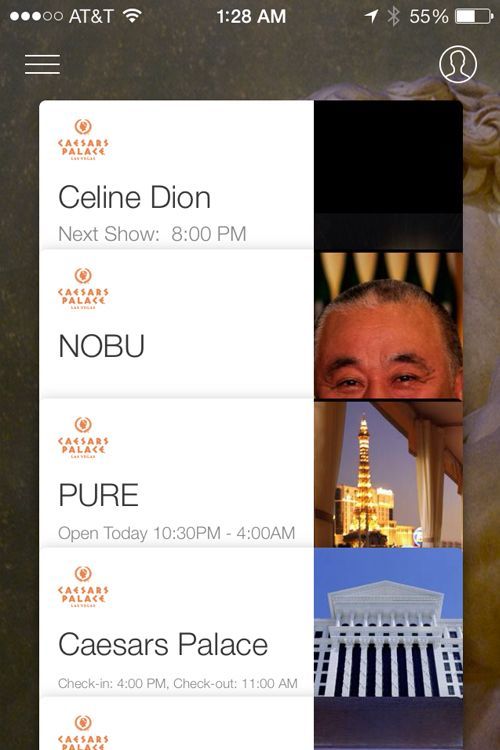 Poke at the three lines in the upper left and the main menu of the app appears, with these sections: Hotels, Restaurants, Shows, Nightlife, Things to Do and My Favorites.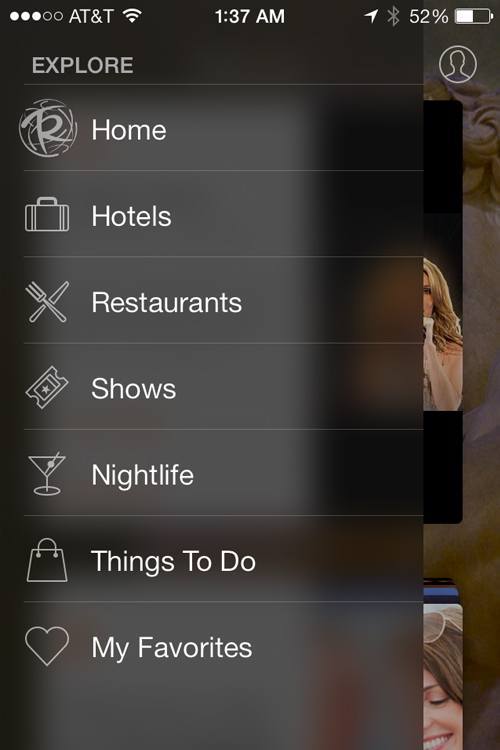 All the categories have some map and location functionality, and the Hotels section pulls up all the hotels in the Caesars Entertainment family.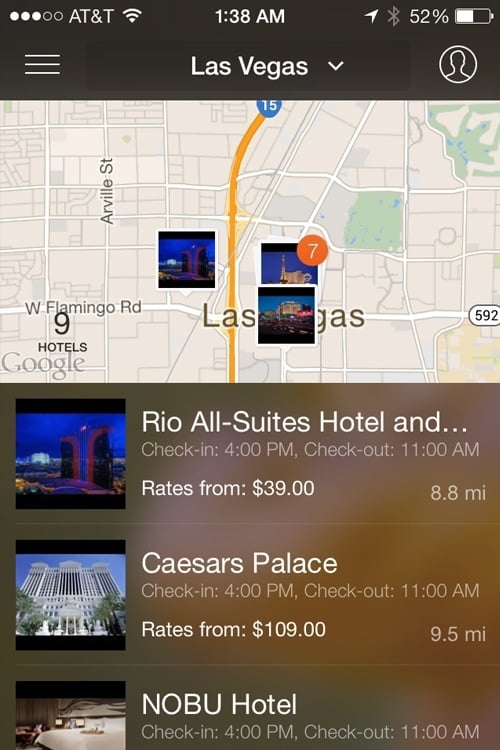 When you select a specific hotel, you get some basic information about the hotel, as well as the ability to book a room. (If you choose to "Book Now," you're basically sent to a mobile version of the hotel's Web site.)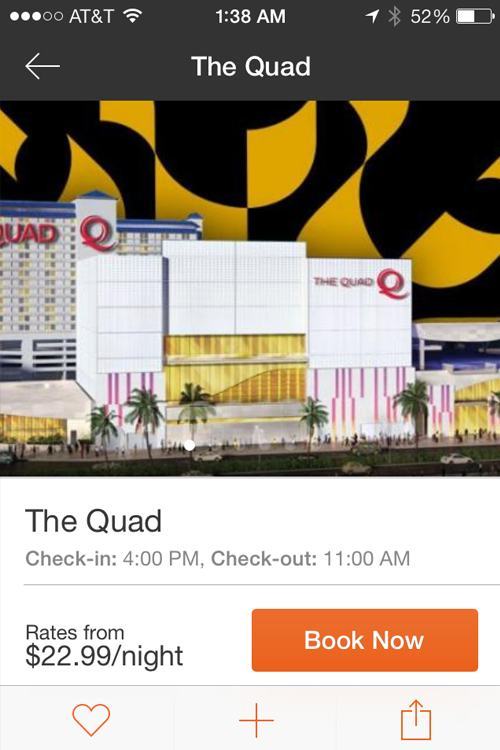 The hotel pages are light on useful information. They include check-in and check-out times, the numbers of restaurants and shows at the hotel (with no easy way to get details, although they exist in other parts of the app), and links to the hotel's social media channels like Facebook and Twitter.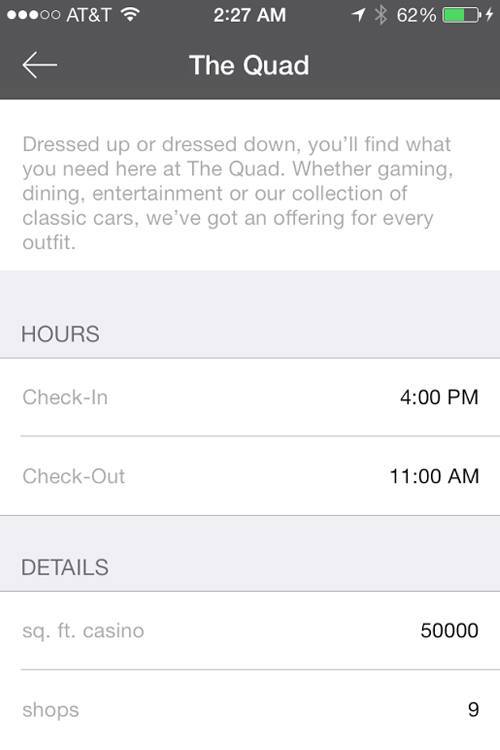 The Restaurants section is comprehensive and again has map functionality. Even if you're not a Las Vegas expert, with this app, you'll be able to act like one. Not that we'd know anything about acting like a Las Vegas expert. Ahem.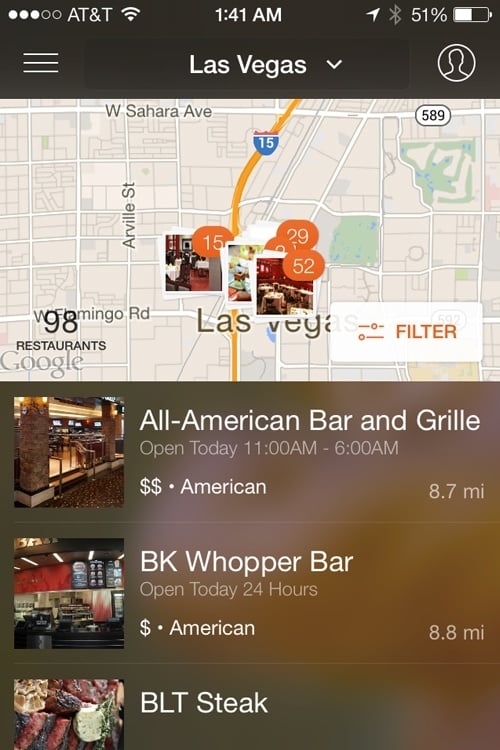 This section also boasts some pretty sweet filtering capability. You select a price range, cuisine and hotel (or hotels), and the app cranks out all the restaurants that match your criteria. This is easily the most robust and useful component of the Play by Total Rewards app, in our humble and always-accurate opinion.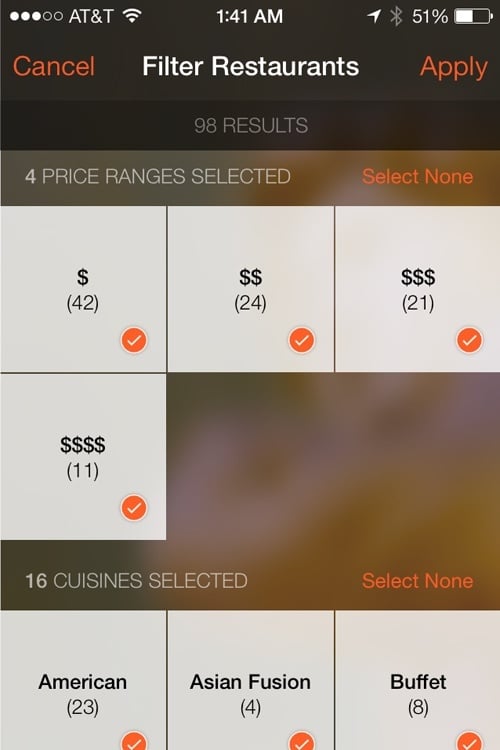 Again, the information about the specific venue is on the light side, but hours of operation and attire suggestions can be helpful. The restaurant pages do have phone numbers, so that's handy for making reservations.
Next up: Shows. We'd love to show you that part of the app, but it crashed every time we tried to go into that section. Sort of supports our assertion the app is still in the soft launch phase.
Moving on!
The Nightlife section is straightforward, with listings of bars and lounges across town (no filtering, you get everything, in alphabetical order).
Things to Do is a catch-all for everything else, which, given that it's Las Vegas, covers a lot of ground. Thankfully, there a filter in Things to Do.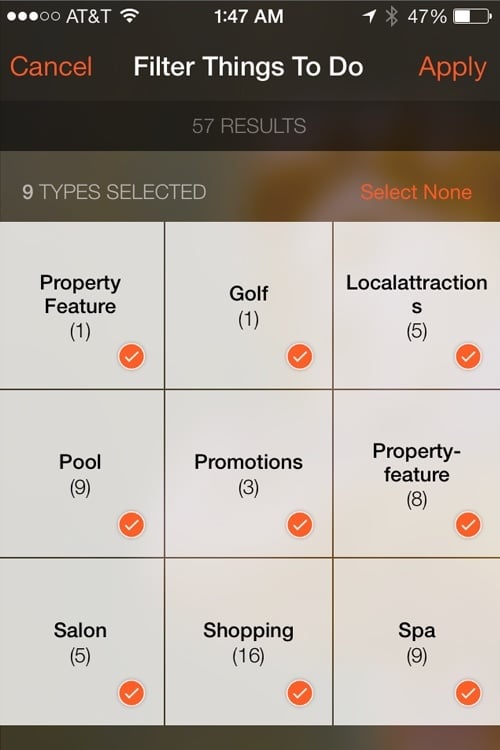 It appears the creators of the app got a little sleepy at this point, because what in the world is a "property feature," and how is that a thing to do?
There's a "Promotions" category, and while not fully fleshed out, this could be a great way to stay abreast of hotel promotions at your favorite casinos. As with most travel apps, a key component of success is keeping the information fresh and complete. Our favorite Las Vegas app, Vegas Mate, prides itself on frequent updates, so we'll have to see how the Play by Total Rewards app fares. (Another bonus of Vegas Mate is it covers all of Las Vegas.)
The Play app has a Favorites section, too. So, as you're browsing for restaurants or things to do, you can give those items a heart, and the app conveniently collects them on one page for you.
If you tap on the human head icon, you get into a Guest Services screen.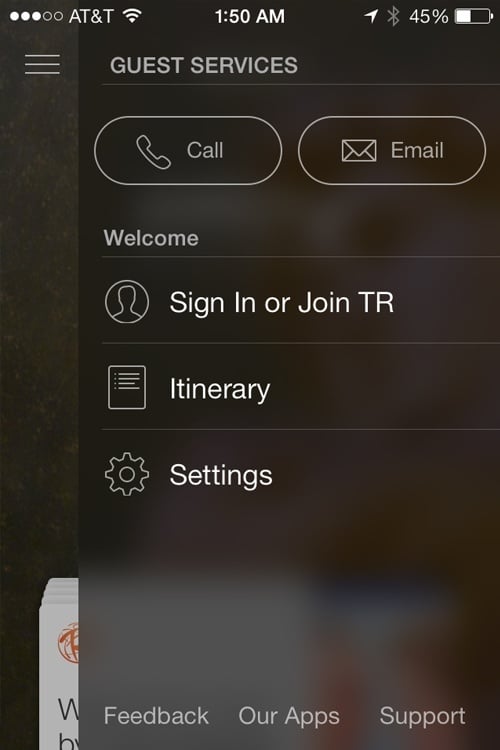 Here, you can call or e-mail your questions to customer assistance. We didn't try it, but if this works as it appears to, it could come in handy.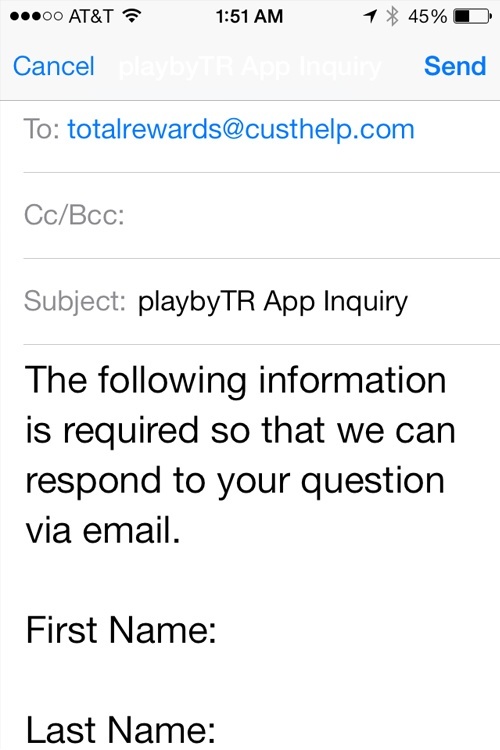 There's also an Itinerary page accessible here, in case you missed the Favorites page, because they do exactly the same thing.
That's about it. We suspect that once the Total Rewards log-in problem is resolved, the app will also be a convenient way to view one's Total Rewards points and access offers specific to one's tier status.
This new app covers a lot of ground, and has several useful features. It misses the opportunity to be more useful and relevant by not providing a way for people to share reviews (as the Vegas Mate app does), but companies are reluctant to do that because people don't always say what the company would like them to.
The lack of substantive content, or authentic, trustworthy reviews and descriptions (as opposed to marketing fluff), are some of the key reasons self-serving corporate apps so seldom gain any real traction, and why they're often little more than glorified virtual brochures.
Still, this is easily the best app from Caesars Entertainment to-date, and we suspect refinements and tweaks are still being made, and improvements will be ongoing.
It's free, so take the new Play by Total Rewards app from Caesars Entertainment Play by Total Rewards and let us know what you think.