Bellagio Conservatory Offers Unique Dining Experience
One of our favorite spaces in Las Vegas, the Bellagio Conservatory, is no longer just a feast for the eyes. Now, it's also a feast-feast.
The popular attraction now offers guests a chance to dine smack dab in the middle of the whimsy of the Conservatory with its "Garden Table."
It's not cheap, but if you're looking for a once-in-a-lifetime splurge, this might just be it.

Garden Table is a pre-fixe menu available for brunch (Wednesday through Sunday, 9:00 a.m. to 2:00 p.m.) or dinner (seven days a week, 5:00 p.m. to 10:00 p.m.).
Dinner is from Michael Mina Bellagio, brunch is from the nearby Sadelle's Cafe.

Dinner is $250 per person.
Here's the dinner menu: Kona Blue Prawn, Watermelon and Cucumber, Michael Mina's Ahi Tuna Tartare, Crispy Spot Prawns, Miso-Marinated Hamachi Kama, Char-Broiled Shellfish, Ginger-Scallion Broiled Whole Fish and Coconut Souffle.
Brunch ($75 per person) features: Brulee Grapefruit Cocktail, Avocado Toast, Fresh Fruit, Sticky Buns and Cream Cheese Danishes, Smoked Salmon, a selection of bagels (with classic bagel accoutrements), and a choice of one beverage (mimosas, orange juice, coffee, espresso or hot tea).

The Garden Table experience can accommodate up to six guests, reservation time is limited to two hours. Two hours is enough, move along, already.
The prices for the Garden Table aren't outrageous by Las Vegas standards, and this sounds like a fun outing, especially if you enjoy being the center of
attention.
Yes, during your meal, you are going to ogled and photographed by thousands of tourists. No additional charge!
From the photos provide by Bellagio, it appears guests will dine in the awesome treehouse near the pair of lions in the display, just outside the
entrance to Sadelle's.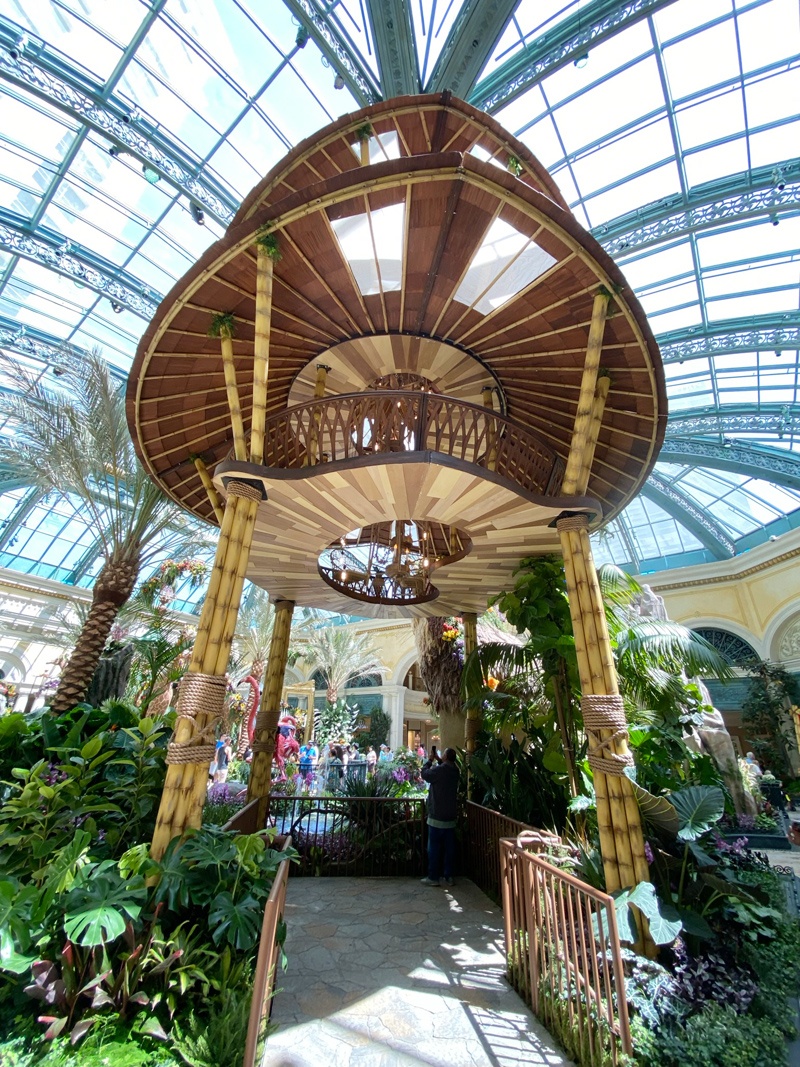 The current Conservatory display is one of the best in its history, so it's a fitting time to launch the Garden Table pre-fixe experience.
The Garden Table will be available into the foreseeable future, and the menus (and, presumably, the table settings) will be updated to reflect the seasonal displays.
We love this idea, and tip generously. Those servers are going to be getting some exercise.