Battista's Hole in the Wall Could Close, Per Rumor
A Vegas institution, Battista's Hole in the Wall restaurant, could close if rumors are true.
We first caught wind of the potential closure of Battista's, a beloved restaurant near the Flamingo casino and infamous Stage Door Casino, in a tip on Twitter.
The Tweet claims, "A new group from Chicago is taking the spot for a new restaurant and entertainment venue."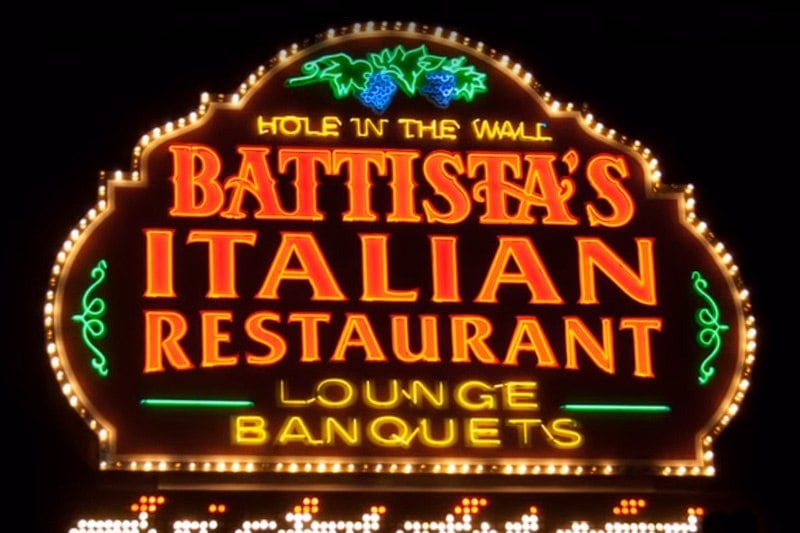 We contacted Battista's and were informed they have heard nothing whatsoever about the prospect of Caesars Entertainment ending its lease when it comes up for renewal in May 2020.
A rep said, "You would think we'd know about it. We make them money."
Battista's Hole in the Wall has been around since 1970. A 50-year run is rather astounding, as that is nearly 6,200 Las Vegas restaurant years.
Back in 2005, the owners of the restaurant, Battista and Rio Locatelli, sold it to Caesars Entertainment (called Harrah's at the time).
Stage Door's lease, by the way, runs out in 2030. Nobody expects the colorful bar will survive beyond that, so drink up.
Battista Locatelli wrote a memoir about his adventures in restaurateuring. Rio Locatelli passed away in 2018.
Here's look at the restaurant, along with a good dose of throwback charm.
Were Battista's Hole in the Wall to close, a quirky chapter in Las Vegas history would close as well.
Innumerable celebrities have found their way to Battista's, known for its (wait for it) off-the-wall Italian decor and Gordon Jaffe, an accordion player who roams the restaurant as he has for more than three decades.
Lots of longtime fans of this barely off-Strip restaurant will bemoan its demise if the rumor pans out, but change is a constant in Las Vegas, just like poker chips, neon and women carrying their pumps after a night in the club.
You'll know when we know, but food for thought.